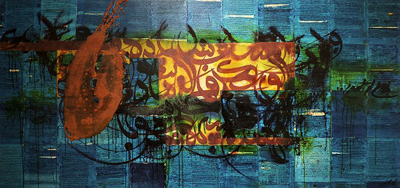 Untitled mixed media piece by Larbi Cherkaoui
Several years ago I discovered an online fragrance blog and community via an article in the New York Times. Through that blog I discovered that I could order samples from various places, so I did. Of course, everything at that point was an adventure, but one sample I got in those early days made me a true believer in the magic and transporting qualities of perfume.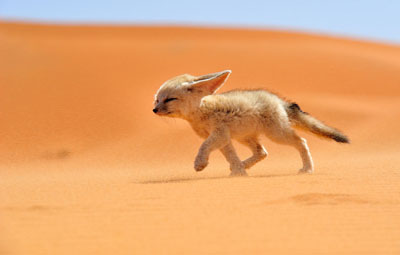 Fennec Fox, photo by José Mingorance/National Geographic Traveler Photo Contest
There was much buzz about a perfume called L'Air du Desert Marocain by a Swiss perfumer named Andy Tauer. It sounded interesting so I ordered a sample. To say I was instantly transported to another place is nearly understatement. I was in that hot tent, surrounded by fragrant smoke from incense and hookahs, I was in the dusty bazaar listening to vendors hawk their wares in a foreign tongue, I was standing in the middle of a desert, the sun baking the sand and my body. I had never experienced such a profound sense of place from a perfume. Some had made me gasp and swoon at their beauty, or be taken aback by their oddness, but had never just spirited me away.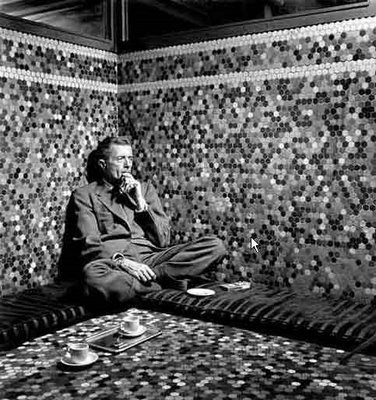 Paul Bowles in Morocco, photographer not known
It has been years since I read Paul Bowles's book or have seen the movie of The Sheltering Sky. I know that it is ultimately pretty depressing, but L'Air du Desert Marocain is my Sheltering Sky perfume. It just seems like everything would have had an undercurrent of this kind of smell; dry as bone, resinous, sensual. I know it wasn't just the name, although I'm sure that helped, but I believe in my heart that I would have still gone to the desert when I took that first whiff.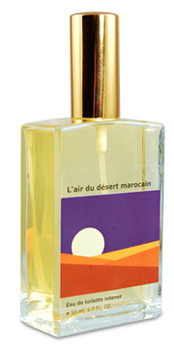 This is the original bottle style, which is what I have.
I was a very lucky burgeoning perfumista that year. Andy ran his annual Advent of a daily giveaway from December 1 until Christmas Eve, and I entered to win a prize every day, pretty much. As it happened, I was fated to win a bottle of L'Air du Desert Marocain* and I was over the moon. I was giddy with excitement, and when the prize came, all the way from Switzerland, I opened the package, containing a sweet hand-written note, with near-reverence. Going from the eked-out dabs from my tiny sample vial to full-on sprays was like a miracle, and I reveled. I still have some perfume in that bottle, and I love to wear it to this day, with pretty much the same reaction I had on my first try.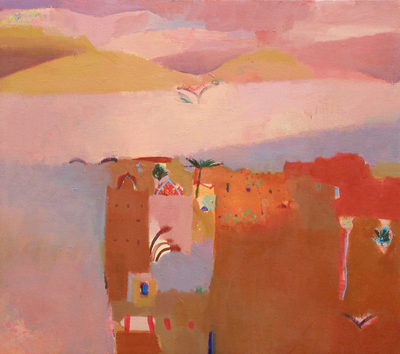 "Desert Village, Morocco" by Gerry Dudgeon
Introducing people to L'Air for the first time is something I relish. In the time since I discovered it, it has been written about, reviewed, dissected note by note, rudely dismissed by some as over-hyped, but seeing someone's face who is smelling it for the first time is a real exercise in joyousness. They put the scent strip to their nose and sniff. Immediately there are eyes rolling back, knees buckling slightly, and exhortations to a higher power. The bottle comes back out and is sprayed on skin, with nose glued to wrist for the duration. Everyone should try it at least once; it doesn't have legions of fans for nothing.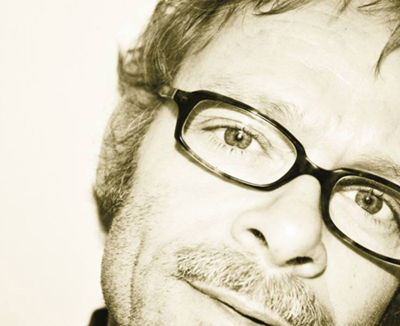 Perfumer Andy Tauer, photo by Andy Tauer
I have always found Andy to be an accessible person and nice man, and I visited his blog frequently and followed his journeys with perfume, always excited to read about anything new. He has produced some brilliant work, but in my heart my true love is this. It was the first perfume that made me understand what perfume could be: unique, personal, with no gender bias. It could take you places, bring images and scenes into your mind's eye, cause your stresses to dissipate, make your body looser. I don't think I have ever looked at a notes list for it. I don't need to, because I don't care what it's made of. It is just L'Air du Desert Marocain, made by a lovely man named Andy. It is the perfume that led me, as we like to say, down the rabbit hole of niche perfumes, and closer to becoming a perfumista.
L'Air du Desert Marocain is available on the Tauer Perfumes website as well as Luckyscent, Indigo Perfumery Twisted Lily in Brooklyn and select stockists throughout the world.
Tama Blough, Managing Editor
*I was actually double-lucky and also won a bottle of Maroc Pour Elle. I think I made some enemies that year.
Note: Fragrant Awakenings is a new series on perfumes that opened my eyes, pushed my envelope, or somehow changed the way I think about fragrance.