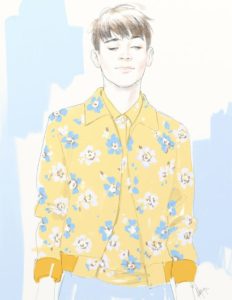 Marc Jacobs Men's illustration by ANMOM
Growing up in the Midwest and then travelling all over the world really made me into a sort of oxymoron. I was the "all in one" hometown boy and the jet set travel guy who was always ahead of the curve, but with an eye on all things known and traditional. I had an affinity for everything I found fashionable. I would only wear certain brands in both clothes and colognes. Not any old thing would do, no way. It had to get noticed, but be classic at the same time. I was a complete designer fan boy (still am, actually). Around the turn of the millennium I was very heavily into Italian fashion – in particular Dolce and Gabbana and Versace. I was in love with everything about them. My closet was full and overflowing with pieces from the houses along with my dresser with almost every scent they respectively made up to that time. I was especially fond of Versace's Versus Uomo (1991). There was just something about it that fit me like a glove. Keep in mind at the time the fragrance was already showing some age, but that meant nothing to me. It was a new classic in my book.
As my love of the fashion and fragrance industry grew I began to look beyond the confines of fashion houses for other options in regard to fragrance. Why? Well, quite frankly, I was getting bored of everyone knowing what it was I was wearing and then inevitably wearing the same thing! Bluntly, nothing annoyed me more than that! Outside of the fragrances I would make myself, I had to find something that fit the bill. Of course, there was a myriad of choices out there. However, discovering them in early days of the internet was not as easy as it is nowadays.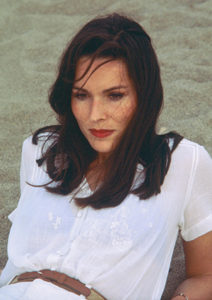 Annick Goutal 1970s when she was a fashion model
My search eventually brought me to Annick Goutal (after reading a blurb somewhere of the fashion model turned perfumer who recently passed away). I thought to myself, "YES, this is exactly the kind of thing I love!" Thus, I marched to the counter at Saks on Michigan Avenue in Chicago and began to sniff away. I wanted something classic, but different and definitely not what "everybody" was wearing hoovering around me on a regular basis. The one that caught my attention the most was Eau d'Hadrian, her very first perfume and made in collabaration with in House Perfumer for over 20 yrs Isabelle Doyen.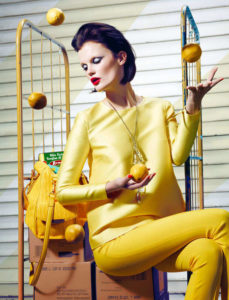 The Madame Germany February 2011 Dolce Vita/model Anna Lundgaard
What struck me most about it the fragrance was that it smelled so insanely lemony. It seemed to fly in the face of so much of what I was smelling around me at the time simply in that regard alone. How wonderful! It was so familiar, yet remotely different! My mind immediately registered this as something special. I was surprised to find out it was made in the 80's (1981 to be exact). To me, this was nothing at all of that decade, let alone the 90's. Still, there it was in all its glory. I immediately bought a bottle. My first niche purchase had been made. I wore it almost incessantly over the next few years. I never tired of it. The notes are extraordinary in their simplicity with a great audacity that is never overbearing.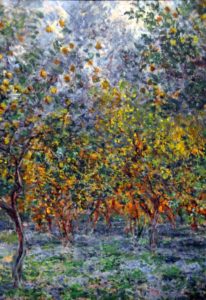 Claude Monet – The Lemon Grove in Bordighera
The sweet lemon at the very start is almost candy like. It is literally luscious! It is soon followed by the smell of a freshly cut lemon with a tad bit of green. It reminds of being at a market on the Meditteranean coast on a bright morning. There is a wonderful undercurrent of grapefruit that makes an appearance, but doesn't act to make the citrus too bitter as its tempered with light floral aldehydes (yes!!!!).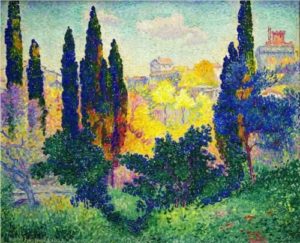 Cypress Trees at Cagnes – Henri Edmond Cross Delacroix
Then my favorite aspect comes into play – Cypress. The glorious green woody facet of this wonderful aroma completely takes this fragrance to a whole other level. It acts to take the fragrance to new lofty heights. If you have ever witnessed a large Cypress tree, you would completely appreciate this. It's like you are eating lemons and sipping lemonade whilst paying amongst the trees. It's completely exhilarating.

The Eau d'Hadrian range 2016 includes the butterfly bottle (photo Annick Goutal)
My nose did not steer me wrong. Eau d'Hadrian went on to win a Fifi Fragrance Hall of Fame Award in 2008.
Aaron Potterman, Contributor and Vintage Expert
Art Direction Michelyn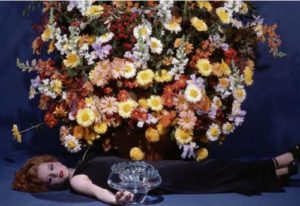 Our Facebook photo for Fragrant Awakenings is by Guy Bourdin, 1977
Editor's Note Fragrant Awakenings was a series former Managing Editor Tama Blough and I brainstormed and began this series in May 2014 leading off with AndyTauer L'Air du Desert Marocain and Olivier Durbano Turquoise (June 2014). Our purpose was to spotlight perfumes that changed our perception of what we could or would wear as well as the first niche perfume we fell in love with. A recent article sited that 4 perfumes by large Houses and corporations make up for most perfume sales. Suport the indie, artistic, niche and artisinal houses that we love. Sr Contributors' TammySchuster wrote about The Party in Manhattan and Lauryn Beer wrote of our first … Montale White Oud. – Michelyn Camen, Editor in Chief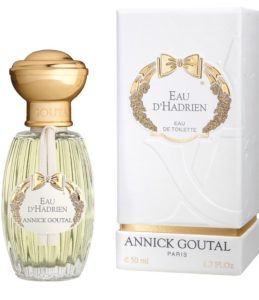 Eau d'Hadrien 100 ml EDT (photo Annick Goutal NY)
Thanks to the generosity of Francoise Allesi, the NY Retail Manager of Annick Goutal in New York City (located at 955 Madison Avenue/ P: 646-964-4795) we have a 100 ml bottle of Eau d'Hadrien for a registered reader in the US. To be eligible please leave a comment with what appeals to you about Eau d'Hadrien based on Aaron's review, your first favorite citrus niche fragrance or your favorite Annick Goutal Perfume. Draw closes July 25, 2016 .
If you want your comment to count twice please LIKE our New Facebook Page CaFleureBon Fragrant Awakenings
We announce the winners only on site and on our Facebook page, so Like Cafleurebon and use our RSS option…or your dream prize will be just spilled perfume