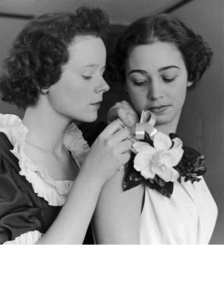 Vintage photo pinning a gardenia corsage 1950s
As a child and adolescent I wore uniforms every day for 12 years, elementary though high school. Wearing a uniform basically eliminates one entire mode of self-expression – clothing! Even shoes and the color and height of our socks were prescribed and the length of skirts monitored. It was possible to add a little visual interest with hair ornaments or discrete jewelry but, for all intents and purposes, as a child and adolescent I was bereft of fashion. I have yet to recover from this deprivation. Even today I maintain a closet full of identical clothing and wear the same dowdy look day after day.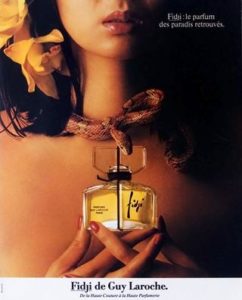 Vintage Ad for Guy Laroche Fidji 1970
In my early teens, in order to add some sort of individuality and fashion sense to my life, I turned to fragrance. I loved what my mother wore. Lanvin Spanish Geranium, the old Tuvache Jungle Gardenia, Bat-Sheba, Dioressence, Lucien Lelong Sirocco and many others. I had a little collection of my own including several 60s Coty fragrances as well as Tabu by Dana and Paco Rabanne Calandre. In the 70s when I was grown up and far away from home I belatedly discovered Guy Laroche Fidji – the fragrance love of my life. But my interest in perfume did not really qualify as an obsession until one fateful day in the late 1980s.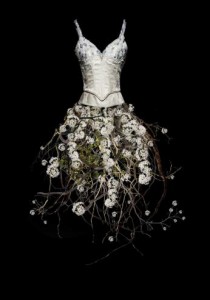 Gardenia dress Todd Murphy
While attending a meeting of music teachers, I noticed an incredible scent. The woman next to me, a new member of our group, was wearing a fresh, ethereal, aldehydic white floral fragrance, at once slightly fruity, spicy and a tiny bit vanillac. As I recall I kept leaning toward her taking deep breaths of her wonderful perfume. I don't know why, perhaps I was shy (I doubt that) or maybe I started to pay attention to what was going on at the boring meeting – for whatever reason I did not ask about her fragrance and I never saw her again.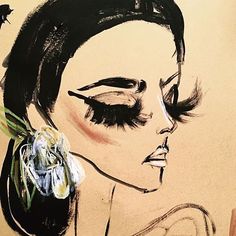 Via instagram.com
I imagine our group was too dull for her good taste. Whatever the reason, I was left with only the memory of her gorgeous scent. My unspoken question proved to be a turning point – a fragrance awakening of sorts – and the beginning of an almost 30 year search for a mysterious, divine white floral, a quest that would cost me countless hours and dollars as I tried and tried again to track down what I remembered as my ideal gardenia.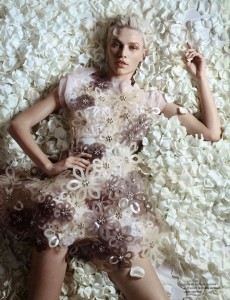 Aline Weber by Liz Collins for Numéro #132 vogue
As a result of this journey a major component of my large collection of fragrance revolves around gardenia and tuberose. I would buy and then reject, as not quite right, so many fragrances. As I continued my search for the divine I learned a lot about gardenias, the varieties, the aroma chemicals used to recreate their perfumes as well as methods for extracting the natural scent from the petals. I discovered some real beauties that remain favorites, Chanel Gardenia, Versace Blonde, Annick Goutal Gardenia Passion and Songes among others. However luscious, not one of these lovelies was the fragrance I remembered and I had pretty much reconciled myself to the fact that I would never find what I was looking for.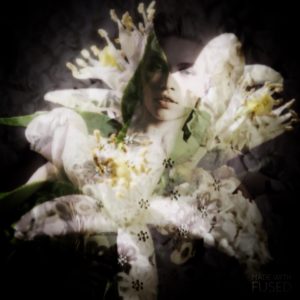 Aline Weber by Liz Collins for Numéro #132 vogue fused with gardenia flowers
But, as fate would have it, in 2016, just few weeks ago, a dear friend sent me a decant from her bottle of Divine Divine EdP. My initial impression after sniffing the sprayer was of salty, skanky, vaguely indolic flowers, but with the first spritz I had no doubt that my long search was finally over. The fresh peach, the bright, soapy aldehydes, the lightest of fresh gardenias, cool, effervescent jasmine, spice, vanilla, sandalwood – it was all there – Divine, the stuff of dreams and memories.
Gail Gross, Sr. Contributor
Art Direction: Michelyn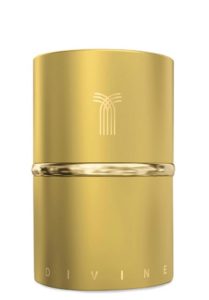 Thanks to Yvon Mouchel we have a draw for a registered reader in the EU, USA and Canada (you need to do this or you are ineligible) for 50 ml bottle of Divine EDP. To be eligible, please leave a comment with what you enjoyed about Gail's Fragrant Awakening, where you live, if you recently discovered a niche fragrance that has been around for many years and if you have a favorite Parfums Divine fragrance. Draw closes 10/12/2016
Please Like CaFleureBon Fragant Awakenings on Facebook to have your comment count twice
You can read our reviews ofSpirituelle, L'Homme Infini and L'Être Aimé Femme on DivineParfums Press page here
We announce the winners only on site and on our Facebook page, so Like Cafleurebon and use our RSS feed…or your dream prize will be just spilled perfume.