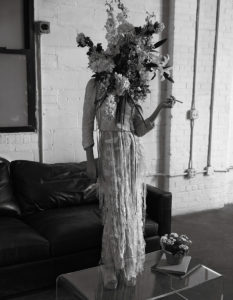 Daphne Groeneveld photographed by David Roemer for Zoo (SpringSummer 2016).
'Murderess, murderess, he whispers to himself. It has an allure, a scent almost. Hothouse gardenias. Lurid, but also furtive. He imagines himself breathing it as he draws Grace towards him, pressing his mouth against her. Murderess. He applies it to her throat like a brand.' From 'Alias Grace' by Margaret Atwood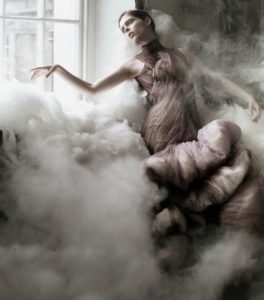 Vogue Uk, Tim Walker, Fashion Photography, Coco Rocha
I think a lot of people feel the fear in white flowers, those femme fatales, the languid indole-laden creamy petals that hang in the air radiating assurance and come hither danger. They should. These are blooms that use narcotic, fleshy suggestiveness to lure pollinators to sup nectar and coat unsuspecting bodies in pollen. Once used, they leave, dazed and satiated.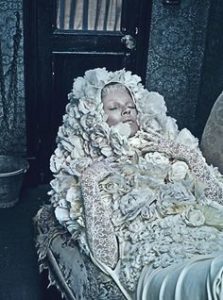 Kate Moss for W magazine Steven Klein
Foxy loves his white florals, the headier and more intoxicating the better, white lilies, night blooming jasmine, gardenia, ylang ylang and orange blossom… the opacity of luscious desire. I always sample them and occasionally one or two lay down beautifully on skin like fallen angels. But many are oversweet, synthetically harsh, eyebright and blatantly plasticised. I like my blooms with style, intrigue and perhaps just a hint of menace.
Martine Micallef and Geoffrey Nejman
So here I am chez M. Micallef Parfums as they celebrate their 20th anniversary as luxury perfumers. I've written on them on twice before for Michelyn and Cafleurebon, in 2014 on extensions to the Mon Parfum line, the gorgeous signature scent created lovingly for Martine Micallef by her husband Geoffrey Nejman and last year on the amazing Akowa for gentlemen which I still think is one of the most intriguing compositions in the M. Micallef collection. I wish more people had access to the line, despite the 900 doors the brand is accessible in, it is still surprisingly hard to come by, (use their website it is easiest) which is a huge pity as there are some beautiful, sumptuous perfumes that just work, imbuing skin with a sense of molten, moreishness.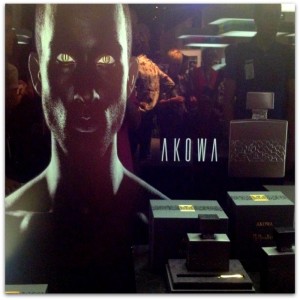 Pitti Fragranze Akowa Display 2015
The signature aurous sweetness, a kind of floating oudy vanillic amber is tailored to allow other notes to harmonise and collaborate without losing that overall M. Micallef style. Akowa was different though and critics picked up on the departure, although that vanillic sentiment still blows gently through the heart of the fragrance's rooty 80's fougère aridity. The much-discussed secret African-sourced secret ingredient at the heart of the composition, a tribal root discovered by Geoffrey on holiday off the beaten track, lends Akowa its anisic, herbal bitterness.
I have two M.Micallef, one old, one new to talk to you about, they complement one another beautifully, one sensual, feminine and languorous, the other bold, unyielding and reserved. Gardenia from 2002 and the new men's launch Osaïto, taking it inspiration from Asian coastlines, where water meets lands and the weather shifts eternally.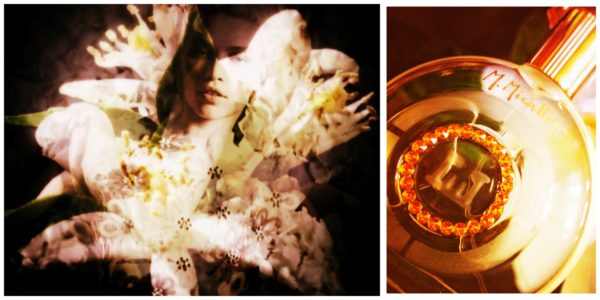 Orange blossom fused with Aline Weber for Numero magazine #132 and M.Micallef Gardenia Eau De Parfum
Gardenia is an older M. Micallef perfume, from 2002 and oh my it's so lovely, a swirling infusion of buttery jasmine, gardenia, cool vanilla and ambergris. I could keep on spraying it just for the huge explosive joy of the vanilla soaked jasmine at the beginning to be honest, it's sensational. It has that trademark soft, caramel brulée undertone of much of the line, but tempered with a powdered apricot touch which is very pretty indeed. There are moments too of gumminess, like inhaling a bag of Haribo and then the gardenia reasserts itself gently. It's never heavy, just addictive and luminous like a low light for tired moths. The indolic facet of the flower has been dialled down, so for those of you who might baulk at the potential fleshiness or overt headiness of the gardenia note, don't worry, perfumer Jean-Claude Astier has composed an immensely wearable interpretation of one of nature's most arresting blooms. It wears quite close as it settles, which I like a lot, luxury should be understated and subtle, but it rises and falls with such tempting grace that you find yourself inhaling your own skin as is if were that of a lover.
Osaito from Gazelle Communication on Vimeo.
As I'm writing this, all I can smell is an arresting slate grey haze of Osaïto wafting around me from my writhing inked arms and silver hair. One of the things I really liked about Akowa was its presence and Osaïto is no different. It is scent as weather, unpredictable, forceful and strong. Geoffrey and Martine have created a short film to accompany the launch of Osaïto; it is monochrome slo-mo and unusually features just the back of a man's head. He has long hair, you know he is Asian, they always have such beautiful hair and only at the end as he moves against a backdrop of cliffs and sea does he turn and revel his handsome, strong face.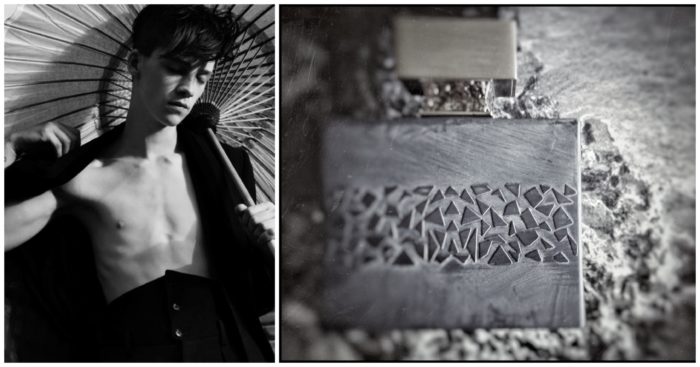 Ash Stymest by Hedi Slimane VOGUE HOMMES JAPAN 1st issue 2008 AW and M. Micallef Osaïto by TSF
Essentially Osaïto is a woody aromatic with a big splash of bracing grapefruit thrown across the top. It is an interesting feature I think of the M. Micallef line that the feminine scents are much more diffusive and romantically hazy, less defined in terms of structure and notes, diaphanous even, reflective perhaps of the Micallef woman.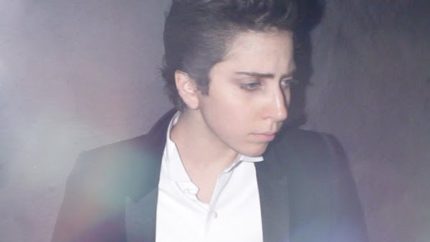 Nick Knight Lady Gaga poses as male alter ego "Jo Calderone" for Japan's Vogue Hommes cover
Whereas I find the more singular men's launches that are very good indeed are unequivocally masculine. Yes a woman could wear Osaïto as she might slip into a lover's white shirt in the morning, but there is something mysteriously butch and honourable about its persistent traditional aura.
As with Akowa there is a purported secret note resting at the heart of Osaïto, again, what it is will remain a mystery known only to Geoffrey Nejman and Jean-Claude Astier. The top of the scent has a very elegant wash of marine notes, not however the usual calone, algenone type sea breeze/algae effects but a suggestion of samphire, sometimes known in Britain as sea asparagus or sea pickle, an edible variety of succulent halophyte, a species of plant that flourishes in waters of high salinity. Essentially a sea vegetable, it has been eaten in Britain for millennia. In Osaïto, it is mixed in the top with the acidic grapefruit to suggest the exhilaration of sea spray sparking up from rocks. The eccentric addition of myrtle and strawflower in the middle section layer texture and a warm, rugged aromatic airiness. The starflower or everlasting adds a strange, roasted herbiness that juxtaposed against that wonderful samphire opening makes Osaïto so compelling. I really wish more guys smelled of this; honestly the world would be a better place. The base is pretty generic, woods, amber etc but they don't really matter except to draw out the warm structures above. As with Akowa, Osaïto wouldn't normally be my kind of thing, but that special M. Micallef touch of adornment, luxury and mystery make these two additions to the Jewel Collection very moreish and impossible to resist.
Disclosure: Bottles of Gardenia & Osaïto kindly received from M. Micallef Parfums. Thank you. Opinions my own
Guest Contributor, The SilverFox and Editor The Silver Fox
Art Direction Michelyn. Osaito was presented at Esxence 2016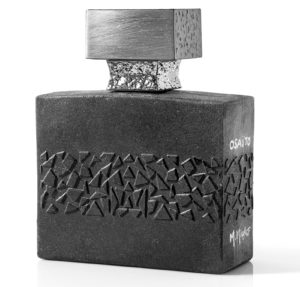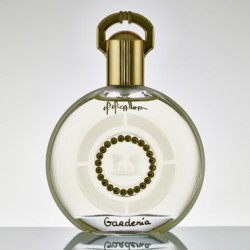 Thanks to the continued kindness of Geoffrey, Martine, Claudia, Estelle and Lesley of Parfums M.Micallef we have a 100 ml bottle/195 Euros of Osaïto OR Gardenia for a registered reader (you must do this and use your user name or your comment is invalid) anywhere in the world. To be eligible please leave a comment with what you found compelling about The Silver Fox's reviews, a quote or soemthing you will bookmark, where you live, which fragrance you would like to win and if you have a favorite M.Micallef fragrance. Draw closes 8/18/2016
We announce the winners only on site and our Facebook page, so like CaFleureBon and use our RSS option…or your dream prize will just be spilled perfume