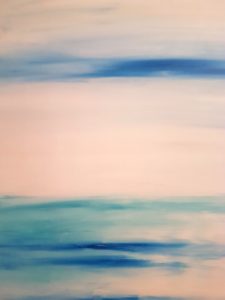 Sea by Emma Paton ©
"The sea does not reward those who are too anxious, too greedy, or too impatient.
One should lie empty, open and choiceless as a beach – waiting for a gift from the sea". -Anne Morrow Lindbergh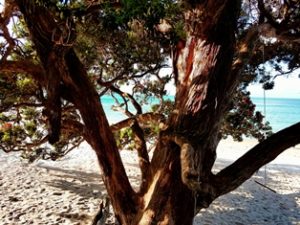 Pohutukawa,Waiheke DanuSeith-Fyr for CaFleureBon©
There are many places in this world that elicit feelings of adventure and delight, impassioning the person to action. A once secretive Island is now becoming more and more centre stage on the list of destinations. Waiheke Island, known as the jewel of the Hauraki Gulf, a stretch of the Pacific littered generously with islands off the coast of Auckland. Living here one can easily becomes blinded to the wonder of it, but the plethora of international travellers tells us that here indeed is a magical place.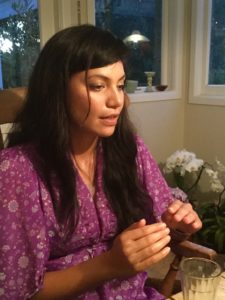 Juliana Van Kampen, Juliana Parfums Co
Just 30 years old, Juliana Van Kampen is totally at home on this land, Croatian, Maori and Rarotongan descent, she is a woman of land and sea, spending time creating food on a super-yacht, sailing the coastal waters.There is an ephemeral warmth and vibrancy about her that is both intriguing and calming. Immediately aware of her almost child-like wonder of the world, an inquisitiveness, questioning and absorption in the natural world.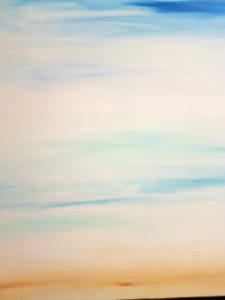 Sand Emma Paton©
Passion for fragrance is something inherent within her; it is a part of her. Effusive when she speaks of her natural way of being, scenting rocks at high tide when they are wet, at low tide exposed to sun or rain, after storms, searching for the minutiae in every aspect of her daily environment inspires her. Seeking to capture the infinitesimal variety around her.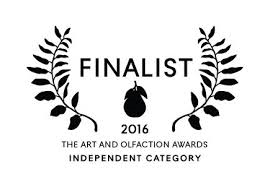 Art and Olfaction Awards 2016 Finalist for Juliana Parfums Co
Juliana, (an Art & Olfaction Finalist 2016 in The Independent category for Waiheke Dreams), operates 'under the radar' as she puts it, seemingly at home in the outside world, yet with a rich and varied inner landscape that nourishes her creations. Family life encouraged her, to be who she is, fostering eccentricity and uniqueness and her mother's extensive perfume collection proved to draw her time and time again to question the components and the structure. Studies as a graphic designer, once again bought her in cyclical fashion to fragrance, a one- time product brief lead her to look into the history of perfume packaging, vessels and bottles. Chance meeting with French born, Auckland based, Yves Dombrowsky, perfumer-creator led to the creation of her own collection.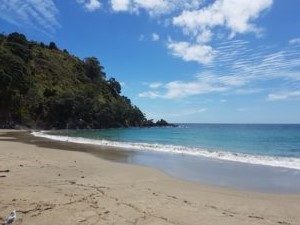 Palm Beach, DanuSeith-Fyr ©
The first release was aptly named Waiheke Dreams as this island represents a place of renewal for many, a rock blessed by the sea and the sun. Lush green swathes of sub -tropical bush leading to beaches of sand and a teal colour to the sea that is quite unique. Its natural richness is what Juliana has bought through with this fragrance, capturing the essence of a quintessential New Zealand summer. New Zealand flora has a very unique scent, it is noticeable as soon as you step outside the airport, there is a woody, spiciness to the air, tropical and moist, emanating from the native bush that thrives in this climate. Initially there is a play on sweet sunlight, shimmer of phosphorescence. Skin poised after sea, salt sparkling on bronze, a light drift of air across heated skin, the soft salinity of a hot summer day on the coast.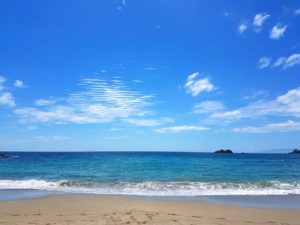 Gulf Islands, Danu Seith-Fyr ©
Praline creaminess that is reminiscent of a speciality ice cream found in numerous outlets at the beach; creamy vanilla with a touch of the gourmand crème patisserie, a light whisper of France. The ripeness of scarlet fruits in an interplay with rosewater, warmly heated roses, sunbathed. Oleaginous coconut oil on skin warmed by sun. After a few hours there opens a play of tonka, amber, seagrass and rich sandalwood again warmed like the dry down of a hot day as it rolls into evening, the bush alive with cicadas and the native woods fragrance subsuming the scent of the ocean. Notes: Praline, Pina colada, Summer fruits, Vanilla,Coconut, Rosewater, Candy, Sandalwood, Amber, Marine accords and Seagrass
Into the Blue,Waiheke Island, DanuSeith-Fyr©
Rakino is a different Island, not far from Waiheke but far more of a retreat, less populated and more removed from the city. Rakino Weekend has a whiff of 4711 about it, a colognesque spritz that immediately conjures the salinity of sea salt mist as huge breakers surf into the beach, it is ozonic and vaporous, on the opening, a clearing of the mind, an inhalation of pure oxygen. West coast beaches with tumbling forces of wind and surf, and a continuum that reaches into the moist native bush, like hands delving into warm compost unearthing aromas of rich spice, a bursting pink peppercorn strides out mid opening doused in gin and native wild ginger flowers, boozy and heady. Carrying the fragrance into its depths are woods in profusion, sandalwood again, cedarwood, rimu and an exotic teak, all imbibing this fragrance with a yearning for solitary moments in a luscious landscape. Notes: Green accord, Grass, Paper, Pepper, seaweed, Sea spray, Gin, Cucumber and Cologne, Amber, Sandalwood, Leather, Marine accords.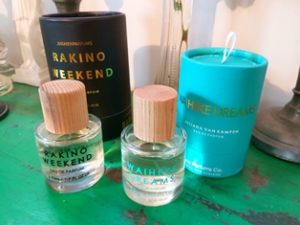 Juliana Parfums Co Rakino Weekend and Waiheke Dreams, photo by Danu Seith Fyr ©
Thanks to the generosity of Juliana Perfumes, we have 30ml bottle of Waiheke Dreams
Or
Or
10 ml rollerballs of both Waiheke Dreams and Rakino Weekend.
A registered reader anywhere in the world can enter. To be eligible please leave a comment with what appeals to you about Juliana's fragrances based on Danu's reviews, where you live and which of the two you think you would like, if you are a sea or sand type of person, and the Juliana Parfums Co fragrance (set or individual) should you win. Draw closes 2/28/2017
We announce the winners only on site and on our Facebook page, so Like Cafleurebon and use our RSS FEED…or your dream prize will be just spilled perfume.