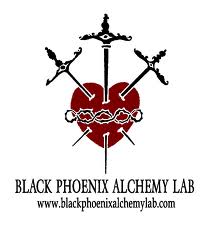 All Hallow's Eve (or Halloween) is a holiday almost everyone celebrates, yet it's not a "real" holiday. No one gets off work or school, banks and stores are open. It is, however, deeply ingrained in most of us from childhood. Pagans celebrate the beginning of the "dark" days on October 31st (Samhain) as one of the highest holy days, or sabbats. Kids roam the streets in cute or scary costumes receiving candy from friends and neighbors. Adults decorate houses in macabre fashion, and attend costume parties dressed to the teeth. According to legend, this day is when the "veil between worlds" is thin. Masks were worn to frighten spirits with malicious intent. We have taken one of the scariest and somber occasions and seen the fun and beauty in it,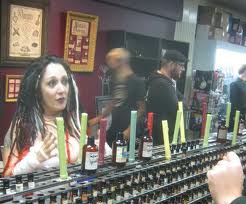 Elizabeth Moriarty Barrial
When pondering who (or what) to write about, today, it was a "no brainer". Black Phoenix Alchemy Lab (or BPAL to its fans and fanatics) was the winner, hands down. A company that started in 2002 by Elizabeth Moriarty Barrial & Brian Constantine has, to date, produced over 2,000 different scents and many are still available to purchase on their website or on various fan forums. A natural-based company that does not test on animals (only willing humans) BPAL has created scents that glorify literature, the gothic era, mythology and everything from love to death. I sniffed through my sixty-odd "imps" (.7 ml sample vials) and full bottles (5 ml pure perfumed oils) and found these to be the best, as far as originality, construction and Halloween appeal.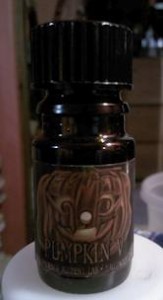 PUMPKIN V (2008 LE Samhain scent) is the ultimate in gourmand meets slightly spicy deliciousness. A very true smelling pumpkin pulp note has been lightly spiced and glazed in French vanilla and raw dark vanilla beans. Imagine pumpkin pie, without as much spice, covered in a thick whipped vanilla mousse and you get the idea. Something in here (not listed) is vaguely reminiscent of the last few summer flowers, dying as frost falls, while crisp dry leaves blow on autumn winds. Sillage: good. Longevity: very good.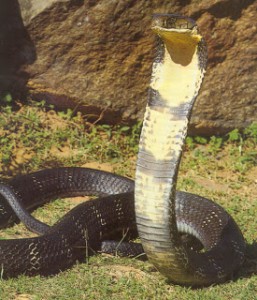 credit:Google Image
BPAL's biggest seller is a scent called Snake Oil. It has quite a few flankers and my favorite of these (even more than the original) is KING COBRA. The original was a spiced vanilla scent, perfectly balanced, warm and unisex. KING COBRA takes the oriental spiciness up a notch by adding copal resin, orris root and frankincense-resulting in an exotic and extremely sexy smelling incense perfume. Copal adds a resinous quality as orris gives a mean green smoothness to the whole affair, as cold frankincense smoke surrounds and enchants. SIllage: excellent. Longevity: amazing.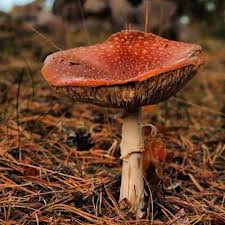 DEATH CAP (Bewitching Brews collection) is, perhaps, the very best mushroom scent I have ever smelled. Many perfumes (such as Black Orchid by Tom Ford) include fungi such as truffles; only here, the fungi are the focus. A blend of wild mushrooms adds a "dirty" feel that is not unpleasant. It is dry and earthy to the extreme. Hay absolute (which I adore) adds to the depth and the dryness, and its slightly smoky yet verdant aroma keeps the mushrooms from smelling too dank. Hiba wood, along with ginger and ginseng, complete this perfume and it really smells like you are walking in a forest, actually smelling deep black loam and the fertility of vegetal decay and dry woodiness. Sillage: average. Longevity: above average.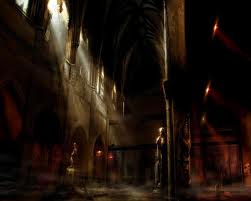 What is Halloween without a little haunting going on? HAUNTED is an extremely simple scent (as far as the notes) yet it is something altogether surreal as far as how it develops. Described only as "a blend of soft golden amber swirled with a murky black musk", it goes on with an almost "clean" feeling. As it dries, however, the warm amber settles softly on the skin. Sweet and crumbly, amber resin (not fossilized sap) is composed of benzoin, vanilla and cinnamon. Here the vanilla is most prominent with the spiciness in the background. I am also getting an almost damp floral accord here, like dried keepsake flowers have been dampened with melancholy tears. The musk is heavy, thick and almost animalic; yet this has a distinctly dark beautiful aroma, like thick shadows merged with an evening's last fading sunbeams. Sillage: good, then fair. Longevity: good.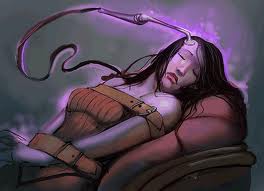 One of the most enigmatic (and confounding) scents from BPAL is IRRELEVANT AND DISTURBING SURREAL CRAWDAD DREAM. Created when the head of the company was pregnant, she was told she would dream of puppies and kittens and rainbows. No such luck she said-she had dreams of zombie ice truck drivers with a payload of crawdads with human faces!! She has immortalized this dream in a wonderfully weird scent. An opening of tart blueberries and red currants, smoothed with tea, grabs your attention before developing into a spicy blend of Hawaiian ginger, sharp coriander and lightly floral squash blossoms. The finish of red (leathery) musk, vanilla and a smidgen of benzoin take something fruity and fresh and devolve it to something indescribably unique and rich. It is still sweet and slightly fresh, only it's twisted now, as it becomes smoky delicious and completely baffling. It has the sweetness of a bag of treats, but a dark ambience that makes it perfect for Halloween. Sillage: very good. Longevity: very good.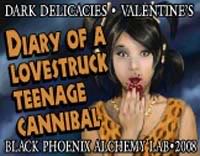 When one thinks of Halloween, images of zombies, monsters and cannibals spring to mind. Ms. Barrial has not forgotten the cannibal and has even devoted a scent to one: DIARY OF A LOVESTRUCK TEENAGE CANNIBAL. "A deranged darling, sweet and sociopathic; she is hell-bent on romance, thrill-crazed and hungry" is how BPAL defines this. It has none of the grisly undertones one might "osmagine" from the word cannibal in its name. This is an amazing blend of "foody" notes that does not come off as a gourmand. A delightful blend of zesty grapefruit and crisp pear is adorned with pink pepper and its softer spiciness. Blood lilies and red ginger create the heart of this poor love-starved dear, and it evolves into something spicy and earthy, yet warm and floral. All throughout this scent is the sweet smoothness of vanilla clotted cream which adds an almost buttery ambiance, without smelling too rich or heavy, and it goes perfectly with the added tartness of lemon-squeezed candy floss. She may be a "mess", but she smells divine. This is one of my personal favorite Lab scents, for its originality and how it is blended. Sillage: below average. Longevity: good.
Before I was a "perfume aficionado", I wore only pure essence oil blends and incense attars. After I came into perfume, bringing with me my passion for literature and myth, I was overjoyed when I found this House. BPAL is where perfumed oils and unique perfumes meet. Their catalog is daunting and the website (and fan forum) insanely diverse. If you are looking for something unique, well-made and affordable; you cannot go wrong with this company. Their full bottles last forever and are under $30 USD for 5mls. The company also offers a "unicorn's horn" where you can get sample "imp" vials seven at a time for one price. What a treat…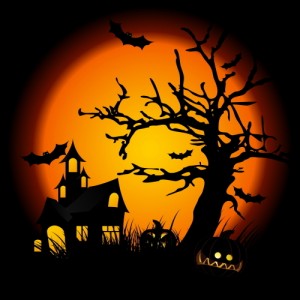 Happy Halloween everyone!
–John Reasinger, Editor