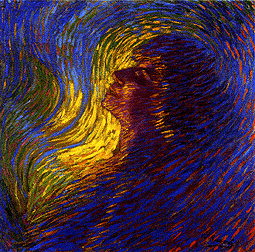 I have been enjoying the number of recent collaborations between artists olfactive and visual. We've seen photographs, books, and illustrations inspire excellent fragrance collections in 2011 alone. The only one left out of that mix was moving pictures. That is about to be rectified with the partnership between Perfumer Andy Tauer and Writer/Director Brian Pera.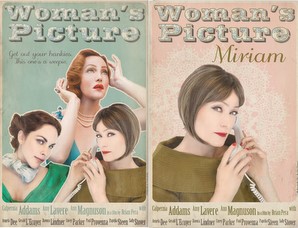 Mr. Pera is collecting a number of short films under the title of "Woman's Picture". Three of these films will have a fragrance designed by Mr. Tauer to accompany them. The first Woman's Picture to have both film and fragrance is Miriam. The short film stars Ann Magnuson as TV shopping pitchwoman Miriam Masterson and is described by Mr. Pera, from his blog, like this:
"The bottle sits out on Miriam Masterson's dresser, away from everything else. It belonged to her mother. Miriam doesn't seem to wear it, but at night, sitting there alone, she sniffs from it, stepping into some parallel dimension of stillness beyond regret, self-doubt, and the hamster wheel of ceaseless daily thoughts which keep her outside herself. During these private moments–the only time you see her alone–she gets a faraway look on her face…"
The fragrance in the description above is meant to be Miriam's mother's signature scent. This gave the perfumer Mr. Tauer quite a challenge. How does one make a vintage fragrance using modern materials? It was something he gave a lot of thought to and he described it this way:
"My challenge was to come up with a fragrance that is born in the forties of the last century, but created today: How to find an aesthetic language that bridges this gap! How to create a fragrance that conserves this vintage spirit but fits with Miriam who lives today. I hope I managed. Miriam is definitely vintage, or rather vintage-like."
From the first moment I encountered the fragrance Miriam I realized Mr. Tauer succeeded marvelously.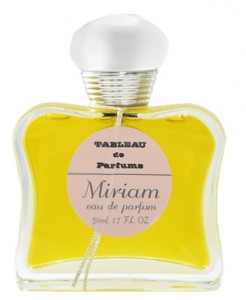 Mr. Tauer chooses to make Miriam an aldehydic floral. The floral note that will form the core of Miriam is violet and that comes from the memories of Mr. Pera and a fragrance his grandmother wore. Sure enough the early going is driven by silvery buoyant aldehydes. By choosing to begin Miriam with this level of aldehydes Mr. Tauer uses one of the most iconic of vintage notes to signal his intentions. The aldehydes bubble and sparkle over a citrus cocktail. The heart is where the violet gets going. Mr. Tauer uses the whole plant as the flower adds its facet and the leaves add a metallic astringency. Rose, jasmine, and orris add more floralcy to the middle but they are supporting actors to the violet. The base is a rich sandalwood mix of Mysore and Australian versions of that note. Some vanilla is around to accentuate the sweeter facets of sandalwood but it is the sandalwood which dominates the third act.
Miriam has outstanding longevity and above average sillage.
Once again the confluence of visual and olfactory allows both artists the chance to express their creativity. Mr. Pera was able to add a fragrant soundtrack to his film and Mr. Tauer shows vintage architecture is achievable with the modern tools of the perfumer. Bravo, gentlemen!
Disclosure: This review was based on samples purchased from Luckyscent.
–Mark Behnke, Managing Editor