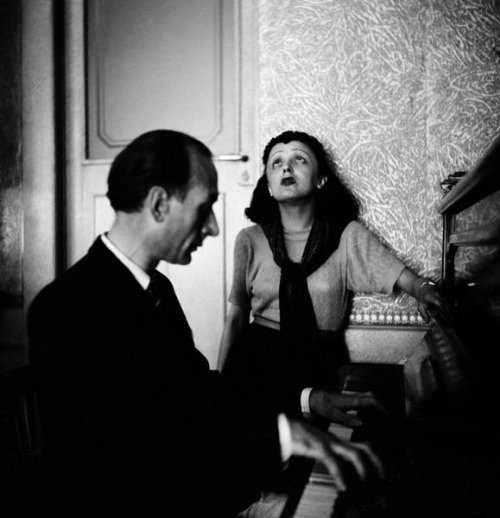 Edith Piaf singing Chant d'Amour wikipedia
Men and women have been singing songs of love (or of ritualistic fertility, as some would have it) since ancient times.The history of love songs and melodies dates back thousands of years. Before the Greek writer Sappho penned her love poems, the Egyptians were writing and singing about romance. Today, when I think of love songs, the first one that comes to my mind is Gabriel Faure's 1883 setting of Paul-Armand Silvestre's poem "Chanson d'amour":
"J'aime tes yeux, j'aime ton front, ma rebelle, ô ma farouche.
J'aime tes yeux, j'aime ta bouche,Où mes baisers s'épuiseront…"
("I love your eyes, I love your brow, 
 oh my rebellious, my timid one. 

I love your eyes, I love your mouth, 
upon which my kisses will be spent…")
I also hear the dark, melancholic voice of Edith Piaff singing her own "Le Chant d'amour":
"Oui, mais ceux qui se sont aimés,
Vraiment aimés, aimés d'amour,
Ils se retrouveront un jour…"
("Yes, but those who have loved each other –
Truly loved – loved by love
They will meet again one day…")
A gardenia from Sandi's garden
Many of the most beautiful love poems and songs refer to flowers.The Song of Solomon, surely written from a woman's perspective, announces that " I am a rose of Sharon, a lily of the valleys…" Roses and lilies, of course, are not the only flowers mentioned in romantic song and verse. In the Victorian language of flowers, gardenias, their delicate white blossoms, glossy green leaves and unforgettable fragrance, were said to denote purity. A gift of gardenias was meant to convey the message of secret or hidden love. But there is much more to the gardenia (or any flower) than a pristine wedding bouquet, simple prom corsage or hints of an infatuation.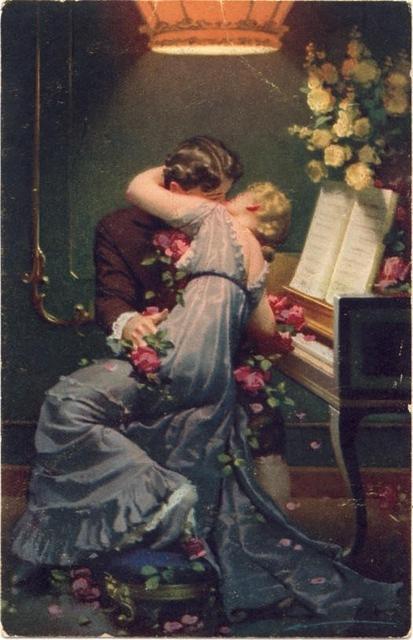 Unknown Artist – Lovers Kissing At A Piano
"A flower's fragrance declares to all the world that it is fertile, available, and desirable, its sex organs oozing with nectar. Its smell reminds us in vestigial ways of fertility, vigor, life-force, all the optimism, expectancy, and passionate bloom of youth. We inhale its ardent aroma and, no matter what our ages, we feel young and nubile in a world aflame with desire." – Diane Ackerman – A Natural History of the Senses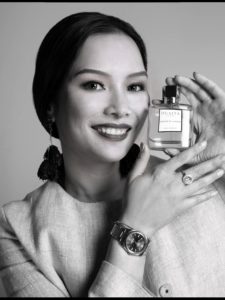 Pissara Umavijani
In her 2016 fragrance Mélodie de L'Amour, (a 2017 Art and Olfaction Finalist in the Artisan Category),Pissara Umavajani of Parfums Dusita has done wonders with the passion and life-force of white flowers, especially gardenias. Pissara, the founder and amazingly talented perfumer, is the daughter of one Thailand's great modern poets Montri Umavijani (1941 – 2006). Prompted by the scent of gardenias in Mélodie de L'Amour I recall poems, melodies and songs, both old and new.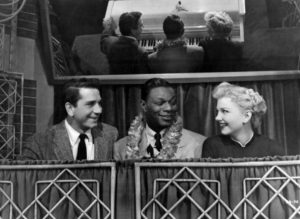 Richard Conte, Nat King Cole, Anne Baxter in The Blue Gardenia
I remember the voice of Nat King Cole appearing in and singing the theme song from the 1953 movie "Blue Gardenia" (and Dinah Washington's 1958 version of the same), Ray Noble's 1933 "Dinner at Eight" and even the lyrics of Iggy Pop's slightly raunchy "Gardenia" from his 2016 album Post Pop Depression.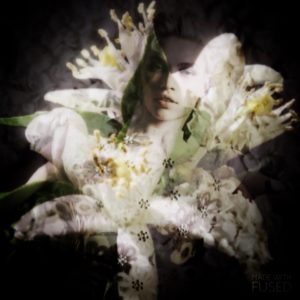 Aline Weber by Liz Collins for Numéro #132 Vogue fused with gardenia flowers
Like these and many other "love" songs, the scent of gardenia, and that of every flower, is less about purity than about seduction, fertility and the deep erotic secrets hidden behind a façade of innocence.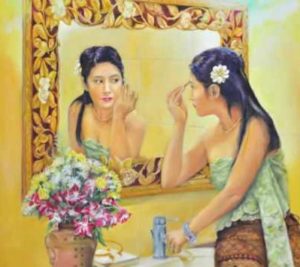 Reflected Beauty, Thai artist Taveepong
Parfums Dusita Melodie de L'Amour Extrait de Parfum begins with a bouquet of gardenia, jasmine, tuberose, muguet and (perhaps) neroli, blooming like a realistic new, fresh and slightly green gardenia. Cool and pristine, elegant and uncluttered, this first phase of the fragrance reflects the poetry of the perfumer's father: "My feeling for you is like a flower blooming in an empty room." – Montri Umavijani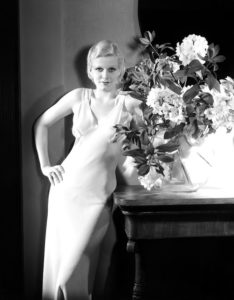 Jean Harlow by George Hurrell, 1932.
Within minutes these fresh, newly opened blossoms ripen into a somewhat understated buttery, honey-sweet, indolic scent; a not quite, full blown gardenia, carefully and skillfully supported by a woody freshness that reminds me of cedar and the fruit-filled, mahogany profile of Borneo oud oil. This smooth, sensuous heart elicits visions of old Hollywood glamour from the 1930s, of Jean Harlow and Carole Lombard wearing shimmering, bias cut, white satin evening gowns.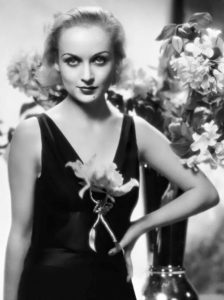 Carole Lombard 1930s
Sleek, fresh and fluid, this undeniable sexuality lasts for several hours. The intimate sillage beckons those nearby to "Come a Little Bit Closer" (Jay and the Americans, 1964). After several hours, as the perfume dries down, I am left luxuriating in a musky peach and delighting in the scattered petals of the original bloom.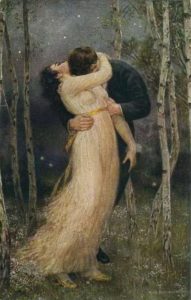 Richard Borrmeister – Lover's Tryst©
Parfums Dusita Melodie de L'Amour sings of affection, love, desire and lust. "It is at the edge of a petal that love waits." – William Carlos Williams
Notes:Gardenia, tuberose, white flowers, wild honey, cedarwood oil, musk, peach, Italian broom, lily of the valley and Indian jasmine.
Disclaimer: I would like to thank Pissara Umavijani and Parfums Dusita for sending me samples of the beautiful Mélodie de L'Amour. My opinions are my own.
Gail Gross – Editor
Art Director, Michelyn Camen, Editor in Chief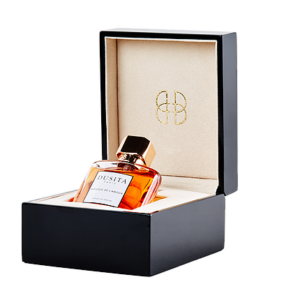 Thanks to the generosity Parfums Dusita we have one 50ml bottle of Melodie de L'Amour Extrait de Parfum for one registered reader anywhere in the world (be sure to register or your comment will not count). To be eligible, tell us where you live, what appeals to you about Gail's review, your favorite fragrance by Parfums Dusita and if you have a favorite love song. Draw closes 4/30/2017.
We announce the winners only on site and on our Facebook page, so Like Cafleurebon and use our RSS feed…or your dream prize will be just spilled perfume.