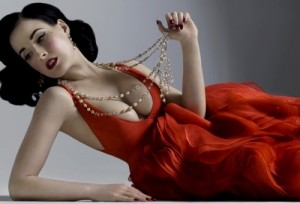 When Mark Behnke and I paused to look up at the retro, pin-up-style posters of Dita von Tease–oops–that's Dita von Teese, we felt like a pair of 1940's schoolboys gawking at a movie poster for a Betty Grable film. But this was not the Ziegfeld Theatre; this was the 2013 NYC Elements Showcase and we were there to sneak a peek at Dita's voluptuous line of perfumes. Referring to the bottle and not the sultry pin-up display, Mark said, "This is a celebrity fragrance done right."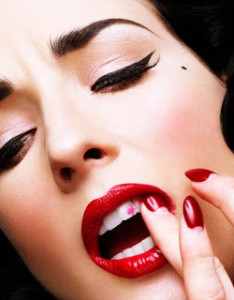 Dita von Teese is known for more than her boudoir-chic image and her former marriage to Marilyn Manson. She's a successful actress, model, dancer, fashionista and entrepreneur who reinvented burlesque and reminded us that sexy and classy can again be synonymous. She brings sexy back to the days of her idol, Betty Grable. Back to the days when young Army privates would spend their paltry earnings on a bottle of perfume for their sweethearts.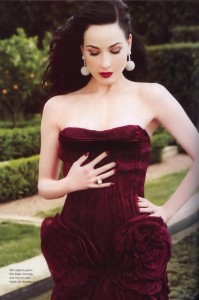 We at CaFleureBon have previously recognized that Dita's fragrances deserve special attention. Tama swooned over Dita's titillating, titular debut. Michelyn named it the best celebrity fragrance of 2012. Her follow-ups, Fleur Teese and Rouge, are equally enticing. Dita von Teese never fails to surprise us. Read on. I'll raise the red curtain on some big surprises from this siren of sillage. While we patiently pant for the upcoming Erotique (Mark Behnke's "most anticipated fragrance" at this year's Elements), I thought we could explore my own favorite from Le Maison du von Teese … the knee-buckling eau de parfum, Rouge.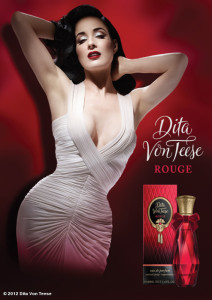 One might imagine the bottle for Rouge — a ruby red flacon with a red velvet bow — sitting on a dressing room table, backstage at the burlesque. A dancer heads to the stage leaving behind a cloud of perfume — her bespoke, blended with equal parts inspiration and courage. As the music starts, we inhale the top notes: bright orange and bergamot shine like a toothy smile hitting the stage. Things get a bit spicy when pink pepper mingles with black tea, a naughty influence on the innocent magnolia. Finally, woody notes emerge (don't look at me, I didn't compose this!) blending with raw amber. Red. Hot. But … honestly, without the innuendo, leggy marketing and trombone smears, Rouge is simply a shy girl who just got off the Greyhound bus in the big city. As multifaceted as its ruby bottle, Rouge can, at times, be warm and comforting, like an oversized wool sweater. Or as sweet and innocent as a first kiss. Though vanilla is not listed in the official breakdown of notes, the dry-down is a smooth, tender embrace of vanilla and amber. And here comes the first surprise; despite its bawdy bottle and femme-fatale sales pitch, Rouge is perfectly unisex and can easily be worn by a man. My buddies would be shocked to learn that this mercurial minx of a scent is marketed toward their sweethearts. Thankfully, there is a sincerity and authenticity to Rouge (and to Ms. von Teese) which saves it from becoming another sad victim of a narrow-minded culture.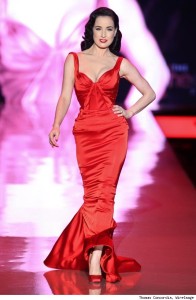 Rouge, and all of the fragrances in this saucy line, caused quite a stir at Elements. Though Ms. von Teese was sharing the stage with some niche superstars like Bond No. 9, Montale and Amouage, her fragrances held their own. They not only stood up, they stood out. While it's clear she's having fun and (ostensibly) doesn't take herself too seriously, there is the refreshing realization that this is the real thing. With that, curtain up on the best surprise; each of these tantalizing eau de parfums can be purchased for less than $50. So, there's no need to flirt with a purchase. You can pick up a 1.4 oz bottle (among other sizes and prices) and smell like you paid three times that. And it's for sale on The Home Shopping Network of all places! It should, however, come as no surprise that being smart is being sexy.
–Michael Devine, Senior Contributor
Art Direction: Michelyn Camen, EIC