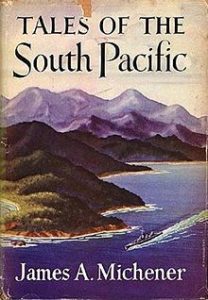 Tales of The South Pacific First Edition 1947
"I wish I could tell you about the South Pacific. The way it actually was. The endless ocean. The infinite specks of coral we called islands. Coconut palms nodding gracefully toward the ocean. Reefs upon which waves broke into spray, and inner lagoons, lovely beyond description. I wish I could tell you about the sweating jungle, the full moon rising behind the volcanoes…" ― James A. Michener, Tales of the South Pacific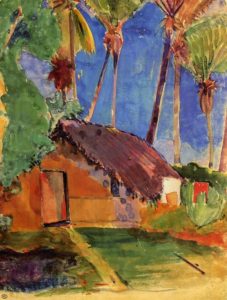 Hut under the coconut palms – Paul Gauguin. Watercolor.
In his Pulitzer Prize winning collection or stories, Tales of the South Pacific (1947), James Michener recounted his adventures in the South Seas and introduced his readers to the mythical island of Bali Hai. These days most of us are familiar with Bali Hai via adaptations of Michener's book, like the Broadway musical South Pacific by Rogers and Hammerstein or the two major film versions. James Michener's Bali Hai was not a real place but rather a dream, a composite of the South Pacific islands he encountered in his travels, a little bit of Vanuatu perhaps, something of Bora Bora and of course visions of the island paradise 10 nautical miles from Tahiti called Moorea. On this cold and dreary winter day in the northern hemisphere I would love to fly away to Michener's mythical island. But since I can't manage to travel to the South Pacific this winter, Vânira Moorea, (won our Best of Show: Feminine Fragrance, Tranoi Show at the Tunnel.) Vânira Moorea from The House of Berdoues Grands Crus Collection of fine colognes, is my south sea vacation in a bottle.

Berdoues The iconic boboche bottle 1940s courtesy of Maison Berdoues
The House of Berdoues was founded in 1902. Four generations of know-how, exploration and uncompromising care are evident in the development and preservation of the house's unique tradition of exceptional colognes. In their new Grands Crus Collection Berdoues brings together the finest ingredients and more than a century of experience in the art of French high perfumery. The Grands Crus Collection perpetuates the Berdoues tradition and infuses each offering with the scents of the locations suggested on the beautifully decorated bottles. Berdoues' new take on cologne is really quite revolutionary – neo-classical really, as it fulfills the requirement of a cologne (refreshment) while, at the same time, bringing contemporary taste, depth and longevity to the classical form.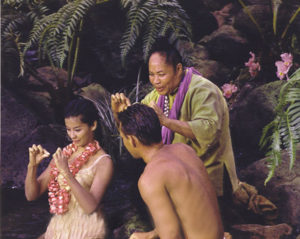 Frances (Nuyen) Nyugen as Liat and her Mother (Bloody Mary) Juantia Hall with Lt Cable John Kerr , South Pacific 1958
Vânira Moorea is a vanilla that sparkles. To me vanilla fragrances are almost always beautiful but often heavy, rich and gourmand. Not so Vânira Moorea! This new cologne, created by perfumer Alexandra Monet and introduced in July 2016, is at once vivid, saturated and crisp. With the initial spritz the slightly bitter, leafy pettigrain lifts the vanilla right off the ground. As the cologne drifts and swirls though the air, bright sparks of sweetness are carried on a green, misty essence of twigs and leaves. This unisex, effervescent refreshment lasts for about an hour before the fragrance melts and settles onto the skin with a sensuality reminiscent of oranges and sunshine.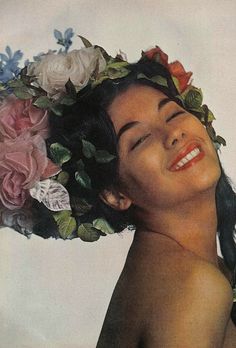 1962 March Vogue – French-Vietnamese actress, France Nuyen
It is here that Vânira Moorea recalls my long lost memories and sensations of lazy days basking on tropical beaches. The sunbathing lasts an hour or so before Tahitian vanilla returns, now much richer but still vibrant with citrus. One spritz of Vânira Moorea will last me a good eight hours. The vanilla is always evident but the fragrance is not linear. Subtle changes involve not only the fragrance notes but my perception of the concentration as well. It may seem strange, but Vânira Moorea begins for me as refreshing cologne, settles into an eau de parfum and ends as an extrait.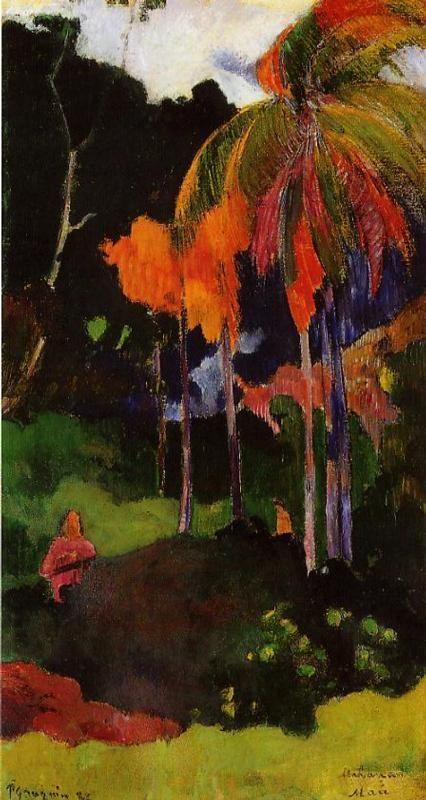 The moment of truth I, 1892 Paul Gauguin
In his Writer's Handbook: Explorations in Writing and Publishing (1992) Michener made the observations that "Writers turn dreams into print." To my mind, perfumers work the same kind of magic. They turn dreams into scent. I have only seen pictures and documentaries of Moorea but I often visit the island in my dreams – and imagine myself visiting Bali Hai whenever I luxuriate in the refreshing exoticism of Berdoues Vânira Moorea.
Notes: Orange from Brazil, Petit Grain from Paraguay and Vanilla from Tahiti.
I would like to thank AMERIKASINC for the lovely bottle of Vânira Moorea (and for my island vacation in a bottle). My opinions are my own.
Gail Gross – Sr. Contributor
Art Direction: Michelyn Camen. Editor-in-Chief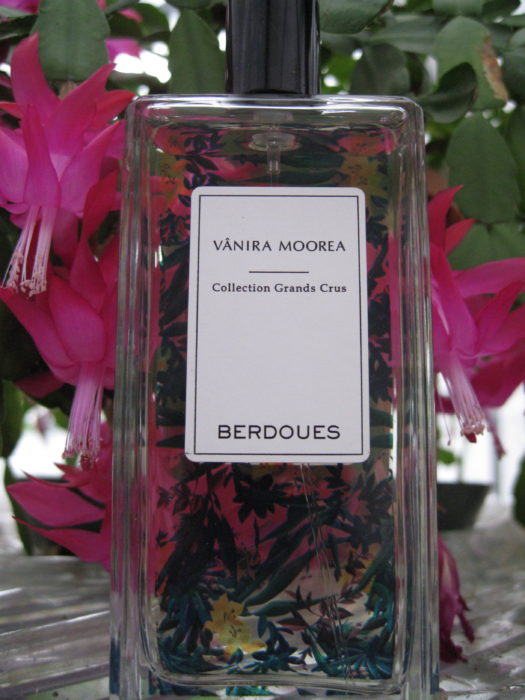 Photo of Vânira Moorea by Gail©
Thanks to the generosity of AMERIKASINC we have a 100ml bottle of Berdoues Vânira Moorea for one resident in the USA ONLY registered reader (be sure to register or your comment will not count). To be eligible please let us know your thoughts on Vânira Moorea based on Gail's review, where your dream winter vaction might take you and if you have experienced a perfume from Berdoues Collection Grands Crus. Draw closes 2/4/2017
We announce the winners only on site and on our Facebook page, so Like Cafleurebon and use our RSS feed…or your dream prize will be just spilled perfume.