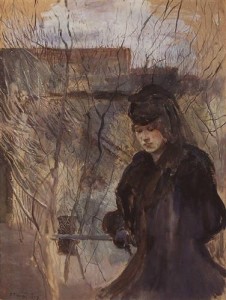 Lady with a Spring Landscape – Konstantin Somov
The notes in a fine perfume all tell stories to our senses. Some are bright and chatty, while others are dark and mysterious.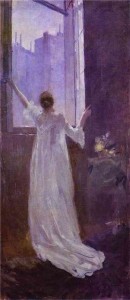 Konstantin Korovin
For me, there is a story that all violet-based perfumes tell, and that is one of vulnerability. At the center of that powdery, candied softness is a reminder of how fragile we are. I think this is why some people might shy away from violets in perfume, not because they are too "grandmotherly", but it's actually because violet is a tender, fragile, and vulnerable note. And our society isn't about tender fragility – it's about getting on with it and who cares what gets in your way.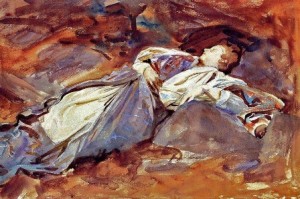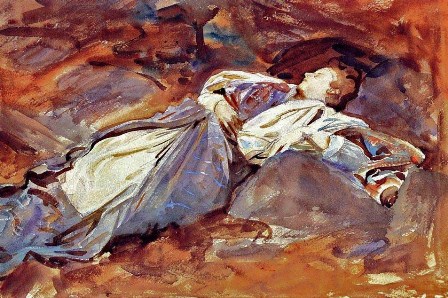 John Singer Sargent (1856-1925) The Artist's Sister Violet Sargent Violet Sleeping 1908
But this is also why perfume matters as an art form. We need those fragile reminders to point us to a safe place where we can confront our soft spots without feeling like we are weak or too exposed. Perfume is a perfect, quiet and secret way to do this.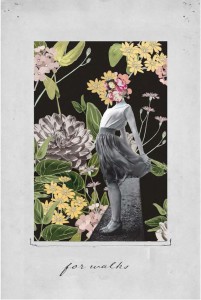 For Walks collage Courtesy of BLOCKI
And there is a new release out entitled For Walks, by a wonderfully old American house known as BLOCKI, which captures this wonderfully empathetic moment that violets impart in a scent.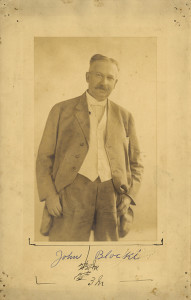 John Blocki. Image courtesy Chicago Veteran Druggists' Association records, University of Illinois at Chicago Library, Special Collections and Archives
The original house dates from 1865, started by John Blocki, a chemist by trade and who then went on to launch perfumes and tonics. He participated in Worlds Fairs and hosted German scientists who were just beginning to isolate the fragrant compounds that would revolutionize the perfume industry.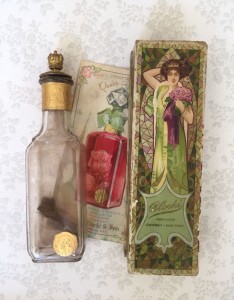 Vintage John Blocki & Son Empress Rose Toilet Water circa 1900
By 1903, he had opened his own perfumery in Chicago, with its own novel touches in presentation (natural flowers preserved within the perfume bottles he sold.) John Blocki died in 1934, and was universally lionized as one of the most-respected and innovative American perfumers of his time.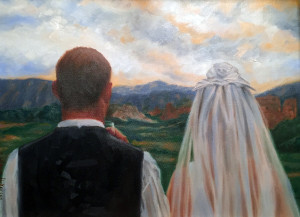 Wedding Painting of Tyler & Tammy Kraemer 1996
But as with many older perfumeries, BLOCKI, disappeared until John Blocki's great-great grandson Tyler DeLeBar Kramer and his wife Tammy decided to breathe new life into the venerable American house.

BLOCKI Perfumes For Walks, In Every Season and This Grand Affair
And by 2015, 150 years after the first scent was bottled, they had done so, with a trio of releases, For Walks, This Grand Affair (a voluptuous Oriental), and In Every Season (a sensuous musky floral). And, judging by these three fragrances alone, the newly-rebooted Blocki line has an enormously bright future to match its illustrious past.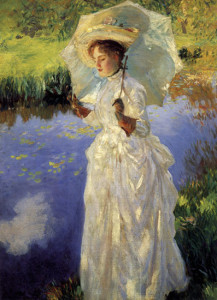 John Singer Sargent A Morning Walk
The perfume For Walks could not have been more aptly titled. It begins with a radiantly dewy fir needle, mint and violet leaf opening that begs you to go for a deep and relaxing spring stroll outdoors. This opening is the closest facsimile to breathing in pure, clean air I've ever come across in perfume. It is both tremendously exhilarating and quietly intimate at the same time. It's as if a perfume were standing beside you and whispering, "Breathe – just breathe", which is EXACTLY what one needs to manage our vulnerable interior world.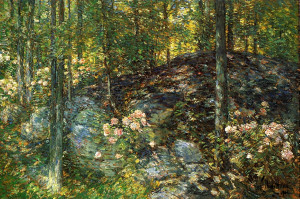 Laurel on the Ledges – Childe Hassam
The heart notes echo the opening softness, with more violets and Boronia flower, which adds more of that woodsy exhilaration behind the powdery lightness the violets are draping your senses in. The drydown is earthy, sweet and bright with cedar, vetiver and sandalwood. There is also a touch of iris to bring a slightly flinty edge to the drier notes. You are deep in the woods now with your lungs fully expanded, to allow your body to surrender to the welcoming, supporting stillness around you.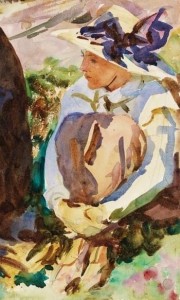 John Singer Sargent The Lesson (detail), 1911
Fragrance Foundation Award Winning Perfumer Kevin Verspoor (and former CaFleureBon Contributor) has done a marvelous job under Tyler DeLaBar Kraemer's direction in recreating the heritage and wonder of this august American line – For Walks is a tender, empathetic gem that should be a must-have for anyone who truly loves violets in perfume. The only thing "grandmotherly" about this scent is the calming welcome it provides at every stage of its development to grant us a sacred, quiet place to restore ourselves and face the day again.
Disclosure: I received my sample from Twisted Lily Fragrance Boutique and Apothecary
Notes: violet leaf, mint, fir needle, violet and boronia flower, orris, vetiver, sandalwood and cedar
Pam Barr, Senior Contributor
Art Direction: Michelyn Camen The title of the draw is from the beautiful quote by author Neltje Blanchan "Can words describe the fragrance of the very breath of spring?" It seems Pam has done so.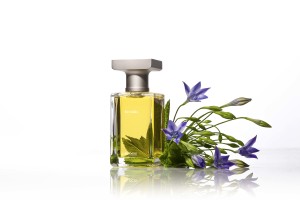 Thanks to BLOCKI Perfumes we have a draw for in the US for a registered reader of 50 ml of For Walks. To be eligible, please leave a comment with what you enjoyed about Pam's review, and your favorite place to stroll when the weather is warm or to find peace of mind. Draw closes 3/14/2016
We announce the winners only on site and on our Facebook page, so Like Cafleurebon and use our RSS option…or your dream prize will be just spilled perfume