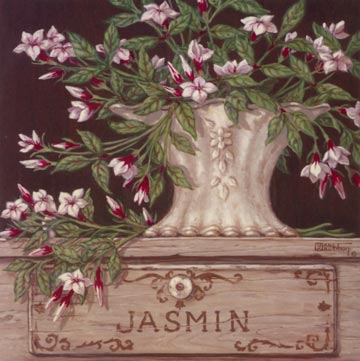 When it comes to floral notes jasmine is one of my favorites and the main reason for that is the number of different ways jasmine can present itself in perfume. When jasmine is at its most intense it is almost narcotic and full of indolic glory. When jasmine has the intensity turned down a bit a hint of the indoles are still there but it is less heady. When jasmine is used where the indoles are almost completely removed; it allows the sweetness of jasmine to predominate and even allows the green quality, which the indoles usually squash, to come out. It is this versatility that I believe makes jasmine one of the favorite ingredients for a perfumer to base a fragrance on. Almost every major line of fragrance has a jasmine entry, or two or three or more.
Acqua di Parma has since 2004 in its Le Nobili collection been exploring a single flower and attempting to uncover the nobility of each. Iris Nobile and Magnolia Nobile have been excellent examples of this style of fragrance. Both of them have a sense of straightforwardness to them without getting too extroverted that makes them perfect for everyday wear. Now we have a new fragrance in the La Nobili collection, Gelsomino Nobile.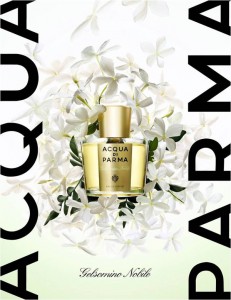 Gelsomino, according to the press release, is a special species of jasmine which grows in Calabria, Italy. Whatever the case may be the jasmine as it is translated to scent is the third kind of jasmine I described above. Gelsomino Nobile has very little indolic nature and is much more floral and green. The choice to surround this clean jasmine with some other cleaned-up white flowers and musk make Gelsomino Nobile a great end of summer fragrance.

Gelsomino Nobile opens with the give and take of orange and pink pepper. Sweet citrus and zesty sipice make for a refreshing opening and set the stage for the star's entrance. The jasmine does come forward very quickly out of the top notes and it is sweet and green. Underneath the jasmine are also orange blossom and tuberose. These are also the cleaned-up version of these normally indolic white flowers, too. As I've worn Gelsomino Nobile the indole lover in me wondered how this would have been if these three notes were all present in their most intense form. I realized that would've made this a fragrance of extremes. What you do have in Gelsomino Nobile is a light fluttering breeze of flowers and it is a much more enjoyable experience for the choice to have these traditional powerhouse notes kept in check. The base is cedar and musk and it is mostly the musk which does the heavy lifting throughout the final phase of development. I liked the addition of the musk at the end because it ends up adding a bit of the rough sensuality that indoles do normally.
Gelsomino Nobile has average longevity and average sillage.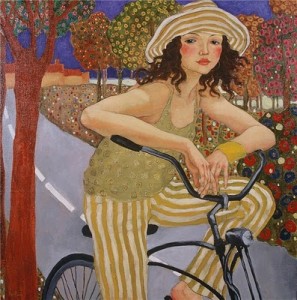 If you just enjoy jasmine Gelsomino Nobile is something you should try. It is a jasmine you could wear on the hottest day of summer or into the office and it would be appropriate.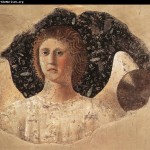 This kind of versatility is what might make those of you for whom jasmine is not a favorite note also consider trying Gelsomino Nobile as it takes jasmine and cleans her up and makes her noble in bearing.
Disclosure: This review was based on a sample provided by Acqua di Parma.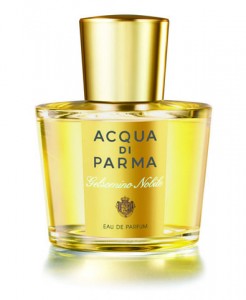 We have a bottle of Gelsomino Nobile to give away. To be eligible leave a comment naming the next flower you would like to see get the La Nobili treatment from Acqua di Parma. Draw closes on August 20, 2011.
–Mark Behnke, Managing Editor
"sweet days of summer the jasmine's in bloom
summer breeze makes me fine
blowing through the jasmine in my mind"