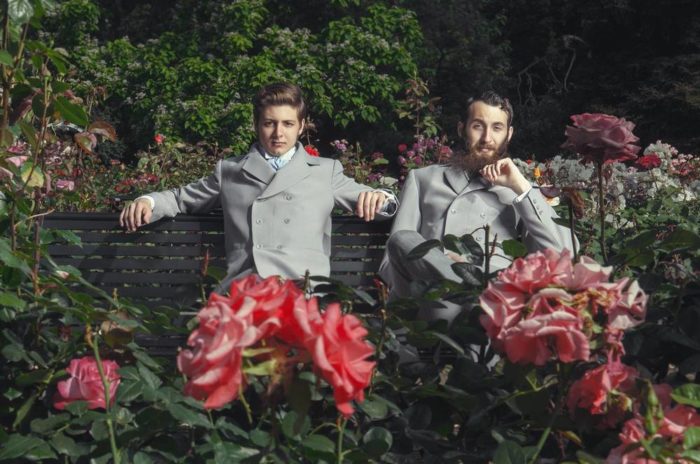 Natural Perfumers Alexander Chesebro and Ian Fitzgerald are artisans with a studio in Sacramento California
Fitzgerald & Guislain may well be a name little known to you, dear readers – but I hope to alter that, in my own way. I became acquainted with their work last year and found them to be among the more fascinating natural fragrances available: original, beautifully and meticulously crafted and thoroughly researched.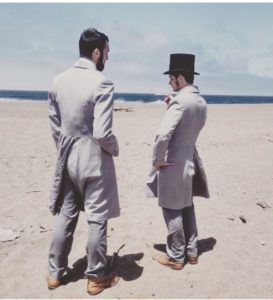 Ian Fitzgerald and Alexander Chesebro via instagram
"It's not every day that two young gentlemen dressed head-to-toe in Victorian garb walk into the shop with a fully realized line of natural perfumes based on their study of nineteenth century perfumery combined with a modern natural approach." ~ Antonia Kohl of Tigerlily Perfumery. Two childhood friends from Roseville, CA. have realized a marvelous vision of their own devising.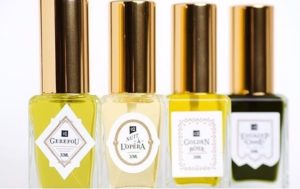 Their initial four eaux de toilettes (Gerefou, Golden Rose, Nuit à L'Opéra and Eucalypcense) captured my attention immediately. I promptly ordered a bottle of Golden Rose, of which I once wrote, "Saffron's shimmering golden shafts of light illuminate with diffuse incandescence." I couldn't resist Gerefou (wordplay on fougère) for my husband: "Veracity of materials informs the entire composition – a true-blue unapologetic fougère possessed of vibrant tonicity built upon classic notes and marvelous tarragon."
Fortunately for us, Fitzgerald & Guislain have composed four more beauties, new additions to their collection, 3 are extraits. Let's explore together: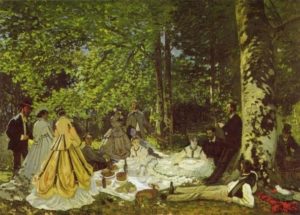 Dejeuner sur l'Herbe by Edouard Manet, 1863
Forêt de Fontainebleau: Perfumer Alexander paints a 19th century portrait of this haven just outside of Paris which painters and photographers frequented as they enjoyed their "déjeuner sur l'herbe": nouveau vintage done masterfully, brimming with abundant clove and oakmoss. It evokes a consummate shady grove picnic locale, new boot leather and lush Parisian perfumes wending through the woods.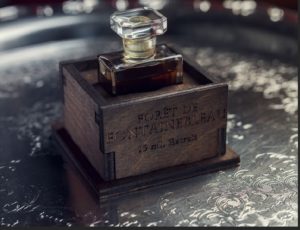 Foret de Fontainebleau
My husband swooned for this one – I don't wish to hyperbolize, but I would be thrilled to own it. If you are a vintage Caron Tabac Blond sort of soul, this has your name inscribed upon it. Notes: Top: black pepper, Heart: clove, natural carnation accord, Bulgarian rose absolute, ylang ylang, Base: vintage civet tincture, natural Mousse de Saxe accord, Indian Sandalwood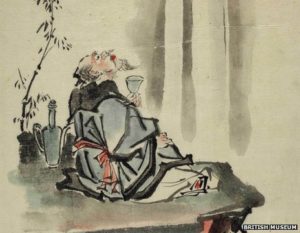 Drinking Alone by Moonlight by Li Bai (701–762)
Prunier à Minuit: Alexander Chesebro's inspiration hails from Tang Dynasty poet Li Bai's "Drinking Alone Under the Moon"
"Among the blossoms waits a jug of wine.
I pour myself a drink, no loved one near.
Raising my cup, I invite the bright moon
and turn to my shadow. We are now three.
But the moon doesn't understand drinking,
and my shadow follows my body like a slave." ~ poet Ling Bai (Follow the complete poem here).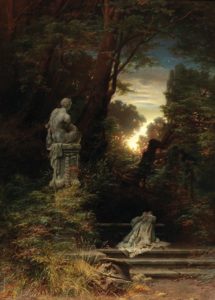 Ferdinand Knab (Würzburg 1834–1902 Munich) Elegy
Night-blooming flowers intoxicate us as much as implied plum wine we share with the moon's companionship. Tobacco cosies up to peach melange in order to summon that wine. Wisps of incense, smoldering fires from a neighboring village whisper in the wind. One experiences twists and turns which create fanciful olfactory images. This is surely not anyone else's fruity floral: distant tendrils of Rochas' Femme (sans spice) might be envisioned here. Notes:Top: tobacco absolute, damascenone beta natural isolate, peach natural mélange; Heart: jasmine sambac absolute, tuberose absolute, Base: ambergris tincture, hydrocarboresine natural absolute, Indian sandalwood, vanilla absolute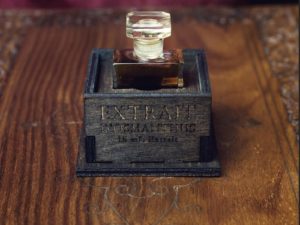 Extrait Osmanthus
Extrait Osmanthus: Astutely classified as an animalic soliflore, this perfume is proof positive that modern-day perfumers might benefit from filching a page or several from the Victorians. Its base hails from an authentic 1858 recipe sporting luxuriant triple extract rose and ambergris.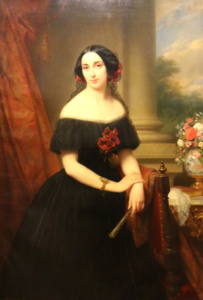 Portrait of Louise van Campenhout (1847) Nicaise de Keyser
Chinese osmanthus' fruitiness bears a leathery underbelly; blended with a delicious apricot accord, there is a joyful marriage between them which smells greater than the sum of their individual parts. This animalic leatheriness lurks stealthily, waiting for its opportunity to mingle suavely with an exquisite base. Ambergris is rosy/earthy briny in dilution; it feels intuitive communing with rose and deer musk (which I am certain is ethically obtained). The perfumer suggests applying Extrait to a clean handkerchief as our forebears would have done: a quaint concept, and not without charm. As a perfume in its own right, it is timeless and delicate. Notes:Top: apricot natural accord, Heart: osmanthus absolute, benzyl acetate natural isolate, Base: esprit de rose triple, vanilla tincture, Siberian deer musk tincture, ambergris tincture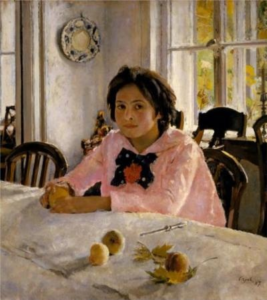 Girl With Peaches 1887 Valentin Aleksandrovich Serov​
Pêche Poivrée EDT(Peppered Peach) is an outrageously fine perfume, part of Fitzgerald & Guislain Forbidden Fruits of 2017 series. I am riveted to my seat and sanpaku with pleasure. These gents desired a savory, drier peach-themed dessert, and if Pêche doesn't make you salivate, little else will. Ian and Alex conjured up their ideal October evening by the fireside in a woodland cabin, eagerly awaiting a peach cobbler fresh from the oven. The wedlock betwixt peach and vetiver is a brilliant one. It is flawlessly sylvan and has a homesteader feel about it, then there is an unanticipated peach accord, juicy and luscious without smelling syrupy. It bears no resemblance to confiture, to pâtisserie; there is no gooey gourmandise. For someone like me, Pêche Poivrée holds a unique place in the heart: one of comfort and delight, a much-needed respite from daily care and worldly woe. As Virginia Woolf remarked – "a room of one's own". Notes:Top: black pepper essential oil, linalyl acetate natural isolate, Heart:Turkish rose absolute, cardamom CO2, ylang ylang absolute,Base: vetiverol, guiacwood 'heart', wood 49 natural isolate, vanilla absolute,
Many thanks to Fitzgerald & Guislain for their samples! My nose is my own...
~ Ida Meister, Senior Editor
~ Art Direction: Michelyn Camen, Editor-in-Chief; whenever possible I used art from the Victorian Era 1837-1901
The four new extraits will be available October 1, 2017 on Fitzgerald & Guislain's site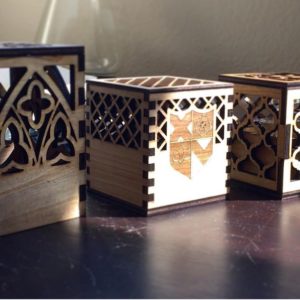 Thanks to Fitzgerald & Guislain, we have one sampler set of all eight fragrances for one registered reader in the USA, so be sure to register. To be eligible please let us know what appeals to you about Ida's review, which fragrance sings to you and why. Draw closes 9/22/17
Please follow us on Instagram @cafleurebon and fitzgeraldandguislain
We announce the winners only on our site and on our Facebook page, so like Cafleurebon and use our RSS feed…or your dream prize will be just spilled perfume.