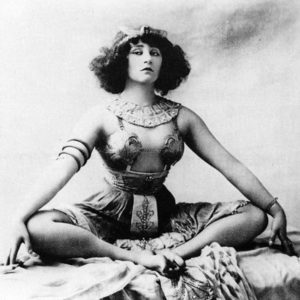 French Author Colette Yoga 1907
Yesterday was International Yoga Day (it was also National Selfie day, so figure that). Truly for me, every morning starts with sun salutations, so dedicating just one day may bring awareness but the benefits of a daily practice for your mind, body and soul is immeasurable. Throughout history, given by some sources as dating back from 1700 BC, yoga has been incorporated into different cultures which originated in ancient India. Yoga gurus from India later introduced yoga to the west. Indra Devi, opened her yoga studio in Hollywood in 1947.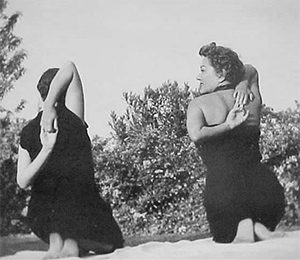 Indra Devi with Gloria Swanson Hollywood
Since then, many more western and eastern teachers have become pioneers, popularizing hatha yoga and gaining millions of followers. Hatha Yoga now has many different schools or styles, all emphasizing the many different aspects of the practice and draws in different people, from all areas of life.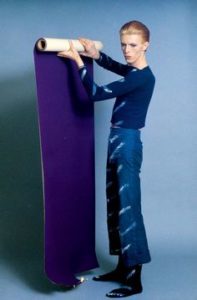 David Bowie rolling his yoga mat
It has been embraced by the author Colette, Brigitte Bardot, Gloria Swanson, Sigmund Freud, Marilyn Monroe and David Bowie and many more. All were practitioners.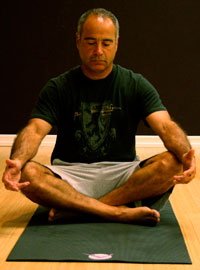 Dennis Ingui Owner and Founder of Auorae Yoga is my former colleauge and my friend since 1994
I began yoga after 9/11, overwhelmed by the reoccurring nightmares, and daymares, where I could not stop my thoughts, the images and memories I still have of that horrific day. Before yoga I had difficulty breathing. It began to impact my ability to function at work. Fortuntately, I met a young woman, Sandra Olic who became my yogini and slowly over the next few years I began to heal. Exactly, at the same time in 2001, a good friend Dennis Ingui was recuperating from surgery for prostrate cancer. Soon after, he attended a local yoga class and began a daily practice. A former marketing and fashion executive, he now owns Aurorae Yoga which is Amazon's number one brand for yoga accessories; he is going strong and is a cancer survivor.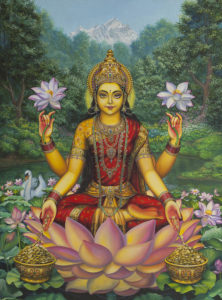 Lakshmi by Vrindavan Das
One of my first perfume collaborations was with Jane Hendler of Ajne. We co created Lakshmi; Lakshmi is a Hindu deity, the goddess of abundance, beauty and prosperity. She is most often associated with the heart. My personal mantra invokes her grace. Over the past few years, some of my dearest friends and loved ones have endured serious illnesses or have passed away. Yoga helps me live in the 'now', especially since I am prone to "monkey mind" and insomnia; both yoga and daily exercise have been invaluable tools in stabilizing my emotions and living in balance.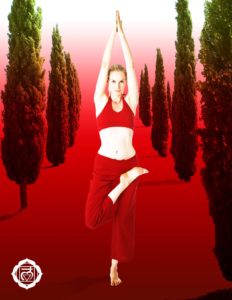 Tanja in Tree Pose (balance) photo Wolf Knoerr
For my first article in a ÇaFleureBon series I am dubbing FIT, FAB AND FRAGRANT, I turned to Tanja Bochnig of April Aromatics, a well-known natural perfumer from Berlin, the winner of the 2014 Art and Olfaction Artisan Award for Calling All Angels is a former model, and a yoga teacher who studied with many of the world's masters.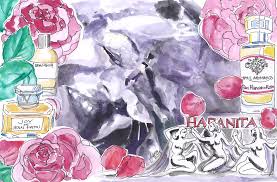 Tama Blough watercolor by Jasia Julia Nielsen
Tanja's natural perfumes have been written about extensively on CaFleureBon since 2011 ( Former Editor Ida Meister did the first reviews) but it most dear to me is our collaboration to raise money for Tama Blough with the perfume San Francico Rose; Tama bravely fought and lost her battle with cancer of the bile ducts last year on January 9, 2015. Indra Devi is Tanja Bochnig's spiritual name, given to her by her teacher. I asked her to share some of her wisdom as yoga is for everyone, each at their own level, for the young, and for the old. –Michelyn Camen, Editor in Chief
Tanja in Camel Pose which opens your heart art and photo by Wolf Knoerr
The main goal of yoga, is to help us to prepare for meditation, (to be able to become still) and eventually lead us into "Samadhi", (a state of bliss, free beyond physical attachments).
Here are some of the more popular styles of yoga:L
Hatha (focuses mainly on the physical postures)
Vinyasa (means body movement, flowing with breath)
Ashtanga (Ashtanga means eight limbs or branches of yoga, the physical exercises are just one part of this yoga style. Practicing meditation, breathing and awareness are other parts. This style is great for men, since it involves stong physical movements, it is also the yoga style Michelyn practices)
Iyengar (The development of strength, mobility and stability)
Kundalini (The yoga of awareness, raising the life force energy, (kundalini), chanting, breathing, etc.
Yoga can help with symptoms of:
Stress relief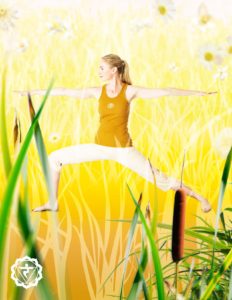 Tanja Bochnig Warrior Pose centers the mind and strengthens the body photo Wolf Knoerr
Strengthening and toning of the body
Flexibility
Mindful awareness
Becoming compassionate
Healing on a physical, spiritual and emotional level
Centering, preparing for meditation
Finding your true inner voice and calling
And many more…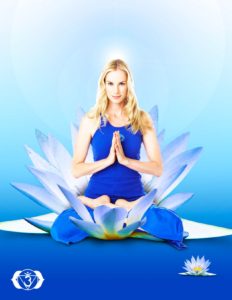 Tanja Bochnig lotus padmasana pose meditation photo and art Wolf Knoerr
I began a daily yoga practice over 20 years ago, studied with many different yoga masters and learned various styles of yoga. But eventually I created my own and did the practice that felt right for my body. Using the healing power of the plants and essential oils alongside my practice, led me to create AROMAYOGA.
The aim of Yoga in its classical sense is to aid the practitioner in the attainment of their divine plan. Originally, various exercises were developed over the centuries to perfect the body through physical flexibility (asana), vitality, cleansing, and a special breathing exercise system (pranayama). Then came varied exercises of mental control and concentration, focused on the quest towards moral evolution. The ancient sages (rishis) of India recognized that a perfect body and a purified mind were the necessary conditions to achieve the greatest goal of yoga, enlightenment (Samadhi). Meditation on the seven main energy centers (chakras) in our body was and still is one of the most important practices to achieve this lofty goal. -Tanja Bochnig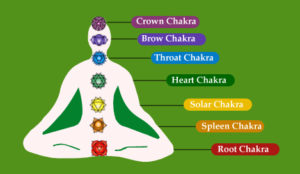 The Seven Chakras as explained by Michelyn
Sacral-"sexuality and pleasure". Located in our groin, people who have their sarcal chakra out of balance may have self esteem issues and may not think that they're desirable. Often they have difficulty opening up in a relationship. They can lose desire for sex.
Root: "Career, security, and Money" Located in the base of the spine, if this chakra is out of balance you may feel "stuck in a rut", unsatisfied with your job and lack energy.
Solar Plexus: "Personal Power and Willpower" Located in the spleen, liver and stomach. If this chakra is out of balance you may be quick to anger, have self-esteem issues and feel powerless
Heart Chakra: "Love and Open to Giving". If the heart chakra is out of balance you may have difficulty loving, sabotage your relationships, or are guarded.
Throat Chakra: "Communication" When this is blocked you may find it difficult to express yourself and are afraid to speak up if you disagree with others.
Third Eye Chakra: "Intuition and Open to New Ideas" The third eye is located at the center of your forehead and for millenia it has been asscociated with the ability to "see the future". Actually you aren't seeing it, you are opening to things that can't be rationally explained.
Crown: "Connection to the Divine" Located at the crown of your head. Often in a yoga class you bow to your teacher and fellow practitioners and say "May the Divine light in me, Honor the Divine light in you". Your crown chakra may be weak if you feel disassociated with others and with yourself. You can over rationalize.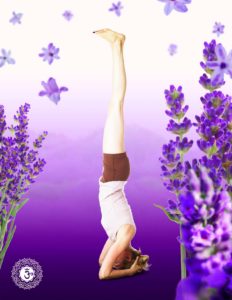 Tanja Bochnig in shoulderstand-lavender is used for relaxation and to help with sleep Photo Wolf Knoerr
The seven chakras are the spiritual control over our entire body. Your foundation is a series of different nerve plexuses and important endocrine glands, which are located at regular intervals on the body's central axis. They have a three point entry angle from the back and open up similarly on the front part of the body to release, creating an apparent back to front direction of energy flow. Comparable to the meridians, but to an even stronger measure, the flow points of the chakras on the body surface provide the perfect position for the simple and effective use of essential oils. Chakras are not physical in origin, but are concentrated in the energy sectors of our spiritual bodies. Through long years of studying the relationships of certain trees, shrubs and flowers with the different energy centers, I was able to develop an appropriate oil mixture for each chakra.
Aromas are ethereal and have a highly sensitive impact on the world of our emotions. Places with a pleasant scent elevate the mind and soothe us. As light represents the essence of seeing, and sound is the basis of hearing, aromas and various ethereal scents affect our sense of smell, and stimulate us in many ways. The catalytic effect of scent is used with intention in Aroma Yoga. Aroma Yoga succeeds only with humble gratitude to the many gifts of the flora, and employs this power in the search for the highest good and advancement of the soul. There is a saying: "What we surround ourselves with determines who we are and what we are." We will be one with the scent of the divine garden of unconditional love. We will rise into the world beyond the five senses and the limitations of ego-perception. Let us celebrate the union with our divine self. Then we will understand yoga.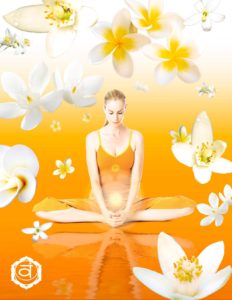 Tanja Bochnig meditating Photo and art Wolf Knoerr
"Yoga means UNION. Finding the balance between male and female, black and white, yin and yang, finding your true inner voice. Yoga makes you beautiful especially from the inside! It not only tones and strengthens your body; it softens your heart and makes you compassionate for the people and world around you! A daily practice of asanas, pranayama and meditation helps you find your true self and makes you flexible from the inside out! The true self and beauty are only inside of us, our body is a mere shell. Yet it is important in this world we live in, to find the balance and the love between both worlds, our inner and outer."
Try to listen to your body and soul. Become still. What is it that YOU need for yourself and what makes you feel good and one with all? Namaste! Blessed be! -Tanja Bochnig
Michelyn Camen, Editor in Chief and Tanja Bochnig, Natural Perfumer for April Aromatics and Creator of AromaYoga , click here for the Facebook page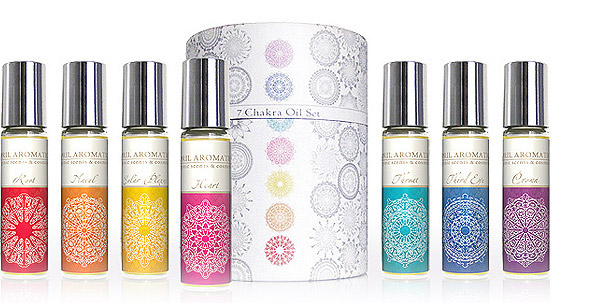 Thanks to Tanja we have a worldwide draw for a registered reader for AromaYoga Seven Oil Chakra Kit. To be eligible please leave a comment if you practice yoga or meditation, which chakra you may need a little help with, where you live or anything you felt was memorable about our article. If you like the idea of learning more about fitness from experts please leave that in your comment as well. Draw closes June 27, 2016
We announce the winners only on site and on our Facebook page, so Like Cafleurebon and use our RSS option…or your dream prize will be just spilled perfume