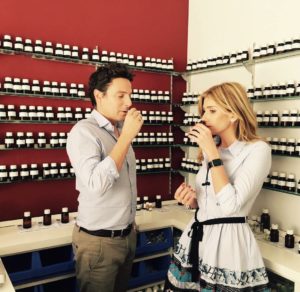 Perfumer Luca Maffei and Creative Director Rania Barakat Naim of Fath's Essentials (photo courtesy of Rania)
After hearing and reading all the wonderful stories of what happened at Esxence this year, I was super excited to try the new Fath's Essentials Collection in their entirety. Being a big fan of the previous releases in this line (by perfumer, Cecile Zarokian), I was eager to try them–especially knowing that they were created by none other than 2x Art and Olfaction Award winning Luca Maffei, (who has had my attention these past few years and has become one of the most well-known young perfumers working today).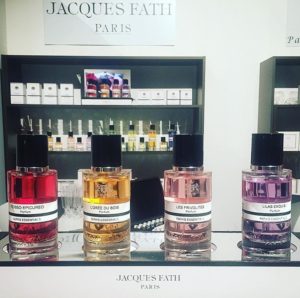 Jacques Fath Essentials Rosso Epicureo, L'Orée du Bois, Les Frivoltés, and Lilas Exquis photo courtesy of Brandusa Paulesco of Atelier Fragranze Milano
I was afforded the privilege of testing the collection (ahead of the official US November 2017 launch) and I am impressed with all the new additions! I liked them all and hope to review each one, but I chose Lilas Exquis which is a Best at Esxence 2017 perfume, according to both Michleyn and Ermano. After one spritz , I understood why.
Jacques Fath – L'Officiel October 1951
The first thing I noticed about the perfume was the color of the liquid. It's a translucent light purple and its hue is inviting simply in that regard alone, ( it is also well-known that designer Jacques Fath loved this color and used it extensively in his fashion and accessories).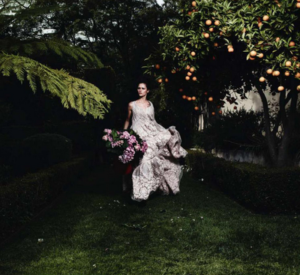 Tasha Tilberg Photo: Michael Comte ©
I love lilac. It's one of those staples of the floral kingdom that means warmth and pleasantness all wrapped up in a gorgeous smelling bunch of little purple flowers wafting through the air, a harbinger of spring time. Anytime I smell it in nature, I am instantly transported to a happy place. However, as many times as many have tried, it is not easily captured in perfume. That is not the case here… incredibly realistic and so much more than a soliflores. Lilas Exquis takes me to other places too – all along a dew soaked path through flowers and greenery.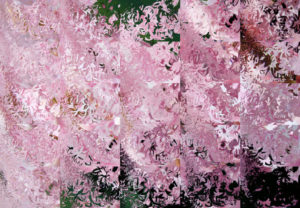 Hyacinth digital art by Michelyn
The perfume opens with a burst of dew soaked and freshly picked purple hyacinths. The marriage of green with florals is very subtle and is mingled ever so slightly with a very damp earthy aspect that is at the same time dry. I'm reminded of a calm evening as the sun is going down – the sky tinged purple – and the first droplets of dew have started to form on the foliage. The effect of moisture is enhanced by a blueberry accord which acts to add just a hint of big juicy berries to whet the senses. It's used sparingly so it is at first undetected, but enough to make a connection. Meanwhile, the moon begins to rise.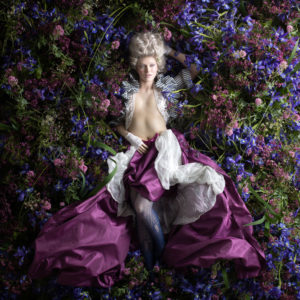 The Secret Garden, 2015 Rococo by Alexia Sinclair©
Next we encounter a thick patch of sweetly scented violets amongst spires of herbal angelica. The air at this point is getting quite heavy, but the magic of nearby flowering magnolia and linden trees in the moonlight acts to brighten and lighten the air subtly. As one moves, you begin to notice something in your wake. What is this? It's absolutely superb! Your mind says, "I know this!" Then, before you really even know it, the sweet and powdery violets give way to large bouquets of glorious lilacs singing in a silent symphony of scent across the landscape. They smell so close, yet so distant as if they are in a dream, yet somehow right in front of your face. Wherever they are, they are in your existence and it's here one can languish for hours simply enjoying the opulent aroma.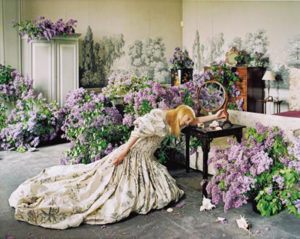 Photo: Tim Walker
As the symphony starts to fade a chorus starts to rise consisting of musk overtones tempered by soft woods. The dichotomy of the elements is quite refreshing and gives an air of cleanliness and crispness to the already very dewy and pleasant air. Now and again, lilac sweeps back through to remind us she is near with an uplifting effect that is unlike any other lilac creation in my memory.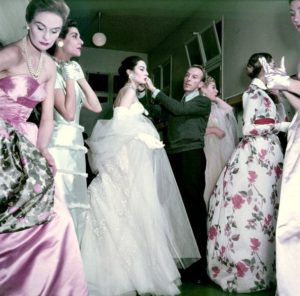 Jaques Fath fitting models for his Spring collection 1954
Lilas Exquis would be an elegant addition to any perfume lover's collection. It is easy to wear for day and evening. The projection is astonishing and when I recently wore it to a formal gala affair, I was greeted with great many compliments that led to very interesting conversations. The perfume lasted at least 10 hours and was still evident on my jacket 3 days later.
Top Notes: Hyacinth, Blueberry;Middle Notes: Magnolia, Violet, Lily, Angelica, Lilac, Linden Blossom;Base Notes: Amber, Soft Woods, Musk
Disclaimer: Review based on tester supplied by Jacques Fath/Panouge. Thank you Sophie and Rania!. Opinions are my own.
Aaron Potterman, Contributor and Vintage Perfume Expert and Contributions by Michelyn Camen, Editor-in-Chief who also is the Art Director.
Editor's Note: The new collection will launch in September in Europe 100 ml/134 € and 50 ml/92 (or 94) €. Merci de votre aide Brandusa et Rania. Grazie per il tuo aiuto Rania e Brandusa. All are original compositions that evoke Jaques Fath's fashion rather than his vintage perfume.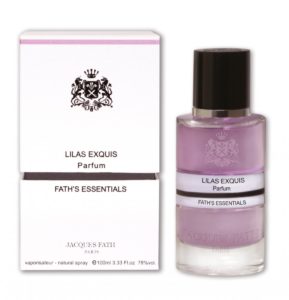 Thanks to the generosity of Fath's Essentials we have a random draw for a registered CafleureBon in the USA, EU and Canada for an avant premier 100 ml bottle of Lilas Exquis. Please register here . To be eligible please leave a comment with what you enjoyed about Aaron's review, where you live, if you have a favorite Jaques Fath Essentials perfume and if you enjoy lilacs in nature and in fragrance. Draw closes 8/15/2017.
You can follow us @cafleurebon @maison303 on Instagram. Please check out @jacquesfathparfums on Instagram as well.
We announce the winners on our site and on our Facebook page, so Like Cafleurebon and use our RSS FEED…or your dream prize will be just spilled perfume