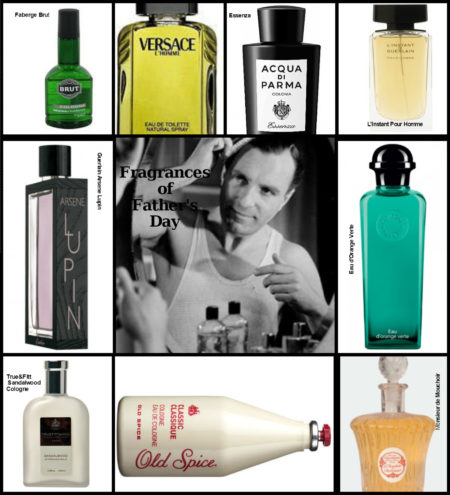 Many of us have no problem remember our mothers' perfumes, but when it comes to Dad it's not their cologne we often don't recall, but remember instead the scent of their tobacco, Barbisol shaving cream, the smell of barbeque and fresh mown grass. Our Team and the fragrances their dads wore.
These are the Correct Answers
Hernando Courtright, Contributor- Guerlain Mouchoir de Monsieur
Clayton Ilolahia, Guest Contributor – His Dad didn't not wear any cologne
Tammy Schuster, Contributor – Old Spice
Bettina Korp, Guest Contributor- Guerlain Arsène Lupin
Sebastian Jara, Contributor- Hermes Eau d'Orange Verte
Ermano Picco- Truefit & Hill Sandalwood
Liza Wade, Contributor- Faberge Brut
Pam Barr, Sr Contributor- Guerlain L'Instant Homme
Aaron Potterman, Contributor – Versace L'Homme
Elise Pearlstine, Sr. Contributor –Old Spice
Michelyn Camen, Editor in Chief- Aqua di Parma Essenza
Note: two of our fathers wore Old Spice
No reader guessed correctly so the draw is completely random and the winners are
WORLDWIDE 100 ML The Different Co Adjatay Cuir Narcotique jane r
WORLDWIDE Brook Ashleigh Flight set of four 1 dram bottles of each of her perfumes: NO 1 – THE CHILD BEFORE THE PROGRAMMING, NO 2 – ABANDONMENT 1988,NO 3 – TAKEN HOME, FOREST, KEPLAR 68B, ONE OF THEM, and NO 4 – REBIRTH FULL CIRCLE 2056 or a bottle NO 1 – THE CHILD BEFORE THE PROGRAMMING, Thomas Turbano
USA ONLY House of Matriarch 50 ml of Madrona ALL NATURAL mitchell
USA only: We have a ginormous swag bag filled with dozens of samples from Spring Fling including mini and sample size fragrances and goodies from Penhaligon's, Annick Goutal, Demeter, Tocca, Puredistance, ScentInvent Technologies, The new Eris perfumes, Shalini, L'arganique Beaute, Molton Brown, Diptyque, Byredo, Red Flower and many others. Loide
USA Rising Phoenix Sample of of Musk Rose Attar (Art and Olfaction Top 10 Finalist 2016 ) fazalcheema
WORLDWIDE Sammarco Alter with following Customs restrictions; cannot ship to: Italy, Afghanistan, Crimea, North Korea, Iran, Iraq, African Countries except: Egypt, Algeria, Morocco, Tunisia, South Africa. frank
EU, USA and Canada: 100ml of YS UZAC Immortal Beloved Matthew
WORLDWIDE 100 ML Gabrielle Chieffo MAISIA harry
USA ONLY Blocki Parfums 50 ml bottle of This Grand Affair mim
USA ONLY 60 ml of Solstice Scent Estate Carnation Elizabeth T
If you are one of the winners please follow these instructions. DO NOT REFER TO THIS AS SPILLED PERFUME in your email subject please write the name of your prize ie 100 ml of Ys Uzac Immortal Beloved and in the body please include your name, mailing and phone details by 6/26/2016 Noon EST. This is a deadline and no exceptions if you are late. Please use the email from your comment so we know it is you.
We announce the winners on our site and on our Facebook page, so Like Cafleurebon and use our RSS option…or your dream prize will be just spilled perfume