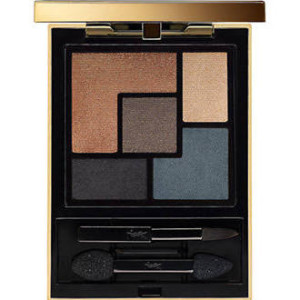 YSL Fétiche Couture Collector Eyeshadow Palette for Fall 2014
This past summer, when most of the beauty bloggers sang the praises of the Summer 2014 the Limited Edition YSL Bleus Lumieres, I passed mainly because with my blue eyes the colors seemed "matchy matchy: Instead, I opted for Summer 2014 YSL Color Couture Eyeshadow Palette in 09 Avante Garde, (part of the permanent collection and can easily be found at most department stores and at Sephora). I really have not been feeling "autumnal" until recently. Now, I have been reaching for YSL Fétiche Couture Collector Eyeshadow Palette for Fall 2014, which I have had stashed for over the month .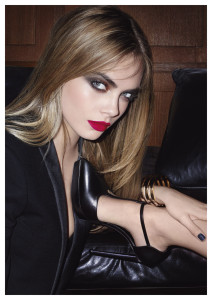 Photo Courtesy of YSL Beauty: Cara Delevine for YSL Cuir Fetiches Fall 2014
I am glad I bought it in early August because it is already out of stock on the Yves Saint Laurent site. The entire Fétiches Couture color collection was inspired by rebellious, rocker chic and black leather for those who care how the Company marketed what I think are five very wearable colors. The face of the collection is model Cara Delevine who is pale and blonde, so the colors look exceptionally intense on her, (the makeup artist went rather heavy on the three deepest shades).
The "black leather' may refer to the gorgeous case, which is black velux paper. According to the press materials the YSL Fall 2014 limited edition palette's colors are "Deep black, rich green, opulent brown, bright copper, warm gold". Who named the colors? Not only misleading, (which is a good thing), but not imaginative at all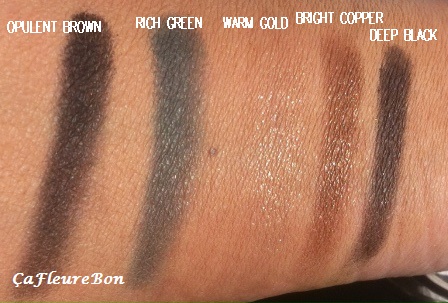 All five colors have wonderful textures and the finishes range from satin to frost depending on the color. Pigmentation? Color payoff?Incredible. It took two baby wipes to clean my arm and Dermalogica Pre-Cleanse to wipe the shadows off my eyes. The shadows lasted through early A.M meeting until i took them off 15 hours later without any creasing. If you bought any of the summer YSL color couture palettes then you already know that the palettes are inspired by couture -Yves St. Laurent's famous Mondrian dress.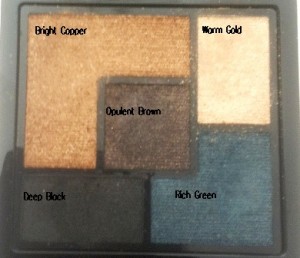 Bright Copper #1: Semi Frost coppery bronze with amber colored small glitter particles but no fall out. Rich, a little goes a long way.
Warm Gold #2: a vanilla shimmer that surprisingly is not plain old vanilla. Of the five colors it was the most suprising as it looked rather dull in the pan but has a flattering peach cast
Opulent Brown # 3: (middle) Dark warm brown shimmer with duo chrome aubergine and some gold shimmer
Deep Black #4: Cool toned satin to matte Black with slight silver shimmer. Less harsh than a matte black. Wish it was larger in the pan
Rich Green #5: Green? Not at all. SmokeyTeal, much more blue than green with a satin finish. LOVE
Worth the hype and gets my vote as one my favorite Fall eyeshadow palettes for 2014 (along with fall 2014 LES 4 OMBRES DE CHANEL TISSÉ CAMBON,VÉNITIEN and Rouge Bunny Rouge RAW GARDEN in Chronos). If you have blue or brown eyes, try to hunt this limited edition down. If you have dark, olive, medium, warm or yellow undertones to your skin you should be trying grab one asap. It works on cool toned paler ladies, especially if you want a very dramatic look. If you would like to see how this works on fair skin check out Perilously Pale's Beauty Blog The Fall 2014 Collector Eyeshadow Palette is $60.00.
Disclosure: I purchased this at Lord and Taylor's in Manhasset in early August
–Michelyn Camen, Editor in Chief (still trying to remove Deep Black from my arm hours later)