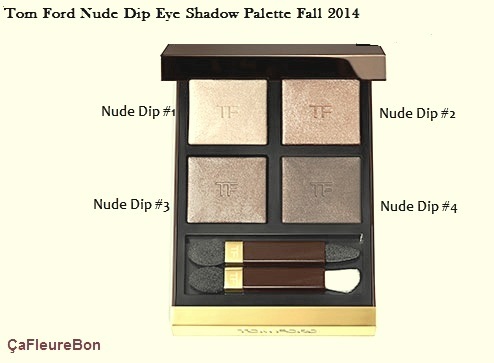 What is it about the words "limited edition", "pre-order only", and waiting list that feed our obsessive nature. If we cannot obtain the object of our desire with a click of our mouse or exactly at the moment we are in the store, we freak. Many beauty enthusiasts fueled by the buzz of beauty bloggers are on a mission to find Tom Ford's Nude Dip Eyeshadow Quad (limited edition) Fall 2014 (which depending on the retailer is most likely either not available yet or going in and out of stock). I read one blog that posts daily updates on availability.
Honestly, this $79.00 object of desire wasn't on my radar until one of our readers emailed me and asked if I could help her locate it. Since I am always up for a challenge I wrote that I would try. I did find it rather easily last week at Neiman Marcus, Atlanta. The lovely Contessa Palacios of Tom Ford Beauty (800-555-5077), asked her manager and voila the coveted Tom Ford Nude Dip Quad was on its way to me and one to our CaFleureBon reader. Since I am not a regular Tom Ford Beauty eyeshadow customer, (I have not liked the glittery, sparkle particles and fallout in a few past quads), I admit I was skeptical. I didn't opt to overnight it, that would be over the top but I was looking forward to finding out for myself if this much hyped eyeshadow quad was worth the effort and the spendy price. Sure the packaging is big time luxe, with its brown suede pouch and gold tone case, but you are paying $79 after all. And I already own about 50 shades of nude, so really, could it be THAT different?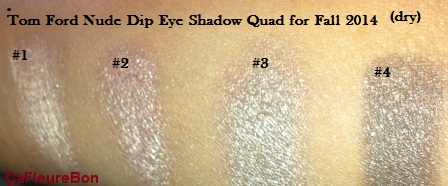 Tom Ford Nude Dip Quad color swatches: #1, #2, #3 and 4
I received free shipping and Fed ex delivered within three days. So what is inside? There are four nameless eyeshadows in the quad, which for the purpose of this review I labeled Nude Dip 1-4. All can be applied wet or dry and lean towards the cooler end of the neutral spectrum (with the exception of Nude Dip 2 which was warmer) on my tan/olive (Mac Nc42/Nars Barcelona) skin tone. The colors are so multi faceted that they might appear warmer on a fairer complexion. The texture is buttery smooth with excellent color payoff. When worn dry the shadows have shimmery or pearlized finishes. When applied wet, depending on the shade, the colors appear frosted or metallic. If frosted, shimmery, pearlized and metallic are not words you like, I assure you that the Nude Dip shadows are so finely milled, just forget about the negative connotations you might associate with these terms. If you are over 40, they will not accentuate any fine lines, creases or make you look overly made up. In fact they seem to do the reverse. They blend effortlessly. If you are in search of one nude eyeshadow palette that is glam, fits in your purse and can take you from office to dinner, then you should pick up the phone now.
Nude Dip #1: A frosted light champagne color with golden pearlescence. #1 may be the best under brow highlighter I own when applied wet.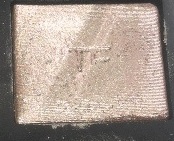 LOVE Nude Dip #2
Nude Dip #2: This is my favorite color in the Quad as you can tell by the vanishing TF embossing. The color of a burnished Rose Gold precious metal. Lit from within, a shimmery warm toned rose with a golden sheen. If you are a blue eyed gal like me, your eyes will POP. Perfect as a wash allover the eye. Add mascara and your eyes are done.
Nude Dip #3 : A bit meh on me, a medium silvery taupe that works well as part of the quad. Taupes seem to wash me out, so maybe I am not the best judge, but great if you are a taupe fiend.
Nude Dip #4: A dark brown with a satin finish that smokes out beautifully.
If you like smokey eyes, Nude Dip can be worn dramatically. If you prefer natural but notice me looks, Nude Dip will be your Holy Grail. Is it my HG? No, but I am glad I bought it.
Some tips: use a densely packed eye shadow brush such as MAC 239 or Antonyme Cream Eyeshadow Brush (all shadow swatches were done using this brush and for $12 it is really fantastic. They are very good quality brushes and all vegan). Don't overblend, you will not achieve a multi tone look if you do. The colors will meld on their own. The applicators with the set does have a hair and velour brush which are nice for touch ups.
Disclosure: I purchased this by calling Contessa at Neiman Marcus Atlanta. Say Michelyn sent you!
–Michelyn Camen, Editor in Chief