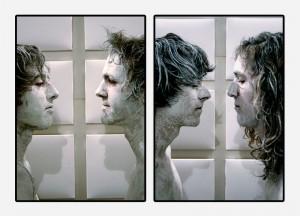 Face Organics has a delicious new line of organic perfumes featuring highly concentrated blends of pure essential oils in a base of jojoba oil packaged in convenient and easy to apply ocean blue roll on bottles. Made fresh in small batches they contain only plant ingredients and no synthetic additives of any kind. Founder of Face it Organics Stacey Bresnahan has over 20 years of aromatherapy and herbology experience and simply loves to blend beautiful aromas that inspire the heart and help to create good health in the user. Personally I found these scents clean, fresh, and a pleasure to apply.
As much as I love alcohol based perfumes for their diffusion the moisturizing gentleness of oil based perfumes are a comforting experience with oils that sink sensuously into the skin and stay close, lasting just that little bit longer than a perfume based in alcohol with the same concentration of essential oils…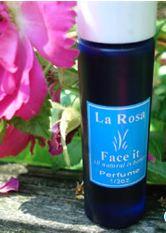 The scents created for Face it Organics include the lovely fresh "La Rosa" highlighting the intense aromas of Rose Otto and Geranium, with a subtle air of Lavender, set against a background of the sweet smelling grass of Palmarosa. This was my favorite pick for day as I found it very cheerful for the heart and mind.
"Magdalena" was my personal favorite from this line, to take me from day to night… a blend of Rose Otto and Orange Blossom all delightfully wrapped in Vanilla…simple, soft, and sexy…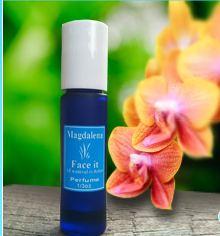 I would definitely recommend this new line for everyone but especially sensitive individuals, pregnant, and nursing mothers. The healing and soothing power of essential oils thoughtfully and skillfully blended will delight many a user. Thumbs up on this new line.
To peruse the other scent descriptions and products with delectable names such as Solal, Summer, Sunset, and Ridge visit www.Face-organics.com
All commenters on this post will be entered in a draw to win a sample set of seven perfume oils from Face Organics. The draw will take place at 11:59PM EST on Thursday September 9th.
–Monica "Skye" Miller, Natural Perfume Editor/Senior Editor