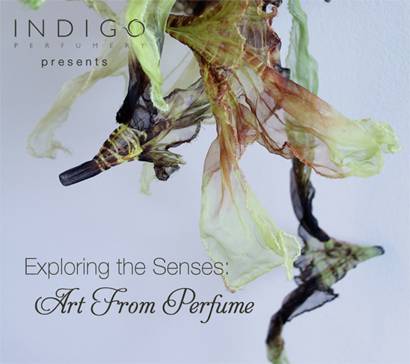 If you are a regular reader of CaFleureBon, chances are you have noticed how much attention we pay to finding evocative images in our reviews that make scent, which is so intangible…tangible to the eye. When I was at Sniffapalooza Spring Fling I ran into Ann Onusko, owner of Indigo Perfumery, and she told me about a collegiate art competition that will take place in her boutique called Exploring the Senses: Art from Perfume. Students chose one perfume from over 110 in the store to interpret and translate olfactory art into fine art. Submissions ranged from painting, sculpture and textiles to video. Judges evaluated and chose those works best exemplifying the intangible yet powerful beauty of fragrance. "Opening Indigo Perfumery in Lakewood, surrounded by art galleries and schools, inspired me to create Art from Perfume. I wanted to encourage talented local students to be inspired by its power as an art form," Ann said.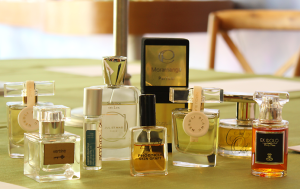 The Nine fragrances the students chose as inspiration
THE 9 FINALISTS:
Rachel Metz, 42, Kent State University, textile weaving.
Fragrance: Solace Essence by Ambre Blends
Abbey Blake, 22, Cleveland Institute of Art, Digital print on Hahnemuhle Paper.
Fragrance inspiration: Vertine by Friedemodin
Hunter L. V. Elliott, 23, Kent State University, oil on panel.
Fragrance: Stilettos on Lex by Jul et Mad
Jasmine Sampson, 23, Kent State University, mixed media.
Fragrance: Au Pays de la Fleur d'Oranger Neroli Blanc Eau de Cologne
Valerie Perczak, 23, Oberlin College, Video.
Fragrance: Ciel d'Opale by Ann Gerard
Erin Telle, 22, Kent State University, mixed media.
Fragrance: Neroli Blanc Intense by Au Pays de la Fleur d'Oranger
Anna Routson, 22, Kent State University, silk textile.
Fragrance: Moramanga by Coquillete Paris
Erin Miller, 25, Kent State University, tapestry.
Fragrance: Skin Graft by Phoenicia Perfumes
Tanzanight, 33, Cleveland Institute of Art, oil on canvas.
Fragrance: Thirty Three by Ex Idolo
THE JUDGES:
Rebecca Cross, a nationally known textile artist, teaches Surface Design and Professional Practices at Kent State University, Kent, Ohio..
Tara Swords is a Chicago-based entrepreneur who opened Olfactif, a first-of-its-kind, subscription-based fragrance discovery service.
Antonia Reiner is a fibre artist and photographer whose works have been exhibited in Ottawa, Toronto, Montréal and Cleveland.
Martin E. O'Connor has over 13 years of experience as a professional mural artist and teaches at the Cleveland Institute of Art and BAYarts.
The opening reception Thursday, May 15 from 7 – 9 pm is open to the public with first ($500), second ($300) and third ($200) prizes to be awarded. The exhibit will continue until May 31, with all finalists' works on display and for sale.
FOR MORE INFORMATION: Visit indigoperfumery.com
-Michelyn Camen, Editor in Chief