Photo of Ex Nihilo Perfumes via Ex Nihilo
Welcome to Ex Nihilo, Latin for "out of nothing." Ex Nihilo, the uber hot Parisian house, debuted their initial eight fragrances in 2014.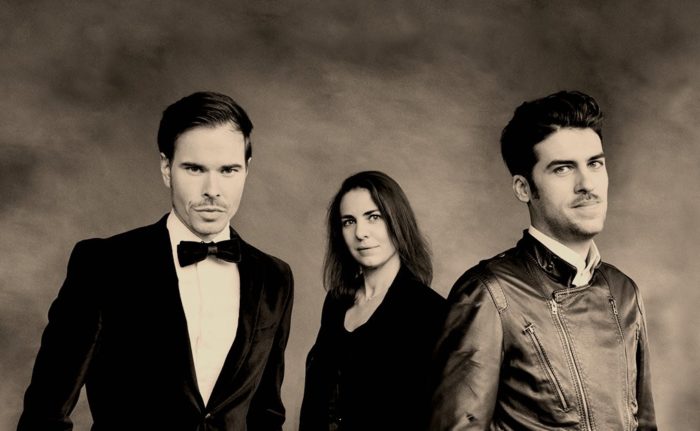 Ex Nihilo founders OLIVIER ROYÈRE, SYLVIE LODAY, and BENOÎT VERDIER
Founders OLIVIER ROYÈRE, SYLVIE LODAY, and BENOÎT VERDIER's mission is to create "an alternative to stereotyped luxury products, an alternative to the mass personalization." The trio set out to take a contemporary approach by doing it differently and shaking up the traditional way of selling fragrance. Ex Nihilo's first boutiques were located at 352 Rue Saint-Honoré, Paris, and the salon at Harrods, London.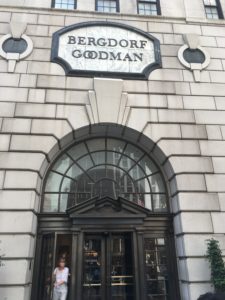 New York City followed in late 2015 at Bergdorf Goodman. The buzz was instantaneous. The brand now has nine locations in worldwide in Moscow, Cannes, Istanbul, and Dubai.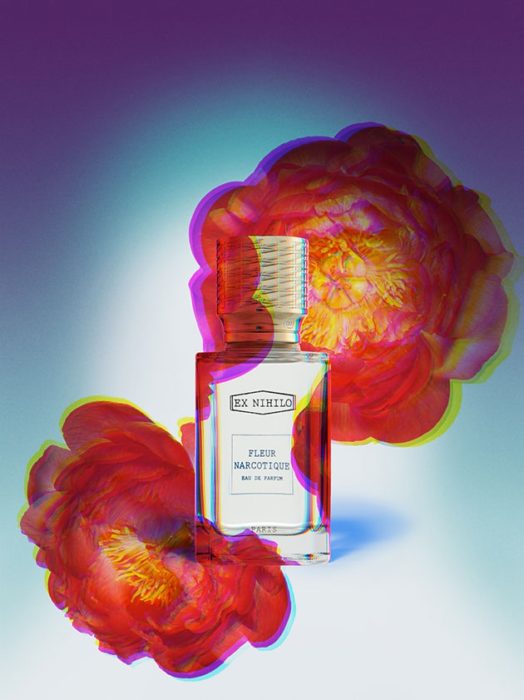 photo: Fleur Narcotique Ex Nihilo
In April, 2016, Ex Nihilo's femme fatale scent, FLEUR NARCOTIQUE (Quentin Bisch), was an INDIE FRAGRANCE OF THE YEAR semi -Finalist at the 2016 Fragrance Foundation Awards which made this rising fragrance house media darlings. It is also one of Editor in Chief Michelyn Camen's signature scents!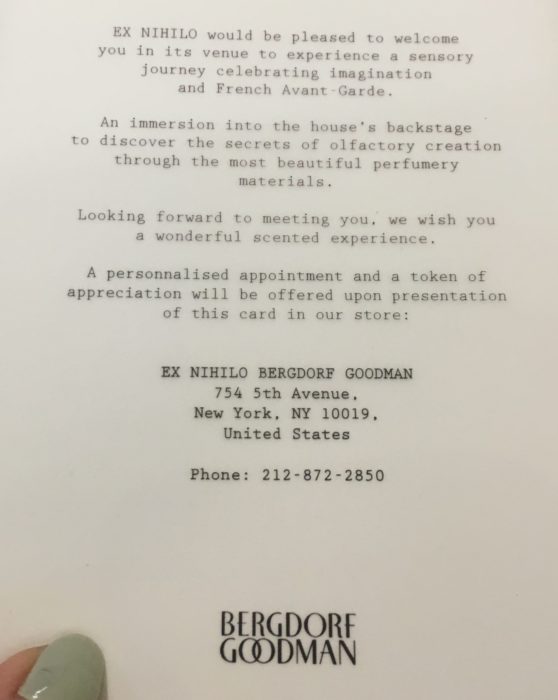 While first introduced to the brand at Sniffapalooza's 2015 Fall Ball it was the initial fragrances which got my attention, not the customization program. I wasn't quite sure what to make of it. At this year's Sniffaplooza Spring Fling, Ex Nihilo's Brand Ambassador Chely Depablos and I discussed the bespoke fragrance customization program. She suggested setting up a time to experience it first-hand.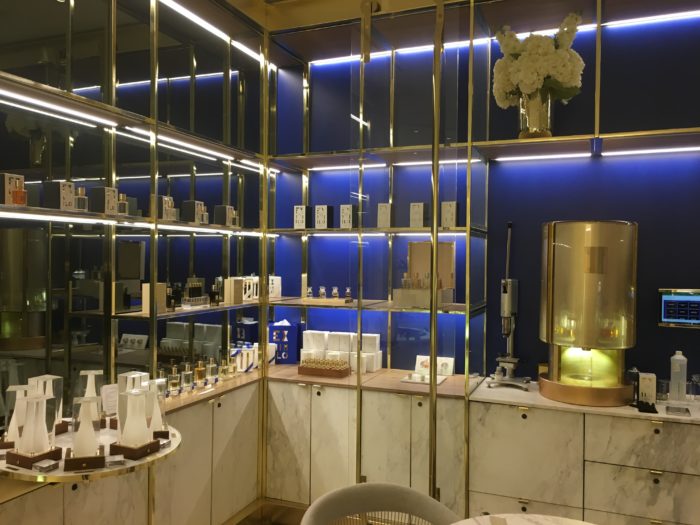 Bergdorf Goodman Ex Nihilo boutique
Intrigued, I headed to the Beauty Level at Bergdorf Goodman for the Ex Nihilo boutique, located in an area that offers privacy and tranquility.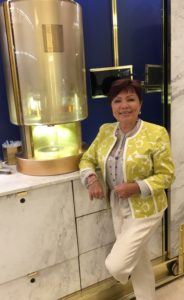 Chely Depablos Brand Ambassador Ex Nihilo USA
At the Bergdorf Goodman boutique, Chely Depablos greeted me warmly and showed me many unique features.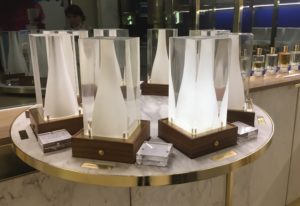 The Vases de Senteurs
The Vases de Senteurs, exclusively designed by Christophe Pillet, are brushed brass and walnut wood which is seen throughout all their other boutiques, also designed by Pillet. The Vases (not for sale) provide a unique way to experience the scents. When engaged, the lucite sculptures light up and emit puffs of scent which remain in the air for approximately ten seconds. I was intrigued that you don't have to wait for the alcohol to blow off, compared to the traditional spraying on a strip or body. Removing the alcohol, Chely Depablos informed me, reduces nose fatigue, which enables one to test multiple scents. I'm not clear how they were able to condense the top, heart and bottom notes, though. Trade secret I imagine.
The candle collection, created by Shyamala Maison, is cast in a minimalist biscuit porcelain. The four are: Lait D' Espices (Christmasy), Bois Des Anges (boozy with some smoke), Ultra rose (May rose) and Bouquet Mystique (floral in the winter garden). They only come in one size, 300g. Travel sizes are displayed and available in three different configurations and can be customized.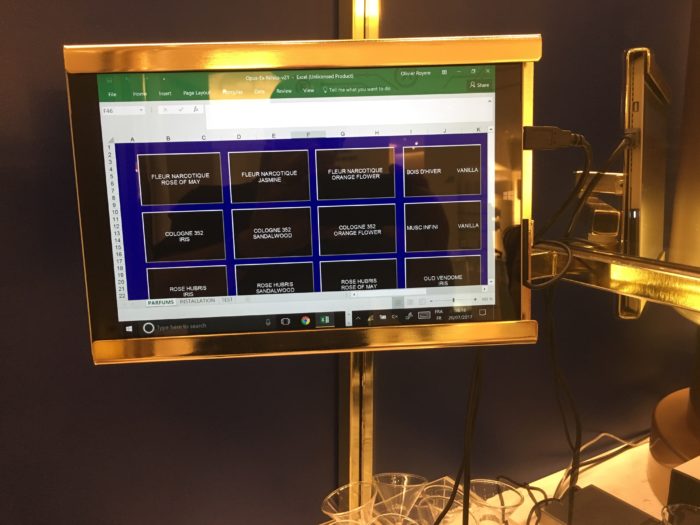 For my bespoke session, I was seated at the consultation table. The process takes approximately twenty minutes and it is recommended to arrive scent free. I re-aquated myself with samples prior to. The bespoke process involves blending one of the line's scents with one of the six perfumery raw materials, Iris pallida Absolute (France), Rose of May Absolute Grasse (France), Jasmine Grandiflorum Absolute (India), Orange Blossom Absolute (Morocco), Vanilla Bourbon (Madagascar) and Sandalwood (Australia) to create a custom scent. The most popular combinations are vanilla with orange blossom and Oud with rose.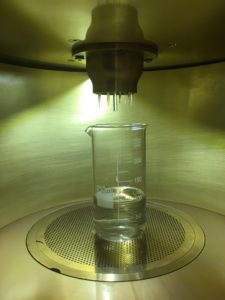 beginning the blending process
The Ex Nihilo line, over twenty, is collaborations with noted perfumers Olivier Pescheux, Quentin Bisch, Yann Vasnier, Nadège Legarlantezec, Nathalie Gracia-Cetto, Jacques Huclier to name a few. Not all scents are available to be personalized since some are only for the season.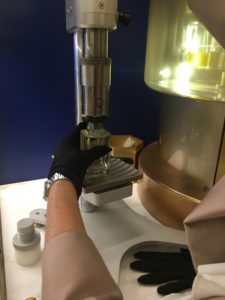 The formula is ready to bottle
From my five choices, Fleur Narcotique, Bois d'Hiver, Vetiver Moloko (Guillaume Flavigny), Musc Infini (Louise Turner), and Cologne 352 (Jacques Huclier), I narrowed it to Bois d'Hiver (winter woods), signed by perfumer Michel Girard, which is one of the brand's original eight fragrances. This woody floral musk is a bit of an "iron fist in a velvet glove." For my raw material, I chose Orange Blossom Absolute. I felt this would illuminate the winter woods for more of a year round wear.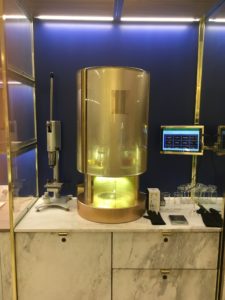 Osmologue
Chely Depablos led me to the Osmologue, a very shiny futuristic machine. Made on demand, she said that the "nectars" are weighed, based on a strict protocol and using the high-precision dosing machine to deliver the finished scent. All stages of the process are visible. While looking deceivingly simple I suspect there is a very complex process "behind the curtain." Longevity is one of her customer's favorite selling points, she told me. Chely Depablos is only one of three experts (the other two are in Paris and in London) trained and qualified to do the customization using the Osmologue.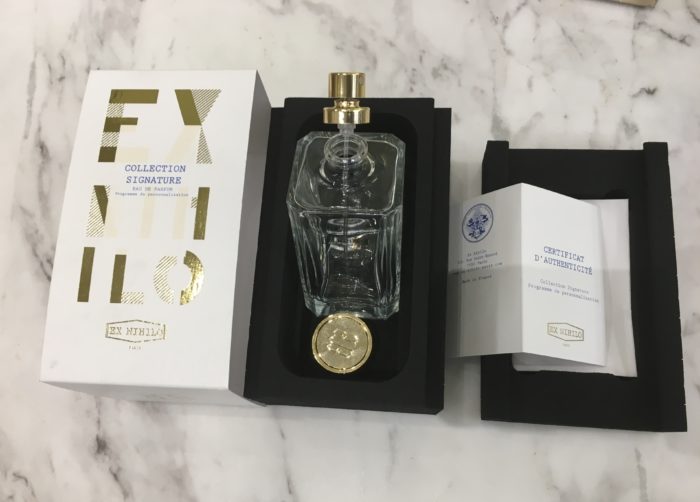 Hernando's Bespoke Ex Nihilo perfume
Once the right balance is struck and my scent finalized, selecting a bottle cap to personalize it was the next step. Available materials include Mother of pearl, onyx, and buffalo horn. The bottle can be also be customized by having it laser engraved (name your fragrance, etc). I did not.The bottle is packed inside a black box made from laser-cut foam. The material ensures that the fragrances are protected from light and heat.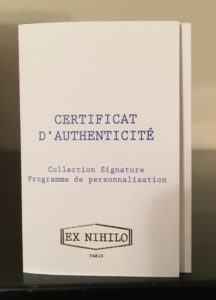 Certification of Authenticy Ex Nihilo
Upon concluding my bespoke session, I had my personalized fragrance with a Certificate of Authenticity along with the formula and name of the perfume selected and the raw material added. It can be refilled at any time since the formula is kept on file. Chely Depablos instructed me to shake it prior to using or preferably let it sit for a couple of weeks so that it stabilizes which let its olfactory qualities fully express their potential. I did use it upon receiving and enjoyed it but I did notice a modest change after a couple of weeks of it congealing.
Prices for the 100ml bottle run $325. Adding a raw material will vary in price, depending on which material is chosen (Iris pallida absolute being the most expensive is $415).
Thank you, Chely Depablos for a wonderful bespoke session!
–Hernando Courtright, Sr. Contributor and Brand Ambassador
all photos by Hernando for CaFleureBon© unless otherwise specified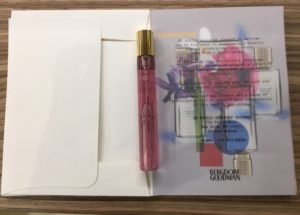 Thanks to the generosity of Ex Nihilo, we will be offering a reader a choice for one 7.5ml fragrance in the USA. Choose between: Cologne 352, Fleur Narcotique, Jasmin Fauve, Oud Vendome, Bois d'Hiver, Rose Hubris, Sweet Morphine, Vetiver Moloko, Venenum Kiss, or Musc Infini.. (click the link to Bergodorf Goodman's Ex Nihilo shop here.) To be eligible you must be a registered reader in the CON USA (you have to do this folks, click here) and leave a comment with what you enjoyed about Hernando's report, on his customization session, your choice should you win and if would you like to have a bespoke perfume customized for you. Draw closes September 13, 2017.
We announce the winners only on site and on our Facebook page, so Like ÇaFleureBon and use our RSS Feed… Or your dream prize will be just spilled perfume.