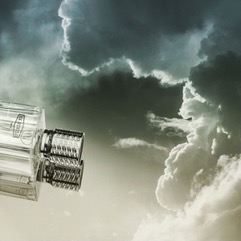 Beyond the Horizon, a new heavenly leather from Ex Nihilo via instagram
I believe in alchemy. The right combinations of people, elements, place, and time can create something far more precious than what the stand-alone components might suggest. Such is the case with Ex Nihilo Cuir Celeste, the company's latest release. Had I simply read the list of notes I may have passed it by because I believed some of them were impossible for me to wear and enjoy. What a loss that would have been for me! Luckily my introduction to the fragrance was learning that it was collaboration between a photographer and a perfumer whose talents I greatly admired. I immediately jumped at the chance to try it.
Ex Nihilo is a perfume house that has captivated me since they premiered in New York. The house is founded on the belief that perfumery can be informed by design and architecture as much as nature. They are champions of collaboration, not only between creative director and perfumer, but also between the fragrance and the wearer as well. Each other their fragrances are grand creations on their own, but the buyer is given the option of personalizing their new scent by adding one to three notes from a choice of exceptional raw ingredients pre-selected to work well by the perfumer.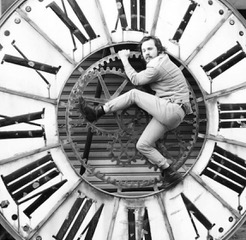 Mathieu César, co-creator of Ex Nihilo Cuir Celeste
Ex Nihilo's latest collaboration is Cuir Celeste. Their partner in this fragrance is the French photographer Mathieu César who has shot to renown over recent years. His black and white portraiture and fashion images are simultaneously direct and lyrical. He explained to the Washington Post in 2015 that his parents were antique book dealers and young Mathieu developed a love of inventing characters and telling a story. He was fascinated by both fashion and war photography. He is a thrill seeker; César has trained as both a firefighter and a Formula One driver. It is no surprise that he has a favorite leather jacket that he wears every day.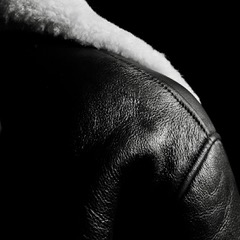 César's inspirational bomber jacket
It is this B3 bomber jacket that was the inspiration for Ex Nihilo Cuir Celeste. César had a designer in Paris rework the vintage jacket to create a modern garment that retained the authenticity of the original. With this in mind the photographer approached Quentin Bisch under the auspices of Ex Nihilo and asked him to work on the fragrance with him. Quentin had previously created Fleur Narcotique, Venenum Kiss, and French Affair for Ex Nihilo. In a recent conversation with Quentin about the partnership he told me, "I wanted to create a musky note, like a "cocoon", a second skin you would get into. Mathieu César wanted a leathery note. His work in black and white (photography) influenced me of course. Ambrette and violet leaves, together with galbanum and then sandalwood and musks play the "white" part. Cypriol and akigala, osmanthus and animalic notes play the "black" part."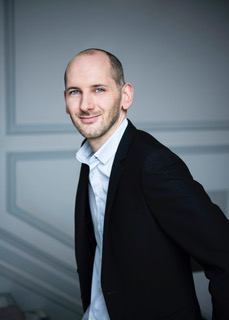 Quentin Bisch of Givaudan via Givaudan
Cuir Celeste's opening starts with an eye-opening blast of kicky black pepper and sharp galbanum that can put you in mind of the exhilaration of a jet take-off. Within seconds the adrenaline recedes and you are in a fresh, green ozonic state. I do not have unconditional love for galbanum and violet leaves, but now I know to trust them in Quentin Bisch's masterful hands. The top notes of Cuir Celeste are so well blended that it is not the screechy green presence I fear when I see those notes listed, but rather it's the soft, fresh, moist, cloud-like elements of these materials which emanate from my skin. I am glad I did not read the list of notes before wearing Cuir Celeste for the first time. My wariness of violet and galbanum may have left me less open to their softness.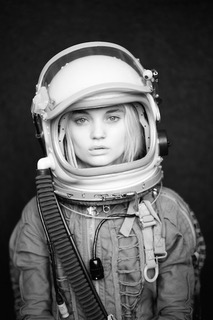 A beautiful test pilot © Mathieu César
The leather introduces itself fairly soon. It's a leather note softened by violet leaves. Sweet floral notes sneak in, but the leather has not abandoned us. Now I start to understand the B3 bomber jacket reference: hearty leather insulated with a cushy sheepskin lining. I feel strength and comfort simultaneously. Wearing this fragrance is like flying over a changing landscape; you are pleased with the new scenery and are intrigued to know what's next.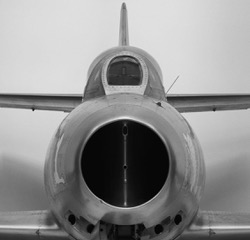 Nose of an airplane © Mathieu César
The black smoky note of tea or tobacco shows itself briefly then gives way to a very floral moment, almost as if someone carried a vase of peonies through the room; I am reminded briefly of Ex Nihilo's Fleur Narcotique which Quentin Bisch also created. This may be the osmanthus sweetening up the leather. After several hours a musky leather reasserts itself and clings close to the skin with the dry, woody notes of cypriol, sandalwood, patchouli and Akigalawood (proprietary to Givaudan, fractionated from patchouli, it has a woody, spicy floral aroma). The longevity of this fragrance is superb; if its applied in the evening it will be a soft, pleasing scent to wake up to. Traces of its soft beauty are still on my sweater days later. Notes: Black Pepper, Violet Leaves, Galbanum, Ambrette, Osmanthus, Patchouli, Cypriol, Akigalawood, Sandalwood, Musk, Leather notes
– Marianne Butler, Contributor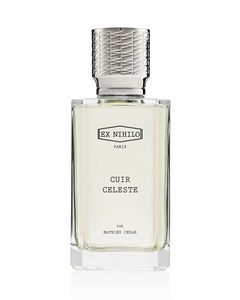 Bottle of Ex Nihilo Cuir Celeste, inscribed with name of Mathieu César
Disclaimer: Images and a sample of Ex Nihilo Cuir Celeste generously provided by Ex Nihilo and Givaudan. My opinions are my own.
We have a 2ml spray sample of Ex Nihilo Cuir Celeste for one registered reader in the USA or Canada. Please be sure to register. To be eligible please let us know what appeals to you about Marianne's review of Cuir Celeste and if you have a favorite perfume composed by Quentin Bisch (read his Young Perfumer article here) or Ex Nihilo. Have you expected to dislike a perfume based on reading its notes and been pleasantly surprised? Draw closes 9/19/2018
We announce the winners only on site and on our Facebook page, so Like ÇaFleureBon and use our Blog feed…or your dream prize will be just spilled perfume.
Follow us on Instagram @cafleurebon @spritzi_McGillacutty @exnihiloparis