In the upper courtyard of the Hammer Museum in LA the wind was blowing the black tablecloths around and sending small items like Isabelle Michaud of Monsillage's fluffy sniff feathers flying. It was cold enough to wear a winter coat, and it had been raining that morning. Nevertheless, the intrepid perfumers and exhibitors were mostly there setting up their booths for the first-ever AIX Scent Fair, held for two days in conjunction with the Institute for Art and Olfaction Awards.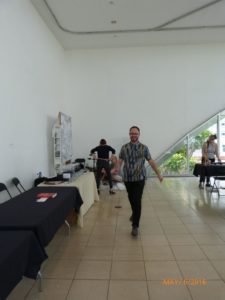 Devin Klein
Saskia Wilson-Brown, founder and force of nature behind the IAO, and Darin Klein of the Hammer Museum, were running around like the organizers they were, taking care of every little detail of every crisis that arose. I suspect that neither of them had slept for quite a while.
As an exhibitor, setup on Friday was the only time I had to walk around and photograph the exhibits, some fully formed, others in various stages of development. Saturday and Sunday there was a non-stop stream of visitors, ranging from long-time, incredibly knowledgeable perfume enthusiasts to those bemused museum-goers who were experiencing mass quantities of perfume for the first time. Sunday was Mother's Day, and there was a children's event, so a lot of children were there with their parents. Attendance at all of the events was huge.
Among the materials that I received at check-in was a "cheat sheet" with all of the exhibitors' descriptions of their work, so this account is a combination of my own impressions and what they say about themselves as well as imput from Michelyn.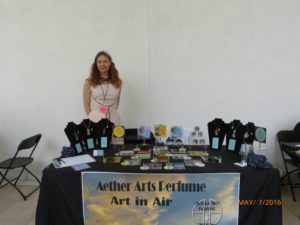 Amber Jobin of Aether Arts
Aether Arts Perfumes,based in Denver, Colorado, is the brand of Amber Jobin, student and colleague of Dawn Spencer Hurwitz. Amber creates unusual scents inspired by cannabis, Burning Man, and exotic locations. John Frum was the winner in the 2014 Art and Olfaction Awards artisan category. For the show, Amber launched a new fragrance Saffron.
Beau Rhee of Atelier de Geste, based in NY, was exhibiting two new limited-edition releases, Blues and Stones (CaFleureBon just reviewed Blues a natural marine-type scent designed to accompany a choreographic performance, and Stones is meant to express the idea of wet boulders moving through misty forest moss.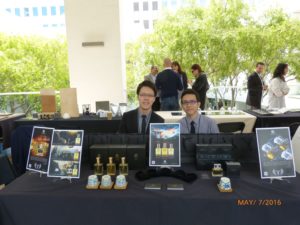 Eugene and Emrys Au of Auphorie
Auphorie is a perfume company based in Malaysia, founded by two charming young brothers, Eugene and Emrys Au, who come from a background in pastry making and soft drink formulation. Their perfume, Miyako, was a winner in the artisan category. The goal of the brothers Au is to "bridge the gap between the old (cultures, heritages) and the new (technologies, interpretations)". They have done this quite skillfully in Miyako and the other scents that they had on exhibit.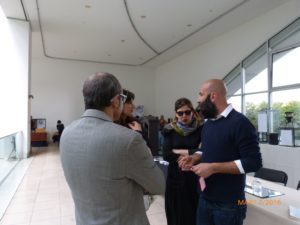 Antonio Gardoni
Bogue Profumo is Italian artisan perfumer and IAO judge Antonio Gardoni's company. My perfumes are rooms to discover with mood, texture, light and colour..'
Brooklyn Perfume Company was founded by James Peterson who has worked as a chef in "France's greatest restaurants". His philosophy is to let the raw materials "express themselves as you would an oyster, a lobster, or a piece of meatloaf". I like that approach!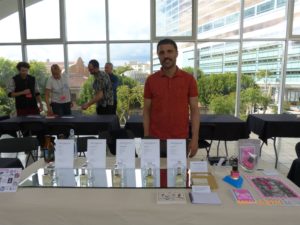 Bruno Fazzolari
Bruno Fazzolari comes from a visual arts background, having worked as an artist and sculptor before adding perfumery to his skills. He was also the original motivating force behind the Art and Olfaction Awards. Both Bruno and Antonio collaborated on Cadavre Exquis, which was introduced at the show.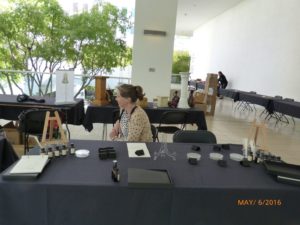 Cat Jones
Cat Jones, winner of this year's Sadikichi Award for Experimental Work with Scent comes from Australia, where her project, "Century's Breath" describes the scents that might be found on the Le Fevre Peninsula in South Australia over the next century. It's a frightening look at the future of a wild and beautiful part of the world.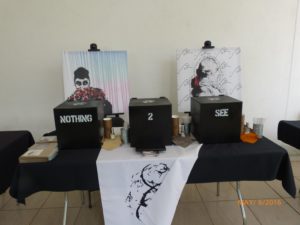 Charenton Macerations
Douglas Bender of Charenton Macerations, based in Brooklyn adopts a queer immersive approach to perfumery that subverts outmoded norms of structural constraints and gender stereotypes in pursuit of creative alternatives." Best known for Christopher Street and Asphalt Rainbow, his scents were presented in boxes, though, not out of the box. He has been a Cafleurebon contributor with his memorable series A Queer History of Fashion and The Untapped Potential for Queer Fragrance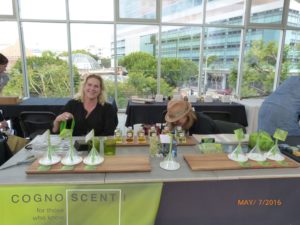 Dannielle Sergent of Cognoscenti
Cognoscenti, founded by Danielle Sargent, who studied architecture and is also a visual artist, "draws from the classic perfumery of the past and pushes it to the future with innovative combinations of ingredients", producing fragrances that are not only "suitable for everyone", but beautifully packaged.
Dasein is a line of fragrances produced by Sam Rader who creates "cruelty-free and toxin-free scents" at her home in LA. Her bottles recently won the 2016 Graphic Design USA package design award. Her exhibit included fragrances to represent the four seasons, Spring, Summer, Autumn and Winter.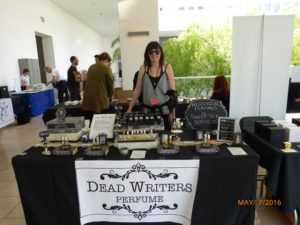 Dead Writers Perfume is a spin-off of Jen Siems' Sweet Tea Apothecary in Seattle, whose goal is to create scents that take the wearer on a "scent journey through time, memory, and the ghosts of words past".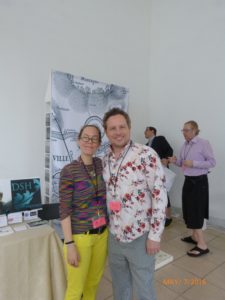 Dawn Spencer Hurwitz and Michael Mik Coyles
DSH Perfumes is the company of super-prolific Dawn Spencer Hurwitz, who says she makes at least 40 perfumes every year at her studio in Colorado. Her Exhibit included three recent projects in collaboration with the Denver Art Museum, "Brilliant", based on Cartier gemstone art works, "Giverny in Bloom", based on the paintings of Monet, and her new "Chroma", a "synesthetic project" that creates fragrances based on artists' paint colors.
El Jardi Secret is a small company based Barcelona, Spain.
Goest Perfumes, based in LA, specialize in fragrances that are designed to complement the natural (or in this case, unnatural) scents of the human body. Their exhibit featured a "smoker's perfume" that combines with the lingering smell of stale cigarette smoke to "create a new, total, complete fragrance which adapts uniquely to each person".
Ideaesthesia, Michael Coyle's spinoff of Mik Moi Perfumes, featured five original silk-screens, each of which was sprayed with two different scents "from traditional aromatic ingredients used by shamans", that combined to represent "Birth (citrus), Breath (green), North (floral), Known (wood) and Found (spice).
Imaginary Authors is Portland perfumer Josh Meyer's company that specializes on exactly what the name implies, a line based on books that have never been written by authors who never lived. Each perfume bottle is wrapped in what looks like the cover art of a book. Fan favorites include Memoirs of a Trespasser and A City on Fire.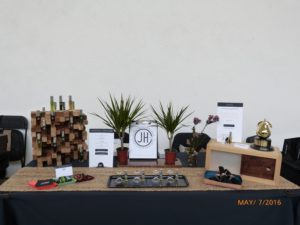 J Hannah Co
J Hannah Co. was founded by San Francisco natural perfumer Jessica Hannah, who won the Art and Olfaction independent award in 2015 for her fragrance Skive, made for a leather company. "Her practice has been greatly influenced by her studies of natural aromatic history and aromatherapy, as well as performance art". Mik was wearing one of his silk scarves to try to stay warm!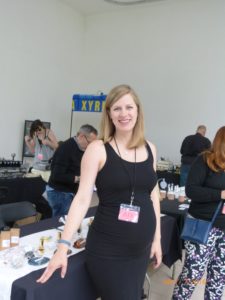 Jessica Hannah
Jessica presented SUNSET BLVD. Inspired by Billy Wilder's classic 1950 film, this perfume is a dramatic oriental with notes of rose, yuzu, cinnamon, patchouli, and tonka bean evokes the dressing room of the great Norma Desmond, with all her drama, pride, and sadness. She also debuted UPTON, an uplifting new spicy lavender perfume.Notes of Yuzu, Virginia Cedarwood, Lavender Absolute, and Vetiver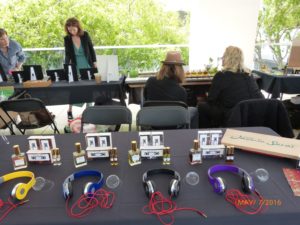 Dana El Masri of Jazmin Sarai, based in New York, specializes in music-themed fragrances that connect one ephemeral, invisible medium of expression with another. Her exhibit showcased a set of headphones that played selected songs along with perfumes that are "homage to the artist who created the song" linking the features of each song with its analogue in the sense of smell. Dana is also the writer of Flower Power which won The Perfumed Plume Award for the Science of Scent for Cafleurebon.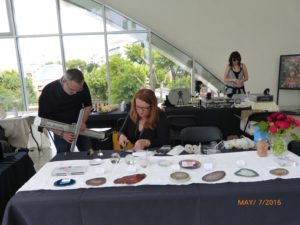 Heather Kaufman of Jolie Laide
Heather Kaufman of Jolie Laide Perfumes, out of San Francisco, features a selection of all-natural, handmade botanical perfumes. Her attractive display included a set of monclins set on slabs of colored agate. Heather launched La Peau Douce, a spicy sandalwood.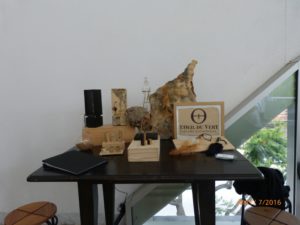 L'Oeil du Vert is an LA company founded by Haley Van Oosten, that specializes in custom fragrance design. They have made scented wrist feathers, pomanders, and ambient scenters for various events. For their exhibit they presented a "selection of their work honoring the alchemical origins of their craft".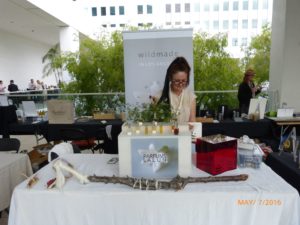 La Lun Naturals
Maggie Mahboubian and her Parfums Lalun presented the Phenomene Verte series that showcases hand-extracted botanicals from natural materials sourced within the LA area, in places ranging from Maggie's garden to different sites throughout the Los Angeles Basin. Maggie is not only a perfumer, she is an architect and organizer of the FRAGments perfume events.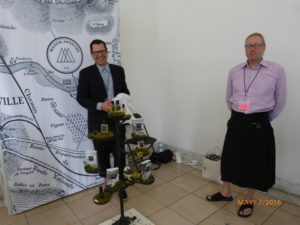 Maison Anonyme, by Christopher Gordon launched his first three fragrances, L'Immortel, Vespero, and Pale Fire, which they collectively call Eaux d'Artifice".
Manifest Destiny is a candle company that featured their "Lux Aeterna" collection of lovely black wax candles, "Polaris", "Tabloid", and "Tumbleweed".
Maria Candida Gentile, from Italy, presented an exhibit based on the story of Pinocchio, a "memory box" that opens to release a scent of "burnt wooden pine, the scent of ancient paper and bread, a shade of sugar".
Mendittorosa Odori d'Anima, an Italian niche company, presented a series of perfumes described as "researches and remedies, talismans and reconnections". "Le Mat" was inspired by, and presented with, a deck of tarot cards, along with "Sogno Reale" and "Nettuno".
Menyan Projects, developed by sisters Mimi and Fiona Ryan, presented fragrances made using essential oils from regional farms, distilled in Indonesia. A percentage of their profit is donated to an organization that promotes conservation and sustainable farming in Indonesia.
Monsillage is a Canadian niche brand, founded by Isabelle Michaud who won the 2015 Art and Olfaction Award in the artisan category for her "Eau de Celeri". She showed a variety of scents from her line.
Neandertal Perfume probably had the most bare-bones exhibit of all, no pun intended. They showed two perfumes in bottles made to look like arrow points, which they say are "designed for contemporary Neandertals".
Nobile 1942, is an Italian niche company specializing in handmade natural perfumes. It has been in operation for three generations. They showcased a variety of their fragrances.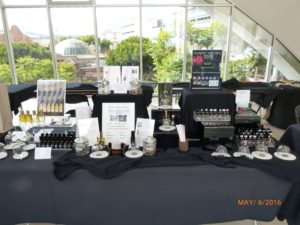 Olympic Orchids Perfumes, my Seattle-based company, partnered with Laurie Erickson's Sonoma Scent Studio to present a hands-on exhibit illustrating how different raw materials can be used by two different perfumers to achieve very different effects. Those who attended the Scent Fair seemed to enjoy smelling the raw materials that were on display and then trying to identify them in the finished perfumes.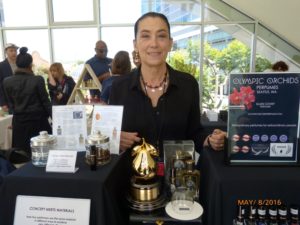 Ellen Covey with the Golden Pear
I was winner of the 2014 Art and Olfaction award in the artisan category for "Woodcut", and this year's award in the independent category for Zoologist "Bat". Laurie launched Equestrian, a new fragrance, with hay and leather inspired by her childhood and love of horses.
On Forgetting/Filling the Flask was an exhibit "based on Psyche's journey where she encounters four seemingly impossible tasks", including filling a flask with water from the River Styx.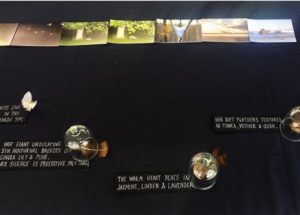 Irina's display for Ka Pueo
Phoenix Botanicals, the natural perfumery company of Irina Adam who is based in New York, showed "Ka Pueo (The Owl) … inspired by nocturnal Owl sightings in Hawaii". She used glass domes to "showcase the top, middle, and base accords, with notes listed".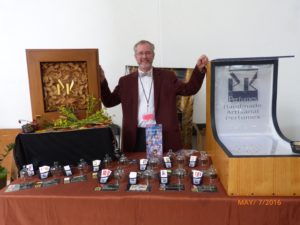 Paul Kiler
PK Perfumes, Paul Kiler's LA-based company showed a number of his fragrances in his beautiful custom-made, lighted display cases. He debuted Starry Starry Night homage to Vincent Van Gogh with notes of orange blossoms, clove, sandalwood, and a touch of cucumber, voluptuous with frankincense, smoked pine, and musk. Another new fragrance for Paul is Heaven Fresh.
Portland Apothecary, founded by Elie Barausky, specializes in aromatherapy, bath and body products, herbal teas and other scented products including "ritual misters and oils to help transform your space and mood".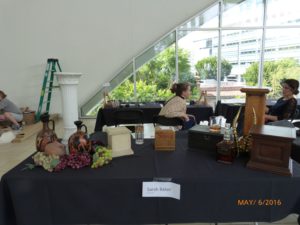 Sarah Baker, based in London, has worked with Ashley Eden Kessler of the Institute for Art and Olfaction to create a series of perfumes "inspired by expensive fashion motifs that are printed on the bottles".
Scenthouse LA, which specializes in niche scented candles, had an exhibit that recreated a gymnasium scene complete with a scent that included "steam, black rubber, chlorine, iron, sweat, eucalyptus, and more".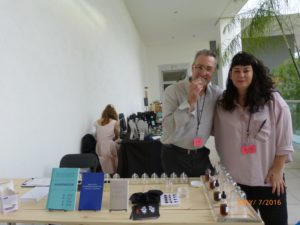 Daniel Krasofki and Lindsay Tunkl
Scents of the Apocalypse was a collaborative exhibit by Artist Lindsay Tunkl, who offered 10-minute "pre-apocalypse counseling" sessions and scent artist Daniel Krasofski, who formulated four "apocalyptic" scents: Asteroid Collision, Nuclear Blast, Tsunami, and Drought. The goal of the project was to "examine humanity's emotional connection to the probable or improbable apocalypse".
The Institute for Art and Olfaction had a display where they exhibited all of the finalists' fragrances. The availability of these fragrances for two days as well as at the awards event was a big plus.
The Smelly Vials Perfume Club was created as "an informal bi-monthly blending session for the Institute for Art and Olfaction's most regular attendees. On display were blending kits and other materials that might be used by the club.
Tigerlily Perfumery is "San Francisco's only brick-and-mortar boutique and online storefront dedicated entirely to the discovery and enjoyment of artisan and niche perfumes. Owner Antonia Kohl was there with displays of Bay Area perfumers' work and customer favorites.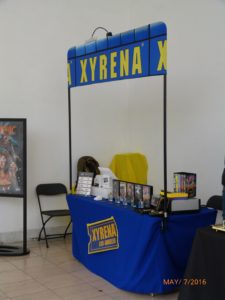 Xyrena is an LA-based "boutique celebrity fragrance house" that is also officially endorsed by organizations such as PETA as "cruelty-free and vegan".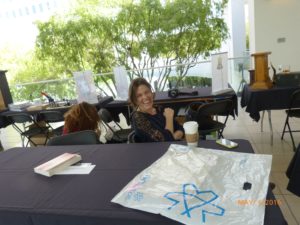 Saskia Wilson-Brown
In just three years the Institute for Art and Olfaction has come a long way. Saskia's continuing efforts to promote the Institute and its activities, the partnership with the Hammer Museum, and the addition of the AIX Scent Fair has taken the IAO Awards to a new level of international visibility. The camaraderie that had already developed among North American artisan and indie perfumers has broadened and deepened, while new collaborations and friendships are developing among perfumers and artists worldwide. The AIX Scent Fair was a wonderful example of how artists who work in scent and other media using the entire spectrum of approaches can come together, and how everyone on the creative side can respect and appreciate work that may be outside their sphere of familiarity, or even their comfort level. I look forward to continued discourse and collaboration among everyone who works in the field of olfactory art in the broadest sense of the term
– Dr Ellen Covey, Guest Contributor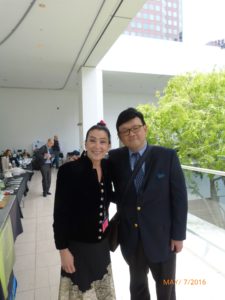 Ellen Covey and Victor Wong of Zoologist
Contributions from Michelyn Camen, Editor in Chief who is forever grateful to Dr. Covey who found the time to write up this event report and take photos. Let's also congratulate her and Victor Wong of Zoologist.
Thanks to many of the artisan and indie perfumers we have a draw for many samples from the AIX Scent Fair Exhibition:
Worldwide and USA : From Olympic Orchids a sample vial of Bat, one of White Cattleya, which was the favorite of almost every child who came by Ellen's booth, and one of Woodcut, from Paul Kiler we have sample vials of Starry Starry Night and Heaven Fresh, Monsillage is providing a sample of Eau Celeri, Le Mat from Mendittorosa Odori d'Anima, Phoenix Botanicals is offering a sample of Ka Pueo and DSH Perfumes is offering Volume 1 and 2 of the Chroma series
USA only: samples of all of the above plus J.Hannah Sunset Blvd, Equestrian, Aether Arts Saffron and some samples from Mik Moi
There will be one winner only. To be eligible you must be a registered reader please leave a comment with your thoughts on the AIX Scent Fair , the Exhibitors and where you live. Draw close 5/15/2016.
We announce the winners only on site and on our Facebook page, so Like Cafleurebon and use our RSS option…or your dream prize will be just spilled perfume