Much will be remembered when we look back on the 24th edition of Team Karen (Karen Dubin and Karen Adams) Sniffapalooza Spring Fling held April 29- May 1 in New York City. If there was a theme for Spring Fling 2016 it was "the Italians are coming, the Italians are coming! Wait they are here"; Masque Milano and Menditerrosa who had just completed Esxence a few weeks earlier flew in just for the event. There is no doubt that Cecile Zarokian, the talented young French Perfumer is a force in the niche perfumery world and her star continues to rise; she seems to have her hand in so many new and favorite fragrances.

Twisted Lily Kick off party; Co owner Eric Weiser with Sara Carner of Carner Barcelona
Friday April 29, 2016: For only the third time in its fourteen year history, a Friday Night Cocktail Party kicked off their already fragrant filled weekend. Twisted Lily owner's Eric Weiser and Stamatis Birsimijoglou had their trend setting emporium at SRO with attendees. Stocked with libations and delectable edibles on hand, sniffing exquisite scents got that much better! They were showcasing their Spring releases from brands local to global such as Masque Milano, Corso Como, I Profumi di Firenze, Fornasetti,Rubini, Lorenzo Villoresi, Nishane, Room 1015, Xerjoff, Orto Parisi, Eau d'Italie, Nasomatto, Peccato Originale, L'Artisan Parfumeur, DS Durga, Apoteker Tepe, Olfactive Studio, Montale, Andrea Maack to name justa few. It was also a game of "I Spy"… Sara Carner of Carner Barcelona was there, Former Contributor Steve Lindquist of The Scented Hound, Daisy Bow, Carlos Powell of Brooklyn Fragrance Lover, Ida Meister of Fragrantica….Bart Schmidt of Brands with a Purpose held court near the window. Our Editor in Chief Michelyn Camen arrived accompanied by Creative Directors Alessandro Brun and Riccardo Tedeschi of Masque Milano and there was much cheek kissing wherever she went. I am leaving many friends in fragrance out, but it was a whirlwind. With a twenty percent off incentive, I departed with Vaniglia del Madagascar by I Profumi di Firenze.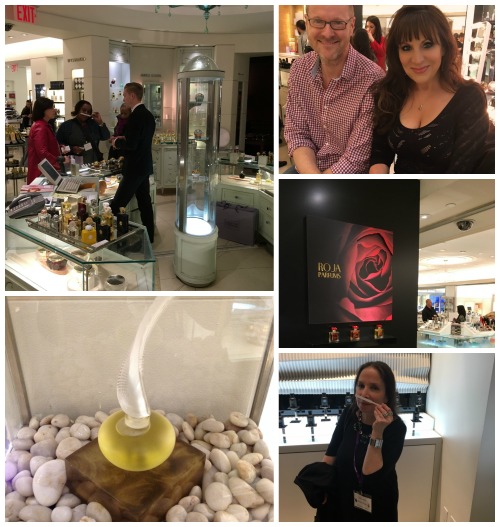 Bergdorf Goodman Beauty Floor, Michelyn and Bart, Roja Parfums, Shalini Lalique flacon and Karen Dubin at the Fragrance Kitchen
DAY ONE: April 30th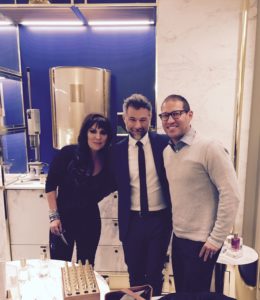 Michelyn, Alessandro Brun and Paul Marrujo of Ex Nihilio
This year there wasn't a Bergdorf Goodman Breakfast Presentation, BG Gift Bag or raffle. Instead, the Beauty Floor opened an hour early for Sniffapalooza attendees to enjoy sniffing and shopping as VIPS. One of the new collections, as I had previously reported, was Kuwait's Sheikh Majed Al Sabah The Fragrance Kitchen boutique. "A Rose With A View", his signature fragrance created especially for Bergdorf Goodman and inspired by New York seemed to captivate a number of attendees. A new favorite stop was the Ex Nihilio boutique where Michelyn met with Brand Director Paul Marruju. Not only was the innovative brand showcasing their latest releases, "Love Shot," "Sweet Morphine," and the aptly named "Fleur Narcotique" (Indie Fragrance Of The Year 2016 Fragrance Foundation Awards Top 5 Finalists) but Ex Nihilio offers a bespoke service. Any of their fragrances, such as Fleur Narcotique, Michelyn's favorite can be enhanced; Fleur Narcotique with rose essence smells even more addictive. No stop to the Beauty Level is complete without a visit with Tom Crutchfield of Roja Parfums.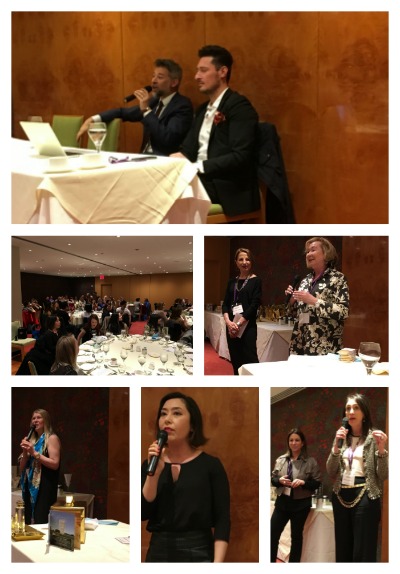 Alessandro Brun and Riccardo Tedeschi of Masque Milano Lunch is served,Mary Ellen Lapsansky and Lyn Leigh of Perfumed Plume, Laurie Petrucci of L'arganique Beaute, Barbara Herman of Eris Perfumes, and Caroline Fabrigas & Abby Wallach of ScentInvent Technologies
We departed BG to Brasserie 81/2 for what was a Sniffa first, a Panel Discussion featuring Creative Director and professor Alessandro Brun and Riccardo Tedeschi that was a spellbinding comprehensive history lesson on perfumery and why there is currently a Renaissance in Italian perfumery (no the French didn't introduce perfume to Europe; it was Catherine de Medici, daughter of Lorenzo II de' Medici Queen of France from 1547 until 1559, as the wife of King Henry II). Dating back to the medieval ages Italians were the leaders. The World War set the art back many years, as did the rise of designer fragrance with Coco Chanel. A memorable anecdote was that it was Catherine de Medici who brought underwear in the form of riding breeches to the women of France; before that there was no underwear!!! La Commando. It was an hour that flew by, so much information, so well presented. Michelyn quipped that it was the fragrant version of Justin Timberlake and Jimmy Fallon's History of Hip Hop.
Guest Speakers:
Mary Ellen Lapsansky and Lyn Leigh of The Perfumed Plume, recounted their their mission to honor excellence in fragrance journalism. Modeled after the British Jasmine Awards. Still basking in the afterglow of the April 7 ceremony they announced the winners of the six awards in online and traditional media. CaFleureBon was the recipient of two of the six awards.
Mark Crames of Demeter Fragrance Library spoke on their point of difference and of the line's new customization initiative.
Laurie Petrucci of L'arganique Beaute introduced us to her brand which is made from the finest, rare and natural ingredients grown at Green Acres destinations around the world. Pure Moroccan Argan Oil known for amazing beauty, health and wellness benefits and often named Liquid Gold is at the center of the ingredients which are hand crafted and and poured in limited editions.
Italian brand, Mendittorosa was founded in 2012 by Stefania Squeglia. The heart of the brand lays within the active volcano of Stromboli where she found her inspiration and passion to create its spiritual scents made from the final raw materials with handcrafted packaging adorned with personalized artisan details from materials as wood, metal, terracotta and cord. Stefania is also a professional Tarot reader and her perfumes also reflect her studies, as a tool for inner knowledge. For example the perfume Le MAT gives smell to the archetype of the eternal.
Francoise Alessi, Brand Manager for Annick Goutal guided us through a succinct history of the brand, the recent launches and new initiatives such as Rose Pompon. One of the first niche houses,1981, started by Annick Goutal. Her daughter Camille Goutal with long time collaborator Isabelle Doyen's passion continues the legacy.
Shalini Parfums – Shalini, a couturier who lives in New York City was on hand to present her signature fragrance that evoked her childhood and travel memories and was created by Maurice Roucel. She introduced her new purse flacon as well as her lalique presentation. Shalini also announced that a new fragrance by Maurice Roucel was in the works. You will read it here first.
Caroline Fabrigas & Abby Wallach of ScentInvent Technologies presented their Linger Challenge. Their mission is to inspire new scent transportation systems and packaging innovations to deliver new benefits and routines in using scent using Linger first, your perfume will last longer. Look for a HSN launch this year.
Hiro Nakayama, founder of Project Felicia presented recently opened markets for U.S.-based fragrance brands. She introduced Scent from Asia including Josh Lee Fragrances from Malaysia, Rania Hasna Natural Elements, and Freda 'D from Singapore.
Vintage Perfume Expert and author Barbara Herman launched her luxury fragrance brand Eris Parfums with three vintage-inspired Animalic Floral Perfumes: Belle De Jour, Night Flower and Ma Bete earlier this year. Eris is the Goddess of Discord and much misunderstood; she was snubbed and not invited to a wedding and she took her revenge thereafter. All three were composed by French perfumer Antoine Lie. Night Flower captivated both Michelyn and me; they are vintage inspired but with a very modern vibe.
Jose Penalba of Floris London guided us through the brand's storied background, established in 1730. We are fans of Floris Honey Oud and Leather Oud, which was launched last year and their special relationship with Harrods. The house is still owned by a British family.
Christina Acevedo of Tocca Fragrances shared that the name Tocca comes from the Italian word for "touch." Initially launched as a clothing line in the 90's worn by supermodels the brand evolved into a fragrance house. The bottles are patterned after Cinderella's carriage and no two caps are alike.
At every Sniffapalooza, Team Karen donates a portion of each registration fee to a special charity. I was pleased to recommend this event's charity, KEEN (Kids Enjoying Exercise Now) provide free recreational opportunities to children and young adults with disabilities by pairing them with trained volunteers for fun, non-competitive activities.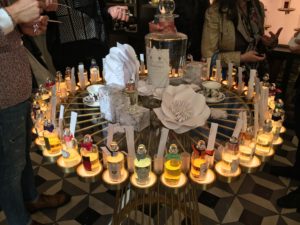 Penhaligon's London
After lunch our first stop was Molton Brown's Flagship store. We were welcomed with Moet NV rose champagne & Johnnie Walker Black with delectable treats. A presentation of the delicious new Dewy Lily of the Valley & Star Anise collection followed. The sweet star anise pairs up with the delicate freshness of the green magnolia note and closes well with a soft ylang-ylang note. There is a French tradition to give a sprig of lily of the valley to your loved ones on the 1st May to wish them happiness and luck.
Next was a visit to Penhaligon's gorgeous brand-new Rockefeller Center flagship store. Store manager Olivier Reyes spoke to us of the Company's rich history which began in London late 1860's then he introduced us to the newest fragrance Equinox Bloom, a new addition to the Penhaligon's catalogue, inspired by the English tradition of afternoon tea.
Day went into night with a fragrance-infused, cocktail-laden party hosted by Laurie Petrucci and L'arganique Beauté at Back Label Wine Merchants. Laurie & her team create a mini-version of Central Park to compliment her luminous, golden natural fragrance and candle collection.
One of the most important highlights for Michelyn and I, was spending the day with Liza Wade our long time Contributor , who got up at 3:30 AM to take AMTRAK to NYC.
DAY TWO: May 1st
A little rain fell for the better part of the morning ceased by noon. It takes a little more than water to deter perfumistas from their appointed rounds!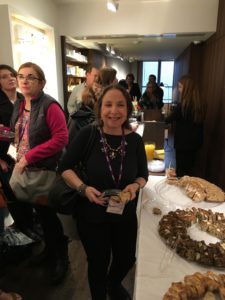 Karen Dubin at Annick Goutal Breakfast
Beginning in the West Village for breakfast was another Sniffa first. We started atthe day at the Annick Goutal's West Village gem of a boutique. The private visit to the boite was highlighted by a mini Master Class with brand manager, Francoise Alessi. We were all treated to sweet treats with coffee and juice while marveling at the beautiful fragrances, candles and creams. Their latest release, the ultra feminine Rose Pompon, was the draw for many in attendance. What a wonderful way to shake off the rain and prepare for another full day of sniffing.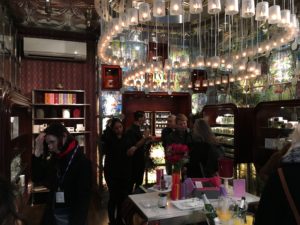 Diptyque Boutique
Diptyque, just around the corner, was a welcome return to the downtown rotation. Boutique manager Kim Cotugno was on hand to greet us and provided coffee, treats and mimosas for us to enjoy with their latest release, Eau des Sens, a spicy orange blossom/ citrus fragrance.
Next onwards to NOLITA for our next three open houses, Atelier Cologne, Le Labo and Red Flower.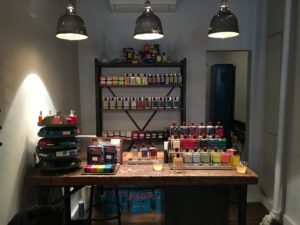 Atelier Cologne Nolita
At Atelier Cologne, General Manager Ross Barry greeted us warmly with special cocktails and showcasing their latest release, "Bergamote Soleil", a beautiful summery citrus aromatic. Ross is always generous with samples and the custom engraving sets them apart.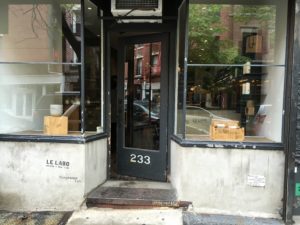 Down a few doors on Elizabeth Street is Le Labo always a favorite destination for the group. The semi bespoke experience is the draw for many. Many pundits quip that NYC smells like Santal 33.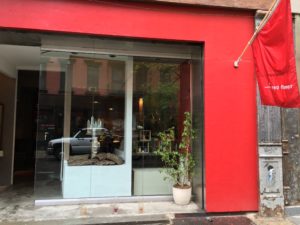 Around the corner on Prince Street is Red Flower, a botanically based and 100% vegetarian and paraben-free brand. Their candles are what they are best known for, there is much to explore in the other product ranges of face, body, hair and scents. Owner Yael Alkalay was written up on our pages in 2010. Store manager Jannie took her time to articulate the brands mission.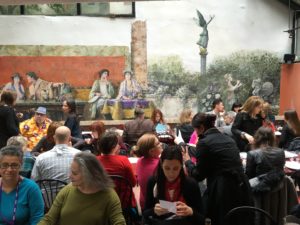 La Mela (I spy Ida, Sonia)
Little Italy's La Mela lunch is a five course affair which gives everyone a chance to rest their feet and enjoy a glass of wine. Lunch presentations are emceed by Mark Behnke of Colognoisseur.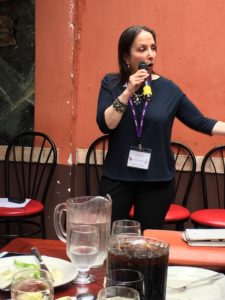 Karen Dubin at La Mela
Sunday ​Lunch Presentations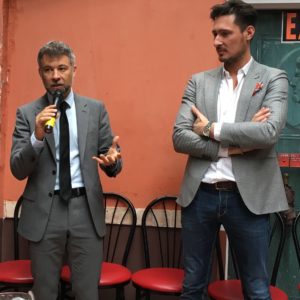 Alessandro Brun and Riccardo Tedeschi
The first presenters were the Creative Directors of Masque Milano – Alessandro Brun & Riccardo Tedeschi, who spoke on the importance of their new bottle design (made in Italy) and their latest releases, Romanza and L'Attesa. Noteworthy, the names of each perfumer is on the cap of every bottle, which is commendable. Cecile Zarokian is the nose behind their fourth release, Tango.
Mary Orlin of Wine Fashionista spoke of the similarities between wine and fragrance production.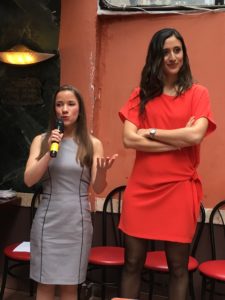 Mary Gooding and Cecile Zarokian
Mary Gooding, Head of Communications introduced Puredistance, the prestige house from the Netherlands. The collection may be known to our readers as the owner and founder Jan Ewoud Vas wrote a wonderful Creative Director piece for CaFleureBon (only available through Lucky Scent in the USA) with the upcoming seventh scent, Sheiduna, launching this Fall. Cecile Zarokian is the nose. Samples were on hand for preview.
Arielle Weinberg of Arielle Shoshana Boutique, Washington D.C.'s first niche fragrance boutique, which opened in 2015, spoke about her new niche perfumery in Washinton DC. Many of us know Arielle from her blog Scent of Self. As Michelyn remarked, "Imagine pursuing your bliss"; she is living every perfumista's dream.
Natural perfumer, Irina Adam of Phoenix Botanicals presented her latest creation, Peach Tree Garden. The stunning fruity chypre was a 2016 Finalist for the Art and Olfaction Awards
Stephen Dirkes of Euphorium Brooklyn fascinated all with his circuitous path to fragrance from his travels abroad studying film and music. His use of exotic materials is impressive.
VOTM Perfume's Paula Pulvino spoke on her handcrafted fragrances and her use of natural ingredients derived from precious florals, herbs, fruits, woods, and resins, and are made with the utmost care.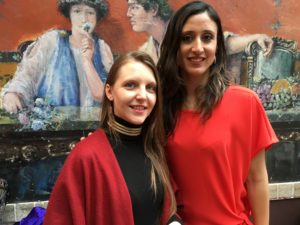 Anastasia Sokolow of Suleko and Cecile Zarokian
Anastasia Sokolow of Suleko introduced her online video workshop with which you receive a box containing 12 scents ingredients with four Suleko Eau de Parfum in spray samples. Cecile Zarokian is the perfumer for her collection of fragrances.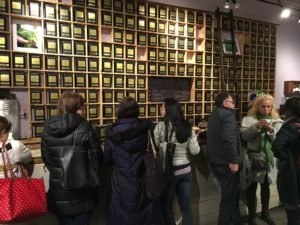 Harney and Sons Teas
Closing out the weekend were two final stops, the very calming oasis at Harney & Sons Fine Teas and the uber hip minimalist Byredo boutique.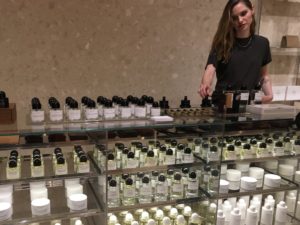 Chloe Callahan of Byredo
SA Chloe Callahan was thoroughly knowledgeable guiding me through the collection including their latest release, "Super Cedar", a warm but modern scent, one I will need to spend more time with.
Thank you Team Karen, (Karen Dubin and Karen Adams) for (yet again) another scentually wonderful weekend. See you all at The Fall Ball!
Hernando Courtight, New York City Events Contributor and CaFleureBon Ambassador-at-Large and Michelyn Camen, Editor in Chief
All Photos by Hernando of CaFleureBon unless otherwise stated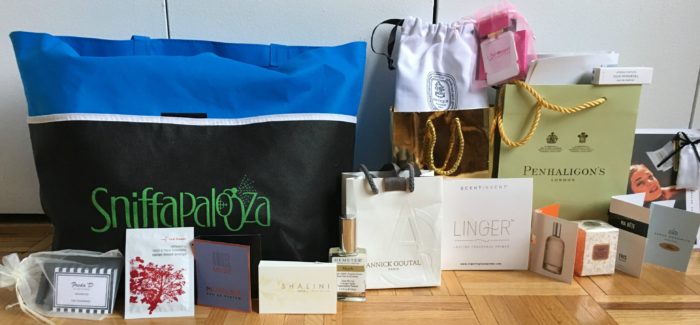 THE ultimate Swag bags. the most we have ever offered as a draw
We have a ginormous swag bag filled with dozens of samples from Spring Fling including mini and sample size fragrances and goodies from Penhaligon's, Annick Goutal, Demeter, Tocca, Puredistance, ScentInvent Technologies,The new Eris perfumes, Shalini, L'arganique Beaute, Molton Brown, Diptyque, Byredo, Red Flower and many others.
To be eligible you must be a registered reader in the CON USA (you have to do this folks) and leave a comment with what you enjoyed about Hernando's very detailed Sniffapalooza Spring Fling report, if you have attended a Sniffa event before and which brand or perfume you are really excited to get your nose on. Draw closes May 12, 2016
We announce the winners on our site and on our Facebook page, so Like Cafleurebon and use our RSS option…or your dream prize will be just spilled perfume