Sniffapalooza held their Spring Fling on May 16 & 17 2015 with fragrance aficionados arriving from around the globe making the pilgrimage to New York City to attend Team Karens' fragrance two day extravaganza.
Day One, Uptown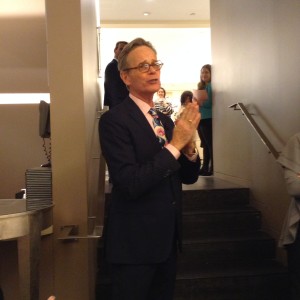 Tom Crutchfield Roja Parfums
The Bergdorf Goodman Breakfast is the traditional kick-off and the sixty-five fragrance lovers who were fortunate to attend were privy to newly released and upcoming debut launches by either the perfumer of a representative of the line. Tom Crutchfield one of our favorite SAs and Manager of Roja Parfums at Bergodorf led off the festivities in sartorial splendor (Pucci of course!) to announce that Sniffaplooza was now legal (21st Breakfast) so let the sniffing begin!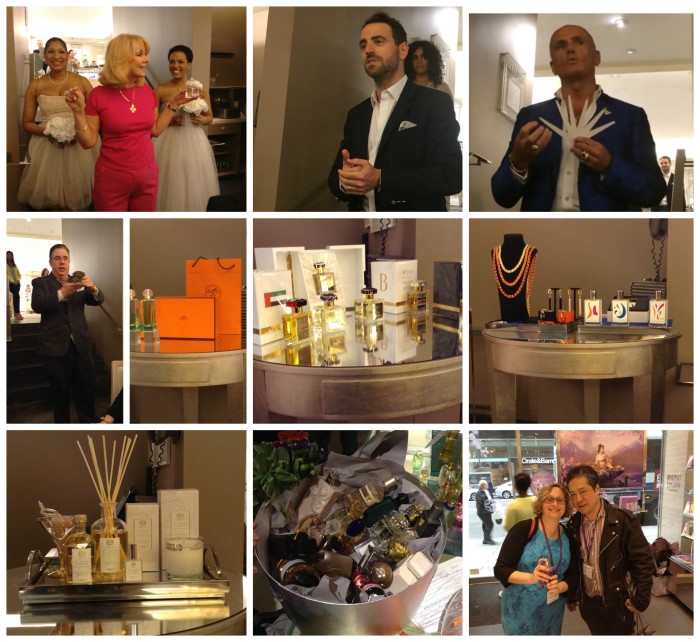 Guerlain National Ambassador Marie Line Patry, John Molloy, Roja Dove, David Ecker of Brioni,Hermes, Roja Parfums, By Kilian Matisse Collection, Antica Farmacista, Bergorf Goodman Raffle, Darryl Do with Amy Marks McGhee
Bergdorf Goodman Breakfast Highlights:
Roberto Vargas of Maison Francis Kurkdjian enthusiastically proclaimed Francis "as the most celebrated perfumer on the planet" and presented the latest from the Oud Collection, Satin Mood, a mysterious and exotic Oriental. Memo Paris has been a fave of ÇaFleureBon for quite a few years now (even before Michelyn met President John Molloy the husband of Creative Director Clara Molloy in NY in 2011). John introduced the brand to great fanfare. The twenty-two fragrance line is now available stateside to perfumistas delight. Hermes presented Jean-Claude Ellena's Le Jardin De Monsieur (which deserves a score greater than 5.2 from WWD in this writer's opinion). ÇaFleureBon has a long relationship with the House of Caron, so I was delighted that Eva presented, Aimez Moi (1996), which is now available in hand painted limited edition flacons (3,000 pieces). Next up was Guerlain who has a long history with Sniffapalooza and was one of the first six perfumeries to take part at their very first event (Clive Christian, Annick Goutal, CREED, Houbigant and Van Cleef & Arpels). Making a statement with two SA's dressed as brides, they showed Le Bouquet de la Mariee (mariage bouquet) and Les Plus Beau Jour de ma Vie (the best day of my life). Both are tender florals. AERIN (Lauder) latest is Rose De Grasse (gorgeous!), the first from the Premier Collection. Our friend in fragrance David Ecker presented Eau de Toilette Brioni for men, a spicy aromatic (Raymond Matts and a Fragrance Foundation Finalist for 2015 …Good luck!!!). A special moment was when David giving shout outs to Raymond Matts, fragrance critic Chandler Burr and our own EIC Michelyn Camen .
Fans of By Kilian were nearly jumping out of their seats when The Sophie Matisse (yes, that Matisse!) Art Edition was presented ; they are remixes of on Straight to Heaven (splash of lemon), Good Girl Gone Bad (splash of neroli) with Bamboo Harmony (original) in brightly colored flacons. Kelly Fraser, Brand Ambassador of Antica Farmacista presented Damascena Rose, Orris & Oud, "a new direction and a mulifaceted new take on classic rose". Closing the breakfast was the crowd pleasing British Perfumer, Roja Dove. We sniffed , oohed and ahhed as scent blotters of his special amber accord were passed around (which he uses in his ode to his mum, A Good Night's Kiss, an oriental floral). Over the next two hours attendees had opportunities to speak with perfumers, sniff out new discoveries while others shopped the cosmetic/ beauty counters (getting ready for the lunch!). At noon, Karen Dubin pulled a name from a bowl and presented the lucky winner with a basket filled with fabulous bottles valued in the thousands!
Lunch was held at Brasserie 81/2 (right around the corner). Karen Dubin set the agenda and made introductions.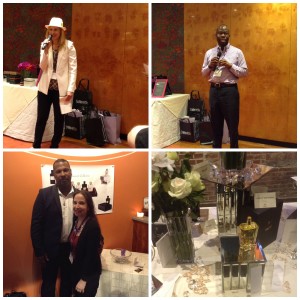 KELLY JONES COREY HUGGINS ROBERT WILSON OF ORLOV
Notable presenters
Kelly Jones and Sr Perfumer Kent Lombardo (Takasago) spoke on the company's orange groves. They passed around blotters of three raw citrus materials, ranging from very green to fruity floral. Amy Marks McGee (Trendincite) with daughter Lucy explained what to expect in the upcoming year in fragrance and beauty. Examples include multi-sensory alternative applications such as scented clothes and jewelry to scents inspired by gourmand pastries offering consumers an olfactive experience. Corey Huggins presented the Love at First Sniff Box, a creative curated multicultural beauty & lifestyle collaboration between Sniffapalooza & Aunt Bonnie. Barbara Compton of the apothecary Caswell-Massey told us of the storied history of the company and numerous pioneering firsts. The line can lay claim having three presidents as customers, George Washington, Dwight Eisenhower and John F. Kennedy!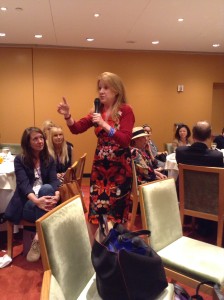 Saranne Rothberg of Comedy Cures
Team Karen always gives back to a charity and this year was Comedy Cures. Founder Saranne Rothberg, diagnosed with stage 4 breast cancer is a survivor and activist. She is a radio host, speaker, motivational coach who has appeared on numerous talk shows. Saranne deftly combined laughs and scents to close the lunch with heart and inspiration. Truly a poignant speech for many as there are so few of us who have not lost friends and family to this insidious disease, or are helping those diagnosed and battling cancer, smile.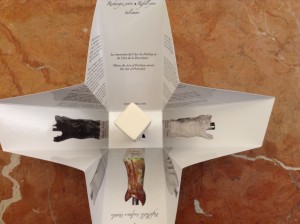 Suleko Perfume travel sprays
Next was a visit to Molton Brown's Flagship boutique. The premiere of the Blossoming Honeysuckle & White Tea Collection was available to us while providing sparkling wine and special edibles. You may be familiar with the Russian brand Suleko. We met the charming Anastasia Sokolow who has collaborated with Cecile Zarokian on all her fragrances. She premiered the Travel Spray Collection with their handmade stoppers. Closing the day was Orlov Paris with the World Premier Launch Cocktail Party at Back Label Wine Merchants in Chelsea, featuring live music, caviar and wonderful wines! The line of five scents are inspired and based on diamonds. Exclusive to Bergdorf Goodman Fall of 2015. Watch for this beautiful brand of exquisite scents.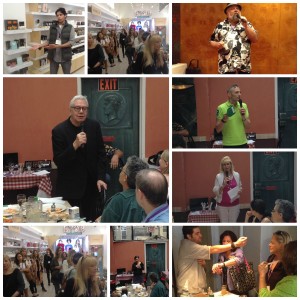 Kumar Ramani of Harvey Prince, Birch Box, Mark Behnke, Michael Edwards, Christophe Laudamiel, Sue Phillips of Scenterprises, Irina Adam and Atelier Cologne with Ross
Day Two, Downtown
A later start was much needed after yesterday full schedule. Starting at Birchbox in Soho with breakfast treats and coffee courtesy of Kumar Ramani of Harvey Prince Fragrances. A mini-master class on the company's line was run by Karthik Aggarwal. The fragrance line is the #1 seller at Birchbox (online). Stops at Le Labo and Atelier Cologne Nolita kept us enthralled over the next two hours. Atelier Cologne Creative Directors Christophe Cervesal and Sylvie Gantner have launched a number of stunning scents this year. Oud Saphir is the newest.
Lunch in Little Italy at La Mela. As he does each Sunday event for the past few years, Mark Behnke of Colognoisseur emceed the Sunday lunch and Emerging Artists Uncorked. This year, perfumers and brands were familiar to me and there was no one I would say was emerging but all have arrived. Sue Phillips (Scenterprises) spoke on the art of custom perfumery and invited attendees to come create a signature fragrance at her workshop held at her Scentsorium after lunch. Mark Crames (Demeter) and artist Miriam Sangster spoke of the combined visual and scented installation Tomboy, which got its inspiration from the Powerpuff Girls. Noted Perfumer Christophe Laudamiel introduced the Academy of Perfumery & Aromatics to us, a non-profit which is dedicated to the advancement and education of the art of olfaction. He brought with him a vintage L'Air du Temps from the 1960's which were handed out on a mouilette with a sleeve to preserve it. Next up, natural perfumer Irina Adam (Phoenix Botanicals) presented her recent creation, Ella. She also had some vintage raw materials which were passed around for us to experience. Closing out the presentations was a "one on one interview" Mark Behnke held with Michael Edwards on his 31st edition of Fragrances of the World and his thoughts on the state of perfumery.
Thank you to Team Karen for another fabulous Sniffapalooza Fling. Here's to 21 more!!!
–Hernando Courtright, NYC Event Contributor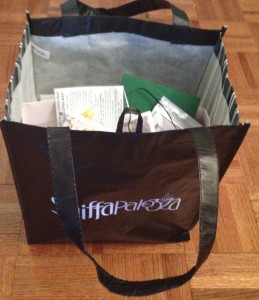 For our draw, a swag bag brimming with goodies was contributed by the "Karens" (Dubin and Adams) and independently by some of the vendors participating.
Memo Paris carded samples includes Shams, Luxor Oud, Quartier Latin, Irish Leather and Manoa
Twisted Lily Malbrum Tigre Du Bengale & $20 Gift Card
Parfums Roja Surprise Sample
Armani Prive Pivoine Suzhou 10ml
Harvey Prince hello! Hello! sample
Clique by Roblé sample
Tom Ford Velvet Orchid sample
Trendincite Noteworthy Ideas mini diary Sticky Notes
Brioni Eau de Toilette
Terveer Gardenia
Kilian Perfume Sophie Matisse Art Edition Samples
Deluxe size of Room and Linen spray of Damascena Rose Orris and Oud
Hermes Le Jardin de Monsieur Li sample
Orlov Paris Set of 5 Fragrances & Guide Book
Thierry Mugler Alien Eau Extraordinaire
Atelier Cologne Gold Leather, Silver Iris, Carmin Santal and Rendezvous carded samples
Régime des Fleurs Lyrics and Ballads Samples
Carthusia Mediterraneo
Jo Malone Set of 4 Samples
Demeter Limited Edition Tomboy
Aerin Gardenia Rattan sample
Caron Nocturnes sample
Guerlain Aqua Allegoria Teazzurra
Tom Ford Noir Intense sample
Perfumers World The ABC's of Perfumery Guide
Jan Maran Scent of Triumph Book Mark
Phoenix Botanicals sample of Ella
Caswell-Massey Dr. Hunter's Rosewater & Glycerin soap
L'Occitane Shea handcream travel size
Demeter Signature Scent Collection 30 ml sprays Lavender, Wet Garden, Lilac
To be eligible you must be a CaFleureBon registered reader, live in the USA and leave a comment with which of the fragrances you most like to try and if you have attended Sniffapalooza before. Draw closes May 26, 2015
We announce the winners on our site and on our Facebook page, so Like Cafleurebon and use our RSS option…or your dream prize wil be just spilled perfume