(L) Karen Dubin and Karen Adams of Sniffapalooza
After attending Sniffapalooza Fall Ball 2018, hosted by Team Karen (Karen Dubin and Karen Adams) held on October 26-28 in New York City, one was left with the belief that anything that is worth doing is worth overdoing. So much sniffing so little time!
Sniffapalooza Fall Ball 2018, Friday, October 26th: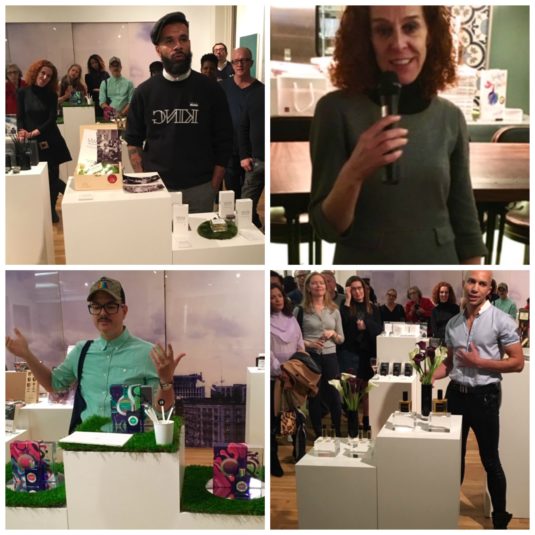 (Lower Left) Joseph Quartana from Quartana Parfums, Ryan Richmond from Rich Mess,(Lower Right), Chris Classic from Savoir Faire (Top Right), Simona Abaton from Acqua di Sardegna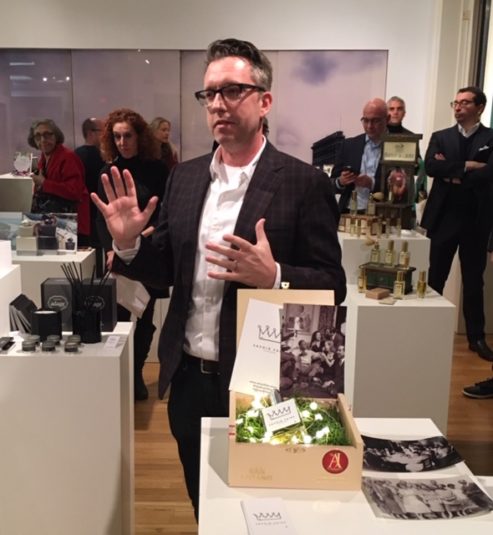 Christopher Draghi from Source Adage
The Friday Night Cocktail party for Sniffapalooza Fall Ball 2018 was held at the recently located MAISON 10 boutique onto Fifth Avenue in NoMad. Henri, Tom, and Carsten carefully curate 10 items over 10 categories, available for 10 weeks, with 10% from each sale donated to 1 of 10 charities. Six perfumer/ brand owners, Joseph Quartana from Quartana Parfums, Ryan Richmond from Rich Mess, Christopher Draghi from Source Adage, Chris Classic from Savoir Faire, Simona Abaton from Acqua di Sardegna and Stephen Dirkes from Euphorium Brooklyn, presented their latest creations.
Tom Crutchfield of Roja Parfums
Sniffapalooza Fall Ball 2018, DAY ONE: Saturday, October 27th:
The inclement morning weather kept early shoppers away so our group had a chance to sniff their way around the Beauty and Fragrance Floor at Bergdorf Goodman in relative ease from 10-12pm.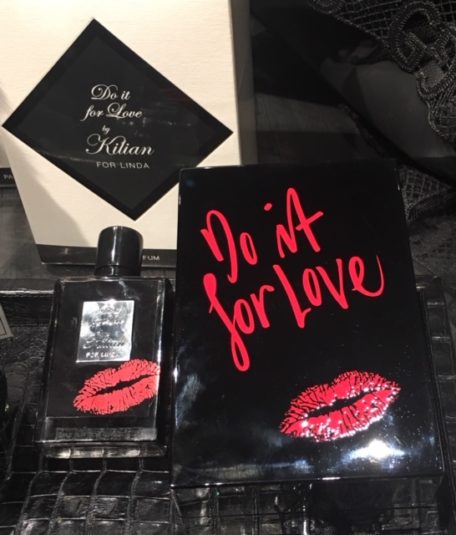 By Kilian for Linda Do It For Love (Linda Fargo of Bergdorf Goodman)
Major play this Sniffapalooza Fall Ball 2018 shown for Tom Ford's Lost Cherry, Chypre Extraordinaire by Roja Parfums, By Kilian's Do It For Love for Linda Fargo (Exclusive), Cuir Celeste from Ex Nihilo, Clive Christian's Papyrus, Amorem Rose, and Jardin Nocturne (both signed by Maurice Roucel) from Shalini Perfumes, and Robert Piguet's L'Entier.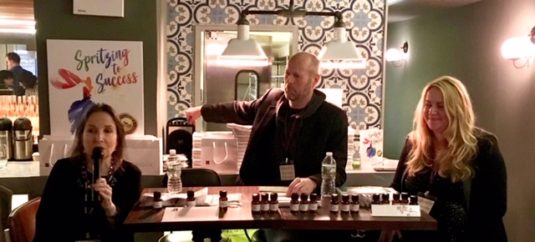 Karen Dubin, Bart Schmidt, and Catherine Selig, Senior Perfumer at Takasago
Sniffapalooza Fall Ball 2018, Lunch and presentations were held at Mangia:
Preceding lunch a Master Class Workshop was held. Birth of a Brand: H2H by Damien Escobar featured Catherine Selig, Senior Perfumer at Takasago along with the brand development team, Bart Schmidt of Brands With Purpose and Karen Dubin, on the steps taken to get to market with musician Damien Escobar's first fragrance collection. Samples of three accords and the finished scent were handed out along with a discussion on the thought process behind the evolution of the fragrance.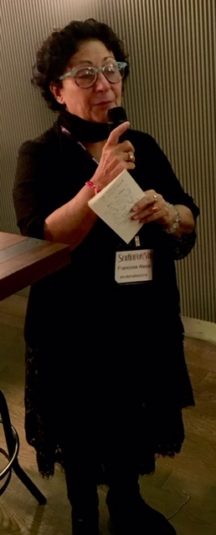 Francoise Alessi of Goutal Paris
Guest Speakers at Lunch Sniffapalooza Fall Ball 2018:
Francoise Alessi of Goutal Paris spoke on recent rebranding from a name change and new packaging. And of course the new scent line sans alcool (ALCOHOL-FREE WATER).
Simona Abaton of Abaton Exceptional Luxury Brands presented Acqua Di Sardegna and Sadalia, the artisanal brands which she curates. The former is light and fresh while the latter more sensual.
At Sniffapalooza Fall Ball 2018, Amy Marks McGee of Trendincite gave us a look into the future with us revealing trends to look for such as the rise of Matcha and Cocoa in beauty and fragrance.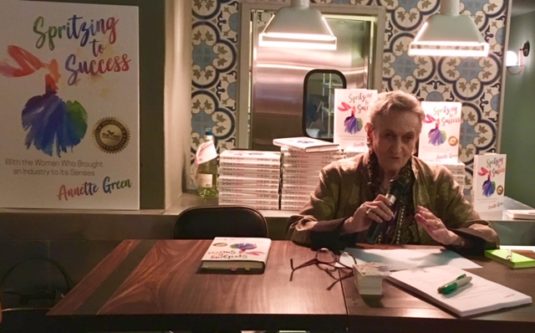 Spritzing to Success author and industry legend Annette Green
Closing the lunch at Sniffapalooza Fall Ball 2018 was the eagerly awaited presentation and book signing from Annette Green, (founder of The Fragrance Foundation and industry icon) author of Spritzing to Success. She regaled us with tales from her illustrious career in the 1960's of saving the non-profit Fragrance Foundation, while simultan­eously operating her marketing agency. At the conclusion, a long line snaked around the room to meet and purchase a signed personalized copy.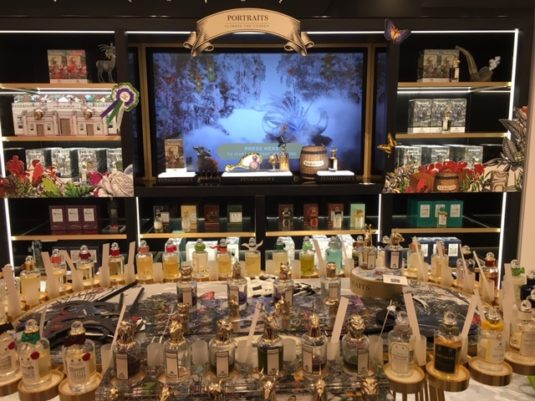 Sniffapalooza Fall Ball 2018 continues as we headed down Fifth Avenue we visited the PENHALIGON'S Rockefeller Center jewel box boutique for presentations of the Hidden London Collection, Belgravia Chypre, Kington Amber, and Marylebone Wood (Fabrice Pellegrin). A personal olfactory and sensorial journey to find a perfume that reflects each individual's preferences, while sipping on champagne was a nice touch offered.
Ormonde Jayne
Across the street, Saks Fifth Avenue's brand new Beauty Floor 2.0 had us in scent heaven visiting brands like Ormonde Jayne, Serge Lutens, L'Artisan Parfumeur, Floraïku, Vilhelm Parfumerie, D.S. & Durga, and others for presentations.
Then it was up Madison Avenue, the evening's festivities were held at a trio of boutiques: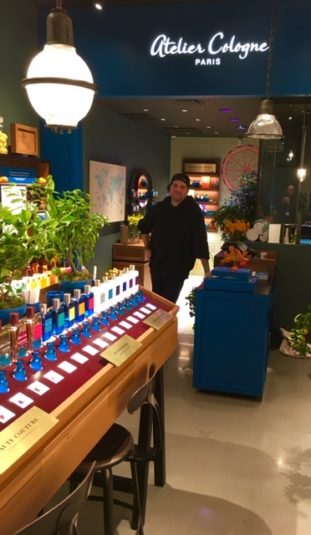 Ross Barry Atelier Cologne Madison Avenue
Atelier Cologne officially opened their Upper East side boutique that day and it's a fabulous addition to the 'hood. Done in its signature blue hue the store is covered in mosaic panels which highlight the fragrance bar. It wasn't easy getting Store Director Ross Barry uptown!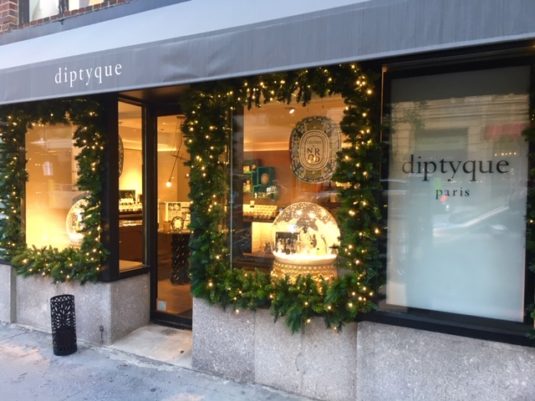 Diptyque celebrates their 50th Anniversary in style with Store Manager Maya Fedaseyeva and staff presenting a Master Class on the brand and the 34 Collection. After she presented the much anticipated 2018 Holiday Collection.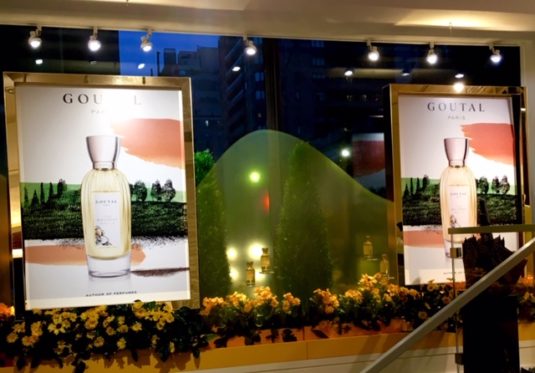 At the tres chic Goutal Paris Flagship boutique, Store Director Francoise Alessi and staff greeted us warmly. She presented a preview of the new updated men's and women's bottles which will make their full debut in early 2019. A festive wine, fragrance, and edibles pairing was a treat for our olfactory pleasure. And a three bottle giveaway drawing for three lucky attendees capped off the evening's festivities in Parisian style! Now that is the fun of Sniffapalooza Fall Ball 2018
DAY TWO: Sniffapalooza Fall Ball 2018 Sunday, October 28th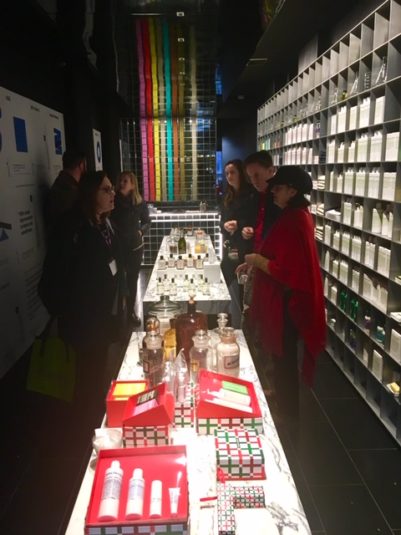 The morning began at Malin & Goetz which features a complete range of environmentally conscious skin, hair & body care products. Their Leather perfume oil and Cannabis Eau de Parfum were c favorites along with the Atelier Bloem Collection, inspired by the Amsterdam Flower Market.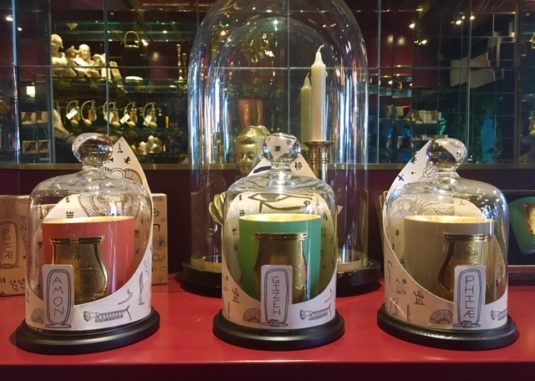 Cire Trudon, entering the preeminent French candle house is like taking a step back in time to a more elegant period. The premiere the 2018 Holiday Collection featuring three wonderful scents, the Egypt-themed Amon, Gizeh, and Philae was a highlight of Sniffapalooza Fall Ball 2018.
NATURA BRASIL offers a full range of products from body, bath, facial, and hair care. The new fragrance line which just launched is produced using organic alcohol from sugar cane grown without the use of chemical fertilizers and are harvested respecting the environment.
Atelier Cologne, Store Director Ross Barry gracious hospitality is welcomed by the group. He offered us a sneak sniff of Pacific Lime prior to the World launch (early 2019).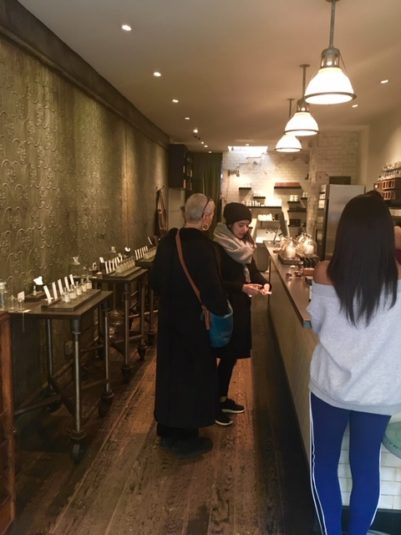 Le Labo is a favorite destination for its semi-bespoke experience. Tonka 25 (Daphne Bugey) had a major buzz. The annex which carries the brand's complete range of body, hair, and face care lines has been a great addition.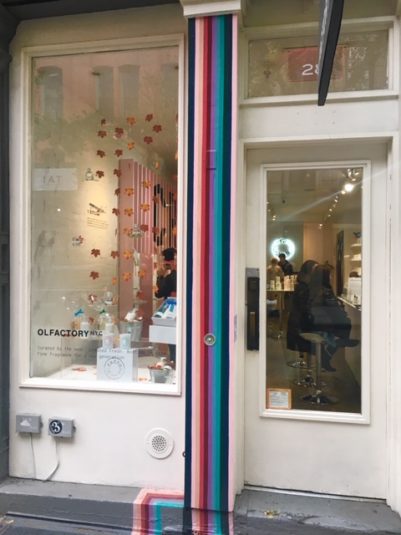 Olfactory NYC, J.J., and team were on hand to present the reasonably priced fragrances are all bottled fresh and can be customized. Some of the world's top perfumers created the scents which use natural and sustainable Ingredients
Lunch was held at Little Italy's La Mela. Fragrance Specialist David Ecker hosted the EAU (Emerging Artisans Uncorked) showcase.
Guest Speaker Highlights: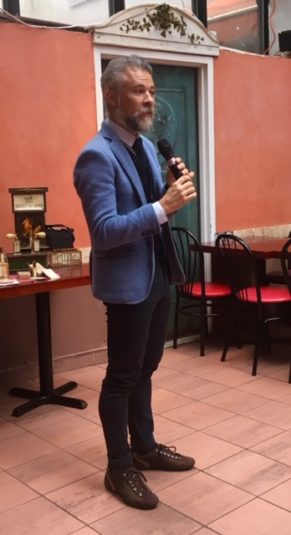 Alessandro Brun of Masque Milano
Alessandro Brun of Masque Milano paid us a surprise visit at Sniffapalooza Fall Ball 2018. After presenting Masque Milano' s latest (homage to Hemingway) at Twisted Lily earlier in the week and guest lecturing at Yale University (he teaches Luxury Management at Milano University) he came here to speak on the value versus the price of fragrances.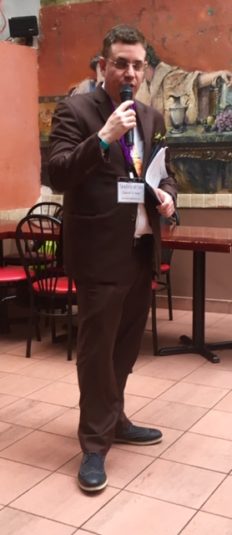 David Ecker in addition to being the MC, presented two fragrances from the sensual Noir Premier LALIQUE collection, Illusion Captive (Karine Dubreuil) and Or Intemporal (Violaine Collas) and two from the (Phillipe) Starck Collection, Magic Light (Daphne Bugey) and Peau De Nuit (Delphine Lebeau).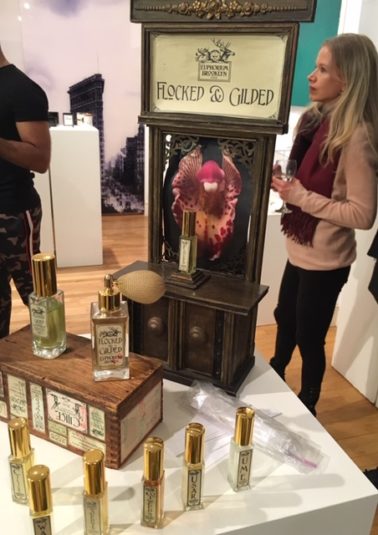 Stephen Dirkes of Euphorium Brooklyn premiered his latest creation FLOCKED & GILDED at Sniffapalooza Fall Ball 2018. A rich pairing of blood orange and red geranium kick it off along with creamy amber with a dark musk are some of what you will get with Stephen's latest fragrance.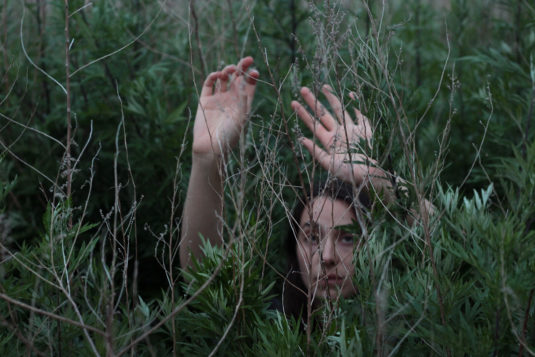 Photo by Irina
Two time Art and Olfaction Finalist Irina Adam of Phoenix Botanicals debuted her latest natural wonder, Twilight Green, which Ida reviewed last week. This is not a spring/ summer green but more an autumn/ winter one. Irina passed around marigold and mugwort.Her scents are like no others and a favorite of Sniffapalooza Fall Ball 2018.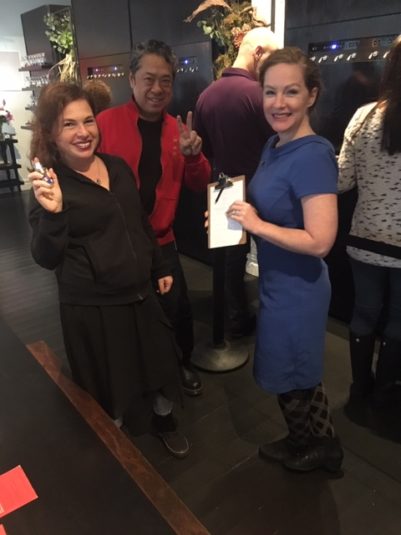 Irina Adam with Darryl Do and Rachel Ann of PERFUMARIĒ
Last stop at Sniffapalooza Fall Ball 2018 was PERFUMARIĒ, the multi-sensory incubator, and retail concept store. It was at last year's Fall Ball that we had a pre-opening first-look at Perfumariē which now celebrates their One Year Anniversary. Congrats! An opportunity to meet some of founder Mindy Yang's team and receive a guided experience through the 25+ unlabeled scents on tap to experience without scent biases was a fabulous way to close out the weekend.
Thank you, Team Karen, (Karen Dubin and Karen Adams) for another scentually wonderful weekend and a Sniffapalooza Fall Ball 2018 to remember. See you all at The Spring Fling 2019!
~Hernando Courtright, Senior Events Contributor and Brand Ambassador and Michelyn Camen, Editor-in-Chief
All Photos by Hernando of CaFleureBon unless otherwise stated©.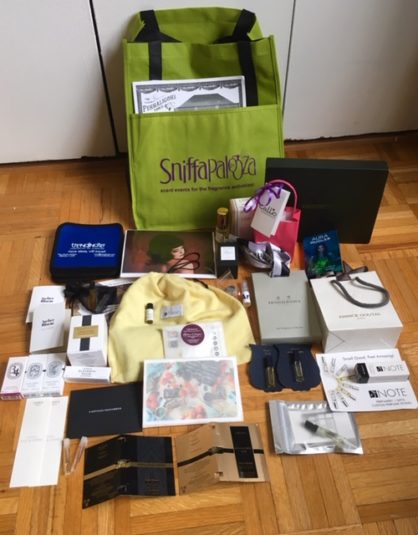 We have a fragrance filled Sniffapalooza Fall Ball 2018 swag bag filled with dozens of samples from the Fall Ball including mini and sample size fragrances from Abaton, Annick Goutal, Atelier Cologne, Cire Trudon, Diptyque, Hermatica, Lalique, LAFCO, Euphorium Brooklyn, Callio Fragrances, Hermatica, Penhaligon's, Caswell-Massey, L'Artisan Parfumeur, and many others.
To be eligible you must be a registered reader in the CON USA (you have to do this folks) and leave a comment with what you enjoyed about Hernando's very detailed Sniffapalooza Fall Ball report, if you have attended a Sniffa event before and which brand or perfume you are really excited to get your nose on. Draw closes November 11/8/ 2018.
We announce the winners only on site and on our Facebook page, so Like ÇaFleureBon and use our Blog feed…or your dream prize will be just spilled perfume.