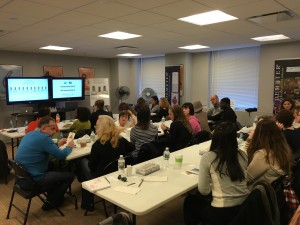 Demeter Master Class February 27, 2016
Saturday February 27, Team Karen of Sniffapalooza invited us to to Wall Street for an exclusive Demeter Blending Master Class with Demeter CEO & Perfumer Mark Crames at the Trump Building. Due to demand, there were two sessions to choose from, morning and afternoon. Both were over subscribed.The Master class was held in the private Duane Reade Education & Training Center. The room was set up in a classroom format with two blending tables off to the side. Karen Dubin, Founder/ CEO welcomed us and spoke of her love of the line (she has lost track how many she owns). We were all happy to celebrate the 20th Anniversary of Demeter Fragrance Library and fab food and drinks were provided.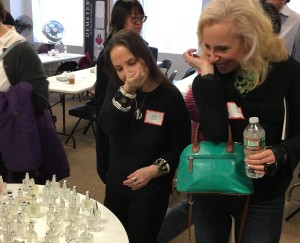 Karen Dubin collects Demeter Fragrances
Karen introduced CEO Mark Crames (Mark spoke at last years Sniffapalooza's Spring Fling and as a side note Michelyn was the first to interview him for another site some years ago.)
Mark gave us some background on the company's history, before guiding us through the customer blending process. The house was founded by Christopher Brosius (now of CB I Hate Perfume) and Christopher Gable. Mark purchased the company in 2002, and Demeter scents were then sold in Urban Outfitter; they are now carried by Sephora and Duane Reade.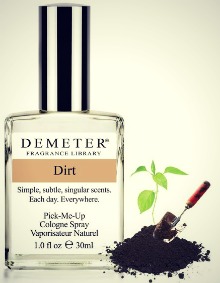 With over 300 scents, Demeter releases a new fragrance every month. They were first to create fragrances based on cocktails (spritz on Sex on the Beach anyone?). Their scents are inspired by almost everything –from nature (Dirt is one of the most popular and a celebrity favorite) to the Zodiac. The mission is create affordable(most are under $20), fun and great smelling fragrances for every day. We challenge you just to own just one! During the Q and A, Mark was asked if all fragrances (including those created pre 2002) are available for purchase. Mark informed us that some have been discontinued. He mentioned that some are sold only in certain countries as exclusives based on culture. The company was just launching in France and Italy. Why so long? These territories known for fine fragrance took longer to break into.
Because our sense of smell triggers our strongest emotional response, wearing a Demeter fragrance is a personal expression of that emotional response, which makes Demeter one of the few fragrance companies that is all about the user, and not about the designer. Demeter have also created scents based on customers suggestions, such as Sunshine. I would think that would not happen with a LVMH or Lauder brand where focus groups and marketing take precedent. Interesting Demeter facts: Baby Powder is not sold in China or Germany. Their baby powder is nothing like Johnson & Johnson's (our reference point). New Baby took 15 years to perfect (Babies Head was the original name). Some Demeter fragrances are also All Natural such as Patchouli and is a steal at $29/1.7 oz. Score for their customers.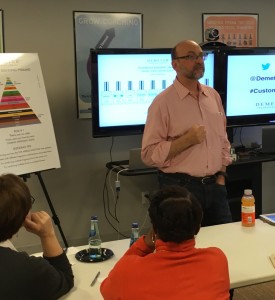 Mark Crames explaining The Demeter Blending Pyramid
Before we created our own custom scent, Mark took us through the Demeter Blending Pyramid. He stated that Rule # 1, there are no rules. Blend one to five (at most) fragrances. Any more, you are either over your head or ready for ISPICA. Three is optimum. Marc encouraged us to name our scent. Karen Dubin shared some of her favorite blends… Vetiver and Bulgarian Rose, Fig and Paperback and Ginger Ale and Earl Grey. My blend was vetiver, gin and tonic and leather which Karen Dubin named, "Hollywood."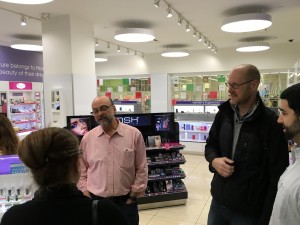 The Demeter Look Boutique
After creating our custom scent, we were escorted down to the ground floor to the at the LOOK Boutique in Duane Reade where we could purchase the fragrances (with a nice discount) and receive our Gift Bag (no purchase required) which includes three yet to be launched fragrances and a Blending Tool Kit.
Hernando Courtright, New York City Event Contributor and Brand Ambassador (with MC). All Photos by Hernando with the exception of Dirt.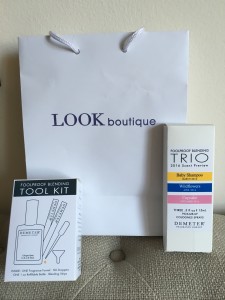 Thanks to Mark Crames we have a draw for a registered CafleureBon reader in the US or Canada for an avant premier of the TRIO 2016 Scent Preview (three .5 fl oz.| 15ml Pick­Me Up Colognes Sprays and Foolproof Blending Kit. To be eligible, please leave a comment with your favorite Demeter fragrance or one that appeals to you.Draw closes March 9, 2016
We announce the winners only on site and our Facebook page, so like CaFleureBon and use our RSS option…or your dream prize will just be spilled perfume