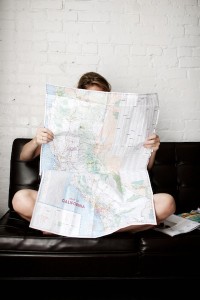 DAY 1 – SF Sniff Saturday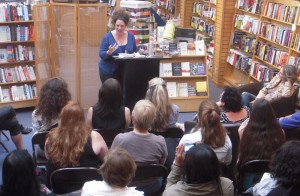 Alyssa Harad gives a passionate presentation about her life in perfume
Our day started at noon at a local bookstore to see Alyssa Harad do a presentation from her book "Coming to My Senses". There was a bit of a snafu, as the bookstore was somehow unaware of the event, but Alyssa's agent worked it out and they were able to accommodate us. She passed around vintage extraits for everyone to smell, read from her book, and had a little raffle of some samples.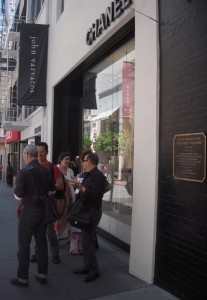 Sniffers cruise on Maiden Lane for Chanel Exclusifs
We made our way to Gump's, Hermes, Chanel, Diptyque; had a snack, visited the famous Andre at Jacqueline perfumes, sniffed a bit at Neiman Marcus, and then it was time to head to Barney's. We were treated to sneak previews of new scents from Serge Lutens, The Different Company, Byredo, and Rosine. Yosh Han was on hand, as was DelRae Roth, and it was a very busy hour or so of lots of sniffing and buying.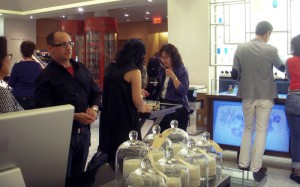 A nice crowd at Barney's NY
Afterwards, the remaining intrepid crew went for dinner and chat, and the traditional swap free-for-all. The table is loaded up with all of our unwanted samples, decants and bottles, and we don't leave until it has all been distributed. It is a true example of "One man's meat is another man's poison" as we gleefully clutched coveted scents to our breasts and re-filled the bags we had just emptied.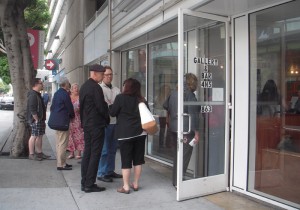 Eager attendees line up outside Gallery 4N5
DAY 2 – Artisan Fragrance Salon Sunday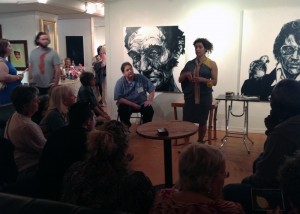 Ayala Moriel gives a talk on natural perfumery
The First Annual Artisan Fragrance Salon took place in an art gallery/event space in a great downtown location, Gallery 4N5 on Mission Street. Each perfumer had an alcove to display their wares, and there was a wine bar and clear area with sofa seating for relaxing and presentations. The day started at 11:00 a.m. and ran until 5:00, with various talks during the day. When I arrived, there was already a line waiting to get in, and the crowd grew to 300 attendees through the day. We were all a little anxious about attendance, since we weren't sure how the event host, Taste TV, had promoted it. Apparently, they did a great job, and with all the perfumers promoting like mad as well, it paid off. The attendees were enthusiastic, and it was a relief to many of the presenters to be faced with a crowd that actually liked perfume. Many of them only have experience at general craft events, where perfume can be a hard sell.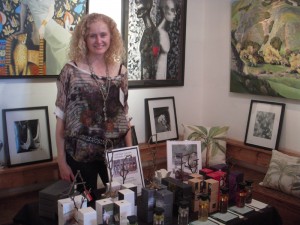 Ineke Ruhland in her booth with her new Hothouse Flower
There were twenty perfume booths to cover, and since I was a judge for the event, I had to make sure to visit them all. I was unable to do more than peek my head in at the presentations and talks, as a result. It seemed that it was difficult for the speakers to be heard above the din of the crowd, but they pushed on. Every time I tried to listen in, I found another friend to chat with, and that seemed to be happening a lot to everyone. A low-key microphone would have helped quite a bit. Presenters included Elyce Zahn of CocoTutti Chocolates, Ayala Moriel, Alyssa Harad, Alf Nucifora from the SF Luxury Marketing Council, Yosh Han, and Felicia Hazzard from Fragrance Belles-Lettres Magazine.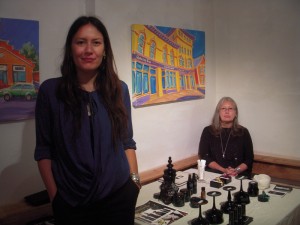 Los Angeles body care specialist and perfumer Persephenie Lea
I found some interesting new lines to explore (including Persephenie and CognoScenti), met some wonderful perfumers, connected with lots of perfume lovers, and had a great time. I was able to have sneak peeks at Ineke's new Hothouse Flower, and a new addition to her Floral Curiosities Line, Sweet William. YOSH had some intriguing limited-edition fragrances to share. A perfumer I found at a street fair and encouraged to participate, Jennifer Caine of Smells and Bells, had wonderful work that impressed everyone. There were several lines I had heard of but were new to me, like 40 Notes, Roxana Illuminated, and Velvet and Sweet Pea Purrfumery. Other lines, like Sarah Horowitz Perfumes, Sonoma Scent Studio, and En Voyage, I was able to explore a bit more deeply. I have to confess my nose got a bit overwhelmed.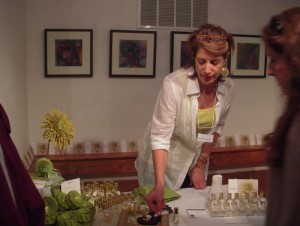 Miriam Vareldzis of 40 Notes Perfumes helps a customer
A lunch break with friends fortified and refreshed us all to push on. My skin real estate was taken up down to my fingers as I sniffed and sampled and made my way through everyone's wonderfully presented wares. My handbag became very heavy with samples and purchases.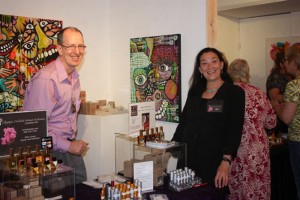 Ellen Covey of Olympic Orchids and her new Devilscent line (photo by Mario Gomez)
As 5:00 rolled along, there were still several shoppers and hangers-on, and the exhausted perfumers started packing it in. Reports from attendees and perfumers alike have been positive, and there is already talk about next year's event.
DelRae Roth was on hand with her wonderful perfume line
When the weekend was approaching, many of the perfumers mentioned that they were really just happy to be able to gather with their peers for the first time in this wonderful way. They weren't concerned with sales and audience as much as they were with the connections they have been able to make. That the weekend was a rousing success, from many reports, is the icing on the cake.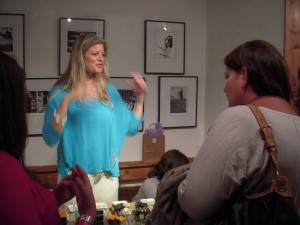 Sarah Horowitz animatedly discusses her work with a customer
CaFleureBon will have a separate post for the winners of the Artisan Show later this month. I am glad I didn't have to make a lot of snap judgments and have until this evening to cast my votes. I am also hoping to bring you more detailed reviews and impressions from some of the individual perfumers in the coming weeks.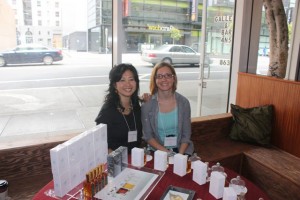 Yosh Han and her assistant in a rare non-busy moment (photo by Mario Gomez)
For the Sniff on Saturday, I asked the perfumers who were not able to participate in the Salon if they would like to offer a promotional sample or coupon and several did, including some perfumers who were there. I have a mystery swag bag left over for one lucky reader! Please leave a comment letting me know who your favorite perfumer is from the Artisan Salon exhibitors:
40notes Perfume
Artemisia Natural Perfume
Ayala Moriel Parfums
COGNOSCENTI
Divine Life Perfume
EnVoyage Perfumes
Ineke
L'Aromatica Perfume
Leila Castle Botanical Fragrance
Olympic Orchids Artisan Perfumes
Parfums DelRae
Persephenie
Rebel & Mercury Pure Botanical Perfumes
Roxana Illuminated Perfume
Sarah Horowitz Parfums
smell bent
Smells & Bells Organics
Sonoma Scent Studio
Velvet & Sweet Pea's Purrfumery
Yosh
Draw closes at Midnight, July 16th.
We announce the winners only on site and on our Facebook page, so Like Cafleurebon and use our RSS option…or your dream prize will be just spilled perfume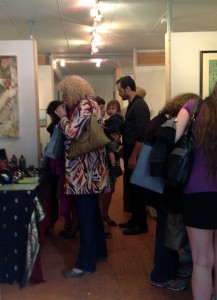 Customers lingered until the bitter end
-Tama Blough, Senior Editor