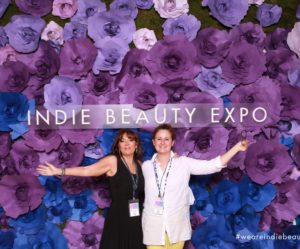 Michelyn Camen and Maggie Mahboubian at the Indie Beauty Expo (photo mashbooth) #weareindie
There was a time when independent beauty brands did not have the option of participating in a dedicated trade show. There were holiday markets and pop-ups or large, commercial trade shows but nothing in between. Last year we witnessed the birth of a new phenomenon in response to the myriad independent/artisan beauty brands that emerged in the last 10 years: Indie Beauty Expo. Launched last summer in New York City and in Los Angeles last May (which my brand "Lalun" attended), "IBE" is in its second year and gaining momentum along with the brands competing in this fast paced market. Suddenly, the whole world has its eyes on indie beauty and wants a piece of the action. So much so that indie beauty brands no longer have to dream that they will never reach for the brass ring (that elusive Scouted at Sephora), and can attract a range of buyers eager to retail their wares. Not only that, they have caught the attention of commercial conglomerates who recognize that innovation often grows from grass roots.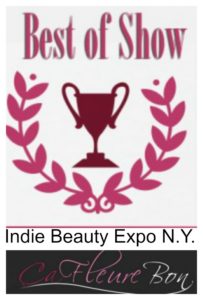 Michelyn and I attended the Indie Beauty Expo in NYC August 25 and we are thrilled to bring you this event report. We award Best of Show to indie brands that really spoke to us and that we feel will cahnge the perception of artisan, small and/or creativity.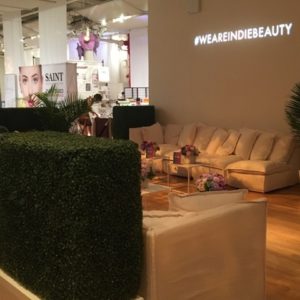 #weareindie August 25th, 2016
It's no accident this perfect storm is taking place in the United States, a market that is less regulated compared to other countries. Many of these brands probably would not be able to launch in the EU due to the high cost of compliance and stringent regulations.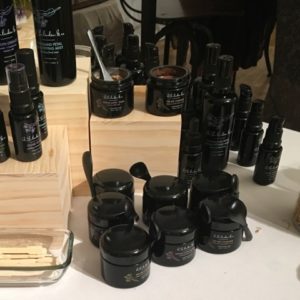 A single ingredient serum made with a CO2 extraction of chia seed or a mask made with cacao and rose like the one I "tasted" at R. L. Linden would have to undergo extensive and redundant testing. Ironically, the same ingredients used in food would most likely not be regulated.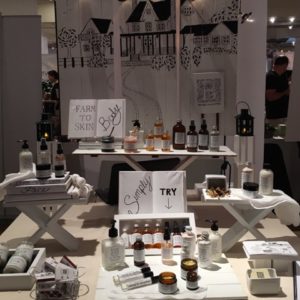 Board and Batten is one of several brands exhibiting at IBE whose mission it is to make skincare with ingredients pure enough to eat. Such a feast for the senses!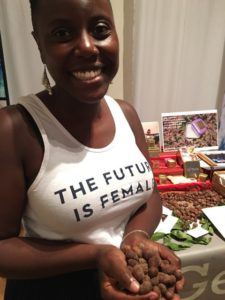 As an artisan skincare formulator I study commercial formulas and wonder about the decisions chemists make to include ingredients whose sole purpose it is to enhance the marketing of a product. Indie beauty evolved as a reaction to the mass marketing of products made with inexpensive ingredients that enhance a sensory quality or extend shelf life. Almost every founder I met was also a formulator and maker with a particular vision in mind, especially with regard to the use of beneficial ingredients like the shea butter Eu*genia Shea features in their products. They purchase their shea nuts directly from female growers in northern Ghana and press them in-house. The owner, Naa-Sakle's mother also happens to be the president of the Global Shea Alliance. Only artisan brands like this are able to dedicate their business model to the ethical sourcing of ingredients. Eu*genia garnered our Best Of Show Award for Ingredient Use.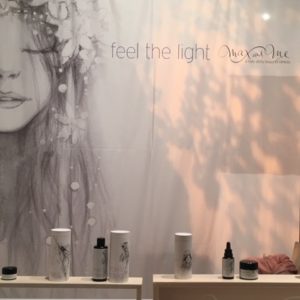 The passion and entrepreneurial drive these indie beauty brands exhibited was palpable. Many were artisan makers like myself who had invested their own savings, time, blood, sweat and tears to make their vision a reality; creating quality products with a creative edge. A large number of brands were woman owned and/or multicultural. There was a smattering of international brands, such as Max and Me from Austria, but they did not necessarily stand out from the mostly American crowd. An indie is an indie, regardless of background!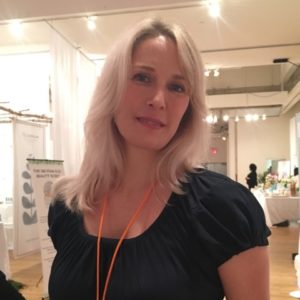 Jillian Wright Indie Beauty Expo founder
IBN founders Jillian Wright and Nader Naeymi-Rad are veteran indie beauty brand owners themselves who understand the intrinsic challenges and have created a world class platform for indie beauty, along with industry resources that benefit brand owners.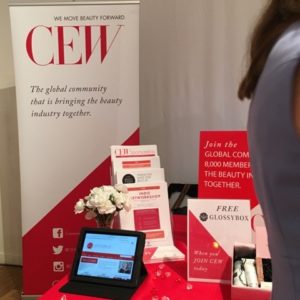 These included the CEW booth and representatives from QVC and Sephora who were walking the floor. Green beauty advocates like blogger Sarita Coren and Beauty Heroes owner Jeannie Jarnot (who was at the show) have been appointed to act as Ambassadors. In addition, IBE organized a stellar roster of speakers such as Amy Galper, founder of the New York Institute of Aromatherapy to lead a panel on the changing face of beauty. So much going on!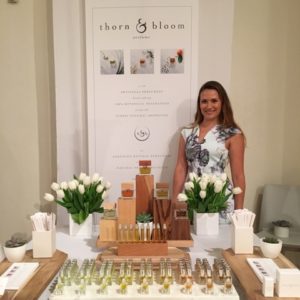 Jennifer Botto Thorn and Bloom
Michelyn and I visited 100 of the 135 exhibiting. It was impossible to see them all, so we allowed our instincts to guide us and found ourselves drawn to artisan brands that were polished and authentic. Along the way we noted a few trends: the use of botanicals and manuka honey, green solutions, an emphasis on handmade, the modern apothecary aesthetic and the near ubiquitous use of Miron glass, which is opaque violet black glass (intended primarily to help preserve products).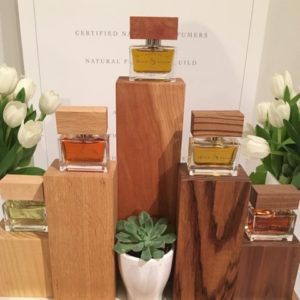 Art and Olfaction Finalist (Bird of Paradise) Jennifer Botto of Thorn + Bloom's packaging, however, stood out from the crowd, minimalist glass bottles with hand crafted wooden tops that captured our Best Of Show Award for Beautiful Packaging. PS two new scents are soon launching so stay tuned.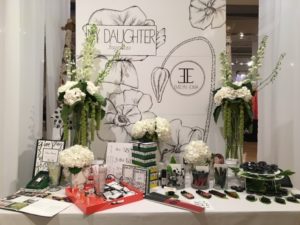 Only a handful of fragrance brands attended the show. We hadn't time to spend at the mobbed My Daughter's Fragrances, but they had a beautiful presentation. Best of Show Fragrance Presentation.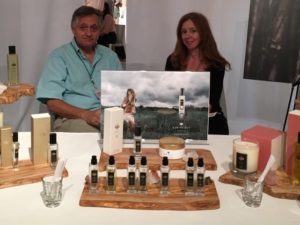 Joyce Lannigan CEO and Founder Our friend in fragrance
It was good to see Joyce Lannigan of Raw Spirit whose fragrances are created by Harry Fremont of Firmenich again. Their booth was next to mine in the LA Inie Beauty Expo. Joyce Lanigan CEO of Raw Spirit saved Michelyn at Esxence in Milan by sharing their booth which had miraculously had wi-fi so she could live blog. They also fed her. Best of Show for Friend in Fragrance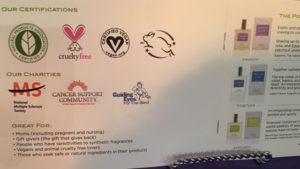 Pour le Monde is a fragrance company that touts that they are the only fragrance company that is 100 percent natural certified. We are impressed with their extensive list of natural certifications meeting very high standards.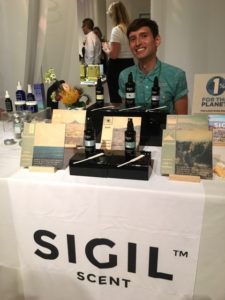 Patrick Kelly of Sigil
We were delighted by the simple elegance of Sigil Scent, a new natural perfume brand whose modern aesthetic intersects aromatherapy with perfumery. The artisan perfumer Patrick Kelly told us that the black flacon was to convey the unisex nature of the scents. The name itself, Sigil means a sign or a symbol which further brings to focus the alchemy of natural fragrance. Best of Show for Rising Star Natural Perfumer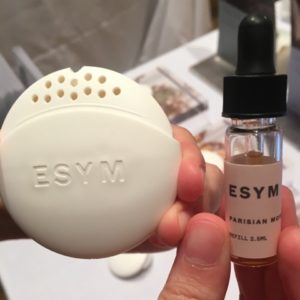 ESYM
And then there was ESYM, an aromatherapy brand who blew us away with their exquisitely designed diffusers and fresh blends. A partnership between four fashionistas who enlisted one of their founders FIT teacher, Helen Feygin as their fragrance designer. They won our Best of Show Award for Product Innovation.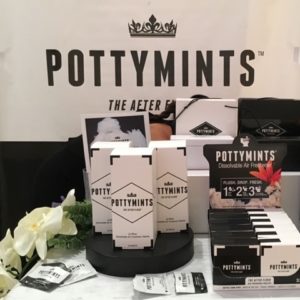 Potty Mints Toilet Deodorizers
While some brands were clearly poised for growth, others seemed unprepared for the savvy indie consumer. Instead of "Zero chemical skincare" a better tagline could have been "zero synthetically derived chemicals", recognizing that all of life is chemical, including the air we breathe and the water we drink. A soon to be launched brand described their hero product as a "proprietary matrix of organic waxes and butters using high shear to suspend micro droplets of jojoba". When pressed for an explanation, it became clear they meant a balm. If we had one, this would have won the Ridiculous Claim category! The Hilarious Award, however, went to Potty Mints, a line of toilet deodorizers that resembled breath mints…but not for potty mouths 🙂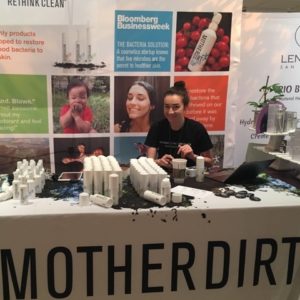 Mother Dirt
The buzziest brand was Mother Dirt who developed a line products to replace healthy skin flora stripped from over bathing. The representative humorously pointed out that the same micro flora abundant in dirt now has to be cultured in a super clean laboratory in order to be sold in their product. One wonders if bathing less frequently could be just as effective…. Regardless, Mother Dirt won our Best of Show Award for Best Buzz.
Photo:loveamika.com
The coolest haircare brand was Amika whose psychedelic booth and packaging caught everyone's attention. Describing themselves as industry "OUTSIDERS" not interested in purveying unattainable perfection, these guys were slaying it with their concept of idiosyncratic beauty. Michelyn was a devotee ever since she received a sample of The Shield Style Extender in one of her VIB ROUGE Sephora orders and was impressed with its performance. The secret sauce is sea buckthorn berry, which is loaded with Omega 3, 6, 9 and the elusive 7. Hair has always been about self-expression…Rock on!! I had to pull Michelyn away from this booth. I can vouch for the Curl Defining Cream, which smoothed and made my frizzy curls look like ringlets. Michelyn adores The Perfect Body Whipped Mousse and the Bombshell blowout spray… no surprise there. There headquarters? Brooklyn ! Made in Israel.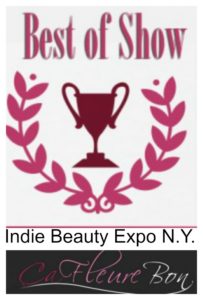 Amika (esperanto for girl friend think Amiga ) won Best of Show for Haircare.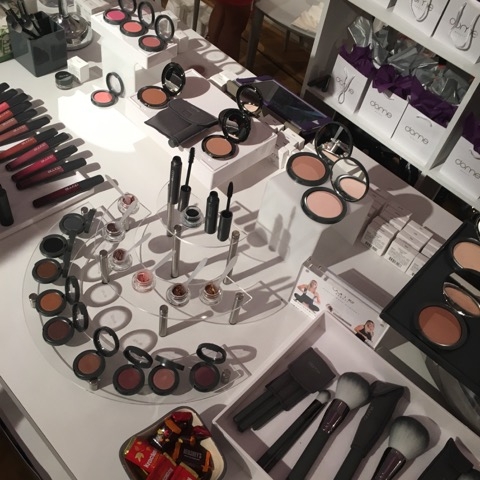 Dome Beauty
So many make up brands, so little time, but the one that stood out was Dome Beauty founded by Maribeth Pyne and Lisa Blair both industry veterans who have worked as executives for major brands but left to become entrepreneurs. Michelyn was sold right away and predicts you will see Dome in a major specialty store or on your favorite beauty e commerce site. Dome Beauty's motto is Make-up made modern, and we couldn't agree more. Streamlined, full range of colors but never overwhelming. Hero product? Eye Jewels. If you think shimmer is aging think again. These beauties sparkle with duochrome and are highly pigmented. The longevity is outstanding due to the whipped mousse formulation. My favorite was Moonstone.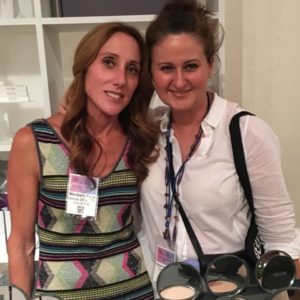 Co founder Marybeth Pyne with Glam Maggie
And the line was so tempting I asked for a mini makeover and was thrilled with my new found glam self. Wouldn't you agree? Dome Beauty won our Best of Show for Color Cosmetics
Chidoriya authentic Japanese Botanicals and acccessories
The last booth we visited was a Japanese company founded in 1949, makers of beauty accessories for Geishas. Now owned by the founder's daughter, Tomomi Horiki Chidoriya still makes the same silk pouches and handmade hair accessories, but has added a comprehensive line of 100 percent botanical skincare and bath/body products. The modest simplicity, honest ingredients and continuity of tradition really impressed us. Who could resist their Peach Moon Herbal Water made with the distilled extract of Japanese peach leaves? I was reminded of other "peachy" masterpieces like Mitsouko and Madama Butterfly.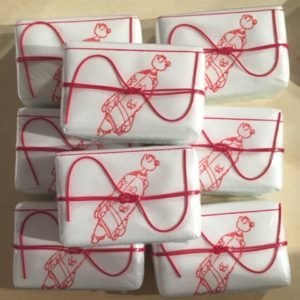 Geisha Soap
The quiet dignity of Chidoriya's dainty bird logo summed up the ethics of this brand. From back story to quality of product, packaging, brand image and philosophy, Michelyn and I felt Chidoriya offered a truly authentic, inspiring and comprehensive beauty experience. The handmade clutch bags and cosmetic pouches use a hand dyed hand painted technique on pure silk kimono called Rouketsuzome. Each as different as a snowflake. Michelyn bought her good friend a clutch for her upcoming birthday. We awarded them Most Authentic Brand at the Show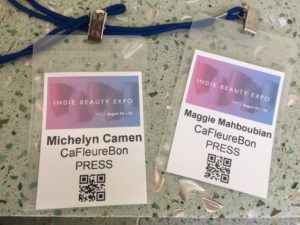 In summary, it was great to attend a trade show dedicated to indie beauty, especially since Cafleurebon has been such a proponent of artisan and independent work for so many years. It would be nice to see more perfume brands (candles and nail polish were also underrepresented) as IBE is a good place to gain brand exposure and introduce buyers to the world of artisan and independent perfumery. Hope to see you at the next show!
–Maggie Mahboubian, Contributor and Founder of Lalun Naturals and Michelyn Camen Editor in Chief
All photos by Maggie unless specified.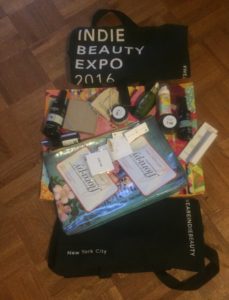 Indie Beauty Expo fragrances, beauty, skincare, makeup and haircare
Thanks to the exhibitors we have a ginormous swag bag representing at least 20 brands, many Best of Show and some full size products for a registered reader in the CONUSA. You MUST register click here. To be eligible please leave a comment with which products you want to try. trends, or what you enjoyed about our event report. Draw closes September 3, 2016.
We announce the winners on our site and on our Facebook page, so Like Cafleurebon and use our RSS option…or your dream prize will be just spilled perfume