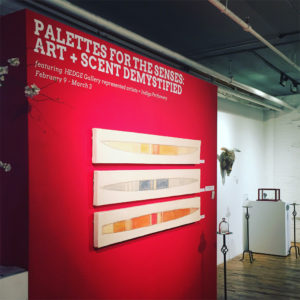 Palettes of The Senses Art+Scent Demystifed (Photo Indigo Perfumery©)
What does a skull smell like? Does Apoteker Tepe After the Flood really smell like Earth? Have you ever tasted Frankincense cookies or Lavender Sea Salt caramels?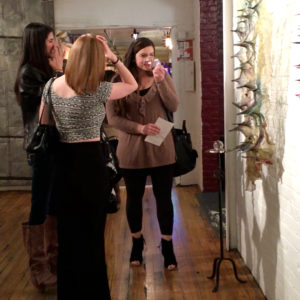 (Photo Indigo Perfumery©)
These are just some of the questions that were answered the first few evenings of Palettes for the Senses: Art + Scent Demystified, a multi-sensory collaboration between Indigo Perfumery and HEDGE Gallery, which opened on Friday, February 17, 2017 to a packed house.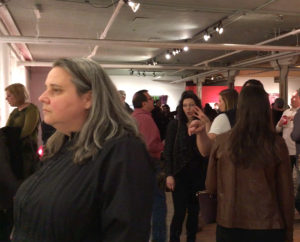 (Photo Indigo Perfumery©)
Last May, 2016, Indigo's owner, Ann Bouterse, approached Hilary Gent at HEDGE to propose an unconventional method of experiencing an art exhibition. Instead of a quick visual pass-by, why not add in the element of smell and offer the gift of discovery to each viewer? Eleven HEDGE-represented artists contributed works ranging from oils to encaustic to textiles. After multiple studio visits to the artists' studios, Bouterse interpreted each piece with a fragrance carried at Indigo. Selecting each required a period of quiet contemplation and investigation of potential fragrances. According to Ann, in the end, the feelings that were evoked by both the works and the scents were most important in each pairing.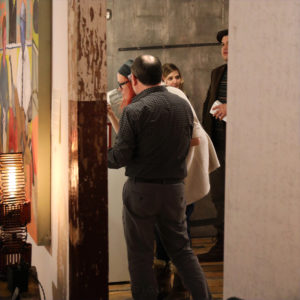 An olfactory station containing a glass cloche covering the glass ball perfume container, as well as scented perfume cards enclosed in cellophane, accompanied each artwork. Combining the visual and olfactory elements resulted in guests experiencing appreciation, surprise, inspiration and occasionally bewilderment. Their encounter with each piece was usually with careful consideration, smelling the cloche or scent cards in hand as they gazed at the piece. The Preview Party also added taste to the multi-sensory mix. Along with delectables such as Bergamot Brownies and Frankincense Shortbread Cookies, champagne infused with Jasmine, Rose Hip, Orange Blossom and Juniper Berry floral elixirs from The Floral Elixir Company were served.
Palettes for the Senses is open until March 4th at HEDGE Gallery. Local Cleveland residents are invited to experience this intimate and immersive adventure that highlights scent as an avenue of engaging the viewer on a visceral level.
For those unable to make the show, here is a quick synopsis of the art works in Palettes for the Senses.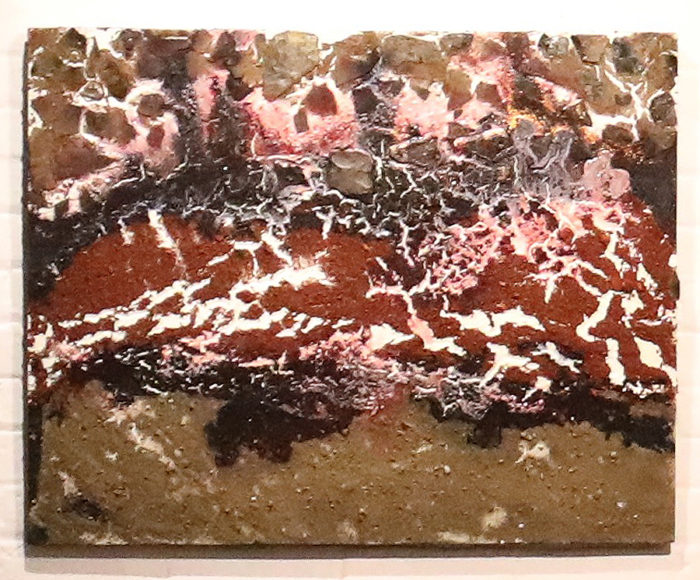 Dott von Schneider: Earth 2017
Dott von Schneider: Earth 2017 Medium: Soil, Primer, Dye on Birch Panel, 23" x 34"
Perfume pairing: After the Flood by Apoteker Tepe -Holladay Saltz
"The scent of the many textures of earth itself- soil, rocks, gooey wetness- are captured in After the Flood. Add in mushroom, patchouli and green cardamom and the wet soil accord comes alive before you".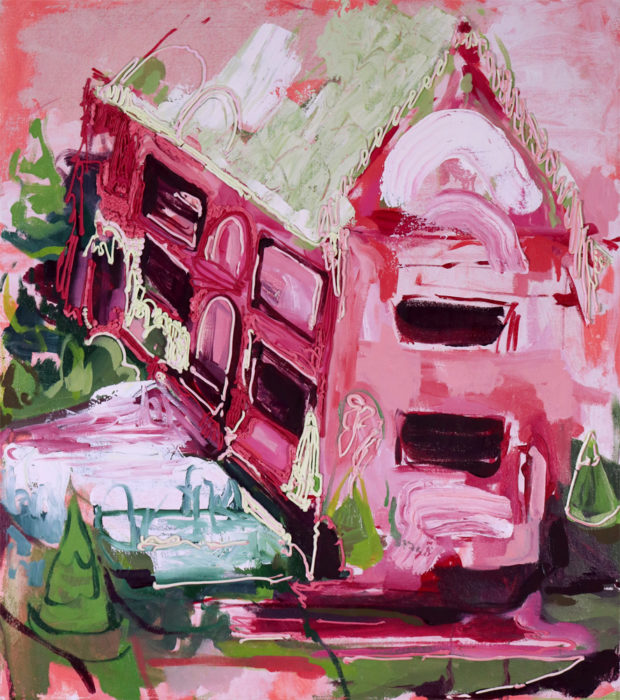 Nikki Woods:Sugar Shack 2016
Nikki Woods:Sugar Shack 2016 Medium: Oil on Canvas 25.5" x 23.5"
Perfume pairing: Sulmona by Coquillete Paris-Elise Juarros and Rosa Vaia
"Standing in the kitchen, licking your fingers and surrounded by sweet smells is where both Sugar Shack and Sulmona immediately take you to".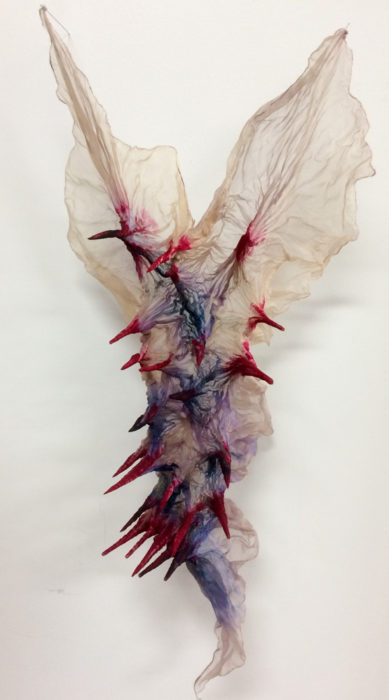 Rebecca Cross Shield (Pink Spikes) 2017
Rebecca Cross: Shield (pink spikes) 2017, Medium: Silk, Dye 20" x 15"
Perfume pairing: Dupont Circle by Monsillage-Isabelle Michaud
"While seemingly delicate, Shield (pink spikes)'s inherent strength is reflected in the beauty of the rose, the main floral note in Dupont Circle. The cedar, patchouli and oakmoss in its base offer strength and grounding".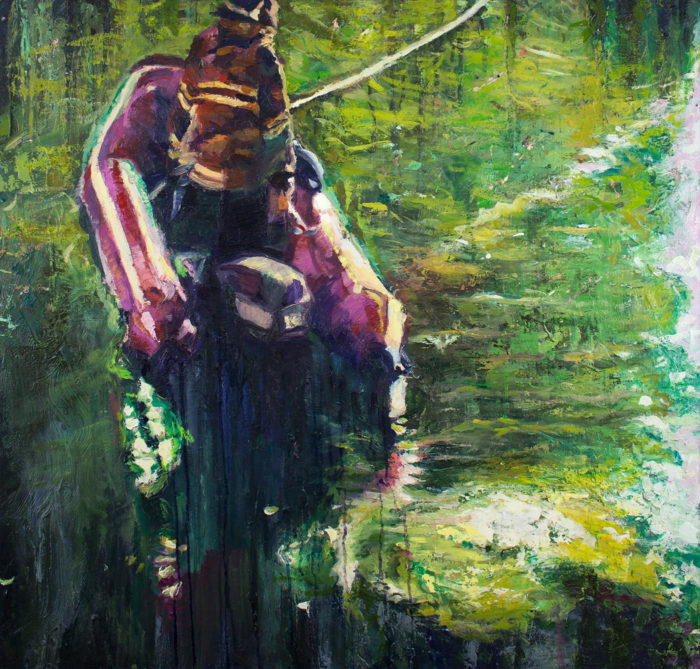 Brian Mouhlas, Trace 2016
Brian Mouhlas, Trace 2016, Medium: Oil on canvas 30.25" x 30"
Perfume pairing: Fathom V by BeauFort London-Leo Crabtree
"Surrounded by a haze of green textures and rippling waters, Fathom V reflects light and shade, bright herbals and dark mosses and spices".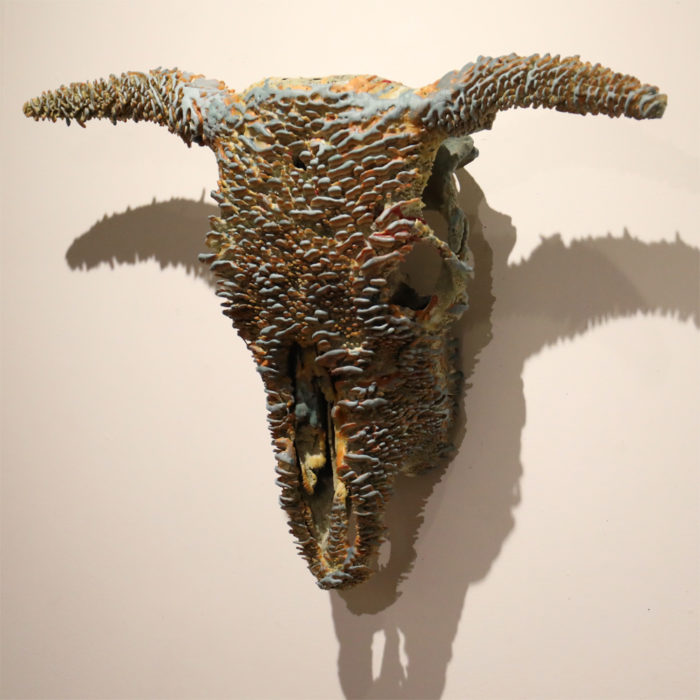 Matthew Gallagher, Growth; Bos Taurus 2017
Matthew Gallagher, Growth; Bos Taurus 2017, Medium: Encaustic on Bone
Perfume pairing: Anabasis by Apoteker Tepe-Hollady Saltz
"Encountering a skull calls to mind the scent of both life and death. Earthy, musty, adventurous, mysterious, Anabasis walks you closely up to its smooth, yet irregular, texture".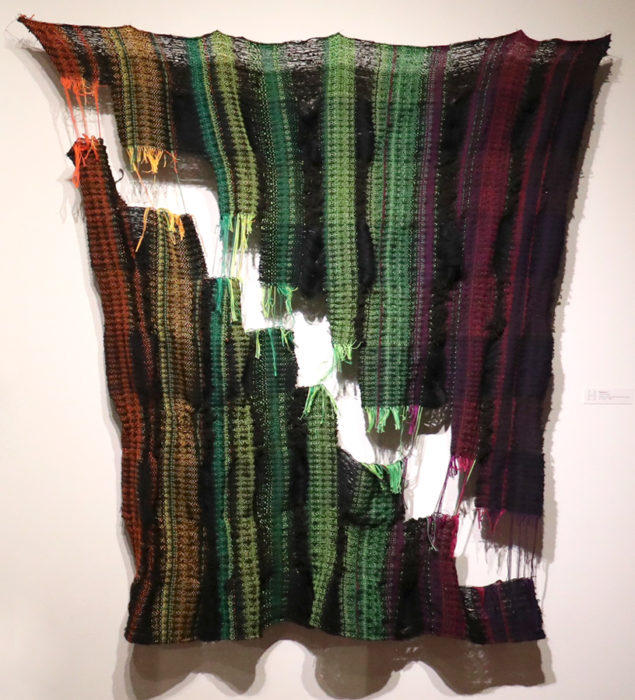 Jessica Pinsky, Equal I, 2017
Jessica Pinsky, Equal I, 2017, Medium: Partly Handspun Weft And Cotton Warp, 60" x 60"
Perfume pairing: Au Coeur Du Désert by Tauer Perfumes-Andy Tauer
"Au Coeur Du Désert weaves spices such as Coriander and Cumin alongside long-lasting woods and greens, much like Equal I organizes its fibers into a chorus of deep"
Show on view through March 4, 2017.
HEDGE Gallery
1300 West 78th Street Suite 200
Cleveland, OH 44102 hedgeartgallery.com
–Michelyn Camen, Editor in Chief
Thanks to Ann from Indigo Pefumery we have a draw for a registered reader in the USA of a Palette of the Senses Sample Set. The set includes After the Flood by Apoteker Tepe, Sulmona by Coquillete Paris, Dupont Circle by Monsillage, Fathom V by BeauFort London, Anabasis by Apoteker Tepe and Au Coeur Du Désert by Tauer Perfumes.To be eligible please leave a comment with what you found fascinating about this Gallery Event, the Art and Scent Pairings and which work of art speaks to you. Draw closes 3/1/2017
We announce the winners only on site and on our Facebook page, so Like Cafleurebon and use our RSS feed…or your dream prize will be just spilled perfume