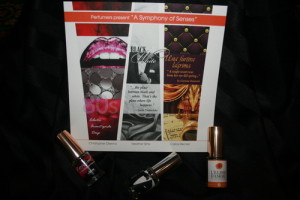 There are many things Washington DC is known for but fragrance wouldn't be on the top of anyone's list. On a November evening, in the heart of legislative Washington, politics were put aside for perfume's sake. The International Fragrance Association North America (IFRA North America) hosted an event in the Rayburn Office Building, where many US Representatives spend their day, called A Symphony of Senses. The idea behind A Symphony of Senses was to ask three perfumers to each interpret a specific style of music. Christopher Diienno of Drom Fragrances took on Rock; Heather Sims of Arylessence, Inc. was given Pop; and Calice Becker of Givaudan was asked to interpret Opera. Each perfumer had a very unique approach to their task and each of them produced something which easily evoked the musical style they were asked to re-create.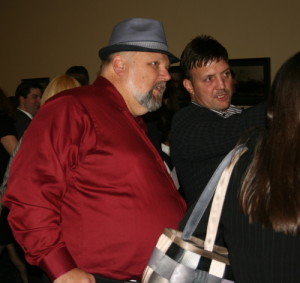 Christopher Diienno on r.
When I walked in to the room Christopher Diienno, of Drom Fragrances, was holding court in front of the display for his fragrance Resilient. His inspiration for his fragrance was to create four accords inspired by four songs released during the early 1980's. On display were each accord named after the song they were created for.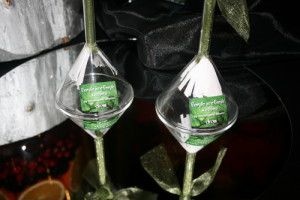 The top accord was called People are People (Depeche Mode) which was an energetic mix of citrus notes and spices. Bergamot, mandarin and berries are dusted with cardamom to create the energy desired. The next song is Blue Monday (New Order) both Mr Diienno and I are admirers of Peter Hook the bass player for New Order and this accord captures his unique way of creating high bass lines. Mr. Diienno uses a rich opulent rose matched with magnolia and a perfect jasmine sambac and then adds plum as a fruit note which contains enough depth to work with the florals. To come out of this introspection Alive and Kicking (Simple Minds) re-energizes things with an accord consisting of metallic woods and incense along with a return to spice. This kicks Resilient back into gear for the final chorus of Lovesong (The Cure) which is meant to make you "feel like I am home again" with comfort notes of chocolate, caramel, amber, and a cocktail of sheer musks. All together this John Hughes soundtrack of a fragrance combines to become something that truly belongs in 2013 even if its inspiration is in the 1980's.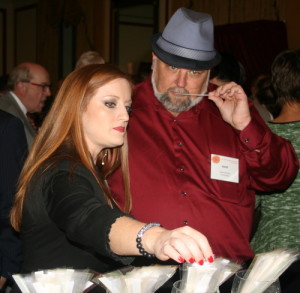 Heather Sims on l.
I next met Heather Sims, the Director of Perfumery at Arylessence, Inc., for her fragrance she chose the recent Justin Timberlake release Suit & Tie as her starting point. Ms. Sims took in the mix of old school and pop influences embodied by Suit & Tie, the song, and turned that into Suit & Tie, the fragrance. To that end she surrounded a classic fougere accord with modern twists.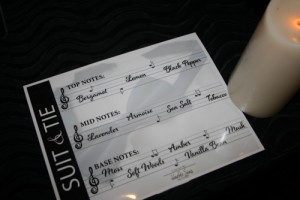 She opens Suit & Tie with a standard bergamot and lemon pairing but then adds a significant dash of pepper to give this a pop similar to the finger-popping throughout the musical inspiration. The heart is that of a traditional fougere with lavender bolstered by artemesia. Then Ms. Sims adds her style as she takes this typical core and rolls it in a tobacco leaf and then let's the sea spray surround it. This turns Suit & Tie more towards an aromatic fougere but it also feels like a very unusual aquatic here, and pleasantly so. In the base the moss, amber, and vanilla comprise the usual fougere base and then Ms. Sims employs a custom blend of deep musks to finish Suit & Tie off. I found this Suit & Tie to be something that was definitely not off the rack but something all the more special for being custom-made.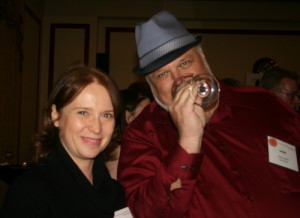 Calice Becker on l.
The final interpretation came from Givaudan's Calice Becker and she used two very different inspirations to create L'Elisir D'Amore. L'Elisir D'Amore is a comic opera by Gaetano Donizetti and it is the aria "Una Furtiva Lagrima" which inspired the fragrance. At the display Mme Becker had the aria playing over something very amusing, the recent viral video of an infant who was emotionally moved to tears by her/his mother's singing. This is all meant to describe the "naissant secret love that is expressed through a tear that one can almost not perceive." To achieve this Mme Becker used four special ingredients which represent the members of her family.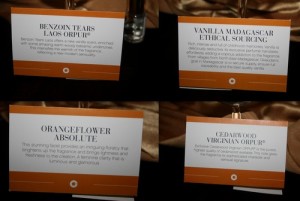 The first ingredient is for her husband and was part of the cologne he wore when she met him for the first time when she was sixteen; Benzoin Tears Laos Orpur. For those who don't know this Givaudan has a collection of about 50 pure naturals called the Orpur collection. These are collected and curated, with the help of the perfumers, to create a special set of ingredients upon which the perfumers can achieve a unique effect. This Benzoin Tears has a comforting quality that feels like the best fragrant hug ever. There are balsamic harmonics along with a sensual vanilla quality and they are on display throughout the opening phases of L'Elisir D'Amore. This then turns completely vanilla as a Vanilla Resinoid Madagascar Orpur picks up on the vanilla facets and deepen them. This vanilla represents when Mme Becker's French mother would begin baking by slicing a vanilla bean in half and use the point of the knife to scrape the vanilla out filling the kitchen with the sweet smell. Mme Becker had a Moroccan baby-sitter for her children and she used to sprinkle orange flower water on the snacks she prepared for the kids. For the fragrance Orange Flower Morocco was used to add some high notes to the development and to add a bit of a child's innocence to things. Finally, the last note is reminiscent of Mme Becker's father at work in his workshop creating wooden puzzles for his children and grandchildren. For this the third Orpur ingredient was used, Cedarwood Virginian Orpur. So often cedarwood can be pedestrian but in this ultra-pure Orpur formulation it carries unusual nuances of sweetness and green. So often cedar is described as smelling like pencil shavings; there isn't even a hint of that in this. It is undeniably cedar but like a polished well-mannered cousin. Together these ingredients form a fragrance which represents the love of family…and fragrance.
The perfumers and their creations were the stars of the evening and they were constantly surrounded by people who probably had never realized the power fragrance can have in talented hands. By the end of the night the little sample bags containing all three fragrances were being distributed to politician and plebian alike. As we got on the elevator with other attendees I thought the halls of power probably never smelled so good.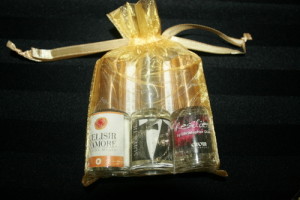 I would like to thank IFRA North America and Lyndsey Medsker of Prism Public Affairs for the invitation to attend this event. Thanks to their generosity I have an extra sample set of all three of these exclusive one-of-a-kind fragrances to giveaway to one lucky US reader. To be eligible leave a comment on which one you think you would like best and if you live in the US. The draw will end on November 19, 2013.
We announce the winners only on site and on our Facebook page, so Like Cafleurebon and use our RSS option…or your dream prize will be just spilled perfume.
-Mark Behnke, Managing Editor
All photos courtesy of Lyndsey Medsker Prism Public Affairs.