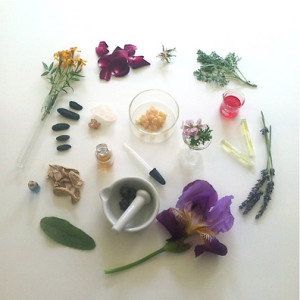 June 7, 2014 was a dreary overcast morning that morphed into a sunny, exceptionally warm day in Highland Park, a small city and artist colony southwest of Pasadena and north of Los Angeles. The studio of artist and designer Bradley Thordarson (known as The Skinny Studio) on York Avenue was overflowing with people and press, who were there to celebrate and participate in FRAGments 2014, the second annual gathering of artisanal perfumers from across the US. FRAGments founder and perfumer, Maggie Mahboubian created and hosted this event for its second year and it was even larger and more ambitious than in 2013.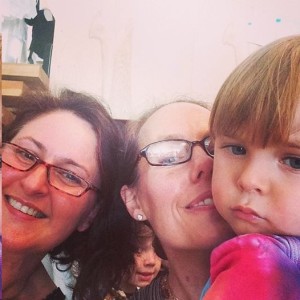 Maggie Mahboubian, Perfumer and Founder of FRAGments (with DawnSpencer Hurwitz and her son (because Maggie was so busy running the show we did not get a photo of her alone)
According to Maggie Mahboubian who also is the perfumer of Parfums LaLun, "FRAGments is a curated perfume-as-art event for artisan perfumers to present their work in a gallery setting where they may sell direct to the public. In addition to highlighting the work of artisan perfumers (those who conceive, make, bottle and market their own work), FRAGments seeks to present others who work with the medium of scent and olfaction. FRAGments is an opportunity for makers to interact with the public in a relaxed atmosphere that enhances all of the senses.The name for the series is derived from "fragrance movement" and picks up on the slang word for perfume, "FRAG". Implicit is the recognition that independent, artisan perfumers are fragments of a whole moving in different directions. FRAGments seeks to celebrate these differences".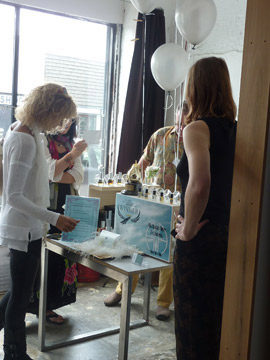 At FRAGments 2014…lots of sniffing and scent education
FRAGments was so well attended that people filtered into the studio space all day. As one person left, two or three more replaced them, so it was always humming with the sound of voices and laughter…and the beautiful aromas of Artisan perfumery. So much activity it would take several posts, so…I decided to capture a "FRAGment" of the daylong event with a photo-essay.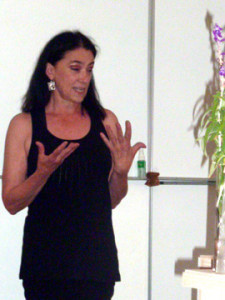 Dr. Ellen Covey talks about Scent Perception at FRAGments 2014
Dr. Ellen Covey, Perfumer and founder of Olympic Orchid Artisan Perfumes opened with a presentation on Scent Perception, and her speech had the entire audience enthralled. At the end of her presentation, there were a slew of questions which she graciously answered. Who knew that scent molecules from various fragrances will reside in your nose and skew other scents that you smell later? Olfactory receptors are not infinite in number! Who knew? Ellen Covey did and now so do you. In Ellen's speech we also learned "the ways in which olfactory information is represented in the brain, and the cognitive factors that determine how we organize and interpret that information."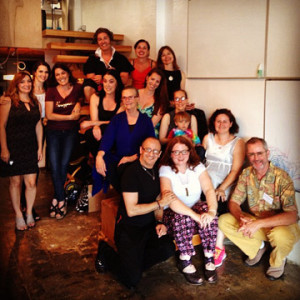 The Fragrance makers at FRAGments
(front row near: Mario T. Gomez, Heather Kauffman and Paul Kiler; second row; Iris Moore, Dawn Spencer Hurwitz and ???; Third Row: Ellen Covey and Tania Ruben; Fourth Row: Sherri Sebastian, Ashely Eden Kessler, Saskia Wilson-Brown, Daniel Karasofski ,Irina Adam and Amber Jobin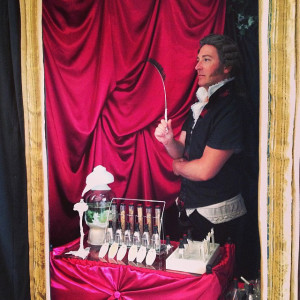 Daniel Karasofski, Perfumer/Artist in "tableau parlant" installation
Daniel Karasofski, tableau "parlant" installation. This installation was an audience-interactive piece as he played the role of a perfumer contemporary to Catherine de Medici (1519-1589) replete with dress, hair, accent, and a display of fragrances created to feature only ingredients available during that time period.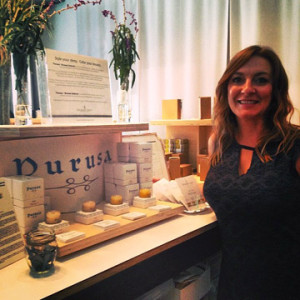 Sherri Sebastian, Sebastian Signs
Sherri Sebastian presented the PURUSA collection (Sanskrit for pure consciousness) which was been
featured in WWD for its innovative use of Argan gel as a fragrance base.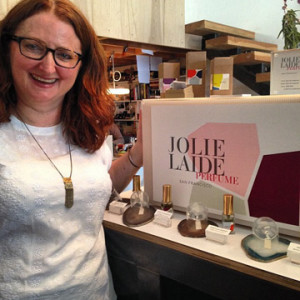 Heather Kauffman, Jolie Laide Perfume
Heather Kauffman of Jolie Laide, who is inspired by cinema (and names each of her botanical fragrances after a title of a French New Wave film), launched a new scent: "Cléo de 5 à 7″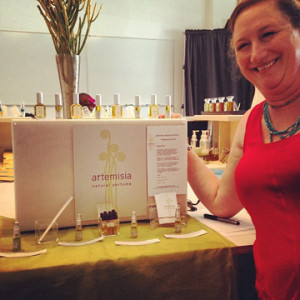 Lisa Fong, Artemisia Natural Perfume
Botanical Perfumer, Lisa Fong was a Finalist in the Art and Olfaction Fragrance Awards for Golden Hour. and is always smiling!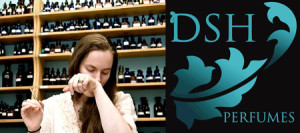 Dawn Spencer Hurwitz, DSH Perfumes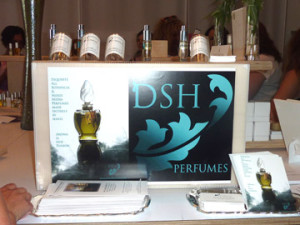 Display of DSH Perfumes (Photo by Stevie Wilson)
Dawn Spencer Hurwitz, one of our country's most prolific and influential olfactive artists. She displayed an edited selection of her scents including recent fragrances: Metropolis and Peony. (She came with husband Edwin and her son. We are so glad she did!)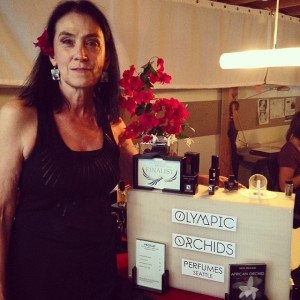 Ellen Covey, Olympic Orchids
Dr. Ellen Covey was a finalist in the Institute of Art and Olfaction awards for 2014 for Blackbird. She introduced her two new fragrances: Sakura and African Orchid.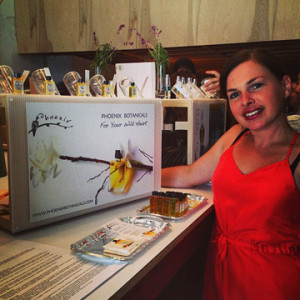 Irina Adam, Phoenix Botanicals
Natural Perfumer Irina Adam presented fragrances that were inspired by flora, fauna, sea and storms of Hawaii. (She tells a great story about every scent!) She has an amazing array of diverse perfumes that include Night Bloom, Lavender Noir, Ka Pueo (The Owl), and Saffron Veil.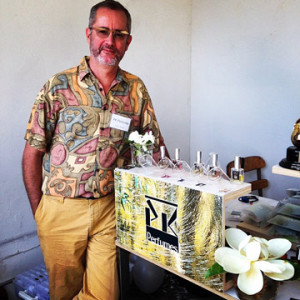 Paul Kiler was a finalist in "The Taste Awards" and is known for complex and unique fragrances like Ginger Zest de Citron, Zaffron, Violet Chocolatier amongst his collection!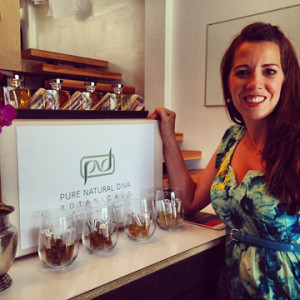 Tania Reuben, Pure Natural Diva
Allergies to department store scents inspired Tania Reuben of Pure Natural Diva to create her own all-natural botanical line.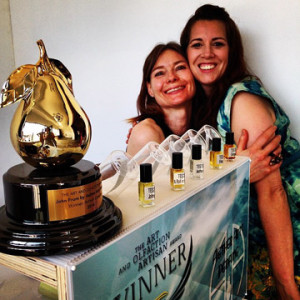 Amber Jobin, Aether Arts Perfume and her Art and Olfaction Award (with Tania Rubin)
Amber Jobin of Aether Arts Perfume, who studied with Dawn Spencer Hurwitz has come into her own and presented John Frum, winner of the 2014 Institute for Art and Olfaction Awards (Artisan Category). This brilliant fragrance was created for 2013 Burning Man Festival, whose theme was Cargo Cults and features a locally-sourced Kava Kava note. Amber is working on some new projects but Michelyn is sworn to secrecy and wouldn't even tell me.
Mario T Gomez, Mario Tomas Perfumes at his display at FRAGments
Mario shared his recently released collection of scents: Corazon Blanco, Lo Mejor de Mi #1 and El Poeta. This collection got quite a bit of attention since Mario has been a "Fragrance Ambassador" for quite a few West Coast brands, a Contributor to CaFleureBon and so many perfumistas are all abuzz about his new line of fragrances.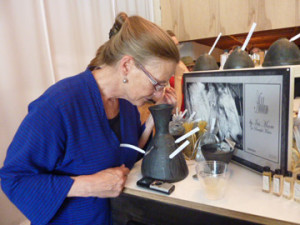 Artist (and emerging perfumer) Iris Moore with her goat tincture scent! (Photo: Stevie Wilson)
Artist Iris Moore presented a "progressing" group of scents featuring a goat tincture: "adDAMnation", "RUMination", "ABOmination", "SUBlimation" and "CULmination". Iris is quite gifted. Having not created a fragrance before, Iris has made something genuinely animalic with this hand crafted tincture.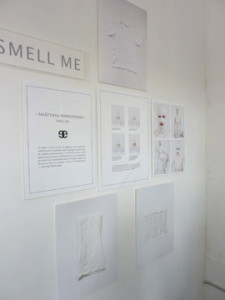 Martynka Wawryzniak, NY Based artist project display (Photo courtesy of Stevie Wilson)

The "Smell Me" project was displayed at FRAGments a collaboration with Yann Vasnier of Givaudan reconstructed The scents were based on tinctures made from the New York based artist's hair, tears and t-shirts she wore. Martynka and Yann unfortunately were not available to attend.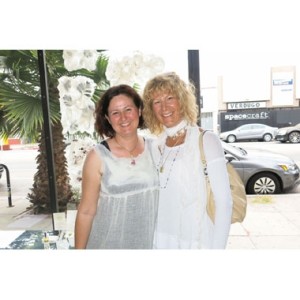 Maggie in her Touch me dress (photo by Marc Birenbaum)
Maggie Mahboubian debuted her installation "Touch Me" that was meant to counterpoint Martynka's "Smell Me". Her installation was made up of botanicals that were felted into wool panels (wool traps odor molecules) meant to be touched in order to release the scent.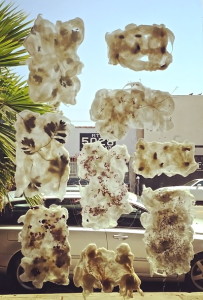 Touch Me Installation
She even made the dress. She was wearing and felted the bodice with botanicals. There were a few intrepid friends who even bent down to experience the scent! Hah! She loves how perfume makes people less inhibited. Maggie also released the second edition of Parfums Lalun Phenomene Verte, her tincture perfume that contains tinctures of those felted botanicals, including a home grown orris she harvested 5 years after planting and aged for 5 years before tincturing.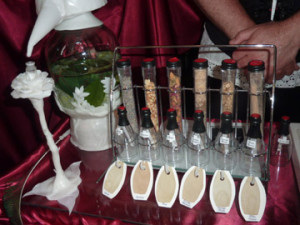 Ingredients used by Daniel Karasofski for his recreation of the Medici era perfumes
Daniel Karasofski, is a Perfumer/Artist and had an interactive presentation which was a tableau parlant installation featuring a historical interpretation of fragrances from the Medici era of history with him being in costume depicting that era with all the accountrements one would expect – and so much more!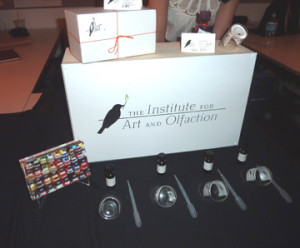 Institute for Art and Olfaction
The IAO, which is headed by Saskia Wilson-Brown displayed art-based olfactive projects 'Accident' (Austin Young and Brent Leonesio), 'Three Worlds' (Ashley Eden Kessler and dublab) that translates electronic music into fragrance. The process of scent creation was also shown.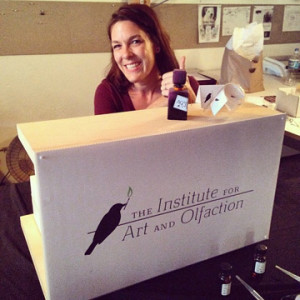 Saskia Wilson-Brown, IAO Director, was there taking photos!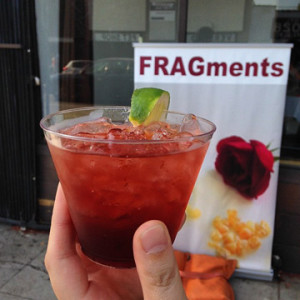 FRAGatinis!!!
Maggie Mahboubian did not overlook a single detail and brought a hand blender so that participants and the public could partake of FRAGtails (AKA cocktails that included fragrance elements). Yummy, fabulous and tasty and ever so FRAGrant.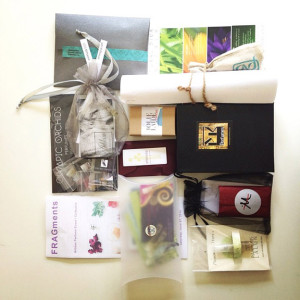 FRAGbag of Artisan perfumes
That's the "essence" of FRAGments (pun intended). If you were there, we would love to hear your thoughts about it. If you weren't there, hopefully you can live vicariously through my post.
–Stevie Wilson, Guest Contributor and Editor www.LA-Story.com with contributions from Michelyn Camen, Editor in Chief
Michelyn and Maggie want a CaFleureBon reader to experience this amazing event. Through the kindness of Maggie Mahboubian we are offering a 2014 FRAGBag (There goes Michelyn with another clever name). Every fragrance line present contributed sample sizes just for CaFleureBon readers (excludes guest displays or tableaus). To Be Eligible to win a FRAGBag filled with natural and artisanal perfumes, please leave a comment with what scents or presentations seemed interesting to you and the names of some of your favorite perfumers who attended. Draw ends 6/19/2014. You must live in the US to qualify.
We announce the winners only on site and on our Facebook page, so Like Cafleurebon and use our RSS option…or your dream prize will be just spilled perfume.
Writer's Note: Thank you to Maggie Mahboubian for once again thinking outside of the bottle and providing a showcase for so many wonderful artisan perfumers and presenters. Most perfumers at FRAGMents have been featured in CaFleureBon's Profiles in American Perfumery Series
Thank you to Michelyn for asking me to guest post again (I last reported for CaFleureBon on the Art + Olfaction Awards for CaFleureBon. I will be featuring FRAGments posts & podcasts on my blog, www.LA-Story.com and on Facebook.
All photos are courtesy of Maggie Mahboubian unless otherwise marked.