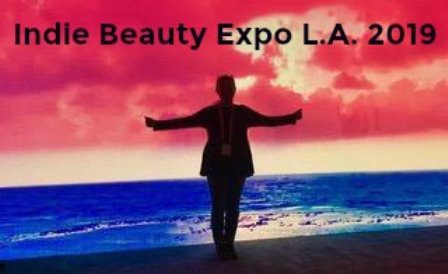 Maggie at The 2019 Indie Beauty Expo LA
The 2019 Indie Beauty Expo LA, (January 23 and January 24) grew 25% from last year with a whopping 186 brands, but the exhibition space was noticeably smaller. The result was a souk-like marketplace with colorful stalls crammed together, music blaring, spotlights glaring, vendors hawking wares and people jostling each other to make deals. To top it off, the A.C. wasn't working and it was sweltering. Perhaps that's why so many brand owners seemed cranky and reluctant to offer samples/products for me to try and include in our swag bag. Many even asked to see instagram stats…the holy grail of millennial commerce, concluding it wasn't worth their while, despite my having shown them last year's article and CaFleureBon reporting each year from L.A. and New York. (since 2016) The 2019 Indie Beauty Expo LA exhibitors was a TOUGH crowd!
On the other hand there were many at The 2019 Indie Beauty Expo LA who generously offered products (thank you), knowing a busy trade show was not the best place to introduce a unique product or brand story. The calm of one's home would be more conducive to experiencing the fruits of their labors and learn more about their journey. These were the true merchants. The beauty industry is indeed a crowded space that's growing exponentially. This includes categories that would normally be aligned with health and wellness. But in the past few years we've witnessed numerous brands launching supplements that are meant to enhance beauty from the inside out. This year the beauty supplement category has broadened to include food based nutritional supplements and meal replacements because beauty is no longer skin deep, it's about healthy living and awoke self care.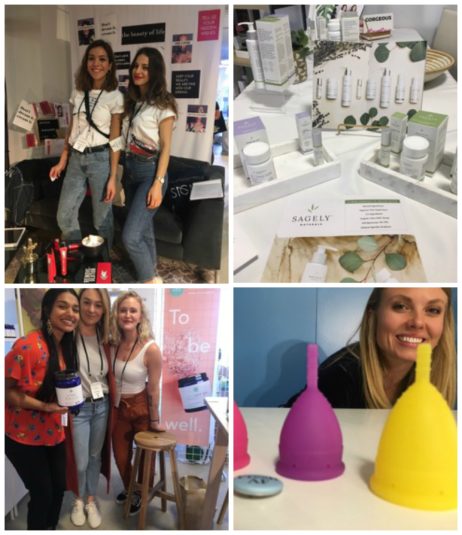 The Ora Organic Crew at The 2019 Indie Beauty Expo LA, Sagely Naturals, The SIGN Tribe, and Lunette Cups © CaFleureBon
Ora Organic is one such brand offering "clean nutrition for a healthy body and a healthy planet". Having recently switched to a plant based diet in an effort to lower my cholesterol and improve digestion, I've discovered a host of other benefits: weight loss, increased energy, fewer allergies, razor focus, quality sleep and radiant skin. Maybe Giselle and Tom Brady are on to something! Research indicates that food can be medicine and capable of reversing age related conditions by increasing telomeres (tails on our DNA strands). In this sense nutrition can be viewed as a powerful weapon in one's beauty arsenal. Being a whole foods kind of gal who hates taking pills, I was relieved to learn that Ora's supplements are designed to taste good. They certainly gave me the energy to walk the floor. Another blurring of the beauty/supplement distinction was the plethora of CBD products. This year there were several brands offering CBD dietary supplements alongside beauty products. One brand used the words "Repair", "Healing" and "Anti-Inflammatory" to describe their skincare, terms the FDA would consider drug claims. While dietary supplements are able to make such statements, cosmetics must provide clinical proof, which makes them over-the-counter drugs, like sunscreen or toothpaste. It does seem inconsistent that the same verbiage should be regulated differently, especially when cosmetics are not taken internally.
One of the more sophisticated CBD brands was Sagely Naturals with a full spectrum oil delivered via cream or capsule. I loved their clean brand image and meticulous sourcing, the opposite aesthetic of the hempie hippie. Their lotions had a remarkable skin feel and relaxing lavender scent, but I must confess, I've not yet experienced relief from a CBD topical and I have tried many. Faulty endocannabinoid system or something else? The research backing CBD is confusing and inconsistent. Whom do I trust? Certainly not Dr. Google. Perhaps third party regulation could help sort out this mess. What dosage do I need to bring down the swelling of my knee? What product will help with my eczema flare ups? Headaches, cramping, etc. As a consumer, I need guidance navigating these waters. CBD is so hot right now, but it's like the wild west where a sheriff needs to "weed" out the chaff.
My EAGLE EYE is always on the lookout for unique brands at The 2019 Indie Beauty Expo LA, so when I brushed past a plush couch with a couple of cocktail tables, sassy posters and cute, friendly girls, I knew I had struck gold. They sat me down and showed me their nail polish ERASER CREAM called "Remove and Chill". In three minutes my nails were clean and conditioned without the nauseating smell of acetone or fire hazard. Eraser Cream is invented by The SIGN Tribe, two chill Euro chicks who obviously know their sh*t. To top it off, their ingredient list reads like a moisturizer. How do they do it? BRILLIANT.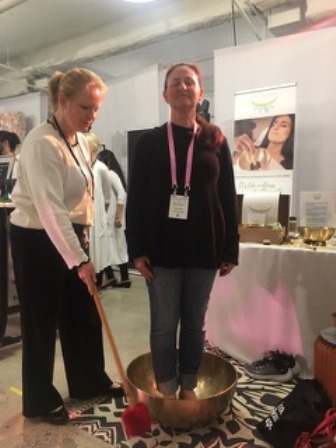 Maggie getting gonged at The 2019 Indie Beauty Expo LA
From chill nails to sound therapy, German brands were rockin' the PO (expo). Sound Self Care was developed by Jana Hess' father, Peter Hess in the 1980's as a form of therapeutic massage delivered via vibrating bowl placed on the heart area. I was invited to stand inside one of the large bowls while Jana gently gonged me. The soothing vibrations emanated from the soles of my feet to the crown of my head. It was a sublime experience, one that made time stand still. This kind of meditative bliss relaxes and rejuvenates to the core. A beauty MUST.
Lunette's brightly colored silicone menstrual cups revolutionize an age old sanitary problem and make it fun, worry-free (12 hour protection), safe, zero waste (reusable), affordable (1 cup lasts for years) and comfortable. The brand that took Finland by storm is now poised to conquer the US with its "Fresh AF" marketing.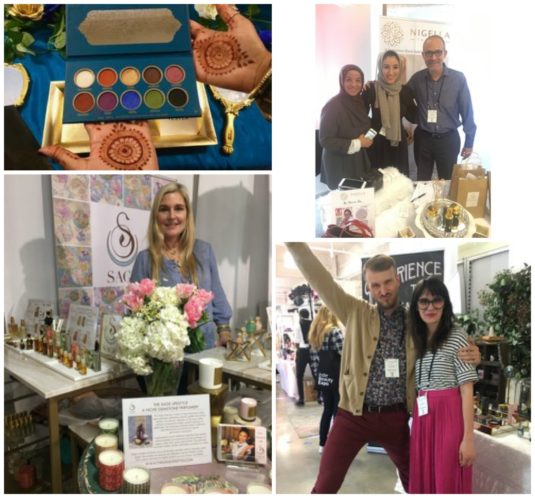 Bili Beauty, Nigella Therapy, Sage Machado of The Sage Lifestyle and The Beard and the Lady
Indian Beauty:Ethnic brands are also having a moment and were evident at The 2019 Indie Beauty Expo LA. Bili Beauty, inspired by Indian culture was created to cater to brown skin tones. Their bright, jewel toned "Eyes of India" eyeshadow palette stands out on darker skin and celebrates the exotic diversity of Indian culture. Feel like an Indian bride for a day!
Nigella Therapy features a proprietary form of black seed oil (Nigella sativa) that maximizes its antioxidant composition, making it therapeutic for topical use. Black seed is revered in Muslim culture as the seed of longevity. The prophet Mohammad said "use this black seed, it has a cure for every disease except death". The individual capsules contain a potent blend of this black gold that smells and feels divine.
Where have all the perfume brands gone? The only one I spotted at The 2019 Indie Beauty Expo LA was The Sage Lifestyle by Sage Machado, recently featured in Profiles In American Perfumery and a solid member of our perfumista community. Originally a Cali girl, Sage has been handcrafting her bohemian perfumes, candles, jewlery and clothing for 25 years. I enjoyed getting to know her line of vegan gemstone perfumes that ranged from dark to light.
Beard and Lady was the only other brand with a fragrance. Mythical No. 9 is a gender neutral perfume, a focus of their guy centered products. To make this perfume, they partnered with Rhett and Link a popular YouTube duo that help us "experience the chemistry". Does this spell the end of naturals?!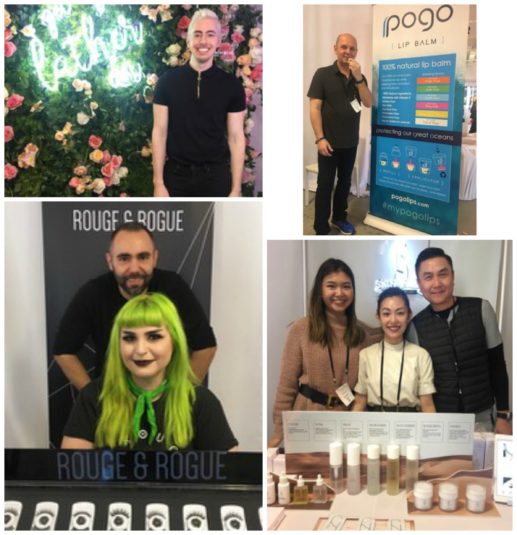 Nature Lab Tokyo, Pogo lip balm, Rouge and Rouge, Skin Need
Nature Lab Tokyo's tagline "Nature is Perfect, Science is Beautiful" blends the best of both worlds for their hair care line. Honesty and transparency are the wave of the future for large corporations (NLT is the Japanese version of Proctor and Gamble). The science behind plant stem cells is key and only large corporations can spearhead this kind of research. So why would we want to do away with that kind of knowledge? It's refreshing to see hybrid brands owning their domain instead of greenwashing.
From Green to Blue, the beauty industry is shifting its focus to the plight of our oceans. POGO (protecting our great oceans) was the only brand I spotted whose mission was blue. Their newly launched line of super cute refillable lip balms is designed to reduce packaging waste, but I'm still scratching my head because the refills come with their own containers. I challenged Ken Paquet, the brand owner and former packaging designer, who assured me the refill containers were doing their part and if all else fails, "You can fill them with beach sand"!
False lashes were everywhere, probably due to the popularity of doe-eyed snap chatters and Instagram Influencers. One brand assured me their mink lashes were cruelty-free, collected from the hairs shed by the animals. The image of minks penned in filthy cages with (child) laborers collecting, cleaning and weaving mink hairs was NOT pretty, so I had to walk away. Rouge and Rogue, on the other hand offer synthetic lashes that are cruelty free. Their packaging design is ah-mazing! A little bit surrealist (think Salvador Dali's Un Chien Andalou) mixed with alternative witch (tarot cards). Kat von Dee named them one of her three beauty essentials and I can "see" why. Not one for eyelash extensions, I can't WAIT to try their campy, glampy lashes for a guilt free beauty thrill.
Last year K-Beauty, J-Beauty, A-Beauty and Nordic Beauty constituted the bulk of foreign brands at the show. This year there were brands from all over the world. With such a varied international presence perhaps it's time we viewed beauty as existing without borders (or walls). Skin Need, one of several Chinese brands claimed it was formulated for Asian skin, but its minimalist appeal struck me as universal. Who would turn down exquisite formulations that elevated one's beauty routine?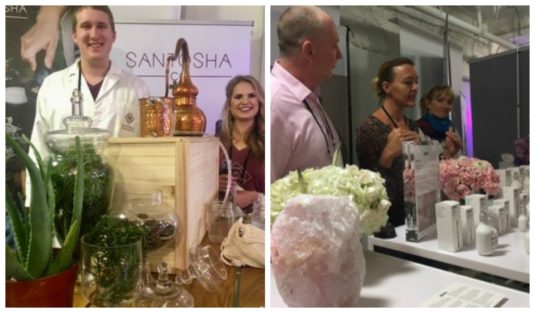 Santosha Siblings and their Still and Sam Sargent introducing AEOS Maggie's Best of Show!!!
Universal appeal does not mean a brand has to be global. In fact, quite the opposite. I loved Santosha's use of locally foraged ingredients distilled in-house. What makes their line unique is their local Wisconsin terroir which they brought to life by building their line around around botanicals native to the region. I loved seeing Balm of Gilead, their signature ingredient, incorporated into a variety of products that were earthy and raw. Products that felt like they were close to the source, not refined in a lab.
Aeos, on the other hand, epitomizes a local brand gone global. I've been following this brand for a while as the representative, Sam Sargent, carries it in online store. Beginning with botanicals grown and harvested on their 500 acre Demeter-certified biodynamic farm in England, Aeos then prepares each product using unique alchemical techniques developed by Josef Luti, to extract crystals and gems into his spagyric essences that take 12 months to mature. This line energizes skincare to another level, that of the astral plane. Unique packaging that marries aesthetics with functionality earn high marks, making this brand my "Best in Show". Be on the lookout for this brand in the coming year!
Maggie Mahboubian, Guest Contributor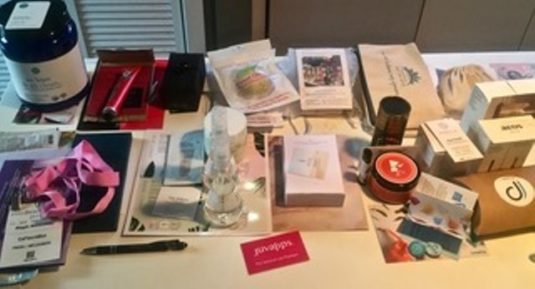 Thanks to the exhibitors at The 2019 Indie Beauty Expo LA we have a ginormous swag bag of full and mini products for a registered reader in the CON US, inclduing Sage Machado's Pearl oil rollerball. You must be registered. Leave a comment on what you thought of Maggie's report of The 2019 Indie Beauty Expo LA and which brands and trends appealed to you. Draw closes 2/7/2019
You can follow us @cafleurebon @lalunbeauty on Instagram. We may not have as many followers as some but we sure have one of the most read site in the world!!
We announce the winners only on site and on our Facebook page, so Like ÇaFleureBon and use our Blog feed…or your dream prize will be just spilled perfume