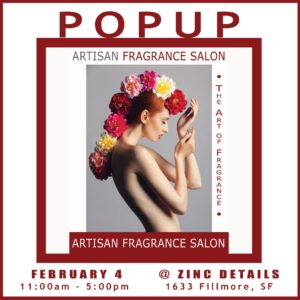 On Saturday, February 4, 2017 nine perfumers gathered at Zinc Details, a home furnishings store located 1633 Fillmore St, San Francisco, for the 2017 Taste TV Fragrance Salon Pop-Up shop. There were supposed to be ten brands present, but Dr. Ellen Covey of Olympic Orchids, couldn't make it due to a canceled flight from Seattle. The weather that weekend was horrible but thanks to the exhibitors, we are pleased to give you an overview of the show.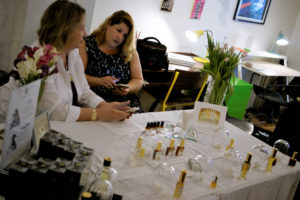 Shelley at Zinc (Photo by Mesha)
Shelley Waddington of En Voyage Perfumes, exhibited the brands favorites and award-winners.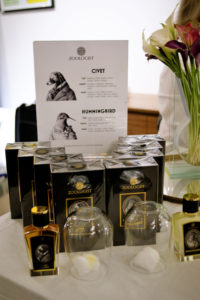 Zoologist Perfumes Hummingbird and Civet photo by Mesha
Also available for the first time on the West Coast, are Shelley's collaborations with Victor Wong of Zoologist… Hummingbird and the newly released Zoologist Civet.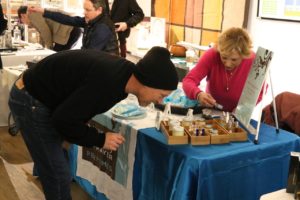 Jane Cate of A Wing & A Prayer photo by Bill O'Such of Ineke
A Wing & A Prayer Perfumes debuted two new all-natural fragrances by Jane Cate: Release Me Rose (Rosa damascena, tuberose, Turkish rose, wild rose and vetiver), Fig Leaf (fir absolute, jasmine, jasmine sambac and yuzu). Hand Satins are non-greasy hand balm savailable in four different scents: Fig, Bergamot & Mint, Honey Nectar and Naturally Beautiful (unscented).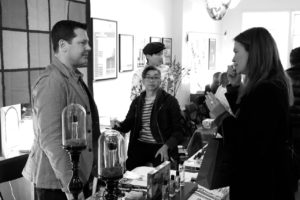 Maison Anonyme photo sent by Bill
Maison Anonyme, a recently established house from Los Angeles that puts a premium on innovation and presentation, showcased the three perfumes that it debuted at the Hammer Museum last spring. For the pop-up, Maison Anonyme also unveiled a modernist-inspired universal room and body mist, which was taken up by the event host – Zinc Details – and is now stocked by the high-end interior design shop.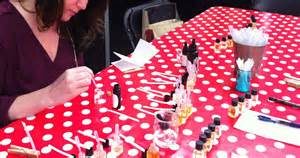 Photo of Esperança Cases of El Jardí Secret in her studio in Barcelona
Perfumer Esperança Cases of El Jardí Secret (The Secret Garden) is a small workshop located in Catalana, Spain dedicated to creative perfume. The brand had exhibited at the Aix Scent Fair in Los Angeles and won a "Top Artisan Fragrances 2016 "silver award. At the show she presented "NU" (Urban Nature) perfume, inspired by the squares of Barcelona, ​​which are based on cement and vegetation to create a neutral framework. "Lola 1958" Solid perfume inspired by the description of the fragrance of the garden, from the book "My house and my garden" (1958) by the writer and illustrator Lola Anglada (1892-1984). This perfume is presented in silver leaves with four different finishes from the collection. Grief, an interpretation of the sculpture of J. Llimona.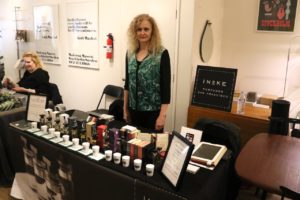 Ineke Perfumes and Dannielle Sergent of Cognoscenti left
Cognoscenti presented the full fragrance collection including their latest No 30 Hay Incense. In addition, Dannielle Sergent introduced new bath and beauty products: Room Sprays, special soaps and masks in scents No 1 Bergamot Sage, No 30 Hay Incense, Neroli/Teak and a fresh floral called Italian Woods. (not available online).
Velvet and Sweet Pea's Purrfumery booth display photo by Mesha
Velvet and Sweet Pea's Purrfumery showcased Natural Perfumer Laurie Stern's new fragrances: Highway, Eze, and Rose Encens, along with the full line.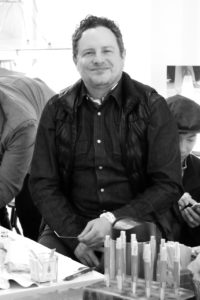 Mik Of Mikmoi photo by Bill
Mik of Mikmoi showcased 'sessions' from his meditation collection, an intricate aromatherapy blend that became a perfume and knight of flowers a spicy masculine floral of stargazer lily, bay rhum and civet.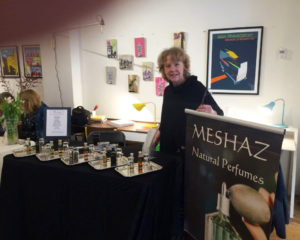 Mesha Munyon of Meshaz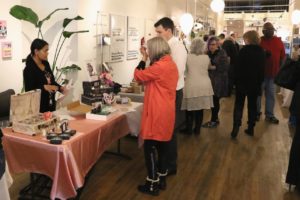 La Fleur de Livvy photo by Bill
Meshaz Natural Perfumes and Ineke Perfumes were popular destinations for perfumistas, as was La Fleur de Livvy by Livvy Larsen who presented a new collection.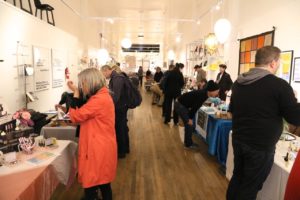 Overall Photo of the Pop Up Store at Zinc Details by Bill
Thank you to all the artisans who helped us pull this together by sending us previews of what they would exhibit when we learned Ellen's flight was cancelled. Special thanks to Mesha Munyan of Meshaz Natural Perfumes, who pulled together the swag bag as well as took photos and to Bill O'Such and Ineke Ruhland for additional photos.
This is what the artisan fragrance community does, pulls together and supports each other. That's what friend- in-fragrance are for. We are grateful.
–Guest Contributor Dr. Ellen Covey of Olympic Orchids Perfumes and Michelyn Camen, Editor-in-Chief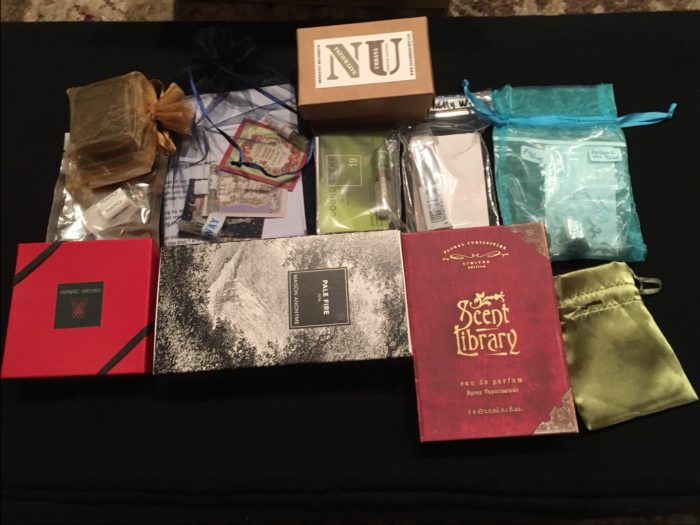 We have a 2017 Taste TV Artisan Swag Bag for one U.S registered reader (US only) which contains:
Velvet and Sweet Pea's Purrfumery: 3 samples: Rose Encens, Eze, Highway.
En Voyage Perfumes: 5 ml sprayer Zoologist Civet
Cognoscenti: 3 x 2 ml samples of No 30 Hay Incense, No 16 Tomato Leather, No 19 Warm Carrot
Mik Moi: 2 x 1 ml sessions samples
A Wing and a Prayer: 2 x samples of Release Me Rose and Fig Leaf
Meshaz Natural Perfumes: 2 multi-sample tins, His and Hers.
La Fleur by Livvy: 4 x 1 ml samples, Citrus Sunrise, Spicy Surrender, Midnight Mortals, and Flirty Florals
El Jardin Secret: 7ml splash bottle of Nu.
Maison Anonyme: 15 ml spray bottle of Pale Fire
Ineke Floral Curiosities Scent Library Coffret which includes 5 x 2.5 ml sprays, Angel's Trumpet, Briar Rose, Poet's Jasmine, Scarlet Larkspur, Sweet William
Olympic Orchids Favorites Coffret with 6 x 2 ml sprays, Woodcut (Winner of The Art and Olfaction award 2015), Blackbird, Café V, Dev One, Seattle Chocolate, Mardi Gras (Sexy scent for Valentine's Day).
To be eligible please leave a comment with which new fragrances or familiar favorites excite you and your feelings about artisan fragrances. Draw closes 2/19/2017
We announce the winners only on site and on our Facebook page, so Like Cafleurebon and use our RSS feed…or your dream prize will be just spilled perfume