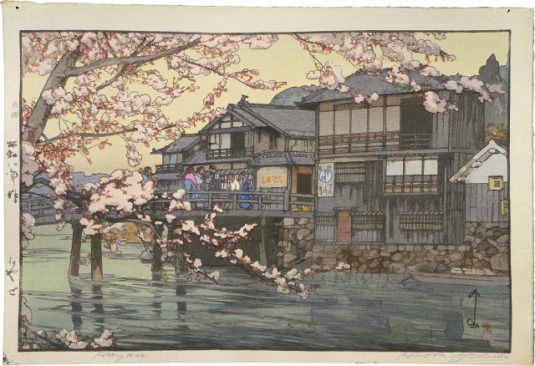 Toshida Hiroshi, 'Kansai District: Hayase', ca. 1933©
"plum blossom scent
this chases off
the cold!" ~ Matsuo Bashō (1644-1694)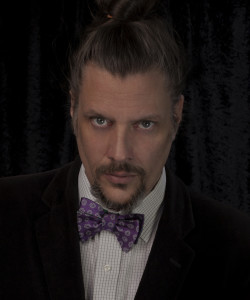 Stephen Dirkes of Euphorium Brooklyn
Stephen Dirkes of Euphorium Brooklyn has decided to move along a divergent path this Spring – and to quote him directly: "Oh my g-d, they might just kick me out of hipsterville after this frag!". He's referring to his latest perfume Euphorium Brooklyn Ume, a riotously fruity floral perfume subtly tinged with mossy cedar undercurrents which are about as happy as happy gets: unfettered ebullience and mirth gleaned from a wellspring of inspirational sources.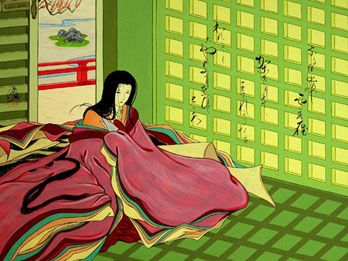 The Tale of Genji, chapter 32, The Plum Tree Branch Artist Agameishi​©
Unlike several of his earlier fragrances which murmur in distinctly Teutonic tones (some verge on the Wagnerian), Euphorium Brooklyn Ume arises from the fertile and fevered imagination of perfumer Dirkes fueled by Lady Murasaki's famous Tale of Genji (The Red Plum chapter), traditional Japanese depictions of plum blossom viewing (some meld a snowy landscape, exquisite women elegantly attired, plum trees in full bloom and The Floating World), Bashō haiku, and a snippet from the poem Walt Whitman composed in commemoration of the first Japanese Embassy visit to New York City in 1860 – A Broadway Pageant.
"The box-lid is but perceptibly open'd – nevertheless the Perfume pours copiously out of the whole box." ~ A Broadway Pageant, Walt Whitman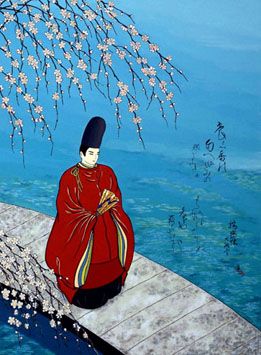 The Tale of Genji, Artist Agameishi​©
Underlining all these atmospherics is a tale Stephen conceptualized which hinges on a chimerical assignation involving Mr. Komodo (the perfumer's alter ego), Tateishi Onijiro, the real-life teenage Samurai translator-in-training adored by American women – Señora Bustello (I've researched like mad and can't locate anyone by that name, so she must be a fictional character), and the poet Walt Whitman. In a nutshell: Tateishi finds himself inexorably drawn to Señora Bustello, who feels that erotic pull herself. All eventually partake of the opium pipe and Onijiro embarks upon a narrative which occurred one Kyoto midnight in February concerning the plum blossom and the butterfly… The readers are intended to complete the story for themselves.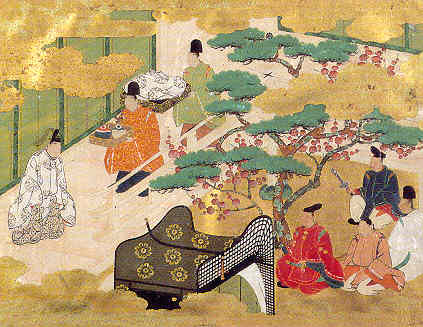 Kodo (incense) Ceremony via Tmblr
Euphorium BrooklynUme bursts forth from the bottle like an irresistible force – brilliant, nectar-drenched plum flesh and flower, tangy-dulcet apricot tinged with anise and spiked with yuzu zest. It's a gorgeous cocktail which makes the mouth water with anticipation. (There is no opium to be had; if you crave it you must seek it out on your own.) Green tea smells limpid, cool, and genial; it possesses a delicately leathery/herbal bouquet and balsamic bent which feels intuitive combined with its aromatic companions. Tenderly woody incense notes glow underneath the divinely exhibitionistic fruit and flower tones like so many embers. Moss feels caressingly plush; ice-encrusted earth and snowy whispers are inferred, not bellowed. It takes quite a while to reach the drydown, which is surprisingly soft considering the clarion nature of Ume's inception.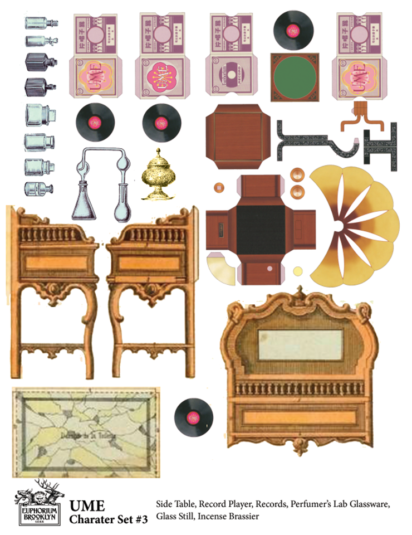 Ume may prove to be a polarizing perfume: some will adore it, while others will feel its personality to be too large for them.
I find it satisfying and a welcome departure from many fragrances I've smelt of late. Juicy, joyful, exuberant – Ume is well-worth sampling purely for the experience.Notes: plum blossom, plum nectar, apricot nectar,anise, green tea,hinoki, yuzu zest, moss, Hiba incense cedar, snow and frozen earth
Sample kindly provided by Stephen Dirkes – thank you! My nose is my own…
~ Ida Meister, Senior Editor
~ Art Direction: Michelyn Camen, Editor-in-Chief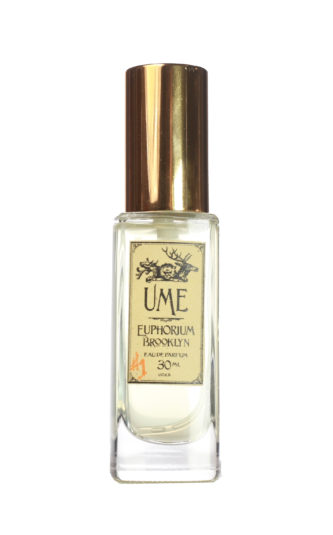 Thanks to Stephen Dirkes, we have one 30 ml bottle of Euphorium Brooklyn Ume for one registered reader in the USA ONLY so be sure to register if you have not done so. To be eligible please let us know what appeals to you about Ida's review, if you have a favorite Euphorium Brooklyn fragrance, and if you have viewed plum blossoms. Draw closes 3/30/2018
We announce the winners only on our website and on our Facebook page, so like Cafleurebon and use our Site feed…or your dream prize will be just spilled perfume.