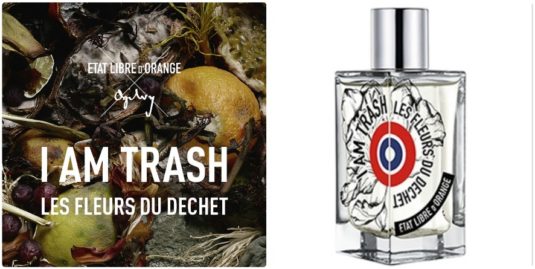 Etat Libre d'Orange I Am Trash / Les Fleurs du Déchet (Courtesy of Etat Libre d'Orange)
Any new Etat Libre d'Orange launch is bound to attract worldwide attention, let alone a fragrance that claims: "I AM TRASH"! Boosted by a striking promo spot (created by Ogilvy Paris), that actually captures the natural disintegration of fruits and flowers, the latest fragrant tale of the brand's founder and creative director, Etienne de Swardt, has managed to create lots of buzz and anticipation. The fears of some – and expectations of others – were that the scent would evoke some photo-realistic smell of rotten fruits and flowers, thus becoming a polarizing, controversial creation in the vein of the 2006 Sécrétions Magnifiques. In other words, something admirable, but not really widely wearable.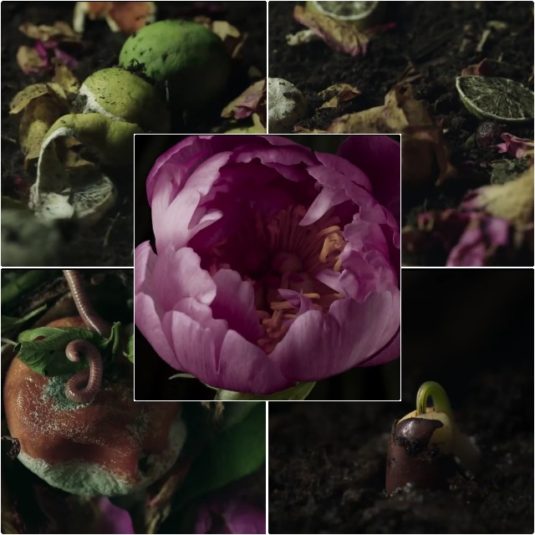 Images from the Etat Libre d'Orange I Am Trash promo teaser (Video: Etat Libre d'Orange/Ogilvy Paris, Collage: Despina Veneti)©
It looks like those fears/expectations won't be realized, for I Am Trash / Les Fleurs Du Déchet is in fact one of the brand's most beautiful scents. After all, the video teaser announced "the most wanted scent made from the unwanted", clearly hinting that the aim was a fundamentally appealing scent, possibly made of upcycled materials (its poetic-sounding French name translates as "The Flowers of Waste").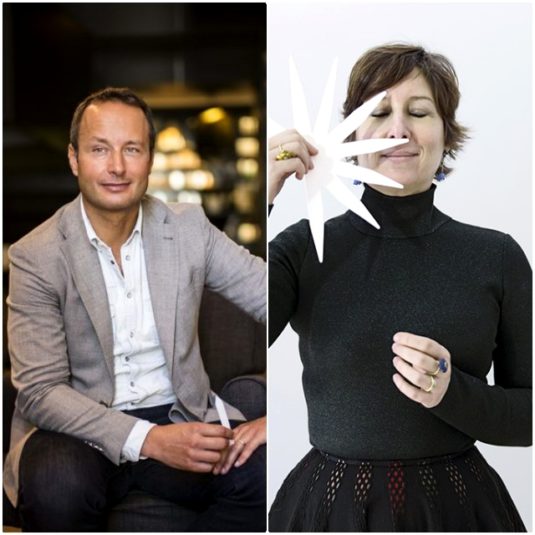 Etienne de Swardt and Daniela Andrier
The perfumer Etienne de Swardt selected to realize his fragrant concept is Daniela Andrier of Givaudan. In an interview, Mme Andrier said that the worst thing for her is "the smell of anything dead – dead flowers, garbage; whatever is no longer alive", adding that she loves beautiful smells "because they talk about life." Consistent to that, she has created a delightful fruity/woody scent that indeed celebrates life by being itself (partially) reborn out of industrial by-products. The intention behind the fragrance's creation was none other than to showcase the subjectivity of what's considered "all used-up" and "unwanted", and celebrate a steadily growing ethos of responsible use of natural resources.
This refreshing, yet ambitious, concept for Etat Libre D'Orange I am Trash was realized by using as creative tool an innovative upcycling extract process achieved by Givaudan. This process makes it possible to distil for a second time ingredients already used once (in perfume making or elsewhere), thus extracting perfume oils that reveal a different facet of the respective material. Six of the ingredients of Etat Libre D'Orange I Am Trash are upcycled, most notably the Apple Oil (derived from fruit waste of the juice industry, destined to become animal feed), the Rose NeoAbsolute (extracted from apparently exhausted rose petals, distilled for a second time), and the Cedarwood Atlas NeoAbsolute (product of a second distillation of cedar wood chips, before they are turned into fuel). Having had the opportunity to smell the first two aforementioned ingredients, an unusual facet of the notes was indeed detectable; there's an over ripeness and a certain ash undertone to the apple, while the rose resembles one that started to shed its first petals, emanating its last aroma before withering. However, blended in the composition with ingredients such as juicy green tangerine, bitter orange and gariguette strawberries, the overall result is nothing short of delicious.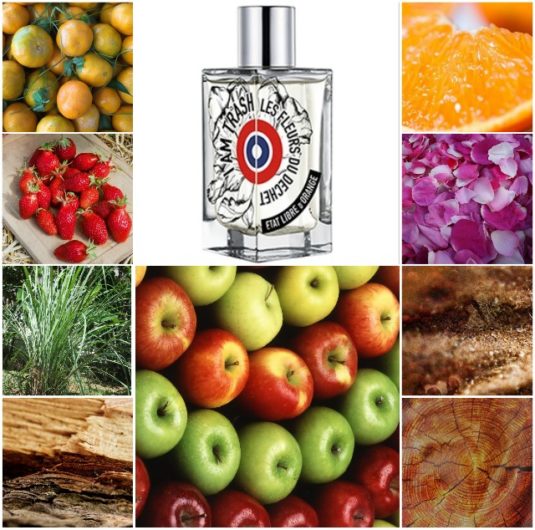 Photo collage illustrating the fragrance's ingredients (By Despina Veneti)©
The fragrance opens with an impressively realistic, ripe and appetizing apple note, freshened-up by juicy citrus, and harmonically blended with a jammy rose and sweet strawberries. This succulent – but not overly sweet – opening soon gives way to the perfume's warm, woody base, which dominates the scent from then on. This is the result of the powerful combination of Cedarwood Atlas (a natural ingredient rich in woody, leathery notes), Sandalore® (a synthetic sandalwood odorant), Iso E Super (a velvety woody, ambery molecule) and Akigalawood® (a Givaudan-created, fractionated note of patchouli oil, that isolates the original material's spicy, woody properties; a favorite ingredient of Daniela Andrier, it was introduced successfully in her 2015 Miu Miu, and was also used in her 2017 Une Amourette Roland Mouret for Etat Libre d'Orange). Finally, the drydown is one of white musk-like, creamy cleanness. Sillage is moderate, and so is longevity. After 4 hours, only a warm, comforting soapy smell lingers on the skin.
Inside the Etat Libre d'Orange Paris boutique (Photo: Despina Veneti)
Some might argue that such a straightforwardly delightful, unabashedly pretty creation somewhat compromises the brand's daring, unconventional image; but to me Etat Libre d'Orange has always been mostly about inspired, well-realized fragrant STORYTELLING. And any good storyteller has got to serve his subject first and foremost. From that point of view, Etat Libre D'Orange I Am Trash is a universally attractive scent that achieves its purpose of showcasing pure beauty emerging out of "waste" in a most satisfactory way – one that appeals to both the senses and the intellect.
Notes: Apple Essence*, Bitter Orange, Guatemala Lemongrass, Green Tangerine (TOP) / Rose Absolute*, Iso E Super*, Gariguette Strawberry (HEART) / Cedarwood Atlas*, Sandalore®*, Akigalawood®* (BASE).
(*Upcycling Extract Process)
Disclaimer: I would like to thank Etienne de Swardt for my generous lab of sample of Etat Libre d'Orange I Am Trash, as well as Nina Kalinine for receiving me, and answering my questions, at the brand's Paris boutique. The opinions are my own.
– Despina Veneti, Contributor
Etat Libre d'Orange I Am Trash / Les Fleurs du Déchet – Available in mid-October 2018.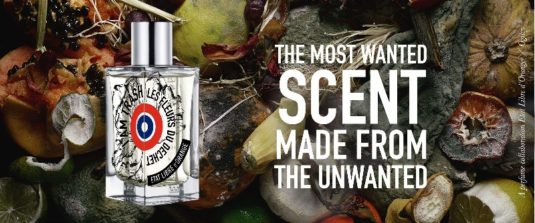 Etat Libre d'OrangeI Am Trash / Les Fleurs du Déchet (Courtesy of État Libre d'Orange)
Thanks to the generosity of Etienne de Swardt and Etat Libre d'Orange, we have a draw for a full 100 ml bottle of Etat Libre d'Orange I Am Trash / Les Fleurs du Déchet for a registered reader in the EU or USA. You must be registered. The fragrance will be shipped to the winner once it is officially launched (October 2018). To be eligible, please leave a comment saying what you enjoyed most about Despina's review, where you live and if you have a favorite Etat Libre d'Orange fragrance, and where you live. Draw closes 09/9/2018.
Etat Libre d'Orange I Am Trash / Les Fleurs du Déchet – Available in mid-October 2018.
We announce the winners only on our site and on our Facebook page, so like Cafleurebon and use our Blog feed … or your dream prize will be just spilled perfume.