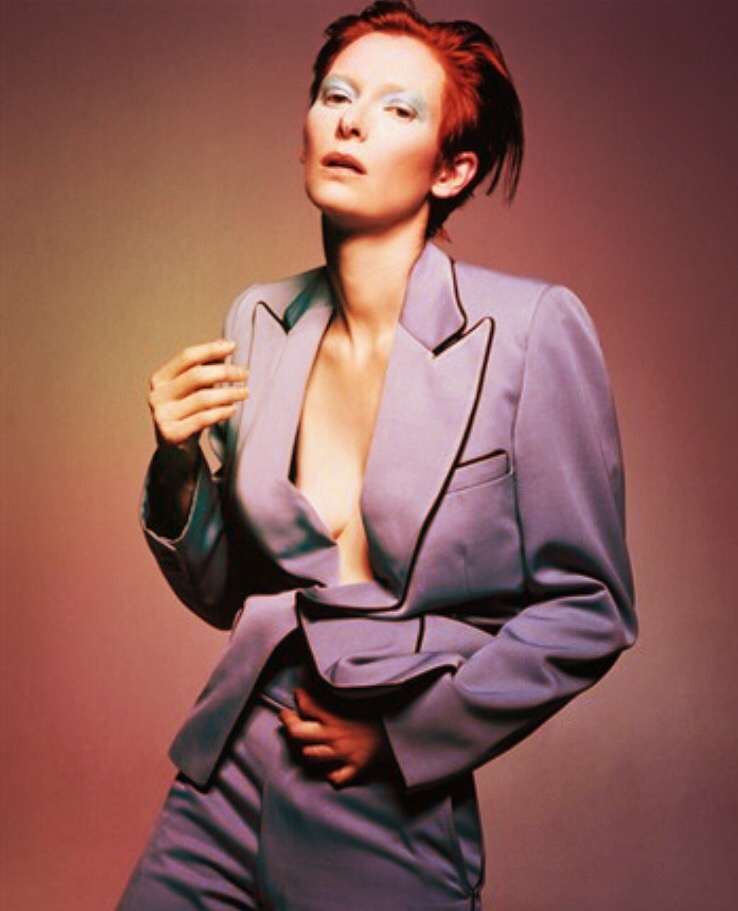 Tilda Swinton Vogue Italia (apped by MC)
The first time I met Etienne de Swardt, the founder and Creative Director of Etat Libre D'Orange we talked about roses, sperm (Secretions Magnifique, a ÇafleureBon Modern Masterpiece) and blood. That was the spring of 2007 (some sources say it was 2009, but heck I was there, so don't believe other sites) at a Beauty Breakfast at Henri Bendel in New York City. Etat Libre D'Orange was one of the few new perfume brands featured alongside the cosmetics and hair care showcased to editors. Standing right next to Etienne was perfumer Antoine Maisondieu and one of my favorite actresses Rossy de Palma. Being more star struck than scent struck I somehow managed to have coffee with Rossy. Rossy de Palma Eau de Protection, the blood tinged rose perfume created by Antoine Lie and Antoine Maisondieu, was my signature scent for a year and proof that a celebuscent could be unique, strangely beautiful and wearable. Etienne and I met again three years later; I was with Pierre Guillaume of Parfumerie Generale, his "tour guide" as it was his first trip to NYC. We wanted to say hello and attended another Henri Bendel event in June of 2010 when Like This was launched in the USA with Etienne and Tilda Swinton. For those curious how Etienne met Tilda, it was synchronicty, through a mutual friend. He struck up a conversation about perfume, and she had a clear vision- she would lend her name as long as she was completely involved. It was not to be a girly perfume; she wanted it to be androgynous and she brought memories and aromas of her home in Nairn Scotland into the scent.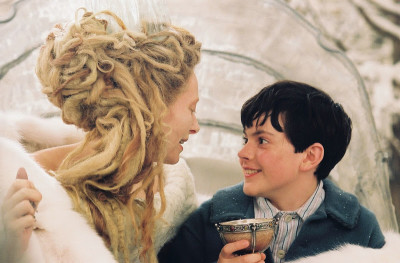 Tilda Swinton as The White Witch in the 2008 film The Chronicles of Narnia
Etat Libre D'Orange Like This, was composed under the creative direction of Etienne and Tilda Swinton, she of the ginger hair, and unearthly beauty (she was the White Witch Jadis in Narnia, and starred in Michael Clayton, for which she won an Oscar for Best Supporting Actress in 2008) by Mathilde Bijaoui. Tilda Swinton is an iconclast, a muse and as relevant today as she was twenty years ago; costarring in Dr. Strange with Benedict Cumberbatch. At age 56 she is the face of Nars Audacious lipsticks.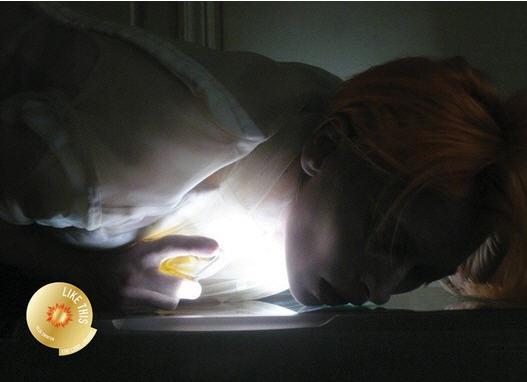 Original ad for Tilda Swinton Like This
The name Like This refers to a poem by the Sufist philospopher and poet Rumi:
If anyone wants to know what "spirit" is,
Or what "God's fragrance" means,
Lean your head toward him or her.
Keep your face there close.
Like This. -Rumi

Contributor Sebastian Jara of the YouTube Channel Looking Feeling Smelling Great, and founder of a popular Facebook Group, encountered the House in Paris, at the Boutique 69 Rue Archives and shares his thoughts on one of the best of The EDLOs. How does Sebastian review his favorite celebrity perfume …Like This. –Michelyn Camen, Editor in Chief
Thanks to Europerfumes the US distributor of EDLO have a 100 ml bottle of Like This Tilda Swinton for a registered CafleureBon reader and Looking Feeling Smelling Great subscriber in the USA (if you are not sure if you are registered click here (you must register on our site or your entry will be invalid). To be eligible please leave a comment ON THIS SITE with what you enjoyed about Sebastian's YouTube review, if you have a favorite EDLO fragrance and why you would like to win. Draw closes 11/25/2016. You can follow us @cafleurebon @lookfeelsmellgreat on Instagram. Check out on @Offical_ europerfumes and @etatlibredorange
Like this is available at select stockists worldwide including Twisted Lily and Small Flower in the USA
We announce the winners on our site and on our Facebook page, so Like Cafleurebon and use our RSS feed…or your dream prize will be just spilled perfume