In 1912, Vaslav Nijinsky, the greatest dancer of the 20th Century performed his erotically charged ballet that was inspired by the poem L'après-midi d'un faune by Stéphane Mallarmé, its score by Debussy, and impressionist set by Leon Bakst shattered every notion of dance and stunned and stirred Paris. The Faun a gentle half-creature, half-human admires a nymph as she bathes, and after a bit of flirtation she departs leaving the Faun with only her scarf. In the final moments of the dance the Faun lowers his body on top of the scarf ending in what has become to be known as a scandalous climax.
Arriving at the Museum of Arts and Design, it wasn't long before I made my first impressions of Etat Libre d'Orange's Afternoon Of A Faun on the skin:
Warm. Salty. Balanced. Treble low. A baritone. Confusing. Sex. Skin. Mystery. A Lift. Warmth. Hovering. Sweet. Timelessness. Nature. Nature. Nature. A Chypre.
One hundred years after Vaslav Nijinsky's dance at the Ballet Russes, a cutting edge brand had the vision to connect a seasoned 21st century perfumer and a charismatic and outspoken poet and performance artist to reflect on perfumery past and present, and challenge us to think out of the box when we choose how to scent our bodies.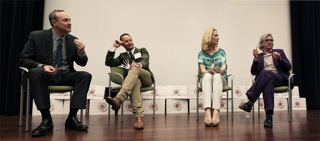 (l. to r.) Chandler Burr, Etienne De Swardt, Mx. Justin Vivian Bond, Ralf Schwieger
February 4, 2013 , Etat Libre d'Orange hosted four visionary voices at the Museum of Arts and Design (MAD): Chandler Burr, Director of Olfactory Art at MAD; Ralf Schwieger, Perfumer and Artist in Residency at MAD; Mx. Justin Vivian Bond, poet and performance artist; and Etat Libre d'Orange's founder Etienne de Swardt. The evening was a lively and at times outrageous mix of discussion, video, song, and smelling. The panel discussed the inception of the fragrance that included Mx. Justin Vivian Bond's search for a signature scent. The perfume "brief" went like this. "Sex in the grass in the afternoon with flowers nearby." Ralf Schwieger received this brief along with Etienne de Swardt's blessing that "gives the gift of the formula to the perfumer" that means the perfumer can indulge with no constraints, and soon they were off. Mr. Schwieger told us there are 50-80 raw materials in Afternoon Of A Faun, and he likened his approach to a "baroque" style of perfumery. He handpicked six notes for us to experience. With each note we began to almost build the fragrance with the perfumer. We began with Myrrh, referred to as tears of myrrh, giving us a clue to its resinous nature and earthy quality. Rose Geranium, added a floral quality; Cinnamon, for sweetness; Everlasting, salty grounding element; Evernyl-moss, it's almost difficult to smell, it has a glassy airy quality; Isobutyl Quinoline, leather.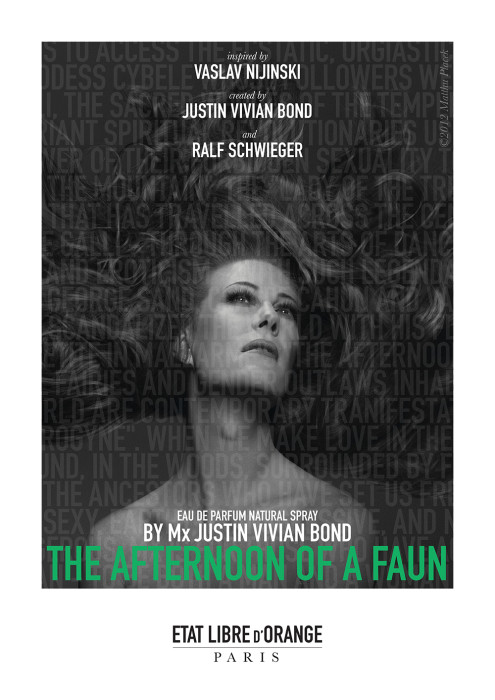 At the end of the evening, I asked Etienne de Swardt about the quiet nature of the fragrance and how it surprised me; I guess I expected the fragrance to be louder speaking to the scandal of Nijinsky's Ballet. He said, the fragrance captures "the quiet silence of schizophrenia"; referring to Nijinsky's slow fade into madness at 29. There is timelessness about this fragrance; I can almost hear Debussy's score while I wear it. Mx. Justin Vivian Bond regards Afternoon Of A Faun as a "transcent, a tribute to the past." Perhaps it's Mx. Justin Vivian Bond's way of saying that they certainly sees themselves as a mentor and leader for the LGBTQ community; Mx. Justin Vivian Bond speaks for those who couldn't (in the past) and for those who still can't in the present.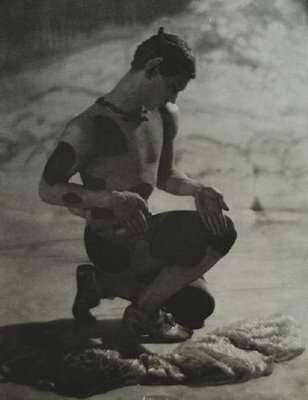 Vaslav Nijinsky
When Etienne de Swardt reminded me that the Afternoon Of A Faun has gone through three iterations "Poetry, Dance, (and now) Scent." I couldn't help but imagine Nijinsky's spirit being released into the ether. The fragrance might allow him to live again. Afternoon Of A Faun takes us closer to the gentleness and innocence of nature, and once there things seem easier. The fragrance captures the "sexual charge" one can receive from nature, as Mx. Justin Vivian Bond intended in the original brief.
During the Q&A Karen Dubin of Sniffapalooza asked Mx. Justin Vivian Bond if the Afternoon of the Faun fragrance was created to conjure up Justin Vivian Bond's past scent memories. The response was simple, " I just wanted to smell good."
Believe me you do.
-Valerie Vitale, Contributing Editor