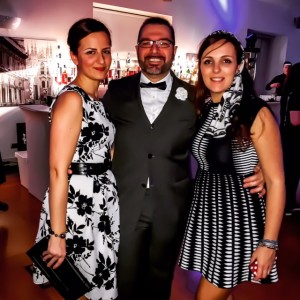 Ermano with friends Anita and Irina at the Esxence Dolce Vita Party
This wrap-up report from Esxence 2016 begins with flashbacks from the amazing Esxence official party,( April 2, 2016) inspired by Federico Fellini's La Dolce Vita which was held at Palazzo Giureconsulti. It was the most memorable party I have attended in years and everybody rocked the dancefloor!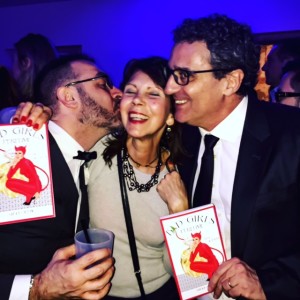 A Bad Girl get kissed by two Bad Boys Sarah Colton with Ermano and Silvio Levi
Since Bad Girls love to party all night long, no matter how high their stilettos are, let's begin with the amazingly scented Bad Girl Sarah Colton author of the new book Bad Girl Perfumes and Silvio Levi, the founder of Cale Fragranze d'Autore, co –owner of Nose fragrance store in France and importantly co-founder of Esxence.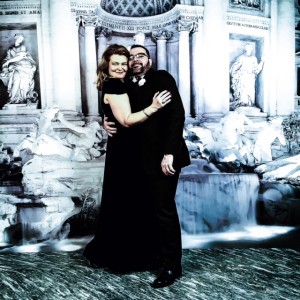 Ermano Picco and Irina Protrin
What a better welcome to the Dolce Vita themed party than drinking champagne to the music of Arrivederci Roma played live by a jazz band and taking a picture in the Trevi fountain? So I grabbed my friend Anita, (I couldn't find Michelyn where was she, oh no back in NYC too soon) my friend Irina and had some fun with the camera. But what perfume does one wear for a 1950's party … a woody one.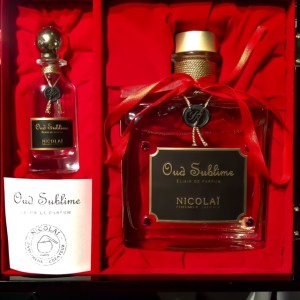 Nicolai Oud Sublime Photo by Ermano
Thinking of Mme Carven who is known for the woody calssification during that era led me straight to another Mme of Perfumery, Patricia de Nicolai and her Oud Sublime. Esxence was flooded with oud perfumes this year but the best one speaks French. I was surprised myself by the most refined (real) Cambodian oud themed perfume ever, not to mention I got compliments about that all the evening.
Fath's Essentials Green Water photo Ermano
The Fifties was the theme of the Esxence party, and that was a great period for colognes which were trending at the exhibition. Perhaps the best at the Exhibition was Jacques Fath Green Water from the Fath's Essential collections. Loving and possessing a vintage bottle of Green Water from 1946, what a delight to discover the beautiful 2016 rendition of this legendary aromatic citrus cologne composed by the talented Cécile Zarokian. Cecile's work is truly masterful.

Cologne Fine Institut Tres Bien Photos by Ermano
French classicism and bien etre in perfumery is a perfect match with colognes, so it's no wonder that this House which is known for their French flair with Eaux, introduced a new line of Cologne Fine. La Delicate Rose de Mai perfectly renders rosy dew highlighted by the freshness of blackcurrant and geranium. L'Inattendue Violette de Parme enhances the powdery greenness of violet leaves and a touch of galbanum, while La Flamboyante Tubereuse Absolue reveals the vegetal sparkle of the most intoxicating white flower.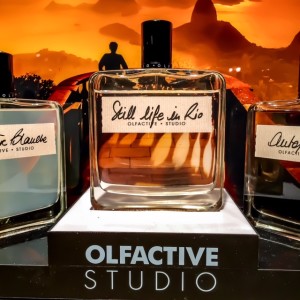 Olfactive STUDIO Still Life in Rio
Another big hit at Esxence was the colorful tropical explosion of Olfactive Studio Still Life in Rio that takes the sharp freshness of Still Life, who whips off its shirt and tie, to wear flip flops, Bermuda shorts and a straw hat. Juicy passion fruit, yuzu and guava make life in Rio smell like a party you never want to end.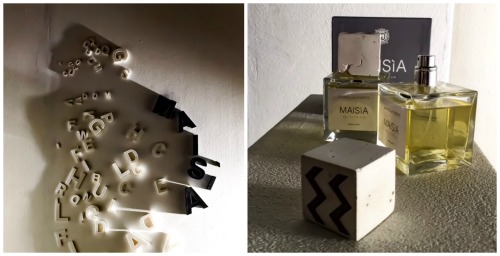 Gabriella Chieffo Installation plays on light and shadow; MASiA the new perfume
From Brazil we go straight to the south of Italy, thanks to a ÇafleureBon favorite, Gabriella Chieffo (who Michelyn has called the Cindy Sherman of Perfumery). How amazing was the original art installation displayed at her booth. Gabriella told me that concept for her new perfume Maisia, was inspired by the figure of a beautiful woman condemned to be burned as a witch for her feminism and power. In fact the name means "Never Let it Be". Moreover, the perfume is a symbol of EVERY empowered woman… past, present and future. Gabriella Chieffo's Maisìa translates this by reinterpreting fig, like the soft flesh of a woman, surrounding it with brisk Mediterranean notes of wild broom that smells slightly scorched with hints of ash and smoke.
Ermano Picco, Contributor and Editor of La Gardenia nell Occhiello
Editor's Note: There was much to do and see and the 8th edition of Esxence, and over the next weeks CaFleureBon will be reviewing many of our favorites. And Ermano, we will dance next year -MC
Michelyn was able to procure extra samples of some of the fragrances mentioned in this report and will be offering to a reader worldwide. To be eligible, we would like for you to read Day1, Day 2 and now this final installment and leave a comment with something you learned or liked from each of our posts. Draw closes 4/6/2016. There is no spilled perfume.
We announce the winners on our site and on our Facebook page, so Like Cafleurebon and use our RSS option…or your dream prize will be just spilled perfume