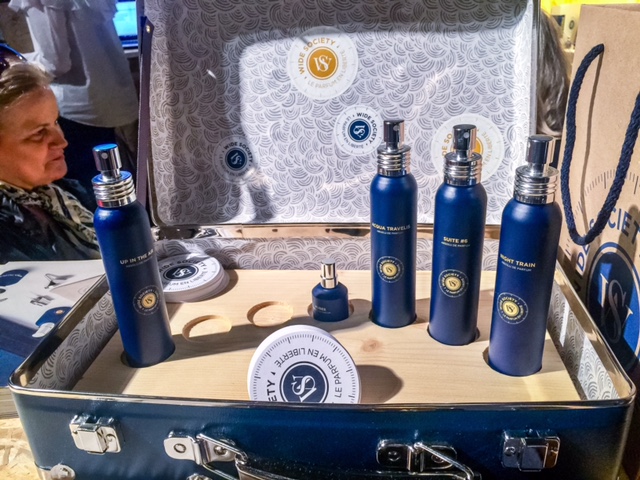 Photo from Esxence 2018 courtesy of Ermano
Symrise Master Perfumer Emilie Coppermann and Drom perfumer Alexandra Monet have applied their gifted noses to a marvelous new concept which I pray will take off as smoothly as it wears on the flesh: Wide Society, Le Parfum En Liberté, (which my colleagues who went to Esxence wrote up in their Best of Show reports). I received samples of their work last week, have just popped them open – and am genuinely impressed with their travel/eco-friendly perfumes (the entire line) and chic, minimalist/elegant packaging. These are world class fragrances in absolute form (extrait), not eau de parfum or eau de toilette: they are refillable, reusable, and wonderfully varied. I have sampled all six and winnowed out three for review ( Wide Society Acqua Travelis, Wide Society Nubes, Wide Society Up in the Air); if you cannot find something to love here, then you haven't smelt them all. Here's the best bit: they are Affordable. Exquisite, affordable perfumes. One doesn't come across this very often.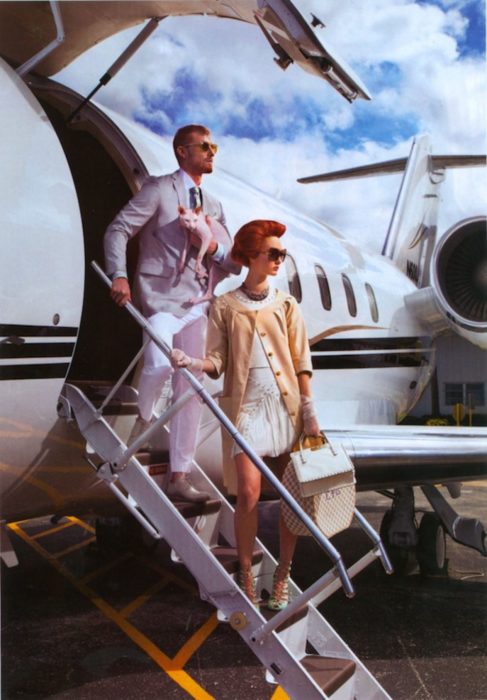 Photo: Vogue Italia©
Wide Society Acqua Travelis (Alexandra Monet): Acqua Travelis is parfum tonique pour tout le monde – unless you abhor freshness, candor, citrus or herbs. The perfumer has divined that less is more: if it is simply perfect, then perfect simplicity is hardly a punishable offense. Wide Society Acqua Travelis is referred to as "anti-jetlag", and I brook no argument with the copy because it is truth in advertising – refreshing on both accounts. This is refined real aromatherapy created by someone who is capable of pulling out all the stops but chose not to in this case. The perfume revives one's flagging spirit and body instantly upon contact. I can't think of anyone in my scented circle (including my family and friends) who wouldn't welcome a flacon of it: it's polished, energizing and can be worn beautifully in any given setting.Notes: fresh infusions of mint, verbena, bergamot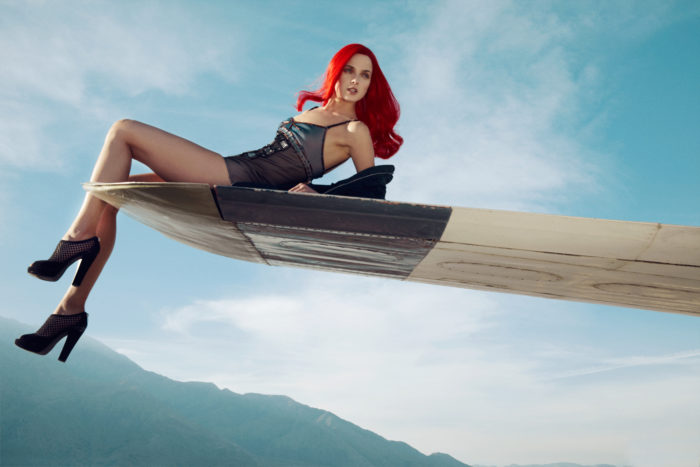 Photo: Madame magazine©
Wide Society Nubes (Emilie Coppermann): Nubes is the Spanish word for clouds. In Nubes, perfumer Emilie Coppermann traverses the heavens as cloudwalker treading with elfin step, a light heart and vagabond disposition. This limpid fragrance melds several elements dear to my heart – namely those of angelica with cyclamen and vetiver forming an impeccable foil. I adore the mirror reflection of dry and moist qualities played out aromatically; poesy underwrites its aridly secretive myrrh, feathery rhizomal iris. Damp, dry, muskily floral and herbal: Wide Society Nubes lends us food for thought with its effortless intricacy. It lingers upon the skin with ease, yet your nose remains glued to the spot in fascination. Numinous. Notes: angelica,bergamot, violet, iris, cyclamen, vetiver, myrrh, musk
Alessandra Ambrosio via tmblr©
Wide Society Up In The Air (Alexandra Monet): Quel luxe! Earlier in reference to Wide Society Acqua Travelis I mentioned 'not pulling out all the stops'. Well, now we have – and it's so rich and suave that one feels utterly pampered. When I traveled (less frequently over the past few years) I only experienced this once, thanks to our eldest son who cunningly managed to upgrade our return flight home: the outrageous luxury of an overstuffed supple leather armchair, being liberally plied with potent choice libation and airplane fare unlike any I'd tasted. I admit it, I felt guilty; in perfumer Alexandra Monet's Wide Society Up In The Air you can experience all the pleasure with none of the residual guilt. How smooth do you want it? Wide Society Up in The Air is sweet and savory, piquantly spicy, shot through with golden filament and slightly smoky wood; its leather tones are easy on the nose and thoroughly cosseting. Although rum is a fragrant component, it may readily evoke a nice old Macallan savored in dimly lit environs of ease and indulgence. How spoilt we are. Notes: rum, chili pepper, birchwood, vanilla, saffron, leather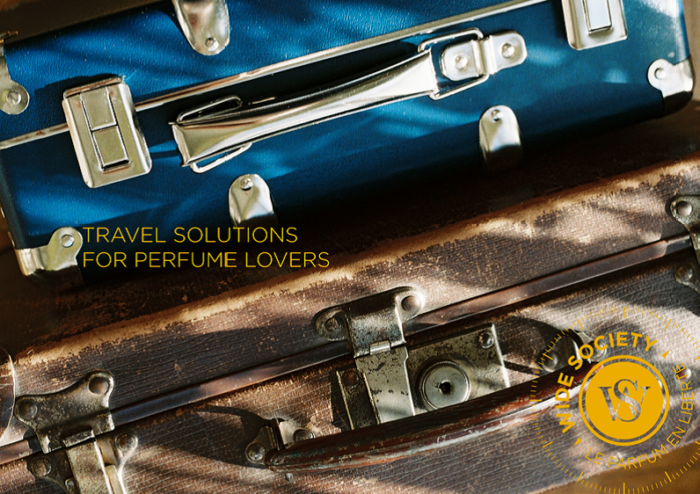 Wide Society Acqua Travelis, Wide Society Nubes, Wide Society Up in The Air​, Suite #6, and Night Train, Sign of The Times Jean Fevre©
I'm grateful for the opportunity afforded me and the pleasure of being permitted to smell and mull over all six of these Wide Society fragrances. The time has certainly come for affordable wearable art; the fact that it's sensible and sustainable is a major plus, as far as I'm concerned. Kudos to all concerned!
Many thanks to Sophie Gabriel (this is a new brand from The Different Company) for my samples! My nose is my own…
~ Ida Meister, Senior Editor
~ Art Direction: Michelyn Camen, Editor-in-Chief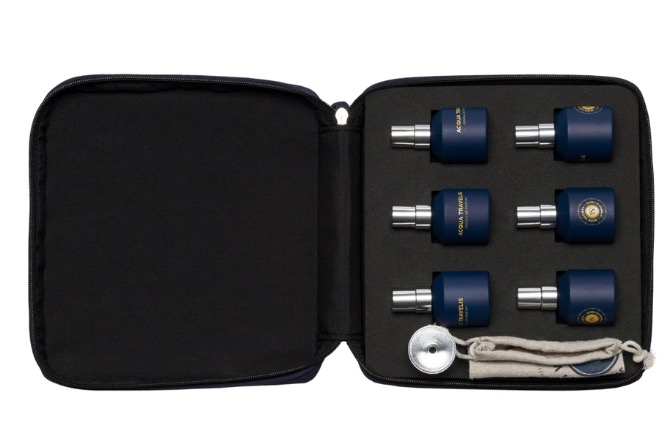 Thanks to Sophie Gabriel of Wide Society we have an Olfactive Trail Weekender in this lovely case (includes Wide Society Up in The Air Acqua Travelis, Nubes, Suite #6, and Night Train 6 x10 ml of all 6 x 10 ml Wide Society perfumes for one registered reader in the USA, EU or Canada, so be sure to register if you have not done so. To be eligible please let us know what appeals to you about Ida's reviews,which WideSociety fragrance you might prefer and where you live. Draw closes May 4, 2018
We announce the winners only on our website and on our Facebook page, so like Çafleurebon and use our Site feed…or your dream prize will be just spilled perfume.