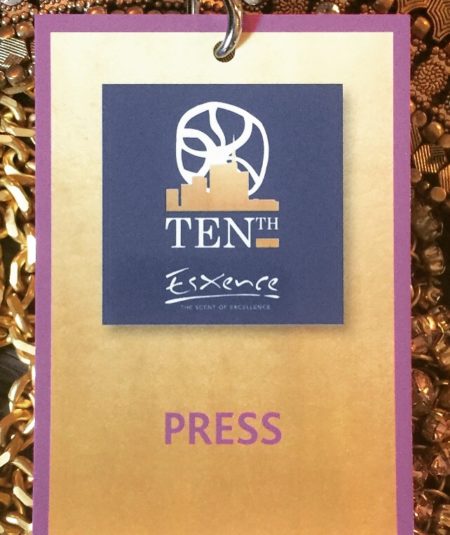 MyTenth Edition of Esxence press badge; CaFleureBon has been a media partner ofr 7 years!
It won't be the last you read (or see) of all the wonderful and exciting new fragrances from the Tenth Edition of Esxence 2018 on CaFleureBon. Editor Ermano Picco, Sr. Editor Robert Herrmann, Contributor Danu Seith Feyr, Sr. Editor Lauryn Beer and Sr. Contributor Sebastian Jara and I will be sharing our impressions, mini-reviews and the trends at the Fair. In Part 1, I will devote my first Esxence 2018 report solely to the stunning and emotional Jacques Fath L'Iris de Fath.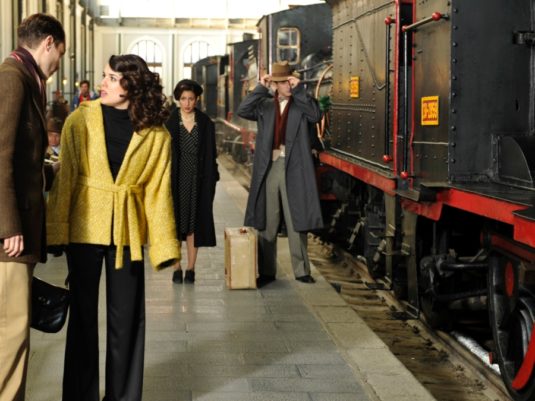 Episode from Timeless
There is a television series here in the USA called Timeless. It is a time travel drama where a young historian and a young scientist go back to past eras to prevent a nefarious organization from altering history. What has this have to do with the new Jacques Fath L'Iris de Fath? Everything!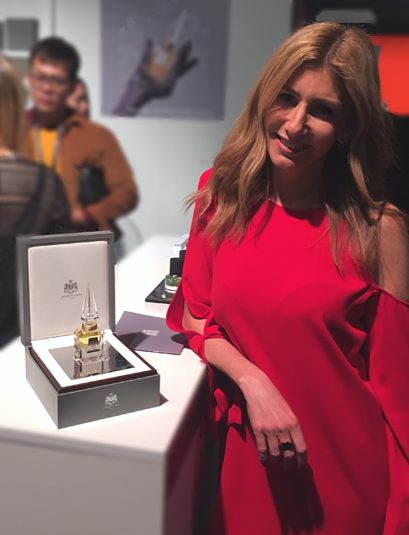 Rania Naim of Jacques Fath Parfums at Esxence 2018 photo by Robert H.
Jacques Fath Iris Gris is one of the most revered of vintage perfumes created by Vincent Roubert in 1946. So rare and precious, it is a unicorn that disappeared only a few years after its debut. Some history: The name "Iris Gris" was bought by Hermes in the 60s and later on they let it go. In 2016, Creative Director Raina Naim of Jacques Fath Parfums took on a daunting task: re-create the original Iris Gris as close as possible. Many scoffed at the notion that any perfumer could accomplish this in our era.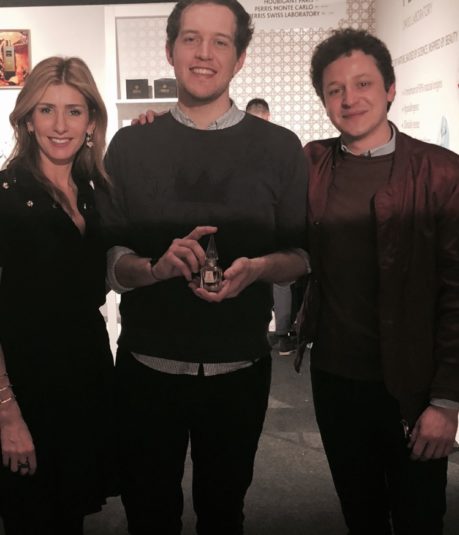 Rania Naim with Patrice Revillard and Yohan Cervi (photo by Rania Naim)
First, Rania Naim invited a group of well-known (and under the radar perfumers) to submit mods of their reconstructions. It is important here to tell you, dear reader that Jacques Fath L'Iris de Fath was not to be a reinterpretation but needed to be a reconstruction, as close to the original as possible. A team of advisors, evaluators and connoisseurs were put into place by Rania, including Editor Ermano Picco. She assembled a task force of vintage experts to help her make the final call and advise her of possible roadblocks in the restoration. Fast forward to 2017, the team narrowed down the submissions to five finalists. It was a blind judging with random numbers assigned to different judges to eliminate any bias.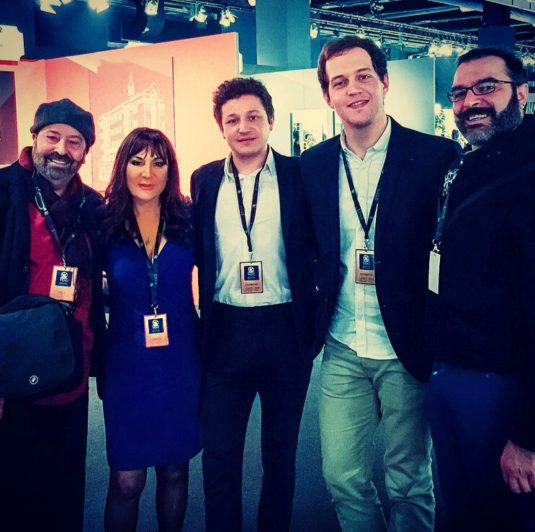 Robert Herrmann, Michelyn Camen, Yohan Cervi,Patrice Revillard,and Ermano Picco
Miraculously (remember perfume is subjective) every judge arrived at the same conclusion.There was no doubt which reconstruction captured the beauty and spirit of the original. The perfumers names are Patrice Revillard and Yohan Cervi, aged 25 and 29 respectively (they are French perfumers for Maelstrom, a small artistic perfumery). The two met at the Osmotheque and became fast friends as both were vintage fragrance collectors.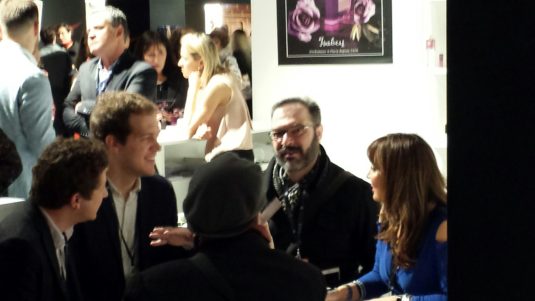 I interviewed Patrice Revillard and Yohan Cervi (Robert Herrmann 's beret and back and Ermano Picco); we had the first appointment of the day Photo Amber
Here is where composing L'Iris de Fath is similar to the series "Timeless"; it was if Patrice and Yohan donned the clothing and attitude of the late 1940s and went back in time. They used (as much as possible) the ingredients that were available during that era. They filled in any gaps of raw materials that are now forbidden by IFRA regulations with ingredients that when used together gave Jacques Fath L'Iris de Fath astonishing authenticity. Key to their achievement in this re construction is carnation absolute and violet leaves.
Top Notes: Neroli, Petigrain, Bergamot and Peach; Heart Notes: Iris Absolute, Iris Butter, Jasmine from Grasse absolute, Turkish Rose absolute, Violet flower, violet leaf, carnation absolute; Base Notes: Oakmoss absolute, Sandalwood, Vetiver Bourbon, musks
When you look at the notes you might think that Jacques Fath L'iris de Fath is a chypre; you would be mistaken. The base lifts the entire composition, since iris absolute and orris can take over and smother every other ingredient in a perfume.
What is most amazing is the dedication of Rania Naim, the amount of time and care by the perfumers in capturing even the smallest of details of Iris Gris for L'Iris de Fath, the number of supporters who helped work on the project worldwide (including Luca Turin, Osmotheque and The Institute of Art and Olfaction) and that two very young men were not only faithful to the original but now a new generation will be able to wear it.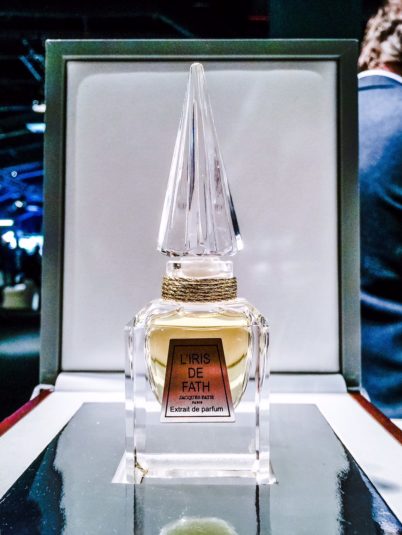 Photo by Ermano
What was my take on Jacques Fath L'Iris de Fath? In French, "C'est a vous couper le souffle" (It takes your breath away). I am not a typical vintage perfume lover as most readers know. Jacques Fath L'Iris de Fath was my best in show- elegant and timeless. One can imagine both Greta Garbo and Eva Green wearing it. I was not alone in feeling such emotion. Perfumer Sylvaine Delacourte smelled it and cried. Perfumer Sultan Pasha gave Rania Naim a rare sealed bottle of the original Iris Gris from 1946 and with much feeling said, "it belongs to you."
Now it belongs to all of us.
Only 150 flacons of Jacques Fath L'Iris de Fath Extrait each year will be made, small batch style and will be sold for 1500 Euros at such stockists as Jovoy Paris and Roja Dove Parfumerie at Harrods.
Michelyn Camen, Editor-in-Chief (with Contributions from Ermano Picco…photos by CaFleureBon© unless otherwise noted).
Please leave a comment (because you never know!!!)
Tomorrow, I will write on Esxence 2018 perfume trends and first Impressions.