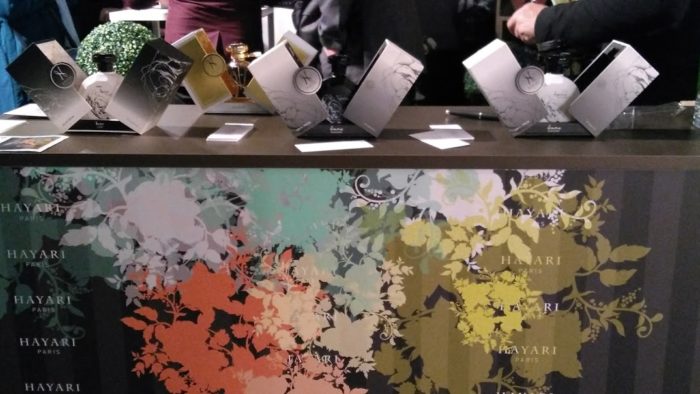 Hayari Paris Garden of Eden theme
Wending through a crowd of hyper stylish people, I found myself standing under a canopy of multicolored wisteria, looking down a mind-boggling avenue of glittering perfume stalls. Yes, Exsence was going to be a trip through the perfume looking glass.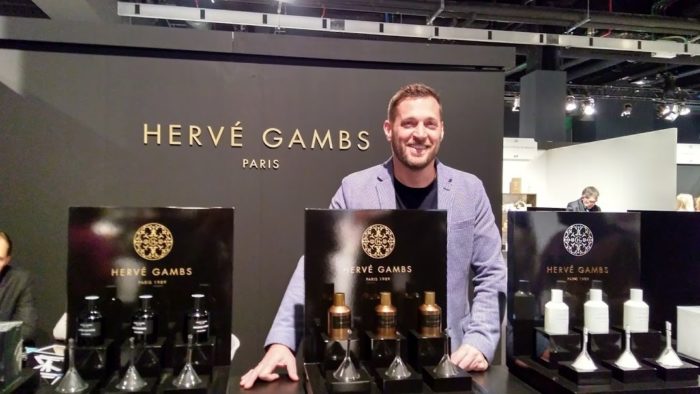 Bruno Loste of Herve Gambs
I had intended to try every new perfume on the meticulous list compiled by Ermano and Michelyn before we left. Instead, I found myself gravitating towards unfamiliar names and outliers in houses I already knew, discovering small planets of new, sometimes breathtaking, beauty. French house Herve Gambs was a name I had read about from prior shows, but had never come across. Their perfumes are like tapestries, weaving high quality ingredients into shimmering accords. Rouge Cardinal is a gorgeous leathery chypre spiked with incense and orange; velvety, with a touch a dry vanilla and not a sharp edge in sight. Coup de Grace contrasts the lushness of damask rose against a spiky, juicy green note like underripe pineapple, underpinned by amber and saffron. Infusion Noire is black licorice and nutmeg dancing the jitterbug with herbs and lavender – eccentric, electric and great fun. And it didn't hurt that Bruno Loste, Gambs' representative, looked like he slipped from the pages of L'Uomo Vogue.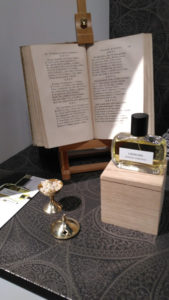 Anatole Lebreton Grimoire
Why in the world is Anatole Lebreton not better known in the U.S.? His fragrances are highly individual, imaginative while also being eminently wearable. Grimoire is a fabulous, smoky, herbaceous fragrance blended with dust and woody-vanillin pages straight out of 1653. It takes my prize for best name. Bois Lumiere is an addictive, startling, non-sweet honey and woods fragrance with baked bread and immortelle notes. But the standout is L'eau Scandaleuse, whose name does this deliciously skanky leather-floral justice. It is high class vintage with a lowbrow sense of humour.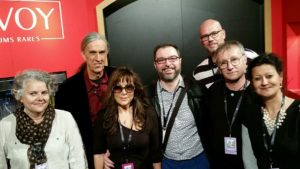 Parfumers du Monde perfumers Perrine Scandel, Michel Roudnitska, Thierry Bernard and Eric Gigodot with Michelyn and Ermano
One of the best parts of Esxence was meeting the people behind the brands: Sonia and Brunello Acampora, the fabulous couple running the show at Bruno Acampora; the sweet and sunny Olivier Durbano, Neela Vermeire, Mert Guzel (Nishane), Celine Verleure (Olfactive Studio), perfumers Michel Roudnitska, Isabelle Gelle (Parfumeurs du Monde) Cristiano Canali and wunderkind Luca Maffei (to name just a few) and, of course, my first time meeting Ermano, Sebastian and Sarah from team Cafleurebon! It was also wonderful to catch up with Michelyn, who I last saw at Tranoi in NYC last year.
Tonatto Profumi Philtrum project
The lovely Diletta Tonatto and her beautifully constructed line, Tonatto Profumi once again captivated me.Tonatto have a new project, called Philtrum, which conducts scent via paper filters designed to mimic a human philtrum (the indentation between nose and lip, whose purpose is to conduct scent). The Tonatto booth was augmented by standing lights with flowerlike pleated paper umbrellas which spreads scent slowly as the bulbs heat the perfume the pleats hold. Southern French house Heloise V also made use of specially designed papers that retain scent for several days, allowing users to experience the perfume over time.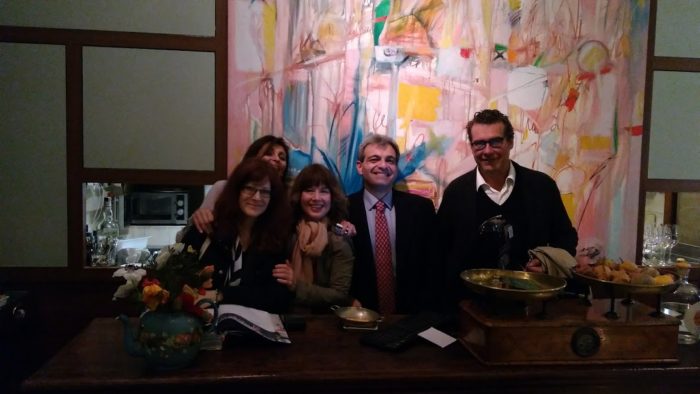 Sonia and Bruno Acampora, broadcaster Katie Pukrick, Michaele from Bruno Acampora and yours truly
Favourite perfume lines include Bruno Acampora, which I'd wanted to try for years but somehow never had. Sballo is a rich hay perfume, sweet and dry simultaneously, with facets of clover, honey and wildflowers. Other scents I loved included the almost unbearably beautiful, sunlit Jasmin T; Blu, a spicy tuberose that is equal parts stemmy and creamy, spiked with sandalwood that keep tricking me into thinking it's ginger; and Seplasia, a radiant floral based on an ancient Roman recipe. The bottles of perfume oils were sealed on site with wax – a classy touch.
Ramon Bejar
Ebullient perfumer Ramon Bejar, the nose behind some very elegant perfumes for other labels, has several lines under his own name, all of which use an exceptionally high percentage of perfume essences and oils, and which are 90-95% natural. The quality shows through. I thought I was exhausted by oud until I smelled Bejar's Wild Oud: smoky, woody, dry and elegant, with undercurrents of vintage Armagnac and leather. His incense perfume, Santum, crackles with sandalwood and olibanum and contains four different incenses, while his Jasmine Maat is like the steam from a cup of jasmine-chamomile tea. Speaking of oud, S Ishira, which launched last year, has produced some classically lovely oud perfumes, particularly Zafaran Elixir, a rich, soft floral that blends rose and saffron, and Oud Nader, a masculine-leaning, dry-as-a-bone oud with herbal and woody aspects.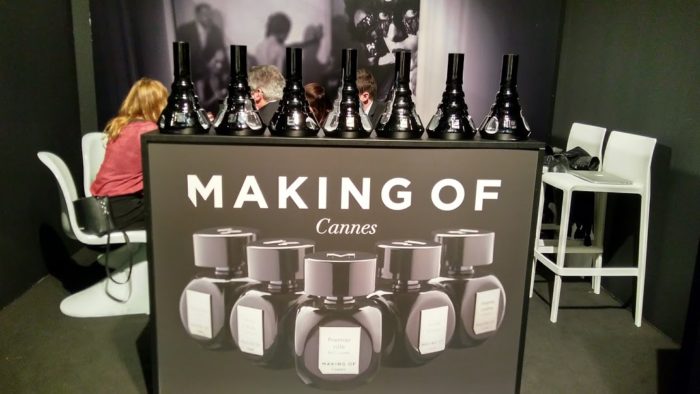 Making Of s
Other jewels: new line 2787 from Barcelona, with fragrances inspired by techno-savvy travelers and created by the talented team of Daniela (Roche) Andrier, Mark Buxton and Shyamala Maisondieu. Cannes-based Making Of … fascinated me, both because of its intergalactic, high shine bottles and brilliant concept of bottling the aromas of backstage and soundstage. Many perfumes have used vintage lipstick and face powder accords, but none has so brilliantly captured the smell of actor's makeup quite like L'Amour, La Mode. Mark Buxton's collaboration with four fashion designers for the Verduu line is impressive; particularly the suede-cistus laced concoction made in conjunction with Michael Sontag. And French house Olibere sported some beautifully made perfumes from Bertrand Duchaufour, Luca Maffei and Amelie Bourgois, particularly the gingery green Balinesque, sumptuous woody Paradis Lointains and sparkling Osmanthus (a flower that really got around this year, along with tuberose) Il Mio Segreto.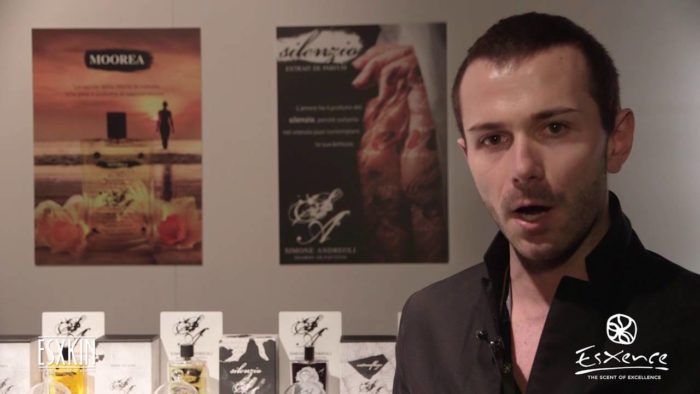 Simone Andreoli, photo from Exsence 2016 (courtesy of Esxence)
Perhaps the most eye-opening discovery was Simone Andreoli. If it is true that Italian perfume is in the midst of a renaissance, Andreoli, at 26 the youngest nose in Italy, makes it clear why. His Diario Olfattivo fragrances, inspired by his travels, have a thoughtful progression that makes each like a self-contained journey. Andreoli's fragrances develop like fireworks: one glittering stream floats into another as a third and fourth open into beauty. Camouflage is extraordinary: like walking into a forest that suddenly catches fire. Its burnt wood note opens slowly and is the most realistic of its kind I have ever smelled. Genius.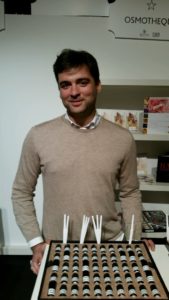 Osmotheque and Cristiano Canali, perfumer for Rubini and Masque Milano Romanza to name a few (photo Michelyn)
I never felt as privileged as I did than at the Osmotheque booth, which I greedily returned to several times.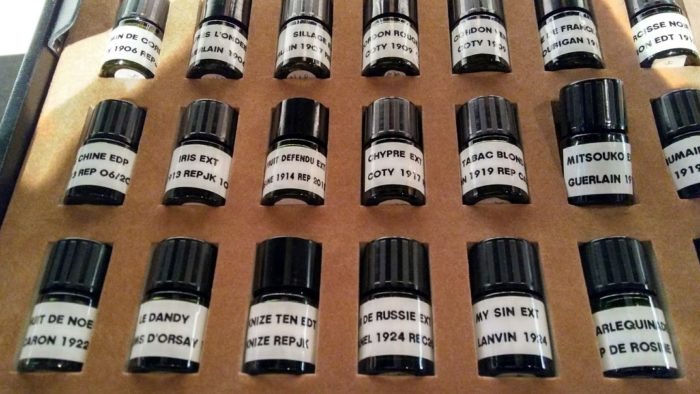 Vintage perfume treasures from Osmotheque
The unthinkable luxury of being able to smell the first iteration of Mitsouko from 1919, with its famous peach note, or the dangerous, narcotic beauty of the original Caron Narcisse Noir (1911) and the rich, golden leather-oriental Tabu (1931) among many others, all in perfect condition, was thrilling – a frisson I had felt only once before, when handling first editions of books from Shakespeare's day in the Bodleian library as a grad student. And having Cristiano Canali (creator of Masque Milano's naughty, gorgeous Romanza and the avant garde Fundamental for Rubini) present them to me was way too much fun.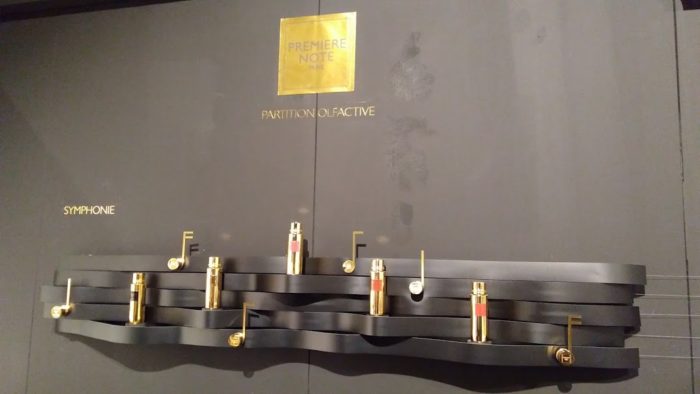 Premiere Note display
Back stories to many of the perfumes centered on love stories. One of the best: Pantheon Roma, based on the relationship between the painter Raphael and his muse/mistress, Margherita. Raffaelo is a spicy, woody, vibrant scent. Stephane Humbert Lucas' gossamer floral Panthea, is a tender ode to his wife. Other houses took inspiration from the arts. Premiere Note is inspired by classical music and produces perfumes built around a single note that can be worn separately or overlaid to create their own harmonies.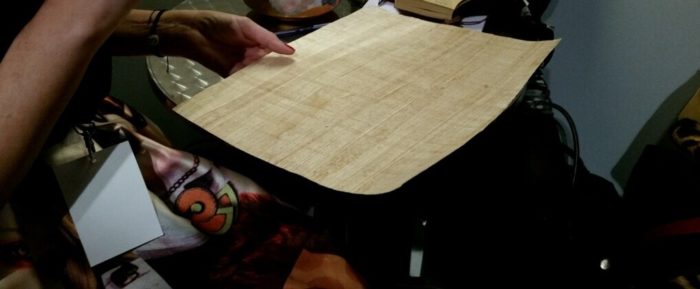 Creative Director Stefania Giannano showing Michelyn the Papyrus that 12 Italian women writers will use to inscribe their scent notes
Nobile 1942 paid homage to women writers with a lovely new fragrance 1001. Created by the insanely talented Luca Maffei, 1001 is a silken oriental containing papyrus and curcuma (two notes coming into vogue).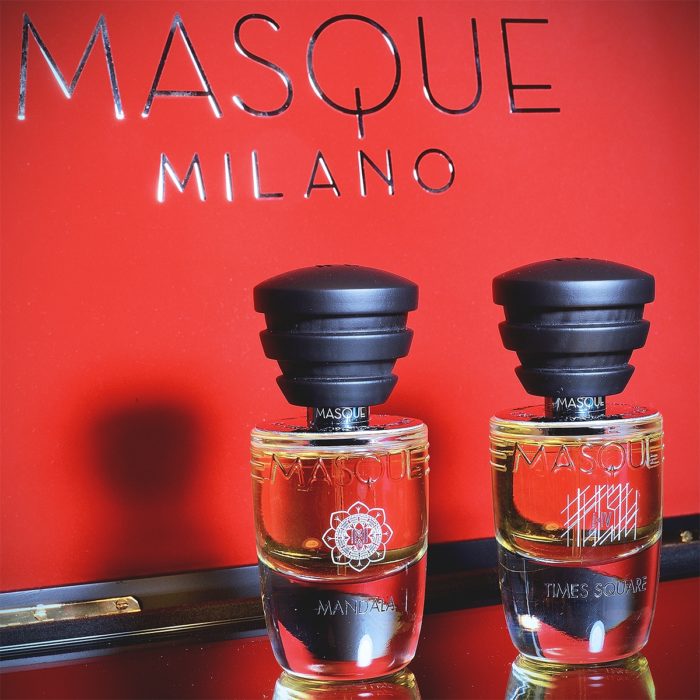 Masque Milano MANDALA and TIMES SQUARE
Getting to sample the entire oeuvre of houses I knew such as Masque Milano, Nishane and Unum. Mandala from Masque Milano (Christian Carbonell) is a burnished incense and spice powerhouse, while Times Square (Bruno Jovanovic) is less hooch and hookers and more bright lights and billboards than I expected: bright, flowery with just the right touch of used-lipstick seediness to keep it from getting too pretty. Nishane have three new scents inspired by traditional shadow puppetry, of which my favourite is Hacivat, the olfactory twin of the bearded lady of the circus: equal parts woody masculine and fruity-floral feminine and good fun.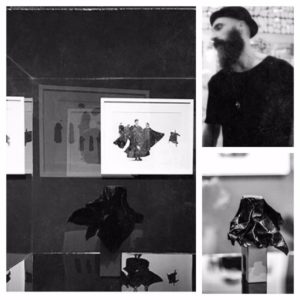 Fillipo Sorcinellii of Unum, Photography by Mario Giacomelli and the new Io Non Ho Mani Che Mi Accarezzino il Volto via instagram (photo montage Michelyn)
Unum's Fillipo Sorcinelli is a sorcerer who conjures uniquely beautiful scents out of both the esoteric and the mystical. His new fragrance, Io Non Ho Mani Che Mi Accarezzino il Volto, was launched at a party at Corso Como which featured stunning, surprising, joyous black-and-white of monks by photographer Mario Giacomelli. The fragrance itself is magical: steam, frankincense, street smoke, dotted with dry herbs and fresh green tobacco. Few perfumers can work as much magic with incense as Sorcinelli, and Unum is fast becoming one of my favourite perfume houses.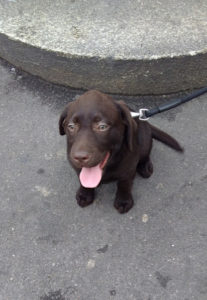 Milano resident
Esxence was exhilarating, exhausting, exploratory, expressive and extra special. Expect me back next year. Xx
— Lauryn Beer, Editor
You can read Michelyn Camen, Editor-in-Chief's Esxence 2017 Recap here and watch Sebastian's video interview with Murat Katran and Mert Güzel of NISHANE Istanbul and enter to win a bottle from the Nishane Shadow Play trilogy)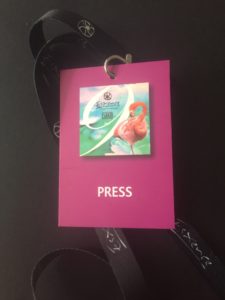 Thanks to many perfumers (some not represented here) who generously gave Michelyn extra samples of over 40 fragrances that were introduced or exhibited at Esxence, we have a draw for a registered CaFleureBon reader for the EU, U.S. and Canada for a lovely gift bag of new or soon to be released perfumes from Esxence. To be eligible please leave a comment with which of the fragrances sound interesting to you and where you live. You can comment once again and if you missed Part 1 you can do so there as well. Draw closes 4/5/2017
We announce the winners on our site and on our Facebook page, so Like Cafleurebon and use our RSS FEED…or your dream prize will be just spilled perfume.