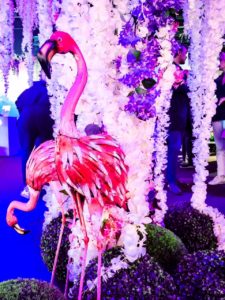 The Flamingo was this year's mascot at Esxence
It is CaFleureBon's 6th year as a media partner with Esxence-The Scent of Excellence, which has steadily grown in scope, sophistication and is the largest fair for artistic perfumery in the world. For the 9th Edition, the team outdid themselves and produced an exhibition of visual beautythat set the tone for many of the major trends at the show…floral, green, and blooming, many firsts for quite a few brands and women in perfumery shone brightly.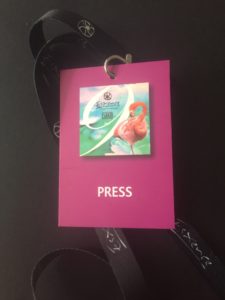 Over the next few days and weeks, Editor Lauryn Beer, Contributors Sebastian Jara and Ermano Picco will add their impressions, discoveries and perspectives.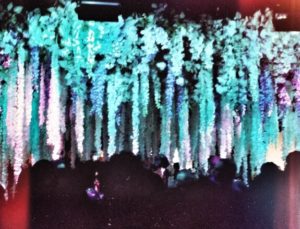 The theme, The Garden of Eden, curated by Elisa Duò was worthy of a Hollywood production and was splendidly realized as cascades of floral garlands parted like a curtain as you entered the main hall, reminding me of a set from the movie La La Land. For the first time in many years, oud and dark brooding fragrances seemed to take a back-stage to glowing florals, trees bearing forbidden fruit and crisp vegetal greenery.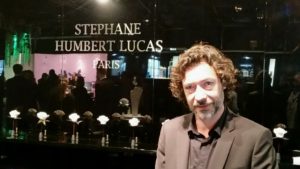 Stephane Humbert Lucas
I felt this immediately as I entered the exhibition; the first booth I encountered was Stephane Humbert Lucas, best known for his Orientals and incense based fragrances, debuted Panthea, Wish Come True and Lufu all floral inspired. Wish Come True is aptly named.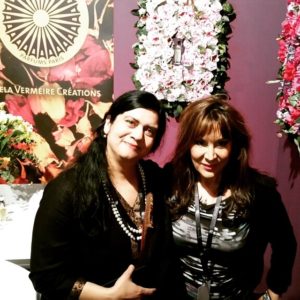 With Neela Vermeire of NVC
Next stop was for my annual hug from Neela Vermeire who looked radiant as she presented Rahele, her 7th collaboration with Bertrand Duchaufour. Rahele is a beautifully baroque perfume set with a .jewel-like osmanthus surrounded in spices and violets.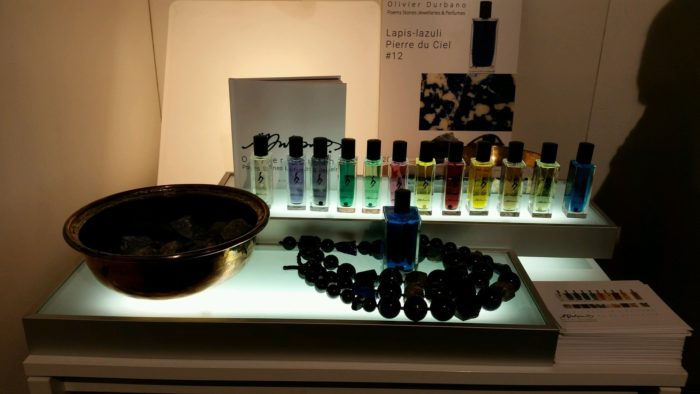 Olivier Durbano's booth
Speaking of jewels, Olivier Durbano's Parfums du Pierres Poèmes are infused with the healing energy of gem stones. Olivier's 2016 Lapis Lazuli is a favorite of my boyfriend who finds it calming. Since we like calm boyfriends, Olivier was kind enough to gift me a chunk of lapis that will be turned into a talisman necklace.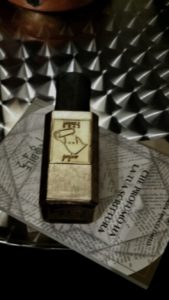 Nobile 1942 1001
Nobile 1942 introduced 1001, inspired by the "smell" of books, writing and storytelling. Women writers will inscribe their "stories" on papyrus, their narration of scent. Creative director Stefania Giannino Nobile's very ambitious ode to women was created in collaboration with Luca Maffei (notes of Bergamot, Red Tea, Ginger Fresh, Elemi, Pink Pepper, Fleur de Papyrus, Turkish Rose Essence, Jasmine Grandiflorum, Iris, Saffron, Turmeric, Patchouli, Sandalwood, Amber, Vanilla,and Musk).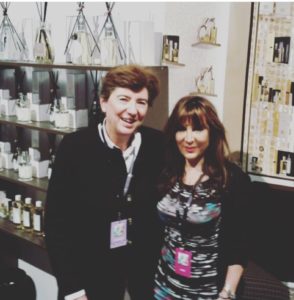 Patricia de Nicolaï and MC.
It is no secret that Patricia de Nicolaï is one of my role models, as a woman in the patriarchal Guerlain family, she was told she would never be a perfumer. The first Lady of Niche began her eponymous perfumery in 1989, the first woman to do so. I am not a fan of many Rose fragrances, but I was smitten with Rose Royale, a peachy lush rose composed with an abundance of precious Rose de Mai.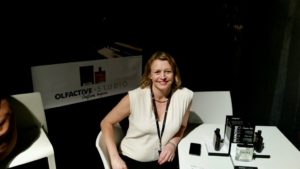 Celine Verleure of Olfactive Studio
Another woman I have admired since 2009, when she conceived of Olfactive Studio through Le Blog qui n'existe pas is Celine Verleure. Her new fragrance Woody Mood is collaboration with Bertrand Duchaufour and the photo is by an American, Roger Steffens, who Celine described as an ex-hippie.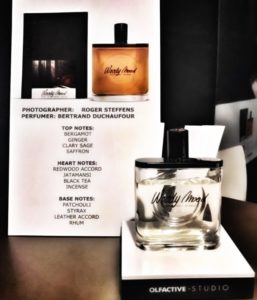 No florals here; notes of bergamot, ginger, clary sage, saffron redwood, jatamansi, black tea, patchouli, styrax, rum and M. Duchaufour's signature leather accord.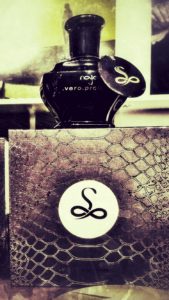 NAJA Vero Kern of vero.profumi
Excense 2017 marked "The return of Vero Kern", one of the most beloved and iconic artisan perfumers. She debuted her much anticipated NAJA extrait, her serpentine perfume and Vero's 5th in 10 years. Like the snake itself, NAJA is filled with dualities. The snake is a symbol of rebirth and of healing as much as it is a symbol of evil. Osmanthus and tobacco, with a surprising prominent linden blossom note adds drops of honey instead of venom. Shamanic and addictive.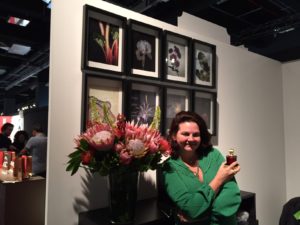 Nathalie Feisthauer (photo: Sarah Colton)
Nathalie Feisthauer, who has composed quite a few of my favorite perfumes including Putain du Palais and the icy holographic Wisteria Hysteria Stephen Jones X Commes de Garcons is la nez of the new AEDES de VENUSTAS Pelargonium, the first woman perfumer for the House.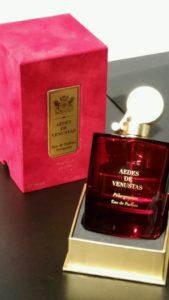 AEDES DE VENUSTAS Pelagorium
As is in all AEDES DE VENUSTAS Parfums, there is a lynchpin ingredient, here, Egyptian Geranium. There is an elegance to this perfume that is haunting. Resinous shadows create a backdrop for the dusty light of bergamot and orris. If Pelagorium was a painting it would be a Hans Bollongier still life.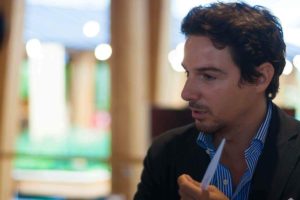 Luca Maffei of Atelier Fragranze Milano
Two Time Art and Olfaction Award Winner Luca Maffei just may be the "James Brown" of artistic perfumery with 13 fragrances debuting at Esxence. He composed: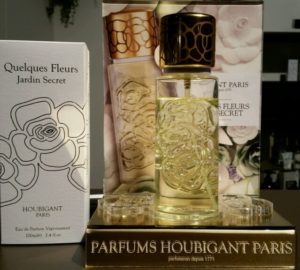 Quelque Fleurs Jardin Secret
HOUBIGANT Paris: Quelques Fleurs Jardin Secret , JUL ET MAD Paris: Bella Donna the new, JAQUES FATH Joie de Vivre collection, (Rosso Epicureo , L'Oree du Bois, Les Frivolites and Lilas Exquis , MAISON OLIBERE: Savannah's Heart, HISTOIRES DE PARFUMS, This is Not a Blue Bottle 1.2 , COOLIFE NYC, Le Sixieme Parfum and Le Septieme, the aforementioned NOBILE 1942:1001, MENDITTOROSA ODORI DELL'ANIMA: Archetipo and NASO DI RAZA Giuseppe.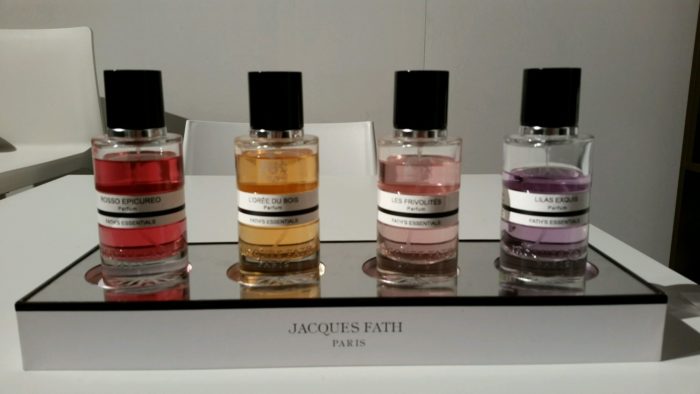 One of my favorite of his works (I did not have an opportunity to get to Mendittorosa, Coolife Le Septieme and Naso di Razo) was JAQUES FATH Lilas Exquis, a hyper-realistic dewy lilac that flooded me with scent memories of my grandmother's tiny NYC garden. I was five years old and stuck my little nose into the lilac bushs after a sunshower one summer and was near dizzy from happiness. Lilac is one of the most difficult scents to capture, and there are only a handful of perfumers who have achieved it. Exquisite indeed.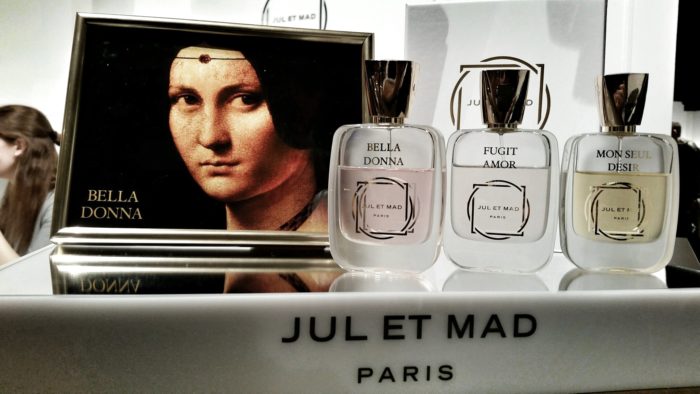 Jul et Mad LES WHITES BELLA DONNA (Luca Maffei), FUGIT AMOUR (Stéphanie Bakouche) and MON SEUL DÉSIR (Stéphanie Bakouche) 2017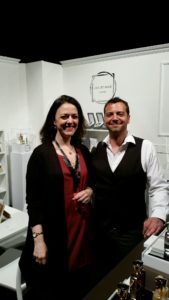 Stephanie Bakouche and Julien Blanchard
Juls et Mad new trilogy Belladonna (Luca Maffei), Fugit Amour and MON SEUL DÉSIR (Stephanie Bakouche took their inspiration from paintings, sculpture and tapestry. Mon Seul Desir, a spicy floriental is a triumph for Stephanie Bakrouche who, (best known for MDCI Invasion Barbare) after her stint at L'Artisan Parfumeur can fly untethered. Belladonna is another homerun for Luca as he deftly uses osmanthus to give a solid base to the magnolia.
Parfumeurs du Monde: Perrine Scandel, Michel Roudnitska, MC, Ermano Picco, Eric Gigodot, Thierrry Bernard and Isabelle Gelle
If there were other natural perfumers at Esxence, I didn't see them. But they would have probably paled behind the dream team of Parfumeurs du Monde: Michel Roudnitska, Isabelle Gelle, Perrine Scandel, Thierry Bernard, Jean Claude and Eric Gigodot. Opuses all.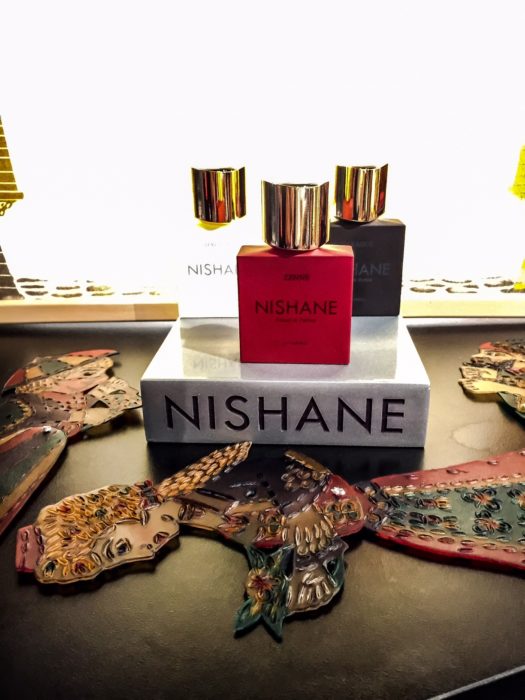 NISHANE (nish-anay) ZENNE KARAGOZ HACIVAT (photo from Nishane)
I knew when I read about NISHANE Shadow Play Collection ZENNE would be my favorite. On my skin it had me by her strings. The inventive creative directors Mert Güzel and Murat Katran used traditional Turkish Puppetry as inspiration for three new fragrances KARAGOZ & HACIVAT & ZENNE. ZENNE is a fruity-floral that elevates the category to the next level of sophistication, and sexiness… tart and slightly sweet with an unexpected ambergris base that puts on its own show.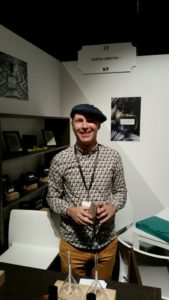 Anatole Lebreton presented one of the most intriguing perfumes: Grimoire, which means spell book. Herbal, musky and Lavender (lots of it), but it's the incense that is magic.
Masque Milano Mandala and Times Square (photo: Masque Milano)
Masque Milano (Top Ten Finalists for Romanza -Art and Olfaction and L'Attesa -Top Ten Finalist Fragrance Foundation) presented Times Square and Mandala. Times Square as we reported was inspired by the late 80s early 1990s reality of Times Square and Broadway, when Elmo didn't ask to take a picture with you, rather, each side street had peep shows, dirty condoms, drug addicts and Ladies of the Night. Truly I hated walking there even in daylight. I was ready for "New York Stinks" but Bruno Jovanovic under the direction of Alessandro Brun and Riccardo Tedeschi brought a neon-pop, wearable floral with just a hint of back alley that I liked very much. Mandala by Christian Carbonell is herbal, spicy, floral and laced with an absolutely gorgeous frankincense note..
Indie perfumer Giovanni Sammarco presented NAIAS, a violet perfume that is not violet, rather a skin scent (if you just happened to be a goddess). Big florals in abundance; Rose, Violet, Neroli, Osmanthus, meld with various fruits, yet NAIAS is somehow musky and not overpowering. BLOOM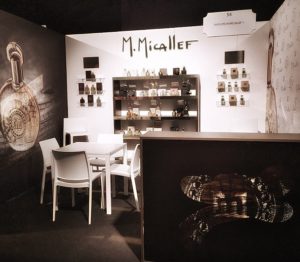 Like a scented traveler finding her way home, I headed to M. Micallef's booth. I have yet to find one that doesn't sing on my skin.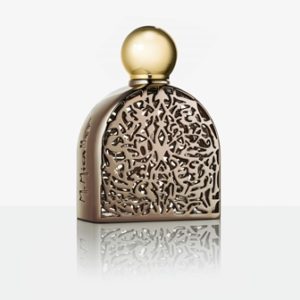 Secrets of Love Gourmand
New to the Secrets of Love collection is Gourmand, which don't be put off by the name at is not overly so, with one of the most lovely chestnut and incense notes.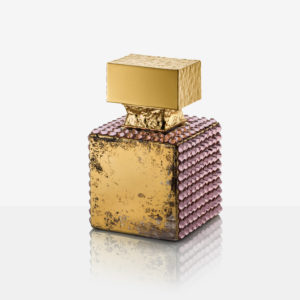 Yes, please !!! Jacaranda
Their third Collector fragrance Jacaranda was inspired by the sub-tropical tree of the same name, known for its indigo-blue to purple trumpet shaped flowers. Ambery, rosy and a hint of spice.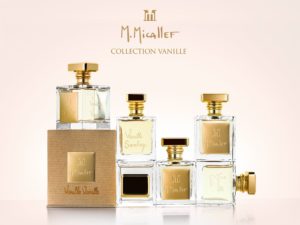 Notes Vanille is legendary among perfumistas and we keep lobbying to bring it back permanently. Until then, six new vanillas in Collection Vanille: Vanille Sambac, Vanille Guaic, Vanille Patchouli, Vanille Guaiac, Oud Vanille and Vanille Cuir will keep us happy.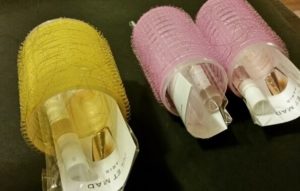 Call me the sample smuggler, How I fit so many in my carryon. Sneaky but effective.
So by now, Day 1, I was feverish, coughing and beginning to lose my sense of smell, as I came down with a terrible cold (thanks to the woman on the flight from JFK over who sneezed in my face). There were quite a few Houses I did not get to, I apologize.
More this weekend with my Best of Show
-Michelyn Camen, Editor-in Chief
Thanks to many perfumers (some not represented here) who generously gave me extra samples of over 40 fragrances that were introduced or exhibited at Esxence, we have a draw for a registered CaFleureBon reader for the EU, USA and Canada for a lovely gift bag of new or soon to be released perfumes from Esxence. To be eligible please leave a comment with which of the fragrances sound interesting to you, where you live. Draw closes 4/5/2017
We announce the winners on our site and on our Facebook page, so Like Cafleurebon and use our RSS option…or your dream prize wil be just spilled perfume