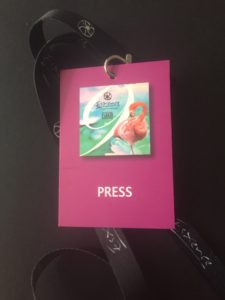 It won't be the last you read of all the wonderful and exciting new fragrances from Esxence 2017 on CaFleureBon. In fact we will be reviewing them throughout the next year and who knows what discoveries we will uncover. In Part 3, I highlight the sublime, the unusual and also have some fun..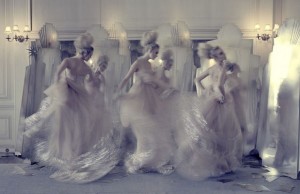 Photo: Tim Walker ©
Flower Power: Osmanthus and Tuberose seemed everywhere. This trend began last year at Esxence. If 2016 was the year of neo-aquatics and the Fougere, white floral divas are upstaging them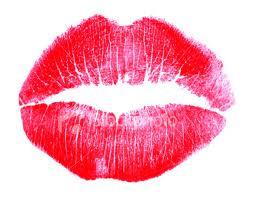 MC's Lip print
There is also an emergence of both realistic and off-kilter face powder and lipstick inspired scents epitomized in the new Masque Milano Times Square.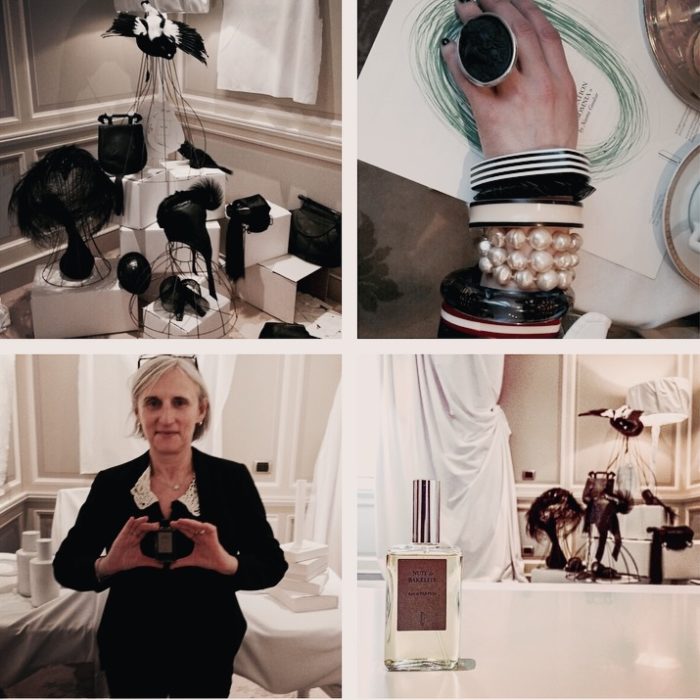 Top L-Naomi Goodsir Accesories, A photo of her Baketlite Jewelry, Bottom: Isabelle Doyen (MC) and NUIT de Bakelite (photo Ermano)
Best Fragrance: NUIT de Bakelite (Naomi Goodsir, Renaud Coutadier and Isabelle Doyen)- Naomi Goodsir Parfums had a separate suite at the posh Principe di Savoia . All was white, draped and minimalist in contrast with the lush backdrop of the Garden of Eden theme at the Esxence main hall. The avant-garde accessory designer Naomi Goodsir and partner in perfumery, Rene Coutadier presented NUIT de BAKELITE composed by master perfumer Isabelle Doyen, (who most of our readers know from her work with Annick Goutal). One of the most talented perfumers and teachers on the planet, you might be familiar with a different side of her oeuvre;for the Swiss company LesNez. Ahead of her time, I first became familiar with her unconventional daring side in LesNez Turtle Project, three fragrances that showed three very different aspects of vetiver: woody, green and smoky. I mention this because NUIT de Bakelite is a DARING perfume and unlike anything I have smelled in many years.
First, the back story. Renaud met Isabelle 13 years ago, they stayed in touch. Four years ago, Naomi Goodsir shared her love of vintage 1930s bakelite jewelry with Isabelle. Then the process; mod after mod until everyone agreed "this is it"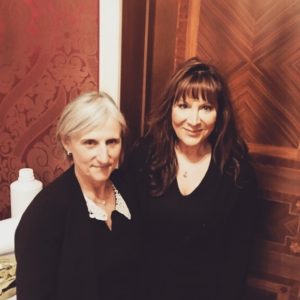 Master Perfumer Isabelle Doyen and yours truly
I am not usually a fan of tuberose–centric fragrances, but NUIT de BAKELITE is unlike any tuberose I have encountered. It is the bud before the flower opens and becomes the heady queen of the night. It is the roots, the seed, grown in a bio-sphere in another galaxy. My nose to my wrist, I smell fractured shards of green tuberose, textured and deconstructed. Experimental but classically constructed, with a direct nod to vintage scents as if Fracas had an eccentric distant cousin. My skin faintly picked up the plastic of the bakelite; most certainly others will, and also find it very green. The Karo Karounde, a flowering shrub from Africa which has been compared to jasmine adds a 3-d quality to the entire composition and along with the davana was the most prominent on my skin. The longevity was overnight and sillage excellent. Top Notes: galbanum, saffron, angelica root; Heart Notes: Indian Tuberose, Ylang-ylang, davana; Base notes: Karo Karounde, Styrax, Birch tar, Cade, labdanum and musk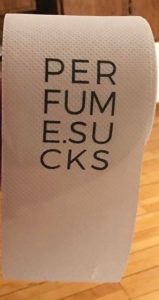 Best Name and Best Idea for a Perfume Blotter: Perfume Sucks, a new brand from Andreas Wilhelm gets my best name for a brand and the "toilet paper" inspired roll to test the fragrance was crazy fun. The fragrances DID NOT SUCK.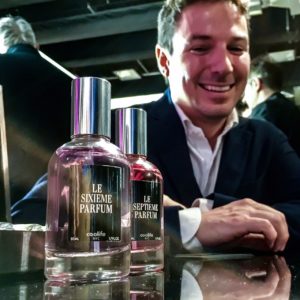 Luca with Coolife Le Sixieme and Le Septieme by Ermano
The James Brown Award for "Hardest Working Person in Perfumery": Luca Maffei introduced 13 new fragrances at the Fair.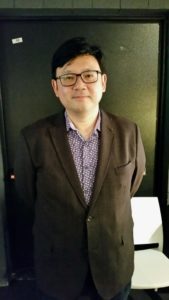 Probally hiding his new ZOOLOGIST soon to be released perfume behind him
Please Take a Booth Next Year: Victor Wong… if you are reading this, your perfumes for Zoologist were as buzzed about as the exhibitors'. You are a bonafide force, a Creative Director who continues to surprise us with your menagerie of fragrances.Good Luck with CIVET in the Art and Olfaction Awards 2017!
Celebrity Scent Sightings: Roja Dove and Josh Meyer of Imaginary Authors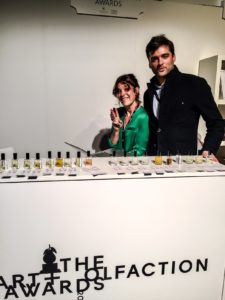 Saskia Wilson-Brown and perfumer Cristiano Canali at The Art and Olfaction booth with the Top Ten Finalists in Artisan and the Independent Categories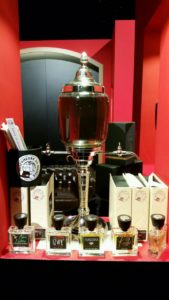 Best Natural Perfumes: Parfumeurs du Monde. No question.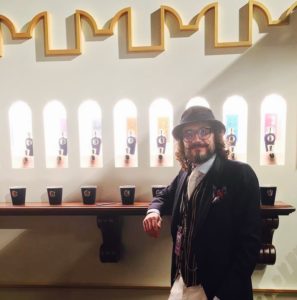 Paolo Terenzi. (photo via instagram)
Busiest Booth: Tiziana Terenzi. I stop by and try to see Paolo and Tiziana every year and their booth is too busy. They wave at me and look sad, but business before bloggers who don't make appts.; that brand is booming.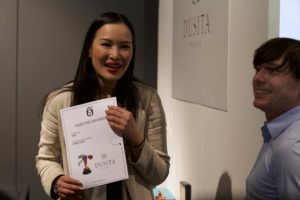 Pissara Umavijani of Parfums Dusita 2017 (photo Pissara)
What a Difference A Year Makes: Pissara Umavajani founder of Parfums Dusita was relatively unknown when she exhibited last year and there is no question she has arrived. I received her email in 2016 and feel badly that I didn't make it to her booth back then. We met this year. She's soft spoken, gracious and talented; Melodie d'Amour is also a 2017 Art and Olfaction Top Ten Finalist for Artisan. She's the darling of the blogosphere and perfumistas worldwide. Can you give a perfumer a Most Popular Award? Why Not!
Sarah Colton and Ermano Picco
Here, there and Everywhere: Sarah Colton, author of "Bad Girls Perfume Tips and Tales" is either jet-propelled or drinking 15 cups of coffee. The Queen has her Knight, Ermano Picco, who knows so much about perfumery his nick name is Picc-o-pedia.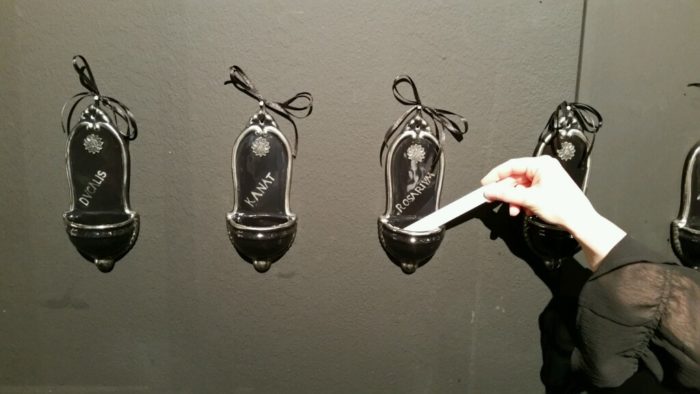 Most interesting Fragrance Delivery: Angela Ciampagna, the independent Italian perfumer,who I would have liked to spend hours with, was known to me through Danu Seith Fyr. Angela has devised fountains that one can dip your blotter into, reminiscent of the holy water stoups used since antiquity in the Catholic Church, where the faithful dipped the tips of their fingers before making the sign of the cross.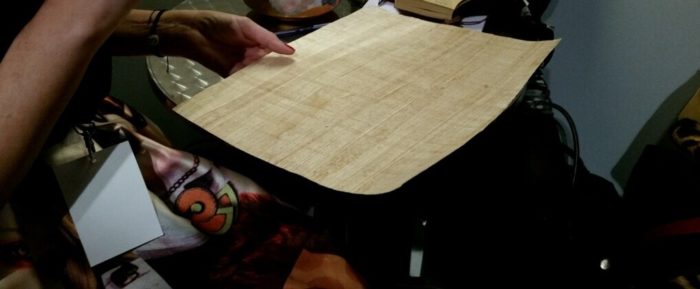 Favorite Concept: I will never own a kindle. EVER EVER. I love the smell of old books, ink on paper, leather bindings.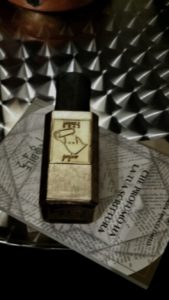 Nobile 1942 introduced 1001, inspired by the "smell" of books, writing and storytelling. Italian Women writers will inscribe their "stories" on papyrus, their narration of scent. Creative director Stefania Giannino Nobile's very ambitious ode to women was created in collaboration with Luca Maffei.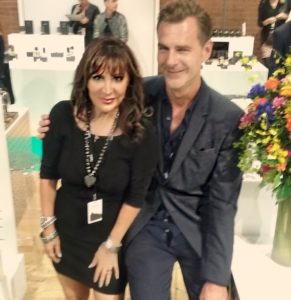 Michelyn and Franck at Tranoi NY 2016
People and Houses I sadly missed: my wonderful friend-in-fragrance Franck Salzwedel of Elisire Parfums, Puredistance WARZAWA, Geza Schon Escentric 04 (and having fun joking). Au Pays de la Fleur d'Oranger and Maison Incens
–Michelyn Camen, Editor-in-Chief (who is going through 120 samples; Antonio Gardoni I am catching up to your 185 blind submissions)