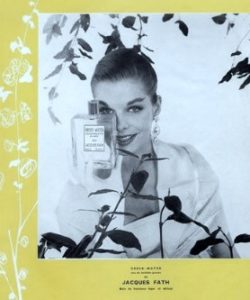 Vintage ad Jaques Fath Green Water
There's just something about Green Water. It's as spritely and invigorating as it is calm and relaxing. For many, many years its charms have enticed many a nose with its citrus fresh floral and herbal magic wafting ever so gently off the bodies of men both young and old. I vividly remember the first time I encountered a vintage bottle at an antique store. I opened the lid and was immediately enveloped in a cloud of lemony citrus and mint that brought to mind Limonana (a Middle Eastern iced lemon drink) that I had in Tel Aviv a few years prior that I really didn't much care for. I left the bottle sitting on the shelf and went on about my business because, quite frankly, mint is not my favorite note in fragrances and the associations I make to it are just too vivid. However, the historian in me made me think otherwise and I I went back to get it.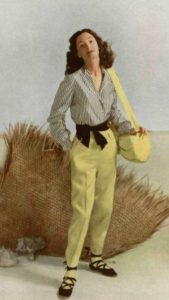 Jaques Fath Vintage fashion 1948
Unbelievably, a very fashionable older woman had grabbed the bottle before I could get my hands on it. The look on my face when I saw her smiling ear to ear with it in her clutches must have been something to behold. I was so dismayed…I hadn't given it a fair chance and it haunted me for several days until I could not stand it anymore.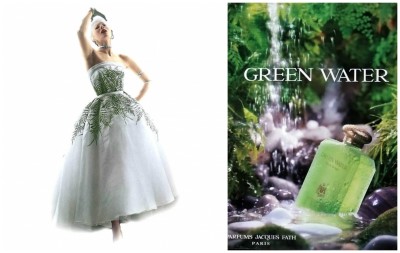 Jaques Fath Fashion and Jaques Fath Green Water Vintage Ad Vincent Roubert Perfumer
I acquired a bottle of the modern EDT a short time later. It's definitely a nice fragrance that wears more like cologne. The mint in it is just right. It works very nicely with a few herbs to add lift and extenuate the effect of cologne typical citrus (lemon, lime, orange). With this version I get a hint of the Limonana from Tel Aviv, but it's not anywhere near as potent as the first impression from the vintage (the mint here is less pronounced and there is more emphasis on lime and orange in this formulation). Shortly thereafter neroli and jasmine come in to add a nice floral dimension as the mint takes on a more powdered facet. In ways, it reminds me of powdered soap layered over classic eau de cologne and spearmint. I quite like it, but it's first impression is definitely different than what I remembered.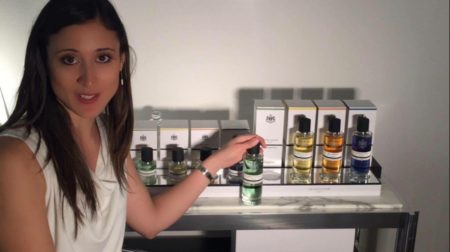 Cécile Zarokian with the Fath's Essentials Line (photo courtesy of Panouage and Cécile)
Now here we are in 2016 and Green Water has yet again come into my life. This time as part of the new Fath's Essentials line in EDP strength and authored by Cécile Zarokian based on her impressions while working with Jean Kerléo dissecting and reinterpreting the original Vincent Roubert creation. Let me just say that she nailed my first impressions that I remembered with this one. However, the association that I made previously has now changed to the adoration I should have ascribed to the original.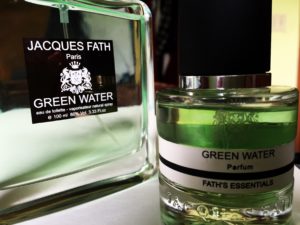 Vintage Jaques Fath Green Water and 2016 Green Water Fath's Essentials Photo by Aaron
So yes, I prefer Mme Zarokian's interpretation BETTER than the original! Immediately out of the bottle it presents itself as cool and refreshing with a sprightliness to it that immediately makes me want to sing and dance and enjoy all that is lovely in the world with a nicely romanticized Limonana in my hand whilst doing it (suddenly I like it better than I remembered).
"Whenever You're Away From Me" Gene Kelly with Olivia Newton John 1980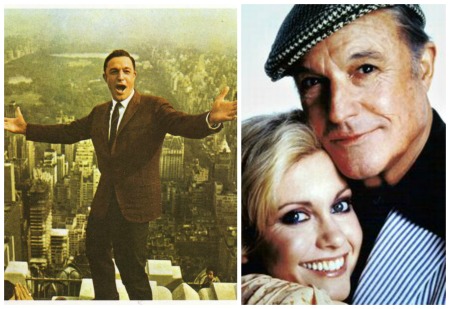 Gene Kelly 50s and with Olivia Newton John 1980
The olfaction brings to mind something, rather someone person in particular…Gene Kelly. For some reason I can see this on him as a both a younger and an older man. I have no idea if he wore it or had anything to do with it, but it's aura reminds me of him. There's certainly a romantic springiness to it that recalls yesteryear that is still forever modern and new. In fact, his duet "Whenever You're Away From Me" with Olivia Newton-John immediately comes to mind. Fond memories of future past, if you know the context of the movie (Xanadu) the song appeared in.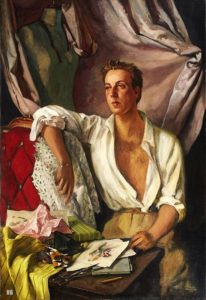 Portrait of the Designer Jacques Fath. Serge Ivanoff
After the cool refreshing spritz of mintiness a gigantic cloud of neroli comes into play… a very green with life neroli that is. It is so incredibly lively! What's interesting is that there is also a subtle hint of what comes off as rubber lingering in the mix. It lasts for several minutes and is it ever marvelous – it adds another manly aspect that I frankly was not expecting. Almost like a man has been working at flower farm or citrus grove and burned a little bit of rubber on his rush home for his hot date. Love it. I'm also getting a subtle hint that the neroli is taking on some more the indolic aspects of jasmine along with its own indolic character, but not overly so. Herbs also play a mighty roll here. I get a nice mix of a few, but to my nose tarragon seems to star a bit more than the others (namely basil and a bit of caraway). The citrus has morphed and become more orangey than lemony. There is definitely a similarity here with the EDT I currently own. However, the intensity is amped up about 50 times.
As we move into the drydown vetiver becomes evident and soon dominates. It's clever in that it's dry. The wet juiciness of the fruit and the minty zing have given way to a slight saltiness (I'm attributing this to ambergris) and everything is smoothing out very nicely with a pristine air of dignity to it. There is an ever so slight hint of powder (oak moss) present that never really crosses the line of powdery. In the final drydown a gentle musk begins to peek out now and again. It's just enough to know it's there. However, after the vetiver has all but dissipated, the musk lightly remains as the final note in the song. Nice.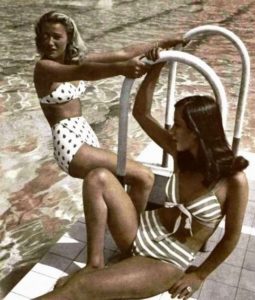 L'Officiel June 1945 Swimwear Jaques Fath
Overall, I do not think any better justice could have been done with this homage to the past. The ghost of the original is ever present and its spirit lives on to make more memories in this current incarnation for many years to come. The EDP wears fairly close to the skin and has a longevity of about 6 hours (slightly longer if sprayed on fabric). It would make a wonderful choice for casual spring and summer wear, but would also work as a formal scent for all seasons. In other words, it would be very difficult to go wrong with Fath's Essentials Green Water.
Aaron Potterman, Contributor and Vintage Perfume Expert
Art Director Michelyn Camen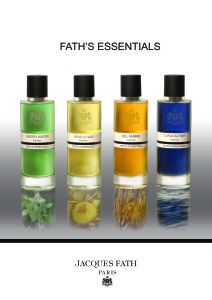 Editor's Note: The Jaques Fath Essentials collection was officially launched at Esxence 2016, Pam reviewed Curacao Bay here. Great news for those of who live in the US, the collection is available at select Barneys New York Stores and Barney's online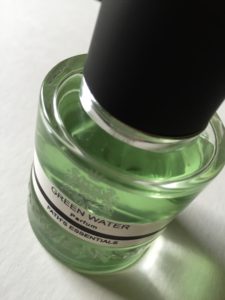 Fath's Essentials Photo by Aaron
Thanks to Panouge, and Jacques Fath Paris, we have a worldwide draw for a registered reader for a 200 ml bottle of Green Water To be eligible, please leave a comment below with what you enjoyed about Aaron's review of Jaques Fath Green Water, two famous singers/dancers of different generation you would like to see paired together or whom you already enjoy and where you live. Draw closes 6/11/2016
We announce the winners only on site and on our Facebook page, so Like Cafleurebon and use our RSS option…or your dream prize will be just spilled perfume