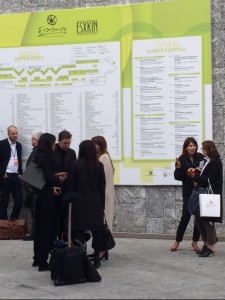 \
Day 2 I spy Uli Lang and Sarah Colton in this crowd waiting for the exhibition to begin
Although Esxence 2016 continues, I had to say goodbye after Day 2. There was not enough time for me to cover 200 lines nor could I attend the many events and launches I had hoped. Ermano Picco will be assisting me tomorrow.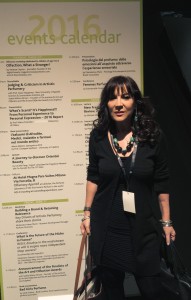 Esxence Calendar of Events
April 1, 2016 was the day I chose attend Workshops, Conferences and Presentations. I attended the 9:45 AM. Building a Brand & Reatining Relevance, Key Drivers Of Artistic Perfumery with moderator Karen Marin (Business Development Manager at Parfumes Givenchy) who was excellent. Bayly Ledes Of Robert Piguet, Amy Nelson-Bennet of Clive Christian, Luc Gabriel of The Different Co. The discussion centered around "brands" and brick and mortar. E commerce as a viable business model received mixed reviews. Grey market erosion was discussed. The power of sampling was not considered viable (that was my question) by most outside of brick and mortar. On behalf of my readers I explained that many potential customers do not live near a store that carries these collections. No one liked the idea of discovery kits when I asked.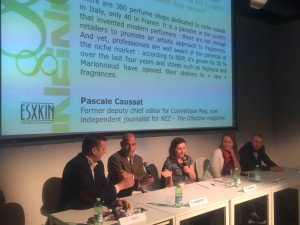 François Hénin (Jovoy), François Duquesne, Pascale Caussat, Renata Faizutdinova and Johann Vitrey (an advocate for fragrance as art)
Next was a panel discussion on The Future of niche in France. The moderator was Pascale Caussat who is an independent journalist for NEZ. François Duquesne (who has helped build brands such as L'Artisan Parfumeur and is a distributor for Aedes de Venustas amongst others, Renata Faizutdinova (Sens-Unique), François Hénin (Jovoy), and Johann Vitrey. The topic was "is French perfume tapped out in terms of growth? Will it become mainstream or encourage more independent shop owners". A very LIVELY Discussion ensued. Is the French market been saturated, are there only 300 independent shoppes? Is there benefits for independent brands to open their own boutiques (such as Atelier Cologne has done). France is not Paris and it is a challenge to keep a business going in smaller towns. There were many opinions, but what resonated with me was the need for fresh new ideas not only in retail but in the idea of reinvigorating French perfumes. Francois Dusquesne noted that Classic French perfumery needs a shot in the arm, and the neo synthetics are one way to get a young customer excited. There was no discussion of artisan perfumery.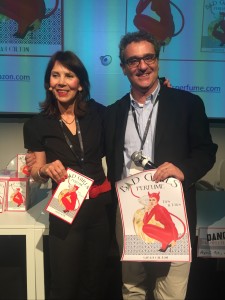 Sarah Colton and Silvio Levi
At 1:00 PM The Art and Olfaction Finalists were announced and at 2:30 fellow journalist Sarah Colton introduced her new book Bad Girls Perfumes. I will be reviewing this fun and informative read in the near future but the premise is that inside of every woman lurks a bad girl just waiting to get out. Wearing a certain perfume can transform even the most timid woman into a siren, gold digger, femme fatale and seductress.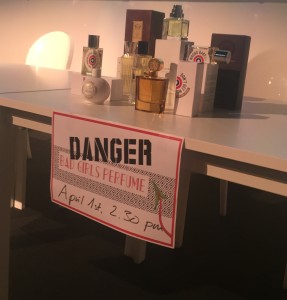 A few of many Bad Girl Perfumes (can you identify them)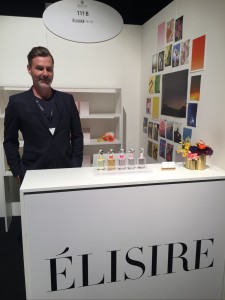 Next I spent tracking down friends in fragrance and taking photos. There were not many American collections at Esxence but was happy to see Franck Salzwedl from Elisire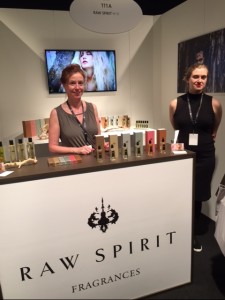 CEO Joyce Lanigan of Raw Spirit Fragrances (created by Harry Fremont and Michel Roudnitska), Karl Bradl and Richard Gerstner of Aedes de Venustas, AmourOud (which I first saw at Elements) and COOLIFE Pauline Rochas & Carole Beaupre.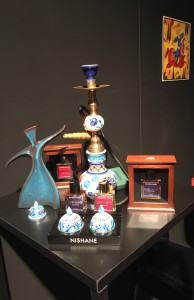 Nishane's debut of Fan my Flames and A Hundred Ways inspired by the poetry of Rumi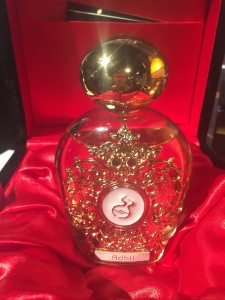 Tiziana Terenzi Adhil one fo the most beautiful jasmine attars I have ever smelled. Exquisite
A new brand founded by female perfumer SHAIKHA AAA from Qatar. S. Shira (not pictured)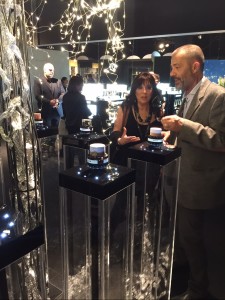 OnyRico Perfumes. Intriguing concept of Italian personages in history inspiring each fragrance. Different Italian marble are the stoppers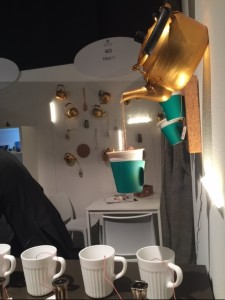 A lovely display at Tola Perfumes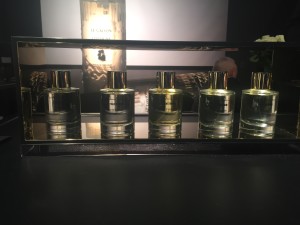 Aether Fragrances Neo Synthetics (Creative Director Nicolas Chabot of Le Galion)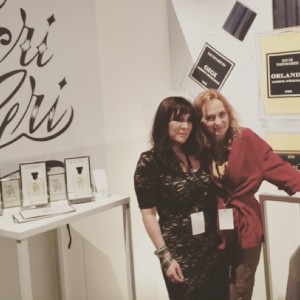 Anais Beguine launches Gri Gri a new brand inspired by ritual tattoos from Maori, Japan and India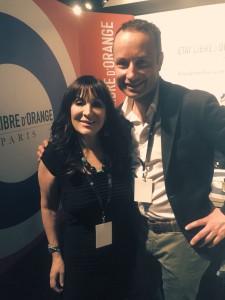 For Tammy: Etienne de Swardt of Etat Libre d Orange and me
Ermano Picco calling for a cab after the show "Pronto"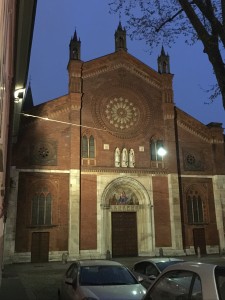 San Marco Church in Milan was formerly a Synagogue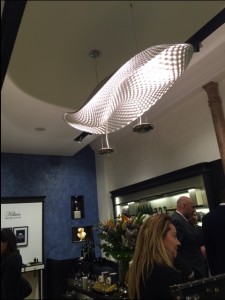 A stop at Campomarzio70 niche boutique perfumerie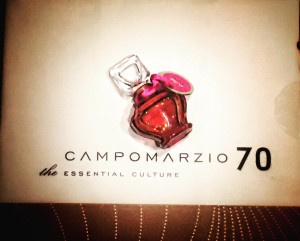 My favorite perfume at Campomarzio is always Vero Kern's RUBJ extrait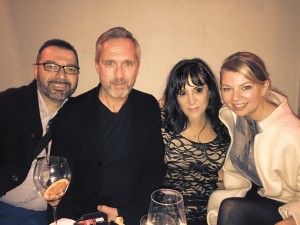 Private Perfume Party: Aperitifs with Jeroen Oude Sogtoen of Mona di Orio before the unveiling of Bohea Bohème with Ermano and Henricke Meulman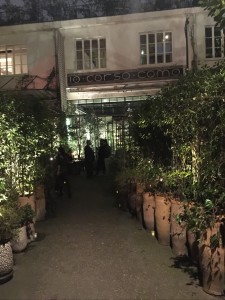 Time to party at 10 Corso Como for the launch of Masque Milano L'Attesa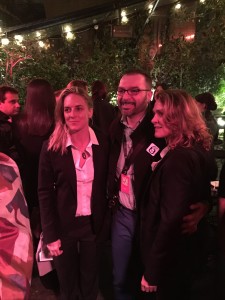 COOLIFE Pauline Rochas & Carole Beaupre with Ermano at the Masque Milano Party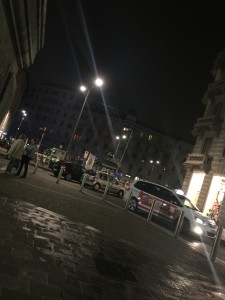 Good Night Milan…until next year
Watch for Ermano's report. With much thanks to Darry DO for these amazing photos and his patience .
Michelyn Camen Editor in Chief