Esxence Infintiy
The theme of this year's 8th edition of Esxence is the infinite. Endless imagination and creativity. There are 200 niche, artisan, beauty and artistic perfumery lines in this exhibition from Australian to Qatar. This year there was a very large presence of Middle Eastern brands, there was a lot of OUD, Rose and Iris fragrances as well, but tuberose lovers will be thrilled with many of the new offerings. Of course artistic perfumery collections were from around the globe but European lines were dominant.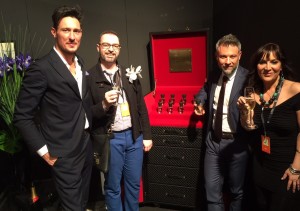 Riccardo Tedeschi Ermano Pio Alessandro Brun Masque Milano with Michelyn Camen champagne and iris celebrating Masque Milano and Luca Maffei's L'ATTESA
Spent most of today doing a quick walk through and finding what is new, either to me or from established perfume lines we have covered as well as catching up with friends – fellow bloggers (Megan from Megan in St Maxime, Lucaz Szczesniak from Chemist in a Bottle) and Ermano Picco our contributor and Author of La Gardenia nell Occhinello.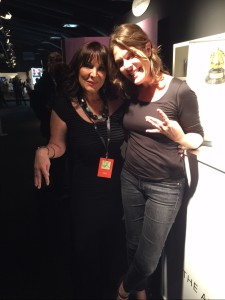 East Coast meets West Coast Smackdown
Loved meeting Creative Director Andrea Bissoli Rubini, who has the soul of a poet and catching up with industry notables Uli Lang of Anvers NY, Margaret Khoury of Fragrances of the World and Saskia Wilson Brown of Art and Olfaction (A good humored East Coast West Coast Smackdown ).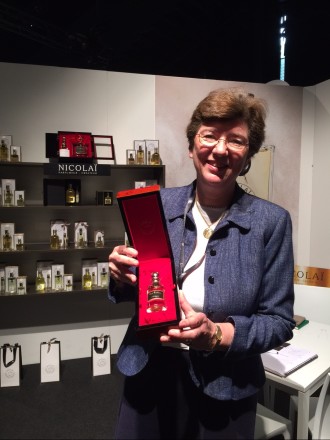 Patricia de Nicolai allows me an exclusive look at OUD SUBLIME
Patricia de Nicolai introduces her first "Oud". OUD SUBLIME is created with authentic Oud from Cambodia very precious and rare. The flacon and presentation are beautiful and a departure from her simpler square bottles. Mme de Nicolai told me "I love the people of the middle East because they cannot live without fragrance. If fragrance has become one of the most important rituals of our daily life, it is thanks to the Arabian culture.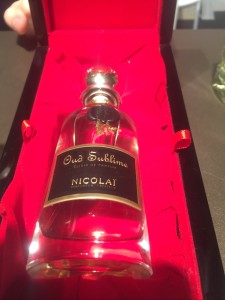 OUD SUBLIME de Nicolai
Without Middle Eastern culture perfume would never have known such freedom of expression. Although aromachemicals of the 19th century "I love the people of the Middle-East because they can't live without fragrance! If fragrance has become one of the most important thing to use daily in our skin, it is thanks to the Arabian culture. Without this culture, perfumery would have never known such emancipation. Chemicals discoveries of the late 19th century pushed the fragrances towards a most western signature but with the new millennium, we are now witnessing a great influence of the original Arabian tastes. The agarwood essential oil – which is very complex – has been used for centuries within Arabian houses but also directly on the body, sign of purification. For us Westerners, this woody-leather note, very powerful, did not reach our normal olfactory standards. But thanks to globalization, it is now natural to find this raw material standing in our creation labs.The multifaceted note of agarwood is infinite. Oud Sublime was elaborated without any limitation of price. It's a fragrance extremely rich of natural essences. For the top notes, I wanted the fragrance to be like a glass of deluxe vintage Cognac. Rose, coriander, artemesia and davana are gravitating next to the most important note of the fragrance which is natural agarwood from Cambodia combined with patchouli, incense and styrax".
Unum's perfumer Filippo Sorcinelli holding Symphonie Passion extrait and Michelyn Camen
Unum's perfumer Filippo Sorcinelli has redone the entire line's packaging and introduces Ennui Noir and Symphonie Passion. Both are extrait de parfums and in my opinion Symphonie Passion is the most complex with notes of peony, lemon, cashmeran, vetiver, Sandalwood, and musk; orchestral in its composition. Ennui Noir feels more purple than black. If morphine had a smell, this is it. If you loved UNUM LAVS wait until you smell Ennui Noir. Notes of lavender, myrtle, cedar, heliotrope, patchouli and vetiver.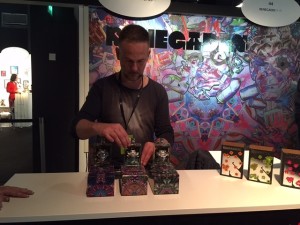 Geza Shoen and Renegades Perfume
As hinted in my Elements Showcase report, Geza Schoen teamed up with Mark Buxton for a new brand Renagades Perfume. I guess we were so busy chatting then he forgot to mention Bertrand Duchaufour was the third perfumer. Dream team of fragrance .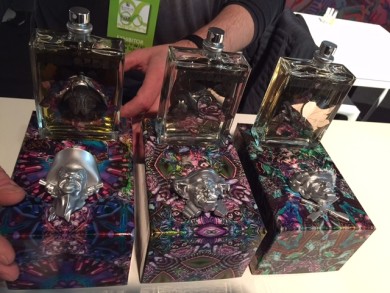 The packaging is incredible and the silver detachable masks are so devilish; I love Bertrand's with the sinister snakes and eyeglasses on the mask.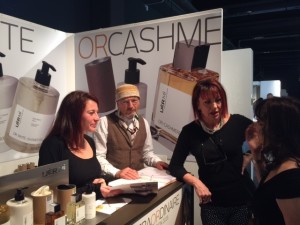 UerMi introduces two new "touchable" scents" ORWhite and ORCashmere
UerMI, the niche perfumery from Italy who creates fragrances that are "tactile" which we first touched at Esxence 2015, (we loved No +Suede) introduces their Collection Extraordinaire OR+white (notes of tonka bean, orris, coriander, orange blossom (MUST BUY!!!) and leather OR+Cashmere(ambergris, woods, patchouli, rum and musk) both by super star perfumer Cecile Zarokian.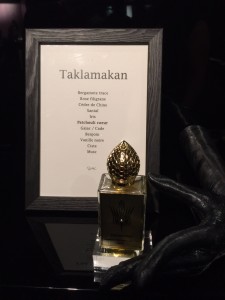 Stephane Humbert Lucas launched Taklmakan,and it is all about the ciste. Very heady with rose, patchouli, a trace of bergamot to lighten it and a strong cade, balanced by vanilla. There is a photo of Stephane kissing me, but I will keep that in a scrap book.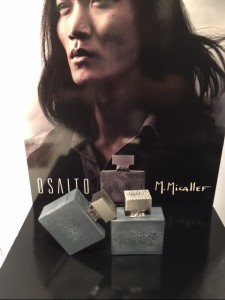 M.Micallef surprised many with their amazing out of Africa Akowa. This year we move from Africa to Asia with Osaïto inspired by spirituality and nobility. Osaïto as with Akowa retains a mystery due to its "secret ingredients". On first encounter Osaïto reveals an opening of a vibrant citrus sweetened by that of samphire, followed by the aromatic notes of myrtle, highlighted by spicy woods. There is a sense of wind, elements, a quiet strength. Another strong performance from Geoffrey Nejman and Jean Claude Astier.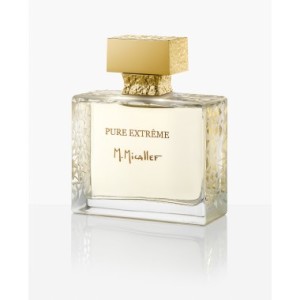 Pure Extreme which debuted in 2015 and was a collector's edition has now been repackaged at a more affordable price. I confess that this amber tinged white floral that has a lovely gardenia note, a little sweet, was what I wore that evening after the show. I just do not understand why Parfums M Micallef is so HARD to FIND in the USA. You can order direct from the M.Micallef website and they ship all over the world.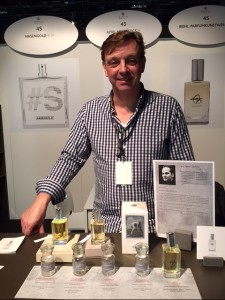 Thornton Biehl Creative Director of biehl. parfumkunstwerke GC04
Thorston Biehl of biehl.parfumkunstwerke launches GS04 (Geza Schoen 4) which is based on a sensual iris/animalic interpretation of an equally sensual photo. I want to follow up more on this so stay tuned.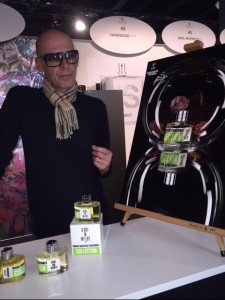 Mark Buxton A Day in My Life (sexy rocker rose)
Mark Buxton debuts the final perfume in his eponymous collection he named "A Day in My Life". This is his first rose perfume and it has top notes of black and red pepper as well as a very sexy Turkish Rose heart. Mark calls it his Rock and Roll rose. Who would wear it??? Mark said Madonna
-Michelyn Camen, Editor in Chief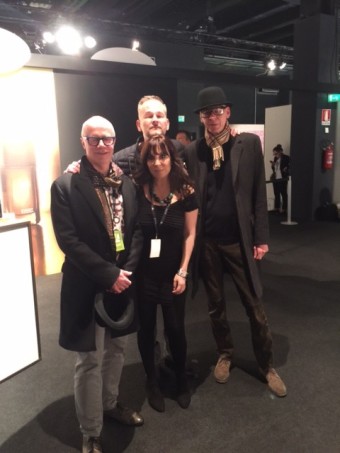 DOES IT GET ANY BETTER? Hanging with the Renegades Bertrand Duchaufour, Geza Schoen and Mark Buxton
all photos by Darry DO of Delbia Do and don't even try to steal them because he just was certified 5th level black belt.
I have two samples of each of the above perfumes (with the exception of GC04 and Renegade) so I am can share some love with a registered reader in the USA. Leave a comment with which perfumes appeal to you by April 4, 2016 and why. No spilled perfume on this one.