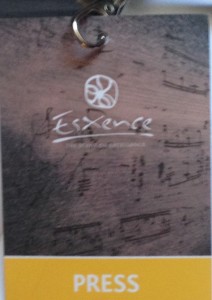 Although CaFleureBon has been a media partner for Esxence The Scent of Excellence 3 of the 7 editions, this was my first time in Milano. I took the red eye out of JFK and arrived at the hotel with more luggage under my eyes than the bags packed for the trip. By late morning I arrived at the show and then began a whirlwind two days of "Persone, Profumi and Pronto" (what the hotel and venue answered when I asked when the wi-fi would work so I could live blog).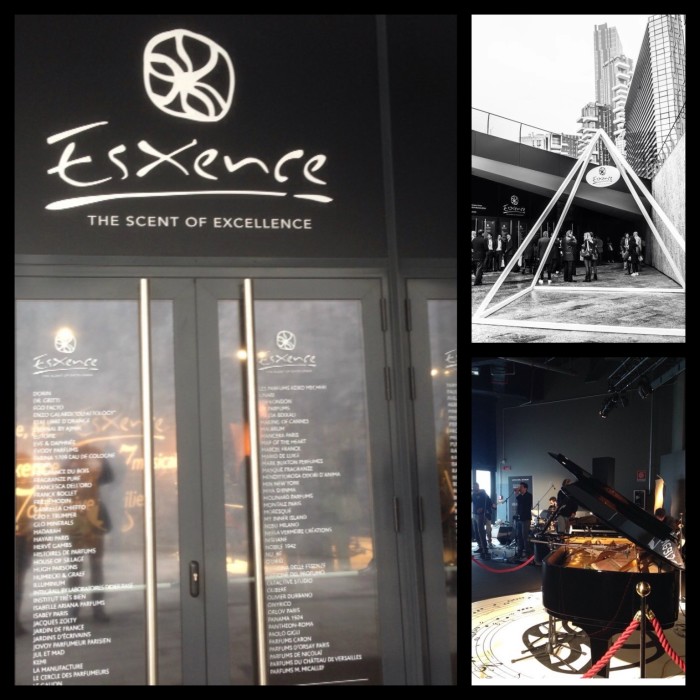 Esxence March 26-29, 2015. Before you entered the exhibition there was a grand piano
Niche is an overused word when describing "non commercial" fragrance. The team at Esxence understands and that is why the exhibition, exhibitors, creative directors, perfumers, lectures and workshops were multisensory. Everywhere you went throughout the venue, you immediately understood that Excense is not only about scent – which cannot be seen, touched, tasted, or heard but Perfume as Art.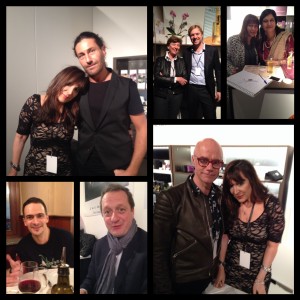 Top: Olivier Durbano and me, Patricia and Axel de Nicolai, Neela Vermeire and Megan, Bottom: Pierre Guillaume, Francois Henin of Jovoy and Bertrand Duchaufour and me
Olivier Durbano with his Bijoux de Poemes perfumes
Persone
If you are a reader of CaFleureBon you know that the people behind the perfume are as important to me as the perfume itself. Eric Weiser of Twisted Lily, Neela Vermeire, Pierre Guillaume of Parfumerie Generale, Etienne de Swardt of Etat Libre D'Orange, Olivier Durbano (who is working on a new fragrance based on one of my personal favorite gemstones).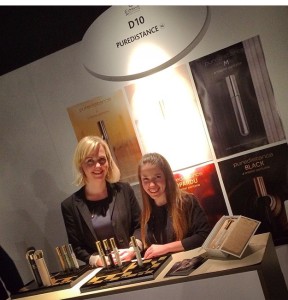 The Puredistance Booth at Esxence 2015 Nele and Mary
The team at Puredistance, Keiko Mecheri, Laurice Rahme of Bond No 9, Luc Gabriel of The Different Company, Francois Henin of Jovoy, Patricia de Nicolai, Michael Edwards of Fragrances of The World (who spoke on Friday about the West's fascination with oud and we learned Balenciaga pour Homme was the first western perfume to use oud in the composition predating YSL M7), Cecile Zarokian Parfumeur, Bertrand Duchaufour, Paolo Terenzi of Terenzi Tiziana, Francois Duquesne, Uli Lang of Ulrich Lang New York (who was just as indignant when a seminar speaker mispronounced CaFleureBon), Celine Verleure of Olfactive Studio, Alex Lee of Mane are just a few "persone" who exhibited or attended Esxence. Many I have known for nearly ten years!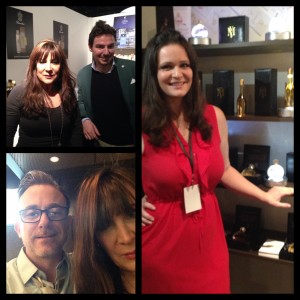 Top Luca Maffei and me, Viktoria Minya and Eric Weiser of Twisted Lily Fragrance boutique
Some were debuting new scents and some were there to meet new clients and distributors I was so glad to see them and somewhere someone snapped our picture together, so if you read this send them my way. I thought I could walk the show anonymously, but that was not the case so I missed a number of seminars and booths because I was recognized, stopped or I stopped to greet so many people. I regret not booking appointments with many perfumers and brands as well; many were busy with customers and press is great but orders are priority.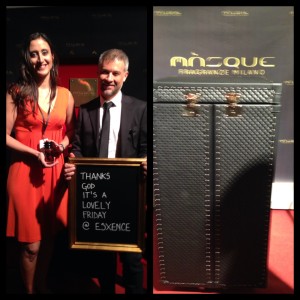 Cecile Zarokian Parfumeur with Allesandro Brun of Masque Milano
And new friends! Meeting Megan Paki, our Sr. Contributor, Saskia Wilson Brown of the Institute of Art and Olfaction, Tara Swords of Olfactif.com, Nicholas Chabot of Le Galion, Viktoria Minya, Perfumer Luca Maffei of Atelier Fragranze Milano, Polina Lopatynska of Fragrance & Art in Sweden, Camille Henfling of Von Euserdorff, Madalina and Jules Blanchard from Jul et Mad, Alessandro Brun & Riccardo Tedeschi of Masque Milano, Alexandra de Montfort of Rouge Bunny Rouge and to our mutual delight, Caterina Gianelli, Esxence organizer extraordinaire, was a joy. I confess I spent a full day just catching up with new friends and old.
Profumi (Part 1)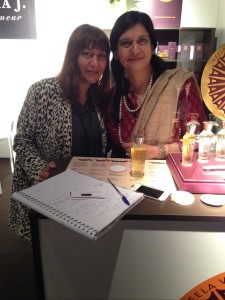 Megan with Neela Vermeire for the debut of Pichola
Neela Vermeire officially introduced Pichola by Bertrand Duchaufour which we will be reviewing very soon so I won't give much away other than the very high quality orange blossom and tuberose are juxtaposed with spice in a perfume that is a worthy addition and homage to her homeland.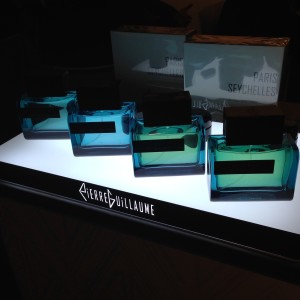 Pierre Guillaume debuted Collection Croisiere, which we announced before the show. The travel based collection is a modern take on aquatics, without calone. Pierre debuted four of the eight perfumes that will comprise the line. Mojito Chypre, a chypre for those of us that find chypres difficult to wear with an astonishing strawberry accord, lime, mint, labdanum, moss and vanilla. A number of perfumers who walked the show commented on how good it is. When I was young I dated a "bad boy' who rode a Harley. He smelled of cigarettes, leather and burnt rubber. I spritzed on Metal Hurlant and I was 20 again and fearless.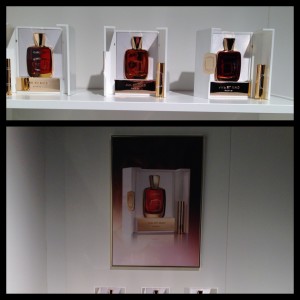 Young perfumer and rising star Luca Maffei (just featured in ÇaFleureBon's Young Perfumery series) joined Madalina Stoica Blanchard and Julien Blanchard to present three new fragrances; Nua (Madalina if you are reading this, Nua will be mine, davana and tonka oh my!!!) Garuda, which might be the crowd pleaser with oud and rum, both signed by Luca (finalist for Art and Olfaction award 2015 Acca kappa black pepper and sandalwood). :Sidonie Lancesseur's Nin-Shar, a tribute to the Sumerian goddess of plants will please rose fans.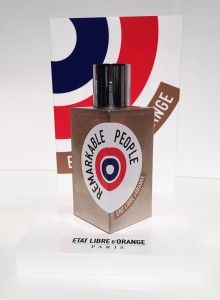 Etat Libre D'Orange Remarkable People
Creative Director Etienne de Swardt (he has a face of a choir boy even after ten years) is launching Remarkable People, a tipsy champagne citrus with just enough pepper and dark notes to remind you it is Etat Libre D'Orange and a surprise redo of Fils de Dieu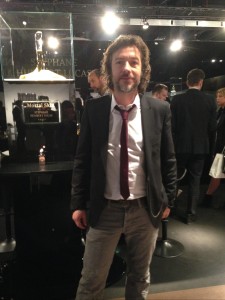 Stephen Humbert Lucas Mortal ssssssssskin
Stephane Humbert Lucas' Mortal Skin is based on his vision of a snake. It is one of the most dramatic fragrances I smelled at the show. It is not part of the 777 brand and will wrap around you and you will not want to let it go. I was unable to get the notes , but it is most certainly a dark oriental and like a serpent it attracted and repulsed me.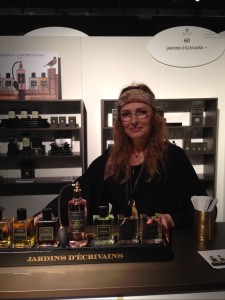 Anais Biguine of Jardins D'Ecrivains introduces Marlowe
Anais Beguine of Jardin D'Ecrivains's new release Marlowe is a study in contrasts; the leathery scent of osmanthus, heady tuberose and dark musc. I think it is one of her best and will soon be added to my library of writers.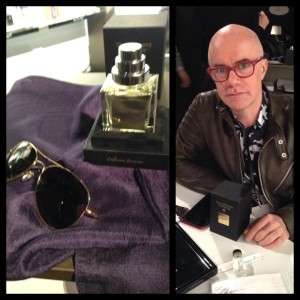 I miss Violet from The Different Company; Bertrand Duchaufour sharing his raw materials with me.
When you think of Osmanthus you might think of apricot and leather. You have not smelled osmanthus absolue before. I met with Bertrand Duchaufour at The Different Company booth as we went through each raw material used in I Miss Violet. There is nothing old fashioned or fusty about this violet, she is an aloof and beautiful woman dressed in green leather holding a glass of champagne. Osmanthus, Mimosa, cassie flower (which is a very difficult raw material to work with) basil, Ambrette (used in natural perfumery to recreate musc) and violet leaf are juxtaposed with a fizzy champagne accord. Bertrand Duchaufour is known for his signature leather accord, and succeeds in re inventing it. He also told me he really *is* working on our black ink and white rice perfume, but I am not holding him to it.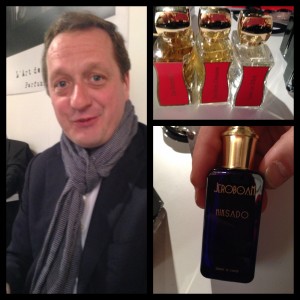 Francois Henin of Jovoy with the new Extraits Sans un Mot, Sombre Dessins, Jus Interdites and a sneak preview of his new brand Jeroboam
Francois Henin of Jovoy introduced three new extraits (25%) Sans un Mot (without a word) a very feminine and "lipstick" interpretation of violet, rose and ylang, Sombre Dessins (dark designs), smoky wood and Jus Interdites (forbidden jus). But the big news is Francois is starting a new brand JeroBoam with 12 extraits that explore musc and all its facets. Sneak peak of the bottle Miksado. 30 ml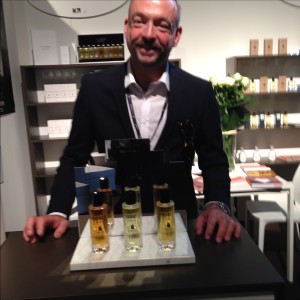 Nicholas Chabot of Le Galion
Le Galion, which is one of my favorite "New Old Houses" introduced three new fragrances that are totally original: Aesthete which is a nod to the House's past, Vetyver, which is not too green or grassy and Cuir, which is elegant and sueded (it smelled like the inside of a Birkin) and inspired by Le Galion's first perfumer Paul Vachon's Diorling; Cuir is my favorite of the three with notes of elemi, white lily, bergamot, ambergris and musk.
Celine Verleure of Olfactive Studio's Panorama, which was based on a photo by Miguel Sandhina of The Sheats Goldstein House and signed by Clement Gavarry was the greenest scent I have smelled for a few years. 50 shades of green. Wasabi in a perfume? It was striking and memorable.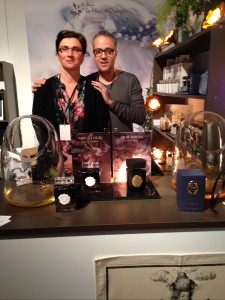 Virgine Roux and Phillipe Constantin of Au Pays de la Fleurs D'Oranger
Virginie Roux of Au Pays de la Fleur d'Orange and perfumer Jean Claude Gigadot (he created the L'artisan Parfumeur Boules de Ambre and lavande btw) is introducing Neroli Oud (liked this a lot) and added Eau de Madeleine to Les Interdites.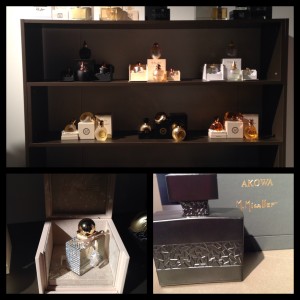 M MICALLEF – new Pure Extreme and coming in the fall Akowa
Laurence Laplanche and Lesley NEJMAN were on hand to represent M. Micallef. ÇaFleureBon has already reviewed Ananda Dolce. I fell madly deeply in love with Pure Extreme, a white floral with a hint of amber that sparkled on my skin as the faceted charm twinkled on the exquisite Swarovski crystal studded flacon. I had a preview of Akowa which will launch in the fall. Good news for perfumistas Luckyscent is carrying Notes Vanille. You can thank me any way you want, because I pushed like a crazy woman for two years.
I will be back tomorrow to report on the collections at Esxence that are new and noteworthy.
–Michelyn Camen, Editor in Chief
For our US, Canada and EU readers I have a swag bag of assorted samples from my Esxence 2015 Part 1. To be eligible please leave a comment with what captured your imagination and made your nostrils flare from this report. Draw ends April 2, 2015.
We announce the winners only on site and on our Facebook page, so Like Cafleurebon and use our RSS option…or your dream prize will be just spilled perfume