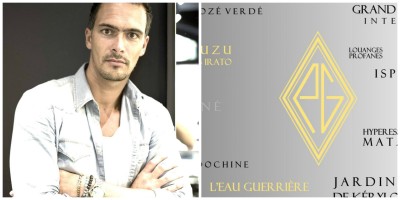 Pierre Guillaume Parfumerie Generale
A large part of my perfume collection is made up of Pierre Guillaume fragrances, twelve Parfumerie Générale, three Huitième Art, two Phaedon and his magnificent sugarpeltsoft suede Damiris for Laboratorio Olfattivo. His talent is erudite, reflective and intensely sensual. Each new work reveals facets of the man himself, his appreciation and empathy for the emotive faculty of aroma. He combines the beauty of glittering perfume technologies and an obsession with exquisite and often esoteric raw materials, assembling formulae that catch the senses like olfactory modernist architecture.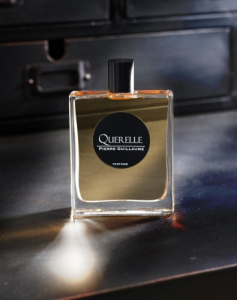 Querelle (Private Collection)
Parfumerie Générale launched in 2002, a wholly 100% independent marque Française, with bottles, caps, labels and collateral etc produced in France. The bottles assembled by hand, individually numbered by Pierre's Dames de Table (table ladies) and shipped out to the international network of PG suppliers. I have never forgotten the thrill of opening a black box of Querelle, my very first PG, the brilliant flacon, resting inside as if sleeping, the proportions and lines near perfect, the juice a wonderful wild citrine, rolling lazily back and forth. I can still smell its Fassbinder power in my mind.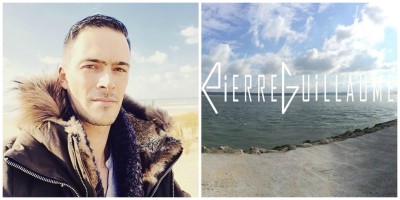 Pierre Guillaume Independent Parfumeur
Pierre's creative and sensuous independence allows him the freedom to experiment with form and aromatic style in a way that would terrify and defeat other perfumers. His training and verve allow him to analyse construct and character, shatter trends and test our desires. Now he has elected to surprise us again with his new venture – Collection Croisière (Cruise Collection), an outstanding and for me, revelatory examination of an often-derided genre of scent: the aquatic or ozonic family. Water and air, two elements we cannot live without and yet in scent they have been smeared with an odd, locker-room, nineties association due to the megalithic success of looming giants such as Davidoff's Cool Water (Pierre Bourdon, 1988), Armani's Acqua Di Gio (Alberto Morillas, 1996) CK One (Alberto Morillas & Harry Frein, 1991) and Eau D'Issey (Jacques Cavalier, 1992). The over-use of Calone, Hedione, Cetalox and Helional produced an avalanche of cheaper copycat scents that overwhelmed us in elevators, on buses, in classrooms and on crowded streets.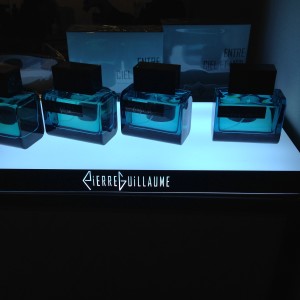 Photo: Michelyn for CaFleureBon taken at Pierre Guillaume's booth at Esxence March 27, 2015
Pierre has of course avoided all of this, while still retaining the tiniest piece of angsty nineties nostalgia (just for shuddering fun…) by using his Cruise Collection, (Collection Croisière) of aquatics to take us on journeys. Planes, trains and automobiles. (A Harley burn of rubber, metal and gasoline is coming later…I cannot wait for that… (Michelyn gave you a sneak sniff in her Esxence wrap up Part 1). Using waves, beaches, storms, the moist air of tropical jungles, salt water, evaporation, sun worship and the fantasy of distant sexy travel, he has created a dazzling collection of eight new fragrances housed in delicious heavyweight hunks of turquoise glass that resemble washed, polished slabs thrown up on glittering beaches. The signature style is unmistakably Pierre, but carefully manipulated to fit a new, refreshing and luxurious form. One that announces an important sense of movement in the architecture of aquatic scent.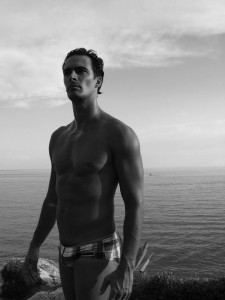 Pierre Guillaume at the beach (a modern day David in a speedo)
For now there are four fragrances launching – Entre Ciel et Mer, Paris-Seychelles, Jangala and Long-Courrier. A further four will be released progressively at later dates to be announced by Pierre. While each one is distinctively different from its aquatic/ozonic sibling; there is a powerful solar emotion that runs through the quartet, a state of sun-kissed saline grace that renders the skin utterly divine. Travel and freedom, space and an erotic state of blissed out sensuality are huge thematics in this new collection. Pierre has never shied away from sex and the body, he is a man at ease with his own physicality and he seems to comprehend the need to use scent as a form of raiment, weapon and playful disguise.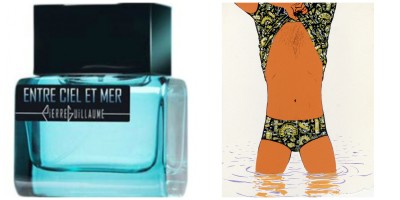 Entre-Ciel et Mer, Rene Gruau Portrait of Men
Entre-Ciel et Mer is the key aquatic, built around a molecular distillation of a particular Pacific algae. This lends the scent an astonishing splash of breezy reality as it opens on the skin, a huge iodic, glittering hit of blue-green tonality that reminded me of ice-cores pulled slowly from frozen land. The haiku of lichen and amber are scoured by a saline effect that smells incredible as the notes coalesce over the intensely chilly woodsy base notes. I was expecting this to smell like many other ozonics mainly because, despite the technological advances in aromachemistry, so many of the marine notes do end up smelling the same no matter how arresting and odd they may begin. According to the press info there is a fruit accord of lavender and white thyme added to the mix of Entre Ciel et Mer. This makes sense actually; the more you sample it on skin, the more you notice a rather giddy eau de vie note dashed through the foam and roll of the scented breakers. It is a very original take on the marine/aquatic genre with just enough ozonic throwback to the 90s to be homage rather than arch Davidoff sneering.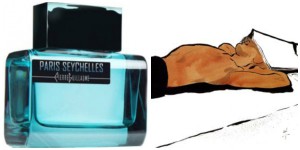 Paris-Seychelles and Rene Gruau illustration Adam sur la Plage
Paris-Seychelles enraptured me. Simple as that. Monsieur Guillaume I always knew if you turned your hand to a lush, solar-drenched lily soliflore like this… I would be lost. There is a recent French pop/chanson called Paris-Seychelles by Julien Doré which includes the lyric: 'Le soleil s'endort, sur Seychelles, 
Le sable et l'aurore, fleur de sel…' (The sun is falling asleep on the Seychelles
sand and sunrise, fleur de sel). So if you can imagine the whitest of white beaches, sand glittering under golden sun, azure sea washing gently and drowsily over the finest of rolling grains. A single stem of heady, curvaceous lily is the only thing that breaks the expanse of pristine sand in this fantasy getaway. The mix of indolic salicylates, soft oceanic breeze drifting over skin anointed with monoï and drying sea. The development is complex and deeply addictive, green with galbanum, lacteous with coconut milk. A hit of cocktail frou-frou is suggested by a dash of ginger and petitgrain, but it is the huge creamy embrace of the salt-dusted lily petals that mesmerises as Paris-Seychelles oscillates between shifting states of urban carnality and tropical abandonment.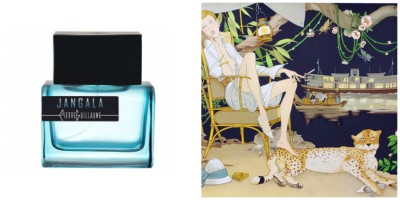 Jangala and Rene Gruau Parasol
Jangala is the Sanskrit word for a natural expanse of wildness. Jungle. The word itself is almost onomatopoeic with steamy atmospherics, the air laden with moisture, laced with verdancy and the reek of millions of pieces of eternally battling vegetation. Bertrand Duchaufour attempted something similar for L'Artisan Parfumeur back in 2008, inspired by his trip to Bahia Honda in Panama. Fleur de Liane was the ozonic, sap-oozing portrait of an imaginary jungle flower with sea accords washed over marigold and tuberose. It flopped and L'Artisan axed it along with a raft of other adventurous perfumes. Bertrand recently revisited this marine effect with devastatingly beautiful effect in Copal Azur, his collision of coastal glide and smoky ritual for Aedes de Venustas. Pierre's Jangala threw me actually, I did not like it all at first, but I have a feeling it will be hugely popular. The weird, almost slippery green Thai herb notes that underpin the enormous opening burst of tropical green are very odd indeed. The cardamom is big as is the oily shout of eucalyptus. Everything is shaded emerald, forest, mint, sage, viridian, teal and hunter to reinforce to thematics of jangala… However, after an hour, Jangala is increasingly fascinating and more for me, silky smooth with a lick of coconut and steamed stem and leaf note I recognize from Ralf Schwieger's magical Fils de Dieu for Etat Libre d'Orange. So Jangala surprised me a lot, the same lovely wet air and ozonic softness that was evident in the other two is also present here, floating like a careful leitmotif, subtle enough to barely influence, but ghostly enough to know when to fade into the background.
Long-Courrier, Rene Gruau Girl with yellow ribbon1950
The final scent, Long-Courrier (Long Haul Flight) is just the most delicious rendering of salty vanilla I've smelled in ages. You have to sample it on skin, iit's made for, not mouillettes and sleeves etc. In a way, this is a companion piece to Paris-Seychelles; in the background of that amplified lily soliflore there is Ambre Solaire smeared skin. Long-Courrier is that skin in macro, a solar oriental with heavily magnified vanillic notes thrashed with musks and elemi resin. The effects are very erotic. Pierre has added some orange essential oil to counterbalance the sweetness whilst dusting the formula with cocoa powder for added oddity and gourmand piquancy. His work with Parfumerie Générale has proven time and time again how expert Pierre is with gourmand tendencies and informing them with eccentricity and power. This is a perfume of desire, something you will want to drown in, and it has addiction written all over it. I can imagine hot summer days radiating this blend of sea-memory sweetness but equally it is a fragrance of immense comfort, to be wrapped in, held and caressed.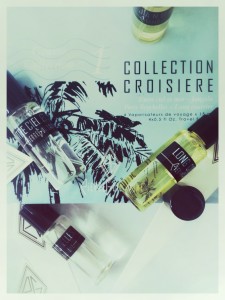 Collection Croisière Discovery Kit (CaFleureBon)
I have been layering Long-Courrier with Paris-Seychelles and cannot stop inhaling the shifting waves of salted, ozone-kissed lily rising from transformed holiday skin. These will be the two joining their fellow PG kin in my Foxy study.. but honesty, it's a dazzling quartet. There are four to follow, including an intriguing sounding strawberry mojito chypré, a roaring leather and gasoline soaked tribute to the Harley and the one I really want to try…. a scent that captures the idea of late night whiskies on Mediterranean boats, surrounded by the scent of sea and cypress coastlines. Collection Croisière by Pierre Guillaume is a triumph of elegance, technique and above all style. There is innovation and technology in the exquisite blending and exciting smoothness of the four fragrances, a sense of a perfumer taking graceful and perceptive risks with an often dissed and isolated family of aromas. This is the romance and liquidity of marine and ozonic perfumes explored and opened up for a more discerning and erudite olfactive audience.
The Silver Fox, Editor and Author of The Silver Fox
Disclosure – Samples of Collection Croisière very kindly provided by Parfumerie Générale. Merci.
Thanks to the very generous Pierre Guillaume we have a coffret of all four Entre-Ciel et Mer, Paris-Seychelles,Janagala and Long Courrier (each are 15ml) for three readers anywhere in the world. To be eligible, please leave a comment with which of the four Collection Croisiere fragrances appeals to you the most based on TSF review, and where you live. Now is the time to show Pierre some love, so if you have a favorite fragrance he signed, leave that in the comment Draw closes April 4, 2015
Editor's Note: While at Esxence 2015 in Milan I previewed the next four in the series, Mojito Chypre, Metal Hurlant, Foudre and Rivages Noir; they will be launched in June-MC