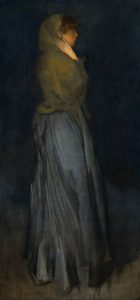 Arrangement in Yellow and Grey Effie Deans – James Abbott McNeill Whistler
"As music is the poetry of sound, so is painting the poetry of sight…" – James Abbott McNeill Whistler
The American born, British based painter, James McNeill Whistler, famous for his "still life" portraiture and dreamy landscapes was also recognized for his use of muted colors, monotones, "a-chromatics" and shades of white, black, grey and brown. Whistler was especially fond of grey in all its hues; cool blue grey, warm grey with reddish or pink casts and the historic French grey tinted with tones of yellow or ochre. Even though some consider grey to be an unemotional color James Whistler brought life, passion and tonal movement to his studies in grey, often naming his paintings after musical forms; Nocturnes, Harmonies, Variations, Arrangements and Symphonies.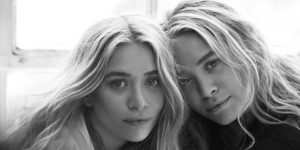 Mary Kate and Ashley Olsen of Elizabeth and James
Our current decade is seeing a resurgence in the popularity of shades of grey, not only in literature (50 Shades of Grey) and fashion, but in interior design, beauty and hair coloring as well. Elizabeth and James creative directors Mary Kate and Ashley Olsen are, as usual, on top of the latest trends. Their new fragrance twin scents, Nirvana Amethyst and Nirvana French Grey, created in partnership with Firmenich, demonstrate that perfume is (to paraphrase Whistler) the poetry of scent, written in the language of Olfaction.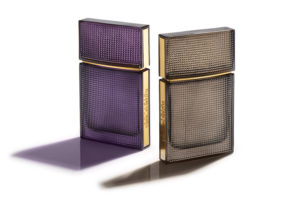 Elizabeth and James Nirvana Amethyst and French Grey EDP
As we have seen (and smelled) before, the scented offerings from Elizabeth and James blur the boundaries between niche, celebrity and designer fragrances. The Nirvana Series – Black, White, Bourbon, Rose and 2017's Amethyst and French Grey – are all meticulously crafted perfumes that resonate with the Olsens' sense of style, quality and fashion. The Elizabeth and James Nirvana presentation, a distinctive, vintage inspired clutch flacon, takes on a deep purple cast for Amethyst and a smoky hue for French Grey.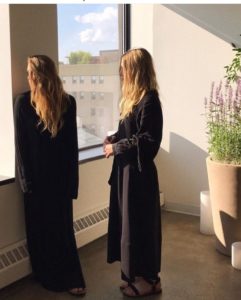 Mary Kate and Ashley Olsen via Elizabeth and James Instagram @elizandjames
From the first moment of application, Nirvana French Grey is delicate and achingly elegant; it is my favorite of the two introduced for 2017. The opening notes of fine lavender create an instantaneous sense of calm and composed relief, a tonic of sorts for the chaos of our lives in the modern world.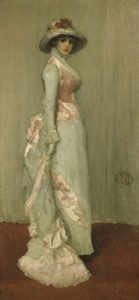 Harmony in Pink and Grey Lady Meux, 1881 – James McNeill Whistler
As honeyed neroli blooms into the bouquet of fresh lavender I imagine myself the subject of one of Whistler's lesser know works – Harmony in Pink and Grey, the 1881 portrait of Victorian socialite Valerie Susan, Lady Meux. The perfume and the artwork share a number of common elements. The first impression of both the fragrance and the portrait is one of quiet reserve, but a closer look (and a more careful sniff) reveal the seductive and sensuous nature of the demure Lady Meux and the deceptively shy and at once sultry French Grey. Neither the perfume nor the Lady is as safe as they seem to be.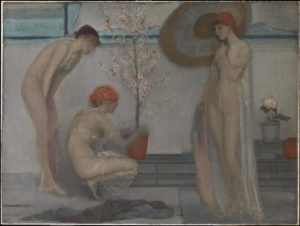 Three Figures: Pink and Grey 1868-78 by James Abbott McNeill Whistler
Nirvana French Grey is one of those fragrances that begs intimacy. The sillage is never pronounced, but instead beckons the wearer, and those nearby, to an even closer and perhaps romantic encounter. French Grey retains this intimate effect through the six-hour life of the fragrance, wafting peaceful floral pastels and pale enveloping musks that simultaneously sooth and seduce the body, mind and spirit.
Notes: Lavender, neroli and musk.
Disclaimer: Thank you to Elizabeth and James for my Nirvana French Grey Eau de Parfum. My opinions are my own.
–Gail Gross, Editor
Art Director: Michelyn Camen Editor-in-Chief
Please be sure to read Lauryn's review of Elizabeth and James Nirvana Amethyst here. The draw is still open until September 1, 2017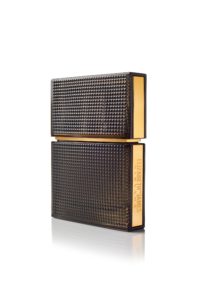 Thanks to Elizabeth and James we have one 30 ml flacon of Nirvana French Grey for one registered reader residing in the USA. If you are not sure you are registered click here. To be eligible for the draw, please leave a comment with what appeals to you about Gail's review of Elizabeth and James Nirvana French Grey, if you have a favorite shade of grey or a favorite Elizabeth and James Perfume. Draw closes September 4, 2017
We announce the winners only on site and on our Facebook page, so Like Cafleurebon and use our RSS Feed…or your dream prize will be just spilled perfume.